The Orange Bowl is tomorrow. And we're playing in it. Isn't that amazing?
I wrote this before we played ECU.
But, it was supposed to be our year...

I know, believe me I know. My brain told me otherwise, but I believed my heart. I thought this would be the year. Not too long after we lost to Boise State I was concocting crazy scenarios in my head that would get us into the Championship Game. If Miami beats Ohio State they could be 10-0 and number one when we play... We'd have another chance to win a statement game... And maybe Boise will slip up... Then we lost to JMU. We're not winning the National Championship this year, and neither are 118 other teams. It's time to move on.

There are still plenty of reasons to be excited. And no, I'm not talking about the ACC Championship, or a BCS bowl, or anything else big picture. How about the simple satisfaction of watching the Hokies play football games. We didn't win a damn thing last year, yet we all were straight giddy when Ryan Williams was draggin' corpses into the end zone, proud of the guys for how they went toe-to-toe with Alabama, and delighted when we beat Tennessee. We just need to give these guys a chance to shine.
At this point "shine" is an understatement. Think for second about how you felt about this team, their, our, chances for success in 2010 on the evening of September 11th and look back at all they've accomplished since. I truly hope you all took this season with a grain of salt and enjoyed the ride.
My top five moments from the 2010 season are as follows:
5. Shutting out Boston College.
4. David Wilson celebrating his kickoff return and victory against Georgia Tech with a back flip.
3. G-W's pick six against FSU.
2. RMFW's 84-yard touchdown run against Miami.
1. Tyrod Taylor.
I didn't fear the spear, and I certainly don't fear a team that can't even pluralize their own nickname (COLOR ME CARDINAL). That's not to say Stanford isn't a fantastic team, they are, in fact the best were saved for last.
The keys to beating Stanford are:
Lay some licks on Andrew Luck. At the end of the game if his jersey is clean then we lost.
Establish the run.
Bottle up wide receiver, returner Chris Owusu. Owusu is Stanford's playmaker and does work in space.
Read, react and finish. Our defensive front seven is going to have to be decisive with their reads, otherwise Stanford's mammoth offensive line will destroy us.
Answer. Stanford is going to score early and often and we need to do the same.
I can't compliment Andrew Luck enough and unless he decides to push away the millions of dollars on the table, he'll be the first player selected in the draft, but the simple truth of the matter is we have Tyrod and they don't.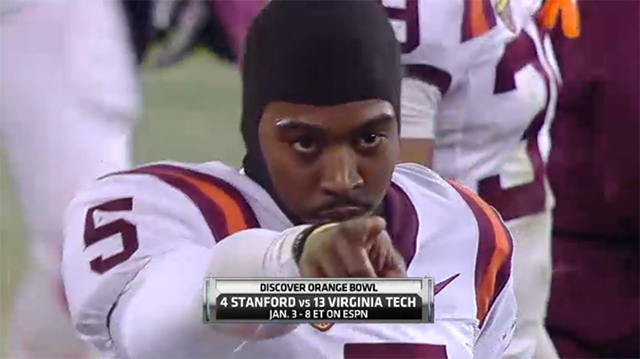 Virginia Tech: 37
Stanford: 35
Let's Go!