Editor's Note: Mason Naumann (Hokiefan591988) is the newest member of our team, please welcome him aboard. --Joe
The happiest day of my life is when I found out that I had been accepted into Virginia Tech. Attending this glorious institution is as important a tradition in my family as our burnt cinnamon rolls Christmas morning. (Seriously though, how hard is it to not burn cinnamon rolls? Yet every year...) My Grandfather graduated in 1954 with a bachelors, earning a masters a year later. His love for all things Hokie was infectious, and rubbed off on the entire family. My father and uncle attended Virginia Tech, as did multiple cousins, a sister, and myself. I loved everything about my time spent at Tech and I still live in Blacksburg.
I fell madly in love with football after volunteering to coach a powder puff team on campus. While desperately trying to win games, hours upon hours were spent researching offenses and defenses. Teaching the girls how to run a proper option, and watching it succeed time and again, was the best feeling in the world. Even after the season ended, I still couldn't get rid of the itch. I was hooked. I read everything I could find online about football tactics, and then started downloading playbooks and reading through those. Special thanks to Chris Brown at Smart Football, whose insightful articles taught me more about this sport than any other source.
My hope is that as I share what little knowledge I have, you'll see that football is both a simple game, as well as the most complex sport in the world. The more you know about football and the more you see the chess match between coordinators take shape and evolve, the more you enjoy watching the game. That's my only goal as a contributor at Thekeyplay, to make being a Hokie fan more fun.
Thank you Joe for giving me this opportunity, and thanks readers for having me. Let's get to it!
After watching Auburn's offensive film for my first piece, I realized that I had a lot to say about what went wrong during Loeffler's first season. Today I'm going to focus on Loeffler's play-action game, and why Auburn failed to keep defenses honest. This series will continue with articles on the short pass game, and Loeffler's intermediate to long pass game. By examining how Loeffler failed at Auburn, I want to be able to put his past season into proper perspective.
When I heard Scott Loeffler was being considered as Tech's new offensive coordinator, my reaction was similar to most Hokie fans, "Who?" No disrespect to Loeffler, but most of us were unfamiliar with his body of work. I googled him to find out who he was, what his resume looked like, etc. Like most fans, I was impressed by the hire of an SEC coordinator, but disappointed that his offense didn't have more statistical success. On CFBstats.com, Auburn was ranked 114th out of 124 teams in points per game (and also finished 116th in passing offense, and 118th in total offense). Those numbers are terrible, and frankly it speaks volumes of the reputation Loeffler has to get a job at a program with VT's profile after such a season.
There's been a lot of analysis of the hire of Loeffler (from his role in recruiting, to his ability to coach quarterbacks, to his favorite run plays, but I was interested in what, exactly, went wrong at Auburn. I've heard rumors that Gene Chizik, the ex-Auburn head coach, took a progressively larger role in the offense as the year went on because of lack of production. If true, it'll be hard to get a good grasp of where Loeffler's offensive principles failed and where Chizik's did.
By focusing on the early season games (before it became clear that Chizik was on the hot seat) we can be confident that what we are seeing on the field are Loeffler's offensive principles in action. So I decided to watch the first two games of Auburn's season (vs Clemson and Mississippi state) to figure out what went wrong.
Strong rushing attack
Whenever I analyze game tape, I always watch the entire game from start to finish twice. This allows me to get a good feel for the big picture of the game, an idea of what went wrong and what went right. Watching the Auburn offense a few things became obvious early. First is how impressive the rushing attack is when the defense chooses not to stack the box. Auburn was ranked 80th in the country in rushing, so I wouldn't have been surprised to see some schematic hiccups. Yet it was a very, very well designed scheme. Loeffler used his fullbacks to create gaps along the defensive front where there appeared to be none. As long as the defense doesn't "change the math" by dropping safeties into the box that the o-line can't account for, the running back should always have a lane to rush through.
We see here what happens when you try to play two deep safeties vs Loeffler's I-formation 2x1 personnel grouping. There is a blocker for every defender in the box, and because of the zone blocking principles in Loeffler's scheme all the RB has to do is pick a hole and he's off to the races.
5:33–5:45
The numbers just don't add up for the defense, and they get gashed.
Stacking the box
It also became crystal clear that defenses weren't interested in getting run over all game. Both Mississippi state and Clemson put extra men in the box. Clemson in particular was very, very aggressive playing the run, as exhibited here.
0:33–0:44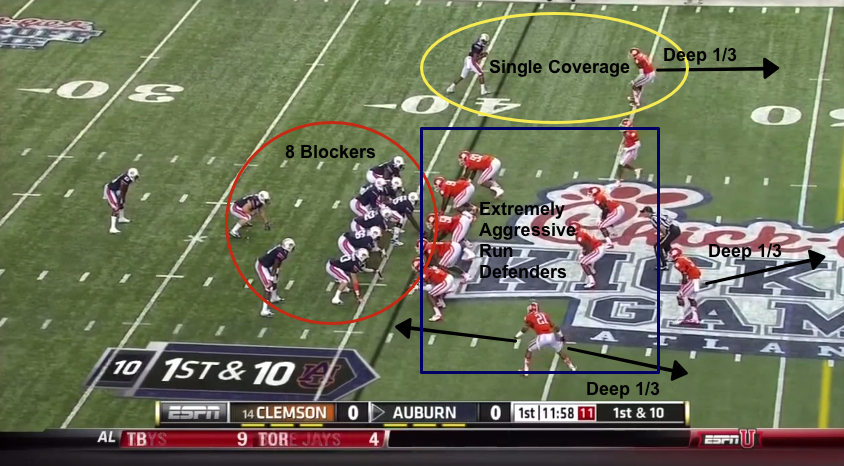 You can see before the snap of the ball that every Clemson defender is within six feet of the line of scrimmage, and nine of eleven defenders are located in the box with a tenth just out. The only contingency plans for a play-action pass is to put in a half-hearted cover-3 look in the secondary. Technically the FS has middle of the field responsibilities and number 21 has deep third responsibilities, but both get sucked too far inside on the run look.
At the first sign of run, 8 defenders crash the line of scrimmage, and the FS doesn't get enough depth to help on any downfield routes the WR may run.
Mississippi State doesn't stack the box through alignment as dramatically as Clemson does, but the Bulldogs played their run reads with so much reckless abandon that it had the same effect. On this play, even with Auburn in shotgun the field CB (number 9 on the bottom of the screen), with no regard for any play action responsibilities, sprints forward in run support within Frazier's first two steps.
2:21–2:33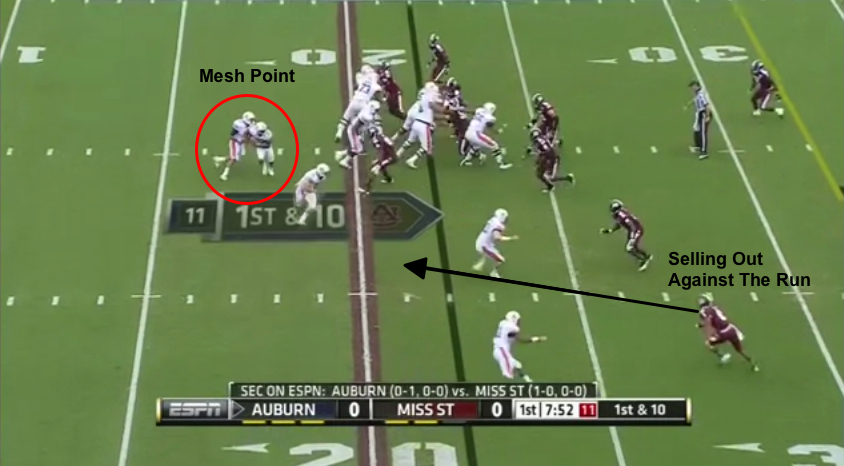 While the CB doesn't make the stop, it doesn't bode well for Auburn's rushing attack out of the shotgun. We'll see later how a CB who crashes the LOS at the first sign of run can destroy a drive.
4:20–4:29
This time Frazier hands the ball off to the RB, and a Mississippi State CB sells out vs the run again. He's so aggressive that he gets the angle on the Auburn WR who is forced to choose between letting his responsibility run straight past him, or hold him. The WR chooses to hold and Auburn is pushed back ten yards.
The aggressiveness on this next play is almost comical. Watch the CB on the top of the screen. He's sold out on run support when Frazier is still five yards away from handing the ball off! The wide receiver he leaves is now wide open if he were to go out for a pass. Even if a safety rotates over on the back end, the safety would have a bad angle and would be one-on-one.
3:07–3:17
Mississippi State's aggressiveness is probably best summed up in this picture though.
Auburn lines up under center on 2nd down with 11 yards to go to get a first. This is a classic passing down, but Mississippi State doesn't bother giving Frazier's arm any respect. The Bulldogs immediately drop a safety to put 8 in the box. Keep in mind that Auburn is in the red zone, so any mistake in single coverage will likely result in a touchdown. Mississippi State apparently doesn't mind taking that risk and when Auburn fails to audible out of it's run play, and they get promptly stuffed.
The Response
As offensive coordinator, it's Loeffler's job to see these overreactions and force the defense to change their game plan or suffer severe consequences. If he's as inept as last season's offensive numbers suggest, he'll either fail to recognize the problem or he'll fail to have a play in the toolkit to get the job done. Studying the game film, it's undeniable that Loeffler knows exactly what to do and exactly how to do it.
2:58–3:07
A perfectly timed, perfectly drawn up, and perfectly executed deep play-action pass vs single man-on-man coverage. Let's take a look at what happened.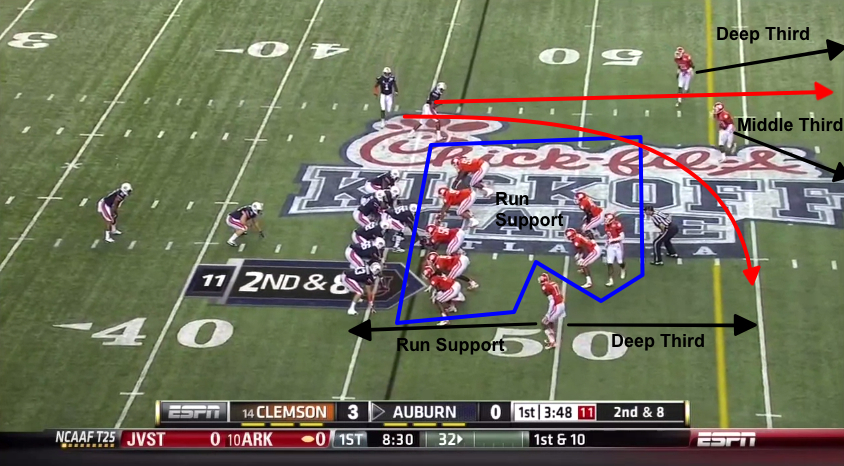 The cornerback and the safety line up over the WR's. Like the previous play, they have Cover-3 responsibilities. The CB on the strong side of the formation has two responsibilities, protect the outer edge on a zone stretch to the boundary and take any deep routes to his side of the field. Knowing that stacked WR's will often have one run an inside route and the other run an outside route, the safety will take any middle of the field route and the CB will take the receiver closest to the sideline.
The play opens up with Frazier turning to fake a hand off to the RB while the o-line takes a side step toward their left. We know from French's work that this is the same sequence of events for a normal outside zone stretch run, and the Clemson linebackers and run support safety react accordingly. The strong side CB stays close to the LOS in case it's a cutback play, and he has coverage responsibilities for the fullback (who is pass blocking the backside). Loeffler was able to deduce the secondary's coverage rules from previous plays and does a beautiful job attacking it with properly spaced routes.
The inside receiver runs a dig to the middle of the field. The safety runs with him, which serves to further isolate the CB. All the outside receiver has to do is beat his man one on one, an opportunity every wide receiver dreams about. Emory Blake runs at his man, waits for him to come out of his backpedal, throws a double move (flag-post combo) at him and walks into the end zone. The cornerback had no chance.
Players Must Make Plays
So Clemson just got beat over the top for a 50+ yard play-action bomb. They have to adjust their defense and start playing less aggressively vs the run, right? Not even close. Clemson keeps selling out on the run, and Loeffler tries to keep them honest but his play-action game just doesn't have enough consistency.
8:36–8:46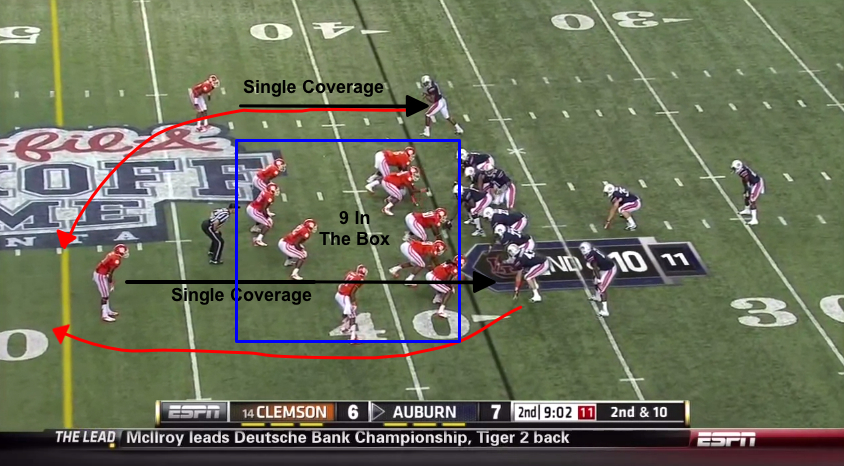 One-on-one coverage vs two separate WR's, and the QB can't make the throw. Frazier's WR does a good job at getting outside leverage on the CB. He's open and Frazier simply misses. If Loeffler's offensive system is going to work, the QB HAS to hit wide open receivers. Sadly, it becomes obvious that Kiehl Frazier couldn't.
17:10–17:19
With no repercussions for selling out to stop the run, Clemson and Mississippi State were able to shut Auburn down.
What does this mean for Tech?
Poor Loeffler. There is nothing worse than having the right play called vs the right defense, and seeing it fail because your personnel just aren't good enough. This is the theme of Auburn's offense and it's seen over, and over, and over. Loeffler exhibits good play design, a very good intuition on when to use play-action, and a firm grasp on route packages. The old saying is true though. Jimmys and Joes matter more than X's and O's, and at the end of the day Loeffler's Joes weren't good enough to beat the other teams' Jimmys.
At Virginia Tech, success should come much easier for Loeffler. Frank Beamer prefers an offense with a strong rushing attack complemented by a passing game capable of punishing aggressive defenses. Loeffler won't have to worry about his boss looking over his shoulder and second guessing his decisions like Chizik was rumored to do, Beamer said as much in the introductory press conference. (The fact that Loeffler and Grimes found work at a very good football program quickly after the season ended, while Chizik is still unemployed says a lot). Further helping his case, the talent pool that Loeffler has to draw from will be much deeper than that at Auburn.
Which brings me to the centerpiece of Loeffler's offense. I am a firm believer in Logan's abilities. He played badly last year, you won't get any argument from me there. But, Thomas had plenty of bright moments throughout the season, and even on his worst days he played better than Frazier. Thomas will see simpler pass defenses on early downs then he did last year and he'll be throwing to receivers who are running better packaged routes. It'll be exciting to see how Loeffler's rushing game does against ACC opponents who won't be able to stack the box without facing the threat of an NFL arm throwing over their heads.