Welcome to the final edition of our list of the best Hokie Football Players to wear each jersey number. Here are the previous installments in case you missed any of them:
Part 1 (#1 – 10)
Part 2 (#11 – 19)
Part 3 (#20 – 29)
Part 4 (#30 – 39)
Part 5 (#40 – 49)
Part 6 (#50 – 59)
Part 7 (#60 – 69)
Part 8 (#70 – 79)
Part 9 (#80 – 89)
Today, we'll take a look at jerseys #90 – 99 along with a bonus pick at the very end. You'll notice that there are a lot of recent Hokies on this week's list, as most of these guys played during the Big East and ACC eras. So here's the list. (Note: The Honorable Mentions are listed in alphabetical order):
#90 – Jeff King
Whenever I think of the tight end position at Virginia Tech, Jeff King always pops up into my mind first. King was a two-time All-ACC selection (2004 & 2005) and was a favorite red zone target for two different Tech QBs: Bryan Randall and Marcus Vick. In 2004, King caught a touchdown pass from Bryan Randall in a 16-10 victory over #9 Miami; that victory earned Tech its first ACC Championship.
In 2005, King started all 13 games for a team that finished #7 in the nation. He caught six touchdowns that season, which set a school record for the tight end position. Against #15 Georgia Tech, King blocked a field goal that was returned for a touchdown. He became the first Hokie to catch a touchdown pass in four consecutive games. After Tech, King enjoyed a seven year NFL career with the Carolina Panthers and Arizona Cardinals.
(Honorable Mention: Orion Martin, Dadi Nicholas)
#91 – Sterling Wingo
Here's another easy choice for the All-Name team. I mean, the guy's name is Sterling Wingo! I'm sure that an announcer would have a field day with a name like that. Prior to enrolling at Tech, Wingo served in the US Navy during WWII. At Tech, he exceled as a star athlete in football, baseball and track. Wingo has the dubious honor of being a member of four of the worst football teams in school history, including an 0-10 season in 1950; that was the school's last winless season (You've heard of undefeated teams? Well, that was a defeated team). During his four years at Tech (1947 – 1950), the Hokies accumulated 5 wins, 30 losses and 3 ties...ouch. But Wingo still shined as a tailback for the Hokies during those dark years. Stats were not regularly kept at that time, but I scanned through old Bugle yearbooks and found that Wingo scored virtually every TD for the Hokies back then. Wingo was drafted by the Los Angeles Rams in 1951, becoming only the fourth Tech football player to be drafted. He was inducted into the VT Sports Hall of Fame in 1997.
(Honorable Mention: John Graves)
#92 – Luther Maddy
Whenever Tech fans talk about finding the "diamond in the rough" recruits, they always bring up Luther Maddy's name. That's because "Big Lu" was an unheralded recruit out of Atlantic High School in Delray Beach, FL. He was the lowest-rated defensive prospect in Tech's 2011 class. Maddy and high school teammate Dadi Nicholas (then named Wedley Estime) were Tech's last two commitments of that class; both committed to Tech the night before National Signing Day. But Maddy quickly proved that he could play at the D-1 level as he started seven games as a true freshman. The defensive tackle made the All-ACC first team as a senior in 2015. Maddy became Tech's career leader in games played with 56 when he started in the 2015 Independence Bowl. It was Maddy's 46th career start, which was two shy of Billy Conaty's school record. Luther was a tough dude that always exceeded expectations; I miss watching him play in Lane Stadium.
(Honorable Mention: Jim Baron, Nathaniel Williams)
#93 – Robert Brown
Not too long ago, I chatted with a guy who graduated from Tech in the early 1980s. I asked him what it was like to watch Bruce Smith at Tech. He told me a few stories of Bruce decapitating quarterbacks before revealing that his favorite Hokie was actually defensive end Robert Brown. "Bruce was great," he said, "but Robert Brown was a man playing with boys!" (uh...phrasing?) Robert Brown transferred to Tech in 1980 from Chowan College. He helped the Hokies earn a trip to the Peach Bowl that year; it was only the fourth bowl game in school history. Brown was awarded numerous honors following his junior year, including being named an Honorable Mention All-American; he was also named the state's top defensive player by both the Roanoke Valley Sports Club and the Touchdown Club of Richmond. During Brown's senior year of 1981, he was honored as a second team All-American. He was only the seventh Hokie to earn All-American honors. After leaving Tech, Brown enjoyed an 11-year career with the Green Bay Packers. He was the Packers' starting defensive end from 1986 – 1992. Brown was inducted into the Virginia Tech Sports Hall of Fame in 1998.
(Honorable Mention: Kerwin Hairston, Horacio Moronta, Browning Wynn)
#94 – Chad Beasley
Chad Beasley was a defensive tackle at Tech from 1998 – 2001. Chad is the son of former Tech star defensive tackle, Tom Beasley (he's #77 on our list for those of you following along at home). Tom and Chad Beasley are the only father and son duo on this list. Chad Beasley made a cameo in one of the greatest moments in Tech football history; when Shayne Graham kicked the game-winning field goal against WVU in 1999 (aka the "Miracle in Morgantown"), Beasley was there to immediately give Graham a bear hug and lift him to the air in triumph. Beasley teamed up with fellow DT David Pugh to form a formidable defensive line in the early 2000s. Beasley earned second team All-Big East honors in both 2000 and 2001. He was drafted by the Minnesota Vikings in 2002.
#95 – Jim Davis
Jim Davis was a tough defensive lineman for the Hokies during the early 2000s. Davis earned All-ACC honors as a senior in 2004. His field goal block that was returned for a TD by Vinnie Fuller was the defining moment of Tech's 19-13 upset of #6 WVU.
Davis was a key factor in Tech's 2004 ACC Championship run. In a game at UNC that season, the Hokies clung to a three-point lead with just over a minute remaining. UNC drove down to the Tech 26 yard-line looking for a game-winning TD or a least a game-tying field goal. But on third down, Davis sacked QB Darian Durant for an 11-yard loss; UNC's subsequent 54-yard field goal attempt fell short and the Hokies survived another day. He later blocked a field goal in the 24-10 victory over #16 UVA on Senior Day. In 2016, the Roanoke Times conducted an online ballot for the All-Beamer Team (the best Hokies to play for Coach Frank Beamer). Jim Davis was selected as a second-team defensive tackle, which is impressive when you consider all of the great DTs that have played for Coach Beamer.
(Honorable Mention: Jimmy Kibble)
#96 – John Engelberger
John Engelberger was often overshadowed by fellow defensive end Corey Moore, who won every award imaginable. But Engelberger was a fantastic defensive end in his own right who helped lead a dominant Tech defense to the 1999 National Championship game. Engelberger was a three-time All-Big East selection (1997 – 1999), winning first team honors in 1999. He was also named a second team All-American in 1999, which made him the first former walk-on to be named an All-American in school history. He was drafted in the second round of the 2000 NFL Draft by the San Francisco 49ers. He was the first Hokie selected in the draft that year, before teammates Ike Charlton and Corey Moore. Engelberger played an impressive nine seasons in the NFL. He was inducted into the Virginia Tech Sports Hall of Fame in 2013.
(Honorable Mention: Corey Marshall, Jesse Penn)
#97 – Brent Bowden
By my count, we now have three punters on this list and zero kickers. If this were a real roster, I'd have my head examined for cutting our two greatest kickers of all time: Chris Kinzer and Shayne Graham. But hey, we've got punting covered (even though this team would never need to punt)! But I digress...Brent Bowden was one of the best punters in Tech history. Bowden (aka "Sunshine") started every game for the Hokies from 2007 – 2009; he helped the Hokies win two ACC titles, a Chick-Fil-A Bowl Championship and an Orange Bowl Championship. In 2009 Bowden infamously pre-recorded a guitar solo of Enter Sandman prior to Tech's Thursday night game against UNC; Bowden's video was played in place of Metallica's version when the Hokies took the field. The Hokies lost that game, proving that you don't fuck with the best entrance in college football. Bowden recovered from that disaster to earn first team All-ACC honors in 2009. His career punting average of 41.8 yards is second best in school history behind only Nic Schmitt.
(Honorable Mention: Al Chamblee, Chris Hazley)
#98 – Derrick Hopkins
Derrick Hopkins was a standout defensive tackle for the Hokies from 2010 – 2013. He started every game for the Hokies from 2011 – 2013, many of which he got to play with his older brother, Antoine. Antoine ("Hop") and Derrick ("Skip") each earned Honorable Mention All-ACC honors in 2012. But it was the 2013 season that proved to be Derrick's best; he helped lead a defense that ranked #4 in the nation in total defense. He was named second team All-ACC and third team All-American by Athlon and CBS Sports. Hopkins had a knack for shutting down Georgia Tech's option offense, as the Hokies went 4-0 against Paul Johnson's squad during Hopkins' career. In the 2013 matchup against the Yellow Jackets, Hopkins completely shut down the inside all night long; he and teammate Luther Maddy took away the dive all by themselves. After the 2013 season, the Richmond Touchdown Club named Hopkins the state's defensive lineman of the year for the second year in a row. He never got the love he deserved during his playing days, but he was a major contributor for this program.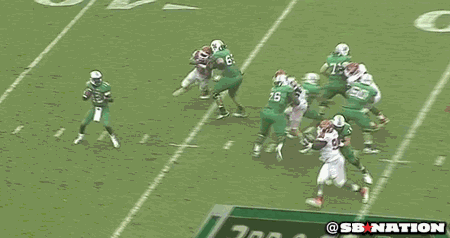 (Honorable Mention: Derrius Monroe)
#99 – James Gayle
Honestly, this spot was a toss-up between two solid Tech defensive linemen: James Gayle and Carlton Powell. Both had productive careers at Tech and both received All-ACC honors. I ultimately chose Gayle because of his legendary hatred of LOLUVA. Prior to the 2012 matchup, Gayle got a hold of UVA tackle Oday Aboushi's phone number and texted him some trash talk; when Aboushi asked "Who is this?" Gayle answered "The Bodysnatcher." In an interview with Andy Bitter, Gayle was asked about the clock in UVA's locker room that counted down until their game against the Hokies for the Commonwealth Cup; Gayle responded with "We don't have a clock. We have a Cup." But nothing beats Gayle's twitter war with UVA offensive tackle, Morgan Moses. Here is Moses' tweet prior to signing day in 2012 along with Gayle's response.
(Honorable Mention: Cols Colas, Carlton Powell, Bobby Smith)
BONUS (NO NUMBER) – Hunter Carpenter
From what I understand, jersey numbers to identify individual players were not created until 1915. So many Tech football players never wore a number during their playing days. The finest of these pre-jersey numbered Hokies is the man, the myth, the legend...Hunter Carpenter. Virginia Tech has had four former players inducted into the College Football Hall of Fame: Carroll Dale, Frank Loria, Bruce Smith and Hunter Carpenter. Carpenter was the star of the 1905 squad, which compiled an incredible 9-1 record. That team notched victories against North Carolina, South Carolina and powerhouse Army; their lone setback was a 12-6 defeat at the hands of Navy. 1905 was also the first time that Tech beat UVA, and Hunter Carpenter is often credited with creating the Tech/UVA rivalry. Prior to the 1905 matchup, a UVA newspaper printed a story that Carpenter was on scholarship; apparently in 1905, that was the worst possible thing you could say about a student athlete. UVA refused to play Tech unless Carpenter signed an affidavit saying that he was, in fact, an amateur; Carpenter agreed and the game was eventually played in Charlottesville. Going into the game, Tech was 0-8 against UVA, with the Wahoos outscoring the Hokies 170-5. But Carpenter would have no more of that; in the 11-0 victory, he scored a touchdown, kicked a field goal and knocked out a UVA defender with his fist (which led to his ejection from the game). I'd like to think that he walked off the field after his ejection yelling "11-0 Bro!" Following the game, Carpenter threatened to sue the UVA newspaper for libel. The matter was eventually settled but UVA refused to play Tech in football for the foreseeable future; they did not meet on the gridiron again until 1923, and a rivalry was born! In 1957, Carpenter became the first Hokie to be inducted into the College Football Hall of Fame. In 1982, the Virginia Tech Sports Hall of Fame was established; Hunter Carpenter was part of the inaugural class alongside Tech legends Carroll Dale and Frank Loria.
Well that's it! I had a blast reading through every bit of Hokie History that I could get my hands on. While building this list, I came across some pretty incredible names that I think deserve a mention. So here are a few members of the All-Name Team:
Warren Maccaroni
Dick Goode
Gene Breen
Billy Babb
Aster Sizemore
Nubian Peak
Rich Fox
Sterling Wingo
Buzz Nutter (a first ballot All-Name Hall of Famer)
A few people asked me when most of the All-Numbers Team actually played for Tech. So here's a breakdown of all 100 players by decade based on each player's final season:
Decade.....Count
1900s........1
1910s........0
1920s........1
1930s........0
1940s........1
1950s........7
1960s........13
1970s........6
1980s........14
1990s........16
2000s........26
2010s........15
Not surprisingly, most of the guys on this list came from the 1990s – Present, when our football team became a player on the national stage. But this list still had a nice representation from the 1960s and 1980s.
We've had a lot of great players over the years that have worn the same jersey numbers, so it was tough to leave off some First Team All-Americans like Bob Schweickert and Mike Widger. But that just shows the incredible pool of talent that I had to choose from. Some of these jerseys will never be worn again (#10, #73, #78, #84), while some will always be compared to the legends that previously wore them (ie Vick's #7). Here's hoping that some current and future Hokies will forever become immortalized in the jerseys that they wear during their careers.
Here's the final list:
#1 – Isaiah Ford
#2 – Jimmy Williams
#3 – Bryan Randall
#4 – David Wilson
#5 – Tyrod Taylor
#6 – Jason Worilds
#7 – Michael Vick*
#8 – Vinnie Fuller
#9 – Vince Hall
#10 – Frank Loria**
#11 – Xavier Adibi
#12 – Maurice Deshazo
#13 – Bruce Arians
#14 – Torrian Gray
#15 – Don Strock
#16 – Jim Druckenmiller
#17 – Kam Chancellor
#18 – Brandon Flowers
#19 – Danny Coale
#20 – Jayron Hosley
#21 – Rashad Carmichael
#22 – Lee Suggs
#23 – Nic Schmitt
#24 – Ron Davidson
#25 – Frank Beamer*
#26 – Cody Grimm
#27 – Jarrett Ferguson
#28 – Ken Oxendine
#29 – Frank Peake
#30 – Dave Smigelsky
#31 – Curtis Taliaferro
#32 – Darren Evans
#33 – Ken Edwards
#34 – Ryan Williams
#35 – Mike Johnson
#36 – Carter Wiley
#37 – Phil Rogers
#38 – Rick Razzano
#39 – Lyndell Gibson
#40 – Ben Taylor
#41 – George Del Ricco
#42 – James Anderson
#43 – Jimmy Richards
#44 – Terry Smoot
#45 – Cyrus Lawrence
#46 – Jamel Smith
#47 – Nekos Brown
#48 – Nick Cullen
#49 – Chris Ellis
#50 – Ki Luczak
#51 – Jack Prater
#52 – Buzz Nutter
#53 – Kyle Albright
#54 – Kent Thomas
#55 – Darryl Tapp
#56 – Corey Moore*
#57 – Wyatt Teller
#58 – Cornell Brown*
#59 – JC Price
#60 – Woody Baron
#61 – Billy Conaty
#62 – Blake DeChristopher
#63 – Harold Grizzard
#64 – Jake Grove*
#65 – Newt Green
#66 – Scott Hill
#67 – Don Thacker
#68 – Mike Zeno
#69 – Eugene Chung
#70 – Waddey Harvey
#71 – David Pugh
#72 – Wally Browne
#73 – Jim Pyne**
#74 – Derek Smith
#75 – George Preas
#76 – Duane Brown
#77 – Tom Beasley
#78 – Bruce Smith**
#79 – Roger McClure
#80 – Antonio Freeman
#81 – Mike Burnop
#82 – Donald Wayne Snell
#83 – Paul Nelson
#84 – Carroll Dale**
#85 – Tommy Marvin
#86 – George Foussekis
#87 – Steve Johnson
#88 – Andre Davis
#89 – Morgan Roane
#90 – Jeff King
#91 – Sterling Wingo
#92 – Luther Maddy
#93 – Robert Brown
#94 – Chad Beasley
#95 – Jim Davis
#96 – John Engelberger
#97 – Brent Bowden
#98 – Derrick Hopkins
#99 – James Gayle
NO NUMBER – Hunter Carpenter
*Retired Jersey – the number can still be worn by Tech football players
**Retired Number – the number will never be worn by another Tech football player