By:

ltrepeter2000
HOKIE HOOPS WIZ
on November 29, 2020, 2:01 PM
| 105 comments
HOKIES HOOPS CENTRAL: SOUTH FLORIDA (1-1) VS VIRGINIA TECH HOKIES (2-0) 8PM ESPN2
It's gameday!We'll be back at it tonight vs. USF in Bubbleville#StoneByStone | #Hokies 🦃— Virginia Tech Men's Basketball (@HokiesMBB) November 29, 2020
GAME INFORMATION
Date/Time: Nov 29 2020 8 PM
Opponent: South Florida
Site: Mohegan Sun Casino, Connecticut
ESPN2- Kevin Brown (play-by-play) and Jon Crispin (analyst) on the call
Virginia Tech Sports Network - Jon Laaser (play-by-play) and Mike Burnop (analyst)
🚨 Down goes No. 3 Villanova 🚨@accnetwork pic.twitter.com/RSEhtlVIIz— ESPN (@espn) November 29, 2020
The Analyst Dilemma
Seth Greenberg won't know who to cheer for here, having coached South Florida before coming to Virginia Tech.
Couch Mike Young and staff are off to a great start after their second #3 upset in as many seasons after taking down Villanova 81-73 in overtime. Now the challenge will be to get this team focused and energized to play the South Florida Bulls. Virginia Tech has a 4-4 record against South Florida. This is the first time since 1995 that these teams have faced each other. This is the third game of the season for the Bulls. They took down "powerhouse" Florida College and lost to Rhode Island so far. The Hokies took down Radford 77-62 in their opening contest.

The Bulls are coached by Brian Gregory, who is in his fourth season as head coach. The Bulls were 14-17 last year before the season was shut down. Gregory is 49-53 (.480 W%) as the South Florida head coach, and is 297-233 overall with five seasons at Georgia Tech and eight more at Dayton. The Bulls were CBI champions in 2019.
Coach Gregory lost two players to graduation including star point guard Laquincy Rideau, the AAC Defensive Player of the Year. He had one additional player opt out and a fourth transfer. He does however bring in two new freshmen and two transfers. Another top big, Alexis Yetna, is limited so far in his comeback from knee reconstructive surgery. Xavier Castaneda, another expected starter is dealing with a groin injury and likely wont play.
Defensively, Gregory has his team focused on transition defense and limiting opponents to a single shot by being extremely focused on defensive rebounding. The goal is to prevent the opponent from scoring easy lay-ups on the break. When the Bulls shoot, at least one guard but normally two, instead of rebounding, will stay back beyond the three-point arc and likely drop away to mid-court. He Bulls do however focus the bigs on obtaining offensive rebounds.
Once in the half court, the Bulls transition primarily to man to man defense. The biggest focus here for South Florida is to get the dribbler out of the top of the key, as this is the hardest area to defend when in man to man and get the ball to one side of the court. Hands up to deny passing lanes and to avoid the player being able to enter the paint and drive towards the net. They also focus on traps near the boundary lines
Offensively, Coach Gregory will try to have his team score early in transition when the defense is not set or score late by moving the ball. The phases of Coach Gregory's zone offense are: transition offense, movement actions, and set play actions. He aims to create high percentage shots in three different spots on the floor. It is a continuity movement that has few rules and depends on if the ball is high or low. His transition offense will push the ball on every possession. It has three options to beat the zone down the floor before the defense gets set. Coach Gregory will use four set plays based out of the 1-4 High Set. They are designed to get your best three point shooter an open look or a lob to the basket.
Bulls Backcourt

David Collins (#0, 6-4, 220 lbs, Senior) Bulls court leader averaging 16.5 ppg, 4.5 apg, 2.5 rpg, and 3 spg so far. Expect Collins to set a fast pace on both ends of the court. Bede has another long night ahead of him when matching up with Collins.

Justin Brown (#13, 6-6, 208 lbs, Senior) He has averaged 10 ppg, 1.5 rpg, 1.5 apg, and 1 spg in their first two contests.

Caleb Murphy (#23, 6-3, 185 lbs, Freshman) Murphy has earned a starting spot and is averaging 10 ppg, 3.5 apg, 4.5 rpg and 1 steal per contest. Seems to have adjusted well to the leap to college ball.

Jamir Chaplin (#24, 6'5, 196 lbs, Junior) averaging 10 ppg, 6 rpg, and 1 apg. Strong first step off the dribble and a left handed shooter so something the Hokies defense needs to be aware of.
Bulls Frontcourt

Michael Durr (#4, 7'0, 260 lbs, Junior) He is averaging 10.5 ppg and 5 rpg, so far in two games. Durr will be the biggest opponent the Hokies have seen in this early season matchup. It will be interesting to see if they are able to keep him from receiving easy lob passes.

Alexis Yetna (#10, 6-8, 234 lbs, Junior) Forward averaging 9.5 ppg and 5 rpg. He is coming off the bench this season after returning from a knee injury but still playing 20 mpg. Surprisingly good three point shooter that doesnt hesitate to take a step back to shoot.

Russell Tchewa (#54, 7'0, 260 lbs, Sophomore) As if dealing with 1 seven footer wasn't enough, Tchewa comes in on transfer from Texas Tech and is averaging 4.5 ppg, 2.5 rpg, and 1 spg in about 11 mpg.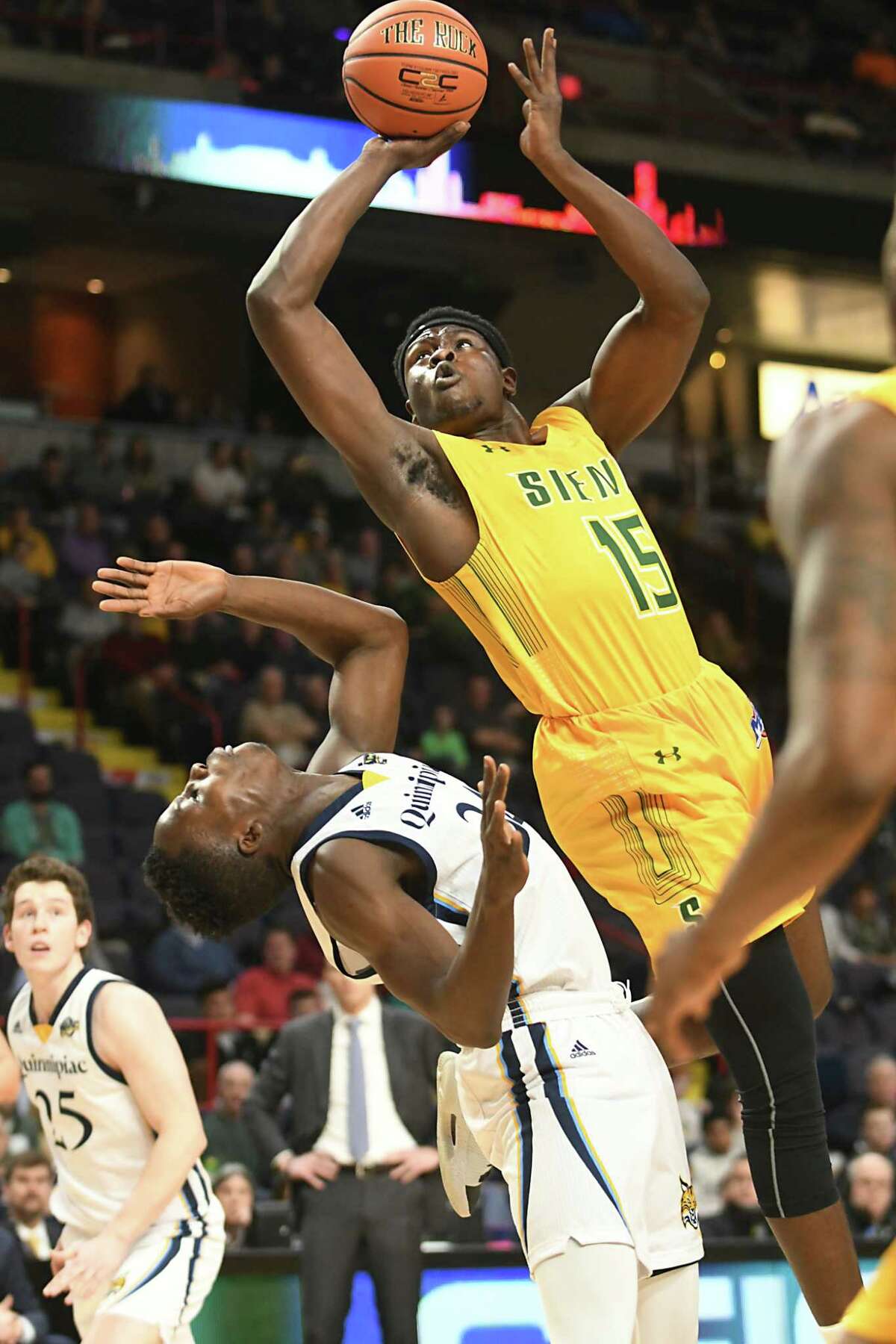 Prince Oduro (#3, 6'8, 255 lbs, Junior) a big body transfer from Siena and Mississippi State averaging 4 ppg, 3 rpg, and 1 bpg in about 15 mpg.
What to expect from South Florida?
As a team the Bulls are averaging 81 ppg but that number is very misleading, they also have six players averaging more than 9.5 ppg, which is also very misleading. Early season stats will get after you. The Eagles put up 94 points against Florida College but fell back to earth with 68 against Rhode Island. Regardless of output they still shot 51% from the floor and excel at getting open looks down low which isn't hard when you always have a seven footer on the floor.
The other area that having big body seven footers helps you is rebounding, where the Bulls have a 10 board advantage thus far 40/30 per contest.
South Florida is shooting only 35% from outside on 6.5 made baskets per game so far. This is not a major part of their normal game plan.
The Bulls will rely heavily on David Collins to direct traffic inside to score and facilitate. The Hokies will also need to be defensively sound as the Bulls are adept at getting favorable whistles and after last night's second half, we know this can be a problem. The Bulls have reached the foul line 50 times in two games, but more so against Rhode Island.
The Bulls however struggle on the defensive end where opponents are shooting 49% and the Bulls sent Rhode Island to the free throw line 35 times yesterday. Point differential at the line though was 12 points in a 16 point loss as a great example of why hitting free throws is so important.
The Hokies
The Hokies will have a much harder time scoring in the paint. Rhode Island got 75% of their scoring against South Florida from their guards and the Hokies will likely emulate this. Expect to see big games from Alleyne, Cattoor and Radford. Bede has even been surprisingly adept from outside, so he will sneak a couple in as well.
Diarra's big contribution will be in transition scoring, getting to the rim before the South Florida bigs can lumber back. Hopefully this will be the contest where Diarra figures out how to operate in this offense after his tough 1-8 against Villanova.
The Hokies will need to focus on ball control, especially Mutts, Diarra and Aluma who combined for 10 of the Hokies 14 turnovers against Villanova. The other surprising area where the Hokies need to improve is on creating turnovers. They only forced eight turnovers against Villanova.
N'Guessan and Pemsl will get more minutes in this game mainly for defensive reasons, putting the scoring onus on the guards even higher.
Rebounding is going to be a struggle but we have seen that the Hokies are not afraid to bang down low and are much improved on coming in along the baseline to undercut position of players in the lane.
The Hokies defensively will need to be ever cognizant of the lob pass to the Bull's bigs down low. It is a major component of the offense for South Florida.
The Hokies continue to be dependent on perimeter shooting even with the sizeable change in height on the roster, shooting 56 attempts on 117 total shots. Fortunately they have been able to make 21. The perimeter shot against South Florida should be cleaner as defensively they are much less aggressive on the perimeter than Villanova.
Highlight of the Villanova Game
Upset city in the bubble ✊#StoneByStone | #Hokies 🦃 pic.twitter.com/ixBQW8knaU— Virginia Tech Men's Basketball (@HokiesMBB) November 29, 2020
TEAM FAM
In Closing
The biggest factor here is whether the Hokies can avoid coming out flat after last night's big game. It doesn't need to be perfect but they don't want to give the Bulls confidence early in this contest. The bullseye is already there with the big win last night, no need to zero them in.
Alleyne, Radford and Cattoor all in double digits shooting the three. Aluma will struggle but he is still the centerpiece of this offense, so will get to double digits, likely courtesy of the free throw line.
Hokies still be a bit sluggish early but will get out to a double digit lead by the half and not look back. Late in the game, expect to see Pemsl, N'Guessan, and maybe even a Williamson siting. This Hokies squad has too much backbone to repeat the #3 Let down this season. Hokies win 82-63.
"I don't think anyone wants to settle with this. I think we want to continue to keep getting better everyday."@AlumaKeve joins @TheAndyKatz after putting up 23 PTS & 8 REB in the @HokiesMBB's upset over No. 3 Villanova. #Hokies 🦃 pic.twitter.com/snc2KiXPkU— NCAA March Madness (@marchmadness) November 29, 2020