By:

ltrepeter2000
HOKIE HOOPS WIZ
on February 23, 2021, 11:40 AM
| 102 comments
HOKIES HOOPS CENTRAL: GEORGIA TECH YELLOW JACKETS (11-8, 7-6) #16 VIRGINIA TECH HOKIES (14-4, 8-3) 7PM RSN
It's gameday!#StoneByStone | #Hokies 🦃(» @mainstreetpharm)— Virginia Tech Men's Basketball (@HokiesMBB) February 23, 2021
GAME INFORMATION
Date/Time: Feb 22nd 2021 7 PM
Opponent: Georgia Tech
Site: Cassell Coliseum
RSN (click here for more info), with Tom Werme (play-by-play) and Mike Gminski (analyst) Virginia Tech Sports Network. Jon Laaser (play-by-play) and Mike Burnop (analyst)
Pretty special when the WHOLE SQUAD makes the Athletic Director's Honor Roll!👏 So proud of @HokiesMBB ✏️🏀🎓 pic.twitter.com/pYSmerJdDw— Alise Svihla (@alise757) February 10, 2021
Technically speaking....
The Hokies come off their Covid delay to face an up and down Georgia Tech team. The Hokies are 20-7 against Georgia Tech going into their 28th meeting. Last time out against the Hokies, Georgia Tech jumped out to a huge lead in the first half with a barrage of threes and then cruised to an easy victory. The Hokies lead the home series 9-1. The Hokies come into this matchup 14-4. The Yellow Jackets are coming off a 87-60 thrashing of Miami.
Of note, Coach Young was named as part of the Naismith Coach of the Year Watch List and Wabissa Bede was named as a Senior Class Award candidate as well.
One of the best in the land, Coach Young has been named to the @NaismithTrophy Coach of the Year late season watch list 👏#StoneByStone | #Hokies 🦃 pic.twitter.com/Vtfp4eBTOk— Virginia Tech Men's Basketball (@HokiesMBB) February 19, 2021
Captain Charisma
Congrats to our guy on being named a Senior CLASS Award candidate 👏#StoneByStone | #Hokies 🦃 pic.twitter.com/ZgurGX8ykx— Virginia Tech Men's Basketball (@HokiesMBB) February 8, 2021

The Yellow Jackets are coached by Josh Pastner, who is in his fifth season as head coach at Georgia Tech. Pastner is 76-75 overall guiding the Yellow Jackets. Prior to Georgia Tech, Pastner had a seven-year stint at Memphis ans is 243-146 overall as a head coach.
Coach Pastner's Yellow Jackets wins and losses have come in spurts and are 11-8 with wins over Kentucky, Nebraska, Florida A&M, Delaware State, UNC, Wake Forest, Clemson, Florida State, Notre Dame, Pitt and Miami. Their eight losses are against Georgia State, Mercer, Florida State, UVA twice, Duke, Louisville, and Clemson. The Jackets are 3-3 against ranked opponents.
Coach Pastner took full advantage of the Transfer Portal, as four of his seven man rotation transferred in this season. Jordan Usher and Bubba Parham are the two most important additions, averaging 18.4 ppg between them. Hokies fans should be fairly familiar with Parham having seen him on the court for VMI several times. Usher and Sturdivant transferred from USC together.
Defensively, Coach Pastner loves to use a pressure defense that forces opponents to use up shot clock to even advance to the half court. Once in the half court, the Yellow Jackets have used a variety of defenses, especially zone defense to confuse opponents so far this season. They will vary from a 1-3-1, to a 1-2-2 and also a more traditional 2-3 zone. Defensive pressure though is what they really focus on. They are top 4 in the ACC in scoring defense, 3 Pointers allowed, and seven other key defensive statistics. This is a team that relies on its defense to make its offense go. Creating turnovers and limiting possessions is what keeps this team in games.
Offensively, Georgia Tech runs a constant motion offense. One thing Pastner does not like to hear is that his team is running, he insists his teams sprint, especially off the ball. They are not a prominent offensive team but playing slightly above average offense and exceptional defense is a good recipe for winning at this level.
Prior to conference play, the Yellow Jackets were only averaging 21 attempts from outside, but in ACC play, with how they have struggled to stay in games, that number has increased to 24 attempts per game. The Yellow Jackets have excelled all season and are shooting 37% from outside in conference play. They lean more towards transition scoring, and drives to the basket to create shots, where inside the perimeter as a team they are making 54% of their shots.
Yellow Jackets Backcourt


Jose Alvarado
#10 SR G 6-0 179 lbs
Brooklyn, NY Christ The King Regional High School
16.7 Pts, 3.7 Reb, 4.2 Ast

Michael Devoe
#0 JR G 6-5 197 lbs
Orlando, FL Montverde Academy 49 (2018)
14.7 Pts, 4.4 Reb, 3.1 Ast

Jordan Usher, Transferred from USC
#4 SR G 6-7 213 lbs
Canton, GA Sequoyah High School
10.7 Pts, 4.3 Reb, 2.7 Ast

Bubba Parham Transferred from VMI
#3 SR G 5-10 162 lbs
Snellville, GA Brookwood High School
7.7 Pts, 3.0 Reb, 1.8 Ast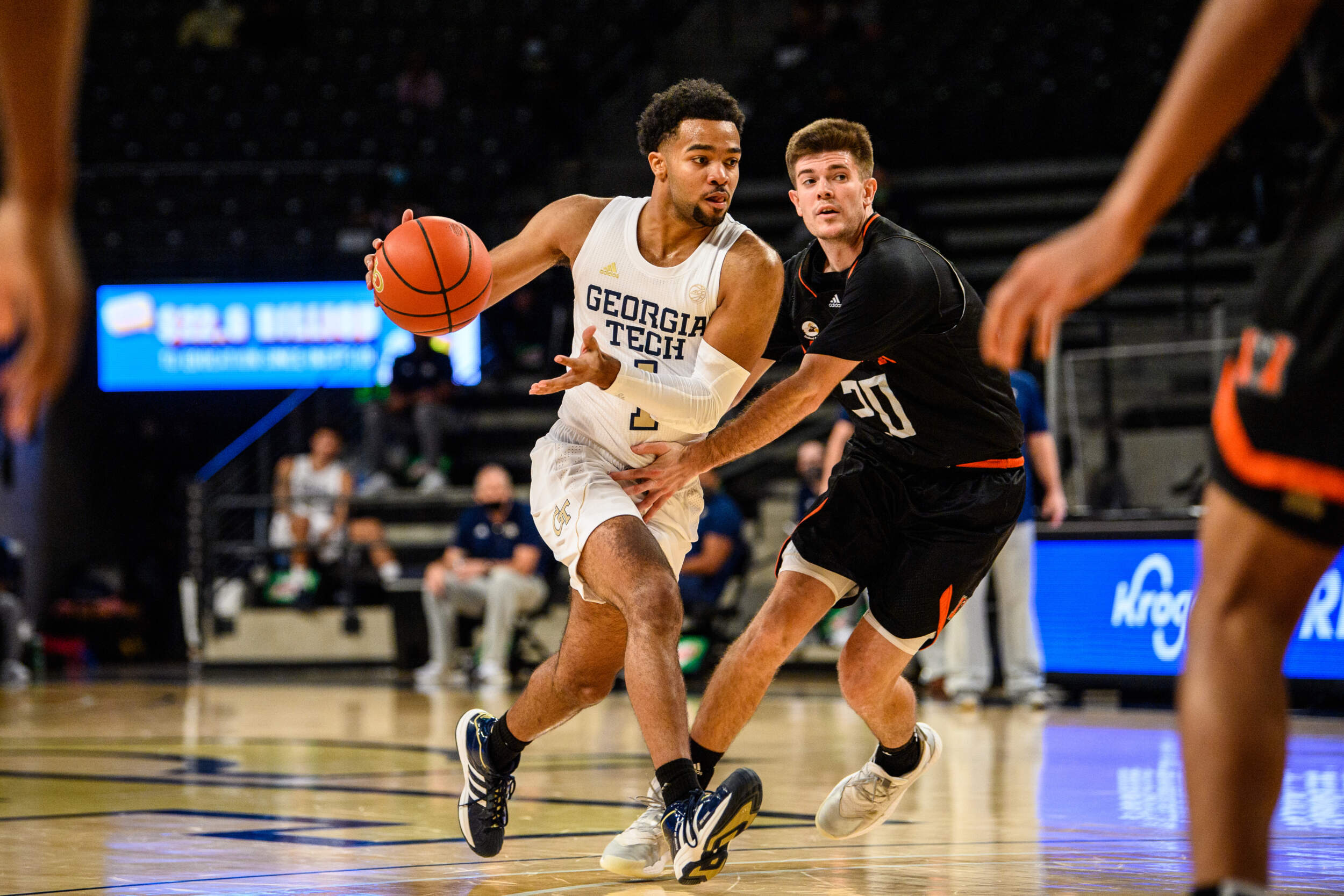 Kyle Sturdivant Transferred from USC
#1 SO G 6-2 198 lbs
Norcross, GA Norcross HS
3.4 Pts, 1.2 Reb, 1.2 Ast
Yellow Jackets Frontcourt

Moses Wright
#5 SR F 6-9 233 lbs
Raleigh, NC Enloe High School
16.3 Pts, 7.5 Reb, 2.2 Ast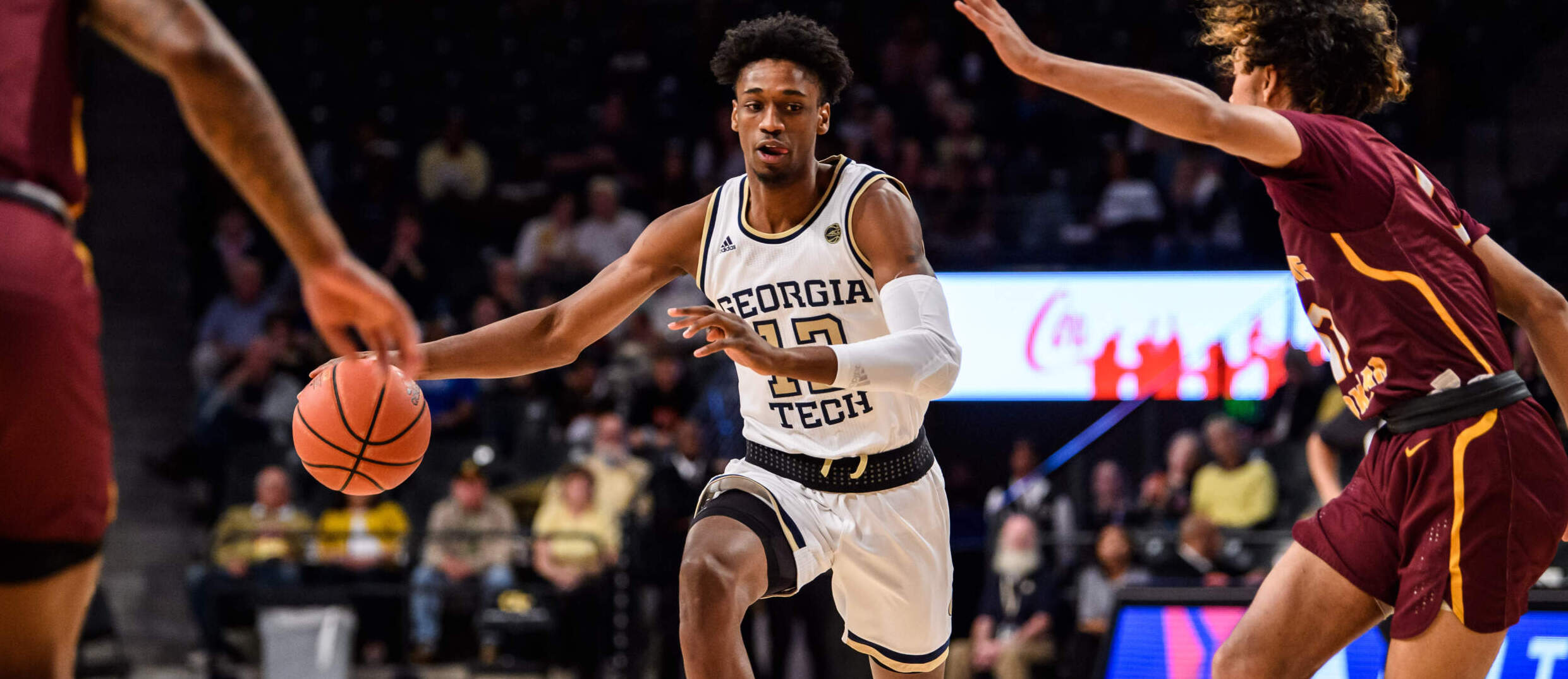 Khalid Moore , Transferred from New York
#12 JR F 6-7 200 lbs
Briarwood, NY Archbishop Molloy HS
4.2 Pts, 2.7 Reb, 0.7 Ast
What to expect from Georgia Tech?
The Yellow Jackets commit the fourth fewest fouls in the ACC at 14.7 per game.
As a team the Yellow Jackets are shooting 37% from the perimeter on 24 attempts per game in ACC play. Alvorado and Devoe are their consistent perimeter shooters.
Georgia Tech's five starters all average 7.7 ppg or higher. Alvorado leads the way at 16.7points per game followed closely by Wright inside at 16.3. Only seven players are getting 10 or more minutes a contest, so a starter dominated workload.
Georgia Tech has been consistently outrebounded in ACC play, mainly due to their size. Outside of Wright their lineup are all 6'7 or smaller. All five starters average at least three rebounds per game led by Wright with 7.5. Wright also averages 1.7 blocks per contest.
Alvorado and Devoe are the primary distributors, averaging more than 3 assists per game each.
The Hokies
For immediate release 📠 pic.twitter.com/MFm0fG09lf— Virginia Tech Men's Basketball (@HokiesMBB) February 22, 2021
The Hokies need to focus on getting Aluma or Mutts the ball down low. The Yellow Jackets smaller lineup has made it very difficult for them to protect inside. Last time out these two combined for 38 of the Hokies 80 points.
The Hokies will need to keep Georgia Tech honest by hitting their open shots on the perimeter. The Hokies were eight for twenty-three from outside, led by Cattoor and Alleyne combining to go sic of eleven in the last game.
The big storyline though is still unknown on whether Jalen Cone can play after missing most of the Miami game after injuring his ankle and whether Tyrece Radford is cleared to return from his suspension. Coach Young had this to say, "Am I concerned about it (for Tuesday)? I am, but they are big, strong, healthy people. We've got to get back on the floor. That's the bottom line. Will it be an issue? It could be."
The Hokies need to protect the basketball. Georgia Tech forces opponents into an ACC leading 15.2 turnovers per game in ACC play and convert 19 points per game in transition. In addition, they must force Georgia Tech into mistakes. The Jackets commit 11 turnovers per game and allow 15 points off those.
Georgia Tech opponents right now average 8.9 offensive rebounds per game on 28 missed shot attempts. The Hokies must be able to position themselves inside to get offensive rebounds and second chance points. Georgia Tech opponents are averaging 10.8 second chance points per game.
Georgia Tech opponents so far only make 10.3 free throws per game. The Hokies are averaging 13.5 made free throws on 18.5 attempts. The Hokies are 5-1 in conference games decided by seven points or less and free throws have been a major factor there. The Hokies were five of six in the final two minutes and overtime against Miami at the line. YOU HAVE TO HIT YOUR FREE THROWS.
As part of this the Hokies need to be relentless in forcing the Jackets starters into fouling situations. While Georgia Tech doesn't foul a lot as a team, four of the starters average 2.3 fouls per game, so fouls hold more significance as they typically only go two deep on the bench for significant minutes.
Highlight of the Miami Game
The play we'll be talkin' about for a while 👏#StoneByStone | #Hokies 🦃 pic.twitter.com/9uHxGgfjpc— Virginia Tech Men's Basketball (@HokiesMBB) February 6, 2021
Cattoor Regulation Dagger
In Closing
The Hokies must slow Wright inside as they have done against most of opponents bigs this season. Wright also struggles defensively so Aluma could be up for another big night.
There will be at least four Hokies in double figures. The roster will likely all be called upon considering the layoff. Aluma has a big night as does Alleyne. Mutts will quietly be the big difference in this game though once the Jackets try to focus on Aluma.
Hokies slow the pace for several reasons but methodically recover from a small halftime deficit to gradually pull away in the second half. Hokies will be double digits winners at the end. 71-61.
Confidence Factor: Four Popcorns, the only reason this isn't five is due to how other teams have struggled coming off breaks like this during the pandemic season. As long as the Hokies keep it close in the first half, they should close this out with a win, putting the Hokies within a single victory of clinching a first round bye in the ACC Tournament..
Also note the Game time change for the Wake Forest game on Saturday, as its now at 4PM rather than Noon.
Our game this upcoming Saturday against Wake Forest has had a time change, with the contest now taking place at 4 p.m. ET on @accnetwork in Blacksburg#StoneByStone | #Hokies 🦃 pic.twitter.com/2snJMwjmGq— Virginia Tech Men's Basketball (@HokiesMBB) February 23, 2021
And one more thing of note, showing that the team and program are connected to their surroundings, take a moment to watch this.
This is what #BlackHistoryMonth means to us #StoneByStone | #Hokies 🦃 pic.twitter.com/9fMERylbPF— Virginia Tech Men's Basketball (@HokiesMBB) February 16, 2021