By:

ltrepeter2000
HOKIE HOOPS WIZ
on January 16, 2021, 3:17 PM
| 98 comments
HOKIES HOOPS CENTRAL: #20 VIRGINIA TECH HOKIES (10-2, 4-1) AT WAKE FOREST (3-4, 0-4) 6PM ACCN
Dude's on another level ✊#StoneByStone | #Hokies 🦃 pic.twitter.com/Km6GFWiA4A— Virginia Tech Men's Basketball (@HokiesMBB) January 15, 2021
GAME INFORMATION
Date/Time: Jan 17 2021 6 PM
Opponent: Wake Forest
Site: Lawrence Joel Coliseum
ACCN, TBD
Virginia Tech Sports Network. Jon Laaser (play-by-play) and Mike Burnop (analyst)
Mike Young. Poppin' like Orville Redenbacher.— Jon Rothstein (@JonRothstein) January 13, 2021
Take on Wake
The Hokies are coming off a second straight outstanding defensive performance to beat Duke 74-67 and now take on the Wake Forest Demon Deacons. The Hokies are 36-31 against Wake Forest going into their 68th meeting. The Hokies are now 10-2 and ranked #20 in the AP Poll.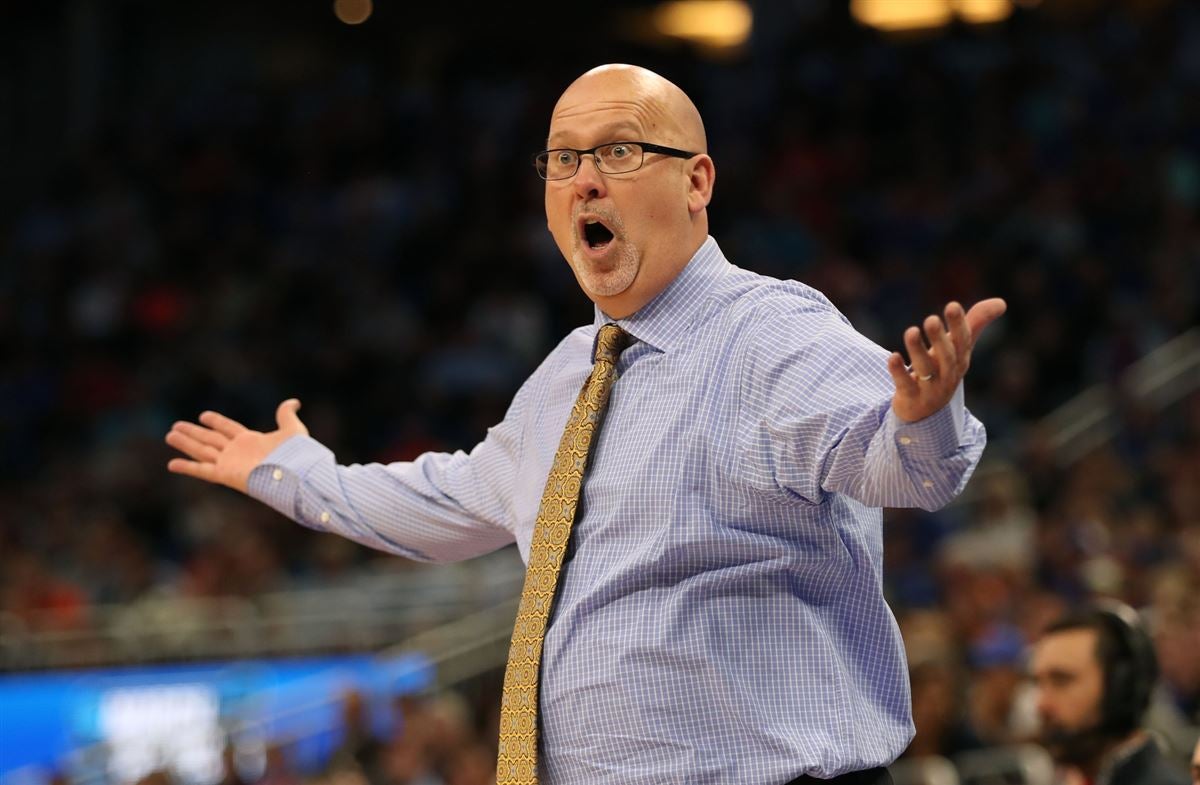 The Demon Deacons are coached by Steve Forbes. He is in his first season at Wake Forest. Prior to Wake Forest, he had stints at East Tennessee State, Northwest Florida State and Barton County Community College. He is 264-83 as a head coach.
Coach Forbes's Demon Deacons really have had a challenging season with two stoppages due to Covid and two players sidelined for the season that both averaged in double figures in the Demon Deacons first two games. Graduate transfer Point Guard Ian Dubose and Center Tariq Ingraham both averaged 11 points per game, with Dubose adding in 4.5 assists per contest, 2.5 steals and 4.5 rebounds. Dubose averaged over 17 points a game the last two seasons for Houston Baptist while Ingraham was returning from a ruptured Achilles. The Demon Deacons have already had six scheduled games either postponed or canceled, which has resulted in lengthy periods of time between contests, and the team having played just six total games as we enter the heart of January.
They have struggled significantly in ACC play. They come in 3-4 with wins over Delaware State, Longwood and Catawba out of conference. They have yet to break into the win column in ACC play with losses to Georgia Tech, UVA, Duke and Louisville. None of the losses were particularly close at the end but were within a single basket late in the second half of three out of four ACC games. Three losses to ranked teams is not surprising especially trying to gel under a new coach in such a difficult environment. The Hokies will look to give them their fourth loss to a ranked team this season.
The Hokies will see a familiar face across the line in this one with Isaiah Wilkins transferring in this season. Watkins has not been a significant factor thus far for Wake, averaging 2.9 points, 2 rebounds and 1.1 assists in about 16 minutes per game. Coach Forbes was busy in the transfer portal bringing in Watkins (VT), Williamson (ETSU), Antonio (UNLV), Dubose (Houston Baptist) and Johnson (Tennessee). He also brought in two freshman in Quadry Adams and Emmanuel Okpomo. Mid-season, Forbes brought another freshman on board in Carter Whitt.
Coach Forbes is still trying to replace several key players lost to graduation in Brandon Childress, Andrien White and Torry Johnson. Center Olivier Sarr transferred to Kentucky. Chaundee Brown transferred to Michigan. Also choosing to transfer were guards Sharone Wright Jr. to Morgan State and Michael Wynn to Akron. Walk on post player Sunday Okeke will also miss this season due to injury. These losses account for the top four scorers and leading pair of rebounders from a season ago. Normally by mid-January, even with changes, teams would be past the growing pains, but with how herkie jerky the Demon Deacons season has been that just isn't the case.
Defensively, the Demon Deacons employ the Pack Line Defense which is designed to create extreme ball pressure. Another major facet is to keep the ball out of the middle of the court. His teams strive to force the offense to take contested jump shots "away from the box". Critical to this defense being successful requires that his teams develop excellent help defense and communicate clearly on defense. The Hokies experienced aspects of this defense against Louisville and will again against UVA. The two ends of the floor couldn't be more different, with the extreme structure of the pack line defense combined with an almost position-less scheme offensively.
Offensively, Wake Forest usually runs the 5-out offense which is, shockingly, all 5 guys out on the perimeter. The goal is pretty simple: keep the lane open for drivers and cutters. As Forbes explained while at East Tennessee, "Schematically, it opened up the court, it gave us a chance to drive the ball, to get to the basket, to drive and kick, it gave our big guys opportunities to shoot 3s..."
The most important part is the amount of movement in the offense. You don't see one guy dribbling the ball for 20 seconds while the other 4 guys just stand around and watch. When someone passes the ball, they immediately move to a different spot on the court, and another player moves to replace them. Even when guys are taking their man 1 on 1, the other 4 players are still moving to find open spots on the floor.
This clip with Jalen Johnson scoring is a prime example of how this team attacks. Also note the big underneath positions himself across the lane from Johnson's drive to act as a dump off option or to be prepared to grab an offensive board.
.@The_Jalen_ is now up to a team-high 8 pts. #GoDeacs 🎩 https://t.co/E1LIyB59aE pic.twitter.com/leP60sNGTb— Wake Basketball (@WakeMBB) January 14, 2021
Wake Forest comes in averaging only 6.5 three-pointers per contest made, 11th in the ACC this season. Most ACC teams are in or close to double digits. Wake Forest is still trying to find a rhythm on offense outside of Daivien Williamson. Williamson followed Coach Forbes from East Tennessee State and is thriving in ACC play. Losing their second and third highest scorers after two games certainly hasn't helped.
Demon Deacons Backcourt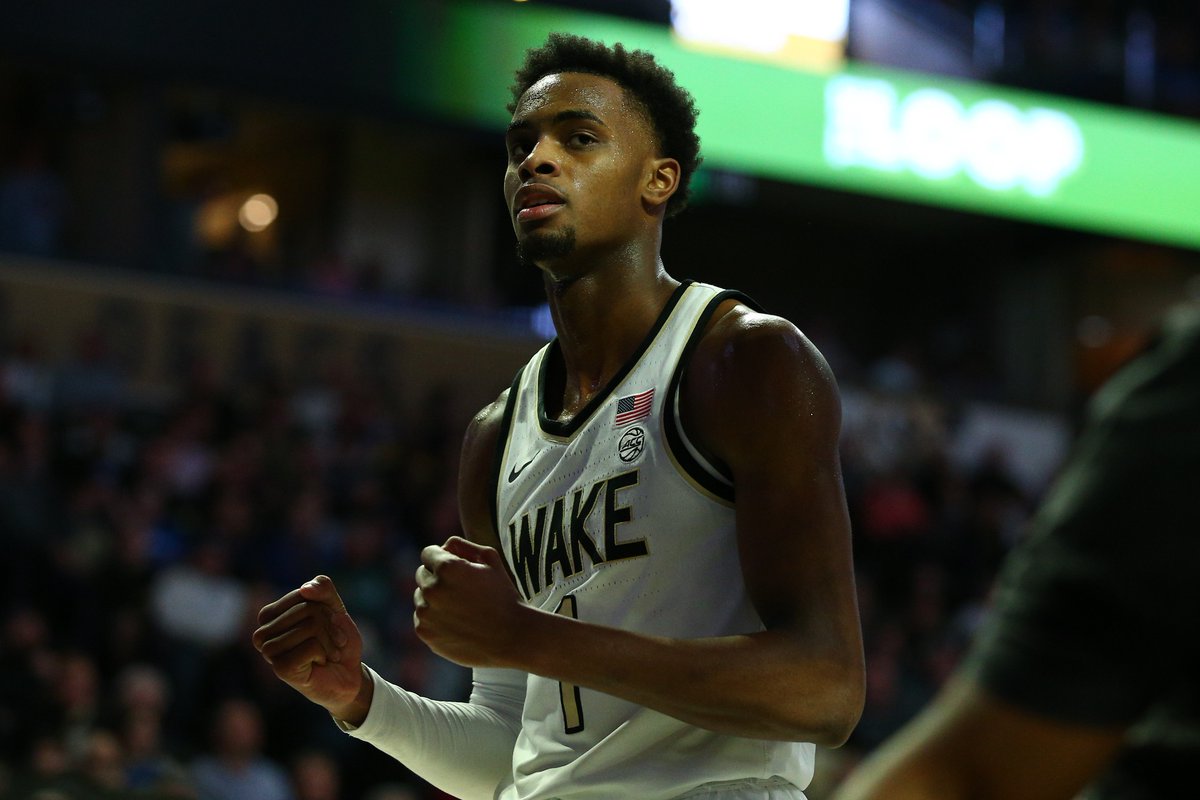 Daivien Williamson (#4, JR, G, 6-2, 170 lbs)
Winston-Salem, NC Winston-Salem Prep
11.4 Pts, 2.7 Reb, 3.0 Ast
Shooting 48% from the floor, 24% from the perimeter, 76% from the line

Jonah Antonio (#20, SR, G, 6-5, 195 lbs)
Perth, WA Sunrise Christian Academy
9.0 Pts, 2.3 Reb, 0.8 Ast
Shooting 45% from the floor, 41% from the perimeter, is perfect from the line on 6 attempts

Jalen Johnson (#2, SR, G, 6-6, 195 lbs)
Durham, NC Wesleyan Christian Academy
6.3 Pts, 2.9 Reb, 0.9 Ast
Shooting 42% from the floor, 39% from the perimeter, 67% from the line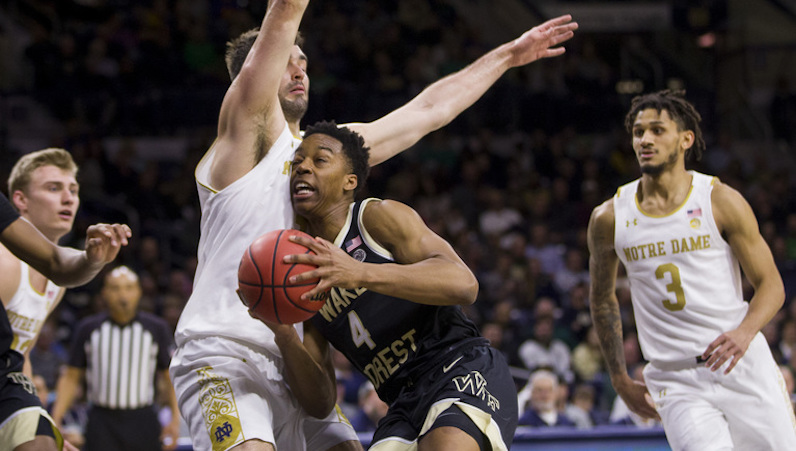 Jahcobi Neath (#0, SO, G, 6-3, 200 lbs)
Toronto, Canada Crestwood Prep
5.3 Pts, 2.4 Reb, 2.0 Ast
Shooting 41%from the floor, 20% from the perimeter, is perfect from the line on 15 attempts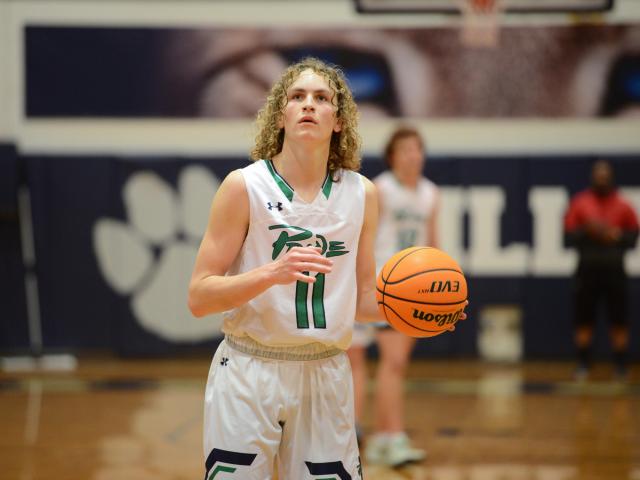 Carter Whitt (#35, Super FR, G, 6-4, 180 lbs)
Raleigh, NC Leesville Road HS
6.0 Pts, 2.5 Reb, 2.8 Ast
Shooting 36% from the floor, 17% from the perimeter, 83% from the line
Demon Deacons Frontcourt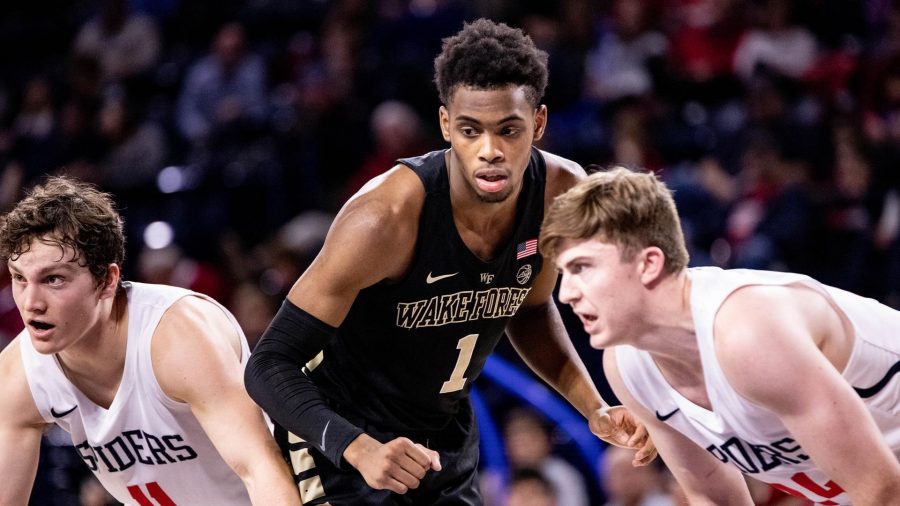 Isaiah Mucius (#1, JR, F, 6-8, 200 lbs)
East Patchogue, NY Brewster Academy 92 (2018)
10.3 Pts, 5.3 Reb, 0.0 Ast
Shooting 43% from the floor, 14% from the perimeter, 74% from the line

Ismael Massoud (#25, SO, F, 6-8, 220 lbs)
East Harlem, NY MacDuffie School
9.0 Pts, 3.3 Reb, 0.3 Ast
Shooting 42% from the floor, 38% from the perimeter, 72% from the line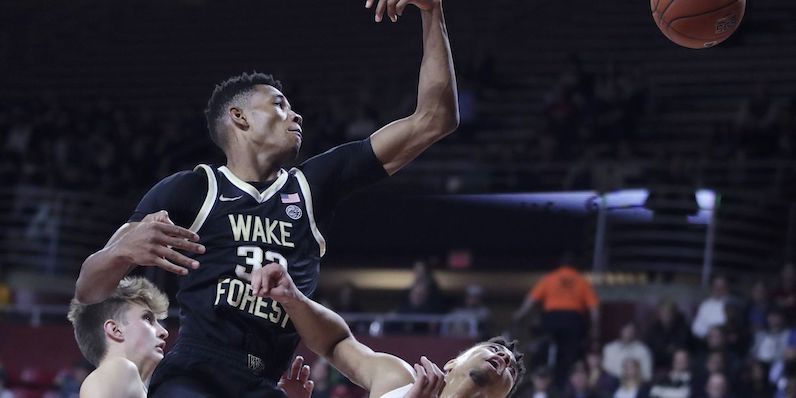 Ody Oguama (#33, SO , F, 6-9, 225 lbs)
Raleigh, NC Woodstock Academy
9.8 Pts, 4.2 Reb, 0.8 Ast
Shooting 56% from the floor, does not shoot from the perimeter, 65% from the line
What to expect from Wake Forest?
The Demon Deacons come in with five players averaging 9 or more points per game. Wake Forest goes deep on the bench for significant minutes or contributions, regularly playing eight or nine players each game for ten or more minutes a contest. This is a developing roster that is well balanced offensively. Williamson is their definitive leader on both ends. I expect that the Hokies though will struggle more with the three bigs in Mucius, Massoud and Oguama, especially Mucius. This is a game where a healthy Pemsl could be critical but it does not appear he is ready to play yet.
This is also a team that WILL compete, as three of four ACC contests have all been within a single basket in the second half. Wake struggles to close out though so the Hokies must keep them off balance especially late in the game.
1 point game at LJVM 👀@ZekeMucius | #GoDeacs 🎩 pic.twitter.com/DdPnlflwv1— Wake Basketball (@WakeMBB) January 14, 2021
Carter Whitt is a fascinating story that is definitely unique to our current environment. He graduated high school in December and was an early enrollee at Wake, and with this season not counting towards eligibility, Coach Forbes has thrust him directly into ACC play. He has assumed more of the point guard role from Williamson, allowing Williamson to play off ball and get open for shots. Whitt has not surprisingly struggled but this move is about the future for Wake given the way this season is already going.
Opponents are averaging 74 points per game in ACC play. Opponents in ACC play are shooting 52% from the floor against the Demon Deacons. Wake does better on the perimeter, only allowing 35% from the perimeter. They still have been allowing ACC opponents a third of their points from the perimeter on 7.8 allowed threes per game.
The Demon Deacons are committing 14.3 turnovers per game possessions or about 21% of their possessions. Part of the reason for that statistic is that the starting point guard is Carter Whitt, who just graduated from high school on Dec. 18. He has averaged 3.3 turnovers in about 25 minutes a contest.
Wake Forest forces 11 turnovers per game and average nearly 13 points per contest off turnovers.
The Demon Deacons commit 16.6 fouls per game. Opponents have shot 16.4 free throw attempts per game so far this season. This accounts for 15% of opponent scoring. This will be a major factor in this contest as most of the Wake Forest opponents so far are not nearly as likely to get to the line as the Hokies have been this season. The Hokies average 21.4 attempts per game in ACC play.
As a team the Demon Deacons are shooting 32% from the perimeter on 23.1 attempts per game but slightly worse 29.5% in ACC play. Antonio, Massoud and Johnson all shoot better than 38% from the perimeter this year combining for 14.3 attempts. No one else shoots better than 25%.
Wake Forest comes in averaging 2.6 fouls or fewer for every player on the team. The fouls are not likely to be a forcing factor in this game barring late in the game if Wake is forced to foul to slow the end of the game.
Wake Forest struggles rebounding as you might expect with their smaller roster with a -4 rebound differential per game. They have only two players, Mucius and Oguama, averaging more than four rebounds per game.
Williamson and Whitt are the primary distributors, averaging only 5.8 assists between them. The Demon Deacons average 10 assists on 22 made baskets per game, roughly 45% of all shots are assisted. This shows you how much Wake Forest relies on creating their own shot. Their style of play offensively is more to isolate and allow the ball handler to create their own shot. The majority of their assists are from guards driving into the lane and dropping the ball to a big inside if they cant reach the rim.
The Hokies
The top takeaway continues to be that the Hokies can play superior defense when they focus. They held a hot shooting Notre Dame team to just two field goals in the second half after trailing early and led Duke the entire game, holding the Blue Devils to 40% shooting and 28% from the perimeter.
The Hokies will need to be focused on their individual assignments with how balanced the scoring is for Wake, who has had different leading scorers in five of their seven games. Two of those five are no longer available due to Covid. Accounting for five active players at 9 points per game though is not something the Hokies have dealt with so far this season.
Tech's perimeter shooting will continue to exceed 20 attempts per contest if only to keep Wake honest inside. Wake is better defensively against the three but single focused shooters like Cone have been successful against the Demon Deacons. Cone hit his 30th three pointer against Duke. That is after missing the first three games.
Coach Young needs another big game from either Radford or Alleyne in this contest. In six of seven contests this season, the opponent guards have been the significant scorers. The only opponent to have a forward lead the way was UVA. That's not surprising with Sam Hauser but UVA also had five players in double figures against Wake.
Normally this is where YOU HAVE TO HIT YOUR FREE THROWS. Its important in this one of course but with Wake only allowing opponents 9.3 made free throws in ACC play it becomes that much more critical to take quality shots, grab ten or more offensive rebounds and create ten or more turnovers.
This is the game where we see what lessons these coaches drilled in about approaching the pack-line defense after facing a very similar defense against Louisville. Louisville though has much better athletes top to bottom than what the Hokies face in Wake Forest. Lets hope for more of second half Hokies rather than first from that game.
This is the point in the schedule the Hokies have to ensure they keep laser focused on the opportunity to show they are a top tier team this season in the ACC and will continue to grow. Rankings are nice, winning is great but setting the tone for the increased profile this season could give the Hokies some long term results. This definitely hinges on how they perform in these next five games. Only one of their next five opponents will likely be considered favorites against the Hokies and that's UVA just based on their recent history. The Hokies program greatly benefits from a 4-1 or 5-0 stretch.
Why is this coming up now? The team is starting to warrant attention from the conference and national level, with Coach Mike Young appearing on Jon Rothstein's podcast and Jalen Cone with an appearance on Packer and Durham.
The two talk: 📈 Early season success🏀 The ACC🍿 And all things popcorn(7:26-19:37)🔊 Listen here:Spotify - https://t.co/7f13B7KinAApple Podcasts - https://t.co/t5VMV7In2USoundcloud - https://t.co/GfXBX8LgUX— Virginia Tech Men's Basketball (@HokiesMBB) January 14, 2021
| #Hokies 🦃 pic.twitter.com/Tpm8RNggbA— Virginia Tech Men's Basketball (@HokiesMBB) January 14, 2021
Here is the clip of Cone on the Packer and Durham Show
J-Cone was on @accnetwork's #PackerAndDurham this morning and spoke on the quality of his teammates, his respect for @CoachMKYoung and more 🗣@J15Cone's full interview 👇#StoneByStone | #Hokies 🦃 pic.twitter.com/kk8NE6BW2Z— Virginia Tech Men's Basketball (@HokiesMBB) January 14, 2021
Highlight of the Duke Game
So many options but have to give this one to the coaches and the social media team
Mornin' 👋#StoneByStone | #Hokies 🦃 pic.twitter.com/2lrqlzteE6— Virginia Tech Men's Basketball (@HokiesMBB) January 13, 2021
Leggooo 🙌#StoneByStone | #Hokies 🦃 pic.twitter.com/5Lw86wcBUo— Virginia Tech Men's Basketball (@HokiesMBB) January 13, 2021
*whispers*That's 4 out of the last 5 in Cassell 🤷‍♂‍ pic.twitter.com/E4s4NLCfLk— Virginia Tech Men's Basketball (@HokiesMBB) January 13, 2021
In Closing
The points of emphasis in this one are double digits: Forced turnovers, offensive rebounds, made free throws, and four scorers. If the Hokies check those boxes they cruise to a win. Otherwise and they struggle against a capable Wake team.
Wake has managed to be within a single basket in the second half of three out of four ACC contests. They were down 53-41 to Louisville and clawed back to 53-51. They seem to run out of steam with about eight minutes to play, losing by an average of 12 points per game in ACC play.
Hokies remain vigilant, continuing to improve and actually get this game to the point they close out with the bench, up by 15-20 points. Final 83-67.
𝙂𝙚𝙩 𝙩𝙤 𝙆𝙣𝙤𝙬@JM_Squarepants is a well-traveled player who has found his role here at Tech 👌#StoneByStone | #Hokies 🦃 pic.twitter.com/4Ko7Jvf4HE— Virginia Tech Men's Basketball (@HokiesMBB) January 15, 2021