With 4.3 seconds left, the Virginia Tech basketball team (yes, this Virginia Tech basketball team) had a real shot at beating Syracuse.
As time expired, guard Malik Mueller launched a three point attempt from the corner. It was on a perfect line, but much like the Hokies' overall effort, it fell just short.
The average college basketball coach here would provide your standard issue platitudes. Maybe a "we're close" or "we can build on this" or even "if a few plays had gone a little differently."
Buzz Williams refuses to give in to that kind of thinking.
"We've lost four out of our six games by one possession. Does that mean we're good or does that mean we suck? It means we're 8-6, and that's what Coach Parcells said: 'you are what your record says you are," Williams said. "I don't think that with each passing day that you can continue to say the same thing over and over. At some point you have to get past that."
But even with this kind of attitude, Buzz admits that it's hard to get a better look to end the game.
"With 4.3 seconds left, I think we would take that every day," Williams said. "But if you want to win the game, make the shot."
Williams specifically zeroed in on the team's abysmal first half performance, creating a 42-23 halftime deficit, that ultimately doomed the Hokies.
"You can't play a preseason top 25 team who has done all of the things that Coach Boeheim has done at Syracuse since before I was born, you can't play 20 minutes and go 'man, we feel good,'" Williams said. "No, it was 40 minutes. We knew that yesterday when we woke up."
But while Williams refuses to be content with the team's performance, it's hard for fans not to feel encouraged.
For a nine minute stretch to start the second half, the Hokies only allowed nine points to the Orange and scored 21 of their own.
That's especially impressive considering that the team was doing all this without starting big man Joey van Zegeren. He's been indefinitely suspended for an undisclosed incident during practice, and although Williams is staying mum on the specifics, it's clear that he's sending a message to his squad with the move.
"He will not be back on Tuesday. I can't answer when he'll be back," Williams said. "I think we've been transparent in handling what we said, but I do think that at some point you have to be a part of a team. And what happens within a team is for the team, that's not me trying to hide anything. Joey's a really, really good kid. He didn't handle himself well, and there has to be right and has to be wrong, and he was wrong. He knows he was wrong. Our team knows he was wrong. And we missed not having him today."
Without van Zegeren, Buzz was left to rotate in Satchel Pierce and Shane Henry as his only "big" men (big, of course, being a relative term considered that Henry stands at 6'8") and both had foul trouble early on.
Williams experimented with a strange all-guard lineup in response, forcing guards Malik Mueller and Devin Wilson to have to defend 'Cuse's bigs at times.
It resulted in the Hokies getting creamed on the offensive glass, with Syracuse grabbing 15 of their 42 rebounds on their own end of the court.
"We've just got to figure out stuff like stopping offensive rebounds in the first half, just seeing where we can get better and not have it happen again," said forward Satchel Pierce.
Even still, the team says they weren't overly fazed by the change.
"We've played small all year, so when we had five guards, it was something in practice we were used to," Wilson said.
For all of Wilson's confidence, the team clearly still had trouble with the change in the first half.
Not only did Syracuse basically operate uncontested on the glass, but Jim Boeheim's famed zone befuddled the Hokies as they tried to get into their offense.
The Orange at one point even went on a 20-3 run stretching for a big chunk of the first half.
Williams attributes these issues to a lack of tenacity in attacking the defense.
"Our mentality was really bad in the first half in regards to attacking that (zone)," Williams said. "Rightfully so, their forwards just keep creeping up, creeping up if your wing players apply no pressure."
Wilson provided some occasional sparks, but Buzz believes he wasn't receiving much in the way of help on that end of things.
"If one guy's driving and the other four guys are just standing there like we do when we're watching the game, then that doesn't help anybody," Williams said. "You have to move off the zone. It can't just be the guy that's dribbling moving, it's everyone else."
That resulted in that ugly 42-23 score as the half ended.
But when the horn blew to start the second, it seemed like a completely different Hokies team took the court.
Shane Henry helped set the tone early, fighting for a rebound, and getting the ball to Justin Bibbs for a three pointer to get Tech going.
From there, the team went on an incredible 19-5 run to make it a five point game, forcing Boeheim to call timeout just to get things back under control.
"We just said 'don't think about the score and keep fighting,'" Bibbs said.
Part of the Hokies' success stemmed from a sudden rejuvenation from deep. Both Bibbs and guard Ahmed Hill hit some long jumpers to start stretching the defense and frustrating the Orange.
"They are a very good shooting team, they have multiple guys that can shoot it and they are a difficult team for us to defend because they have good penetrators and real good three-point shooters," Boeheim said.
But Williams credits Wilson's improved aggressiveness, and effectiveness near the rim, for truly helping the team turn it around.
"I thought, in general, our team's mentality in the drive was more aggressive in nature versus tentative nature in the first half," Williams said.
Syracuse recovered a big after the stoppage in play, getting a big dunk from Rakeem Christmas, but then Mueller nailed a three and two Wilson free throws made it a two point game.
Cassell Coliseum positively erupted, and the roof nearly came off the place on the very next play.
Bibbs stole the ball from Tyler Roberson, leading to a fast break for Tech. Wilson barrelled down the floor, but missed the layup.
Henry was there for the offensive board, but he too missed his layup. From there, the Orange got the ball back and started to get back into rhythm.
They pushed the lead back to eight by the final media timeout, and the Hokies seemed gassed.
Both Henry and Pierce fouled out, leaving Tech with no viable option on the inside, so it appeared as if the rally would fall short with about three minutes to go.
Yet the Hokies just kept nailing jumpers, and the Orange suddenly couldn't hit their free throws.
Syracuse had 10 missed free throws in all down the stretch, and all of a sudden, Tech drew back with five points at 68-63.
It was at this point that Williams' famed mania started to set in in earnest, as he managed to absolutely obliterate his dress shirt with sweat.
"I'm just anxious, I wish I wasn't," Williams said. "I watch so many games, even with Coach Boeheim. I watch their games and the camera goes by the bench and I go 'man, I wish I could do that.'"
Hill came back down the floor and nailed a three pointer, and the lead was back to just two.
Then things got tricky. Hill fouled out of the game, robbing the team of a valuable gunner from deep.
But Syracuse's Ron Patterson missed both of his foul shots, and with just a few seconds left, Tech thundered down the court with a chance to win the game.
Yet it was hardly a conventional lineup for Tech coming off the miss.
"I don't know that we've ever worked that with Will (Johnston) at the 5, Malik at the 4, Bibbs, Devin and Adam," Williams said. "We have not ever done it with that group of people."
Even with the mismatched group running the final play, Williams is still satisfied with the look Mueller got.
"They did execute what we want to do on a free throw miss," Williams said. "Bibbs going full speed downhill, draws help, good pass. Somewhat of a long closeout."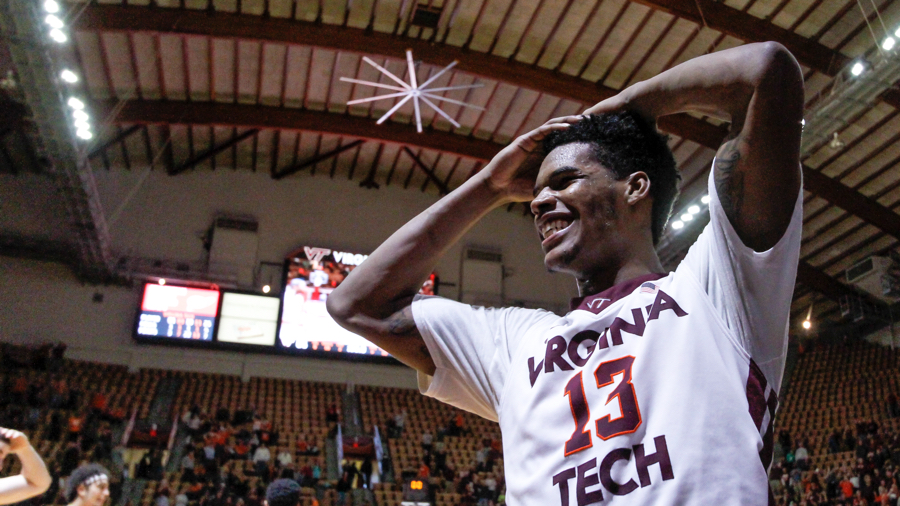 Ahmed Hill reacts to a last second buzzer beater miss that would have given the Hokies the win. [Mark Umansky]
Yet Mueller did miss that fateful shot, handing the Hokies another close loss. As Williams freely admits, this team has trouble with close games, losing four of six by just one possession.
"What if we won half of those? Then how many people would be in this room?" Williams said of what was already a relatively packed press conference. "What if we'd won all of them? We've only won one of them. Only one of those eight wins is a one possession game, but four of those six losses are. We need to put ourselves in a position to deserve the right to win the game."
Williams concedes that the "if 'ifs' and 'buts' were candies and nuts' platitude applies to thoughts like that, he also does take some solace in the way competed in the second half.
"We could've lost by 50," Williams said. "West Virginia could've beaten us by 60."
So even if Williams isn't willing to claim a moral victory from this one, coming on the heels of the team's 31-point embarrassment at the hands of the Mountaineers just a few days ago, it seems difficult not to draw at least some encouragement from parts of this loss.
"We showed that we have heart and compete, we've just got to compete like we did today," Bibbs said.
If the Hokies can show the kind of competitiveness they exhibited in the second half against the rest of their imposing ACC slate, then maybe Buzz will finally be willing to acknowledge just a bit of progress.
"We need to play more like we did in the second half, obviously," Williams said. "I think there are a lot of lessons to learn every day and every way."