Popcorn Mike and crew are currently 15-6 on the season, and now enter a matchup in the first round of the NCAA tournament against 14-9 Florida in a toss-up game according to Vegas. What can we expect when the two face off? And how does Virginia Tech compare to other tournament teams, including potential future matchups with Ohio State, Arkansas, or Texas Tech? By the (Advanced) Numbers takes a look...
Overall Matchup
The Massey Composite computer rankings collect rankings on every team across many computer rankings systems available.
Florida represents a pretty even matchup for a 10-versus-7, and should the Hokies win they will likely face a much more formidable opponent in the round of 32. It also seems that the Hokies fall right about on the line between teams that were selected for the tourney based on performance versus automatic bids that are in despite low rankings. Although I initially thought Virginia Tech should've been about a 7- or 8-seed, this makes me think a 10 is about right.
Overall statistics are provided by the KenPom rating system and provide a breakdown for total team efficiency as well as offensive- and defensive-specific numbers.
KenPom has Virginia Tech as roughly middle-of-the-pack on both offense and defense for tournament teams, and gives Florida a slight edge in each metric. Both teams are very balanced between the two.
Offense
Offensive personality ratings are defined as follows:
Pace: The number of possessions the team has averaged per 40 minutes of clock time.
Total Rebound %: The percentage of possible rebounds — offensive and defensive — that the team gained.
Assist %: The percentage of made shots that were assisted.
Although overall ratings appear similar, the personalities of the team are quite different. The Gators have one of the faster paces in the country, and one of the lowest assist percentages — this indicates a fast-break team. The Hokies on the other hand play towards the slower end, with a high percentage of shots assisted, indicative of the team's style of utilizing passing and movement to create good shots.
Shooting offense is compared using these statistics:
eFG %: Effective field goal percentage is a regular field goal percentage statistic but adjusted for the number of points the shot is worth.
3 Pt %: Rather than the percentage of 3-pt shots made, this statistic is the percentage of shots taken that are 3-pt shots.
FTA per FGA: A reflection of a tendency to get fouled while shooting, this is the number of free throw attempts gained per field goal attempt taken.
Despite the different styles, the two teams have a strikingly similar effective field goal percentages. The Hokies reach that via a high percentage of shots coming from beyond the arc — a lower percentage shot worth more points — while the Gators reach it from a high percentage of shots coming from inside the arc. Again, this indicates a fast-break team that scores often on individual efforts.
Defense
The defensive personality statistics are defined as:
Steal %: The percentage of opponent possessions that end with a steal.
Block %: The percentage of opponent possessions that end with a block.
Opponent Offensive Rebound %: The percentage of possible offensive rebounds gained by the opponent (so 100% - defensive rebound %).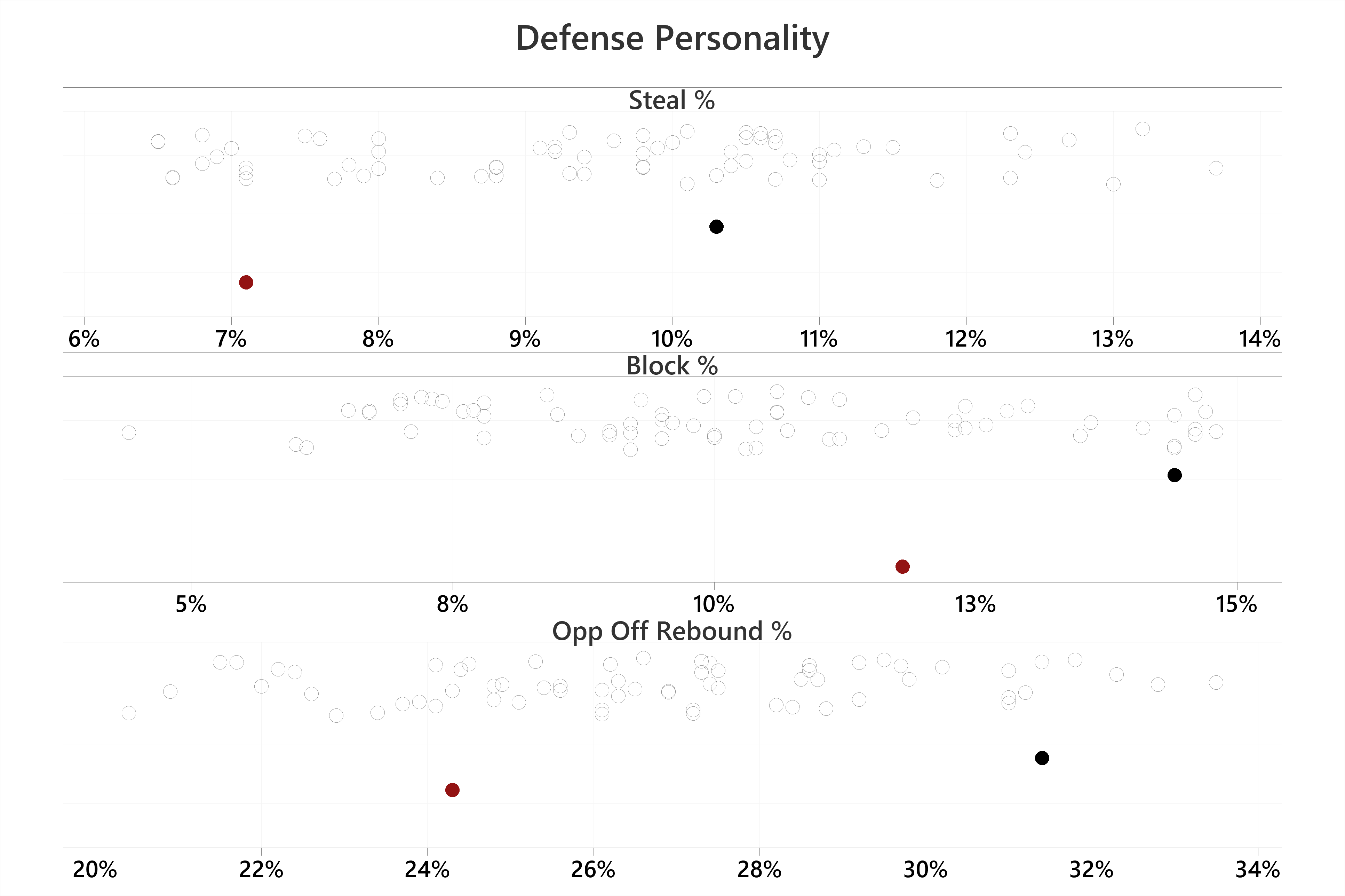 Mike Young is a really good guy, who knows that stealing is wrong and would apparently never coach his team to do so (315th nationally). If you want something, you don't just take it from someone who already has it unless you are a Florida Gator in which case you apparently think it is fine to rob others. And then probably go score an unassisted 2-point shot.
Fortunately, those same Gators are more than generous when an opponent misses a shot. More than almost any other tournament team they believe in second chances and seem to be happy to let opponents get their own rebounds.
The shooting defense metrics are the same as the shooting offense metrics, but based on opponents' performance.
An interesting dynamic in this game is 3-point shooting. Virginia Tech likes to take a high-percentage of shots from beyond the arc, while Florida's opponents have tended to take a relatively low percentage of 3-point shots. Similarly, the Gators take relatively few 3-pointers while the Hokies tend to give opponents a high percentage of them. It will be interesting to see whether either offense breaks from their normal style in this regard, especially since Tech has experienced some painful losses at the hands of teams that suddenly can't miss the long shot.
Prediction
Disclosure: I grew up on the good side of the Georgia-Florida border, and I'm the only person in my immediate family to have not attended UGA. Plenty of my childhood clothing was red and black, and we never missed a World's Largest Outdoor Cocktail Party. I despise blue and orange (which made the transition to Hokie quite seamless), and really want to see the Gators lose no matter who they play. I passionately want the Hokies to win this game.
Virginia Tech is 4-0 against ranked teams this season. They were 1-5 last season, and 12-30 in the regular season during Buzz Williams' tenure including a 3-6 mark in his final season. It has long felt like there was a hump the team just couldn't get past, where improvement in overall record never seemed to reach a point where the Hokies could expect to beat good teams regularly.
But Virginia Tech is longer a team that might upset you. This is a team that just beats you. No team is too big, and nothing intimidates them. They play like a group that expects to win even when down, not one that hopes to win. The Hokies were 3-1 in games decided by five points or less, and in the lone loss (Louisville) they trailed by 10 with five minutes to go and by 6 with just 1:23 to go. They didn't lose a close game that they led - rather, they fought to win a close game that wasn't particularly close late.
The Gators are rated slightly higher, but I have no doubt Virginia Tech believes they will beat this team and will fight until the buzzer to make sure that happens. I predict a first round statement.
Virginia Tech 76, Florida 60