Frank Beamer has always projected an image as an even-keeled sort of coach, even in the most intense moments of a game. But his specialists are well aware that he has a sharper edge.
Beamer never ranted and raved wildly or threw chairs to show his displeasure, but the special teamers under his tutelage over the years say he was never afraid to get in a jab if they weren't performing up to par.
"If you hit one pretty bad he would be like 'Ah, I don't know palsy, that looks like my tee shot after I haven't warmed up' or something like that," remembers former Tech kicker Shayne Graham, providing a dead-on impersonation of Beamer's famous Fancy Gap drawl.
But those habits didn't die off once Graham graduated after the 1999 season. Collin Carroll, the team's long snapper from 2008 to 2011, can recall being on the receiving end of a few Beamer barbs in his time at Tech.
"He would make fun of us, if we did something dumb or if we performed poorly in practice," Carroll said. "He would say 'We're gonna send you back to the dorms' or he'd say 'We're gonna have to check your SAT score' or he'd say 'I'm not so sure about that Minnesota kid,' which is where I'm from. So he always teased and made light of what is really a pretty mentally exhausting thing."
Indeed, the specialists note that the taunts were never mean spirited, even if they came after a bone-headed play.
"He would kind of get on you, but at the same time, you could tell his heart was there," said Cody Journell, Tech's starting kicker from 2011 through 2013. "He would tease you to the point where you knew 'Alright, I've got to straighten up and get this right,' but he wasn't mad at you at the same time."
Instead, Beamer's choice words often tended to inspire, rather than disparage.
"Looking back now, it was what you needed," said Chris Hazley, the Hokies' starting kicker in 2010. "It prepared you for the games, it prepared you to kick in front of 67,000 people. He would put you on the spot and kind of set it up for you like 'Hey, you've got a job to do, go out and do it.'"
But Beamer's jabs at his specialists show more than just his affinity for unusual motivational tactics — they provide a window into his unique relationship with his special teamers.
Though Beamer had a whole program to run, with donors to court, recruits to check in on and administrators to please, he never relinquished his role as Tech's special teams coach.
So as Beamer steps away from the only job he's known for the last 29 years, it's perhaps the specialists that he spent so many hours with on and off the football field that can offer the most complete collection of memories of his historic tenure.
"When he leaves, I think it'll be a bigger deal to the specialists that he coached," Carroll said. "I think it'd be different for a normal guy, like for Tyrod (Taylor) or Danny Coale, for them to see Coach Beamer leave. I think they have a ton of respect for them, I think they'll remember fondly their time playing for him, but they also had a quarterbacks coach, a wide receivers coach who was also their gateway into the coaching staff. For me, it was really just Coach Beamer."
"A Hell of a Special Teams Coach" in Practice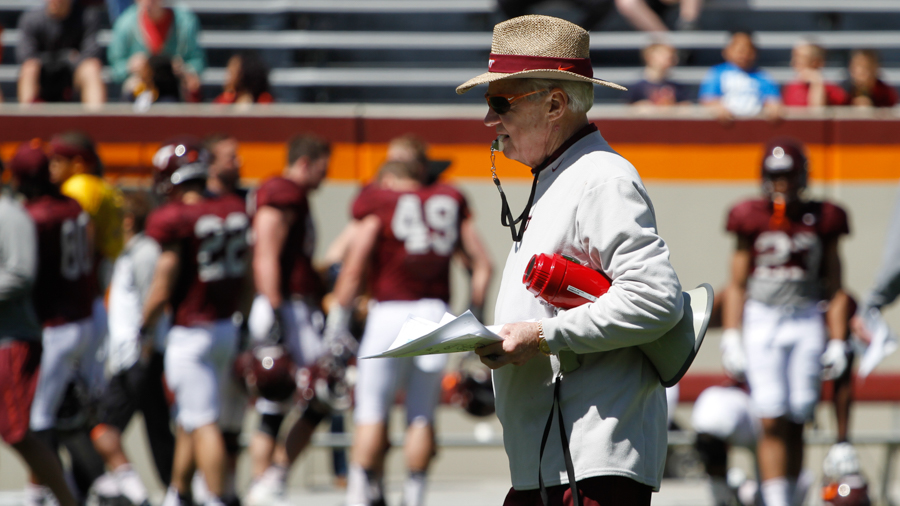 With all the stress that came with serving as the public face of a football program, and even the whole university on some days, Carroll thinks Beamer especially relished the simplicity of his time with the special teamers in practice.
"I kind of got the feeling that going out into the stadium with the specialists was kind of the highlight of his day," Carroll said. "He never said that, but that was always the time when he got to be hands on again...He kind of got to be an assistant again, he kind of got to let go of the reins of 'OK, I'm spinning plates of all these assistant coaches, and I'm recruiting, and I'm the face of this team, and I'm a predominant public figure in the community, and I have all these expectations on me,' he kind of got to have a laser focus on the one thing."
Journell remembers seeing the same kind of passion from his coach when it came time for the special teamers to gather for practice.
"That's what he put his heart and soul into when he first got to Tech," Journell said. "So I definitely think that he had a little bit of bias toward his special teams, knowing that tradition with it."
Even knowing Beamer's special teams reputation, Hazley recalls being surprised and even "starstruck" by just how much time the head Hokie would spend with the kickers at the start of each practice.
"That's where we spent the first 45 minutes of practice every day, was kind of critiquing our skillset," Hazley said. "He was there and very invested in our success."
But for all of that attention to detail and investment in Hazley's well being, Beamer didn't necessarily remember every detail about his kickers right away.
"When I first started on the team (in 2009), I was a walk-on, an uninvited walk-on," Hazley said. "I don't think he could pronounce my last name right, but he kept calling me 'Paisley' so that was kind of my nickname for the first year and a half. He just called me 'Paisley' because it sounded a lot like Hazley and he liked the country singer."
At the time, Hazley didn't mind the mix-up, saying he was just glad Beamer "was actually talking to me."
But by the time he earned the starting spot in his second year on the team, Hazley says he started hearing his coach throw around plenty of mentions of "Chris" in practice instead.
"The name recognition, going from 'Paisley' to a first name basis with him was pretty meaningful," Hazley said.
Yet that development hardly happened overnight. Hazley credits Beamer's intense kicking competitions in practice for helping to hone his skills.
"He would set up this competition among the kickers that were there, whether you were the starting kicker or the third or fourth string," Hazley said. "Every day that we were out there, there was a competition. There was that drive within each player that you wanted to win that day, you wanted to win every competition."
Even though Beamer spent ample time with his kickers in practice, Graham notes he was never one to harp on technique.
"He would be the first to tell you that he wasn't someone who would be an expert on kicking," Graham said.
Instead, he had a simple suggestion for his kickers and punters alike: kicking a football isn't so different from hitting a golf ball.
"It's all about leg speed and technique, and that's a lot of what golf is, club speed and technique and how well can you technically perform this at a high rate and high speed," said Vinnie Burns, Tech's starting punter from 2001 to 2004.
The similarities between golfing and kicking don't end at just technique, according to Beamer's pupils.
"You don't take as many strokes as you do in a game of football punting a ball as you do in golf, but each time you step up to the plate you've got to be in that moment and focus everything on that shot," said A.J. Hughes, Tech's starting punter from 2012 to 2015.
Indeed, it would seem that Beamer always put a hefty focus on the mental side of the game more than any technical concern.
"If you take every golf that you hit wrong to heart, then it's going to be hard to be a successful golfer, because you have to move on on the very next swing," Burns said. "Punting and kicking is the same thing."
Beamer's kicking credentials may be dubious, but it's clear that his time as an avid golfer served him well on the practice field when it came time to coaching his specialists.
"I'm not sure if Beamer ever actually kicked, but I know he was a good golfer, and I know that he was a hell of special teams coach, so the correlation is pretty strong," Hazley said.
Yet Beamer's focus on analogies and platitudes didn't mean that he lacked for specificity in his demands during practice.
"He would give us our criteria to hit throughout the day, whether it would be 'OK, I want the punt going this way with a hang time of 4.6,' and then it would be 'I need 10 balls like that before the end of the day,'" Burns said. "Then you'd have a partner with you with a stopwatch and they're clocking, and you might get 4.2, 4.3s, and you knew you had to hit 10, and it might take you 30 or 40 to get there, but you knew you needed that. And then after that, you'd come in the next day and then it's a lot easier to hit the 4.4, 4.6, because the guidelines set kind of prepared you for what he was looking for."
Carroll even recalls Beamer and Deputy Director of Football Operations Bruce Garnes meticulously tracking every kick and punt during practice when the head Hokie wasn't busy giving him some intensely personal attention.
"Coach Beamer would be standing right over me while I was snapping," Carroll said. "The way that he structured the specialists' time together was mentally taxing to the point where practice and doing it in front of him every day with his extremely hands-on approach was far more mentally taxing or stressful than the games in front of tens of thousands of people."
But Burns believes Beamer had a special understanding of the delicate psyches of his special teamers, and never pushed too hard.
"Kickers and punters don't respond the same way to the way other positions might respond to their coaching...you can't hammer them or beat up on them too much or really try to get in their head because a lot of their work takes place in their head," Burns said. "Coach Beamer understands that."
For all his complex motivational tactics and speeches, Graham said Beamer's message in practice often boiled down to one simple tenet.
"He told us that as long as you kept your mental frame of mind on the same path or same level, that you could keep your performance on a consistent level," Graham said. "That was always his moniker, 'If you do things in the right way, then the right things happen.'"
A Patient In-Game Coach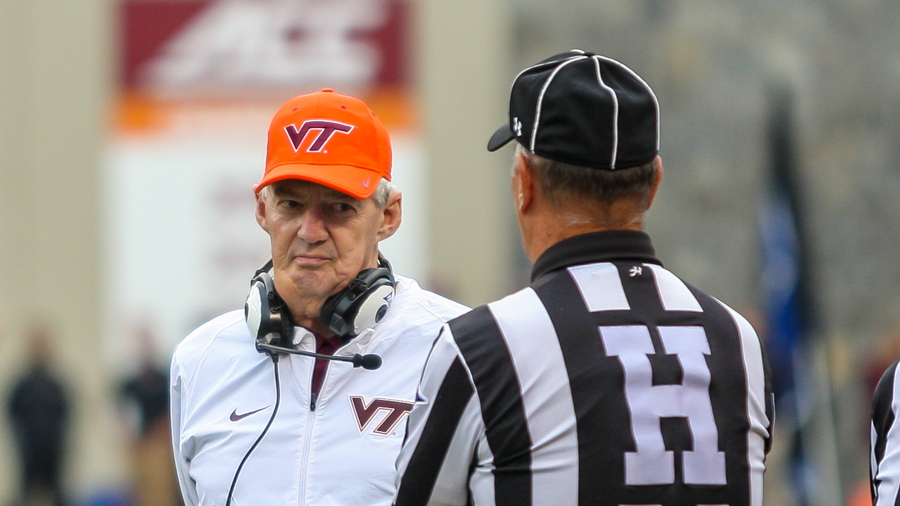 When it came to the games themselves, Graham had the good fortune to work with Beamer on the sidelines for some of the greatest moments in the program's history, as well as some of its most dispiriting.
On the latter side of the ledger, Graham has no trouble remembering his lackluster effort against Temple in 1998, when he missed a pair of kicks and the Hokies fell 28-24 to blemish their then-perfect season.
"He comes up to me and before he said anything else, I said 'Coach, I'm fine, I'm fine' and he just said 'Don't get all screwy with me, just get your head right and just do what you know you can do,'" Graham said. "Really kinda one of those moments where if you know you had done something wrong, and your father says something to you and you just felt so bad because you were ashamed or upset that you had let someone down, and you just knew you wanted to find a reason to make them proud of you again."
Luckily, Graham gave Beamer plenty of reasons to be proud in his senior season. He managed to connect on a number of big kicks in the team's undefeated regular season in 1999, with none bigger than the game-winner he nailed against West Virginia.
"He didn't really get a chance to say much to me until we got in the locker room, I can tell you that much," Graham recalls, largely because he was carried off the field. "But I remember getting a hug from him, and I remember getting the game ball, and I was on the brink of tears because it was such an emotional high for all of us."
When he did get the chance to see his coach after the game, Graham says the experience was worth the wait.
"It was just that look of exhausted content, that sigh of relief and how good that felt," Graham said. "That memory is something that sticks with me. Just because of how much it meant to be able to keep that dream alive for an undefeated season, and to be able to perform and help our program do something it had not done before."
When the team realized that dream of an undefeated season with a win over Boston College, Graham remembers longtime Beamer confidante John Ballein prodding him to give his head coach a ride off the field of his own.
"He comes up to me and Jimmy Kibble, our punter, and says 'I think it would be fitting if you and Jimmy carry coach onto the field and carry him off,'" Graham said. "I remember that image in my head, and I actually have several different photos, one of which I actually had Coach Beamer sign it for me, someone gave it to me as a gift. It's a picture of him on my shoulders carrying him onto that field after the undefeated season, after Boston College. I just think of how that felt, carrying someone that had put together something so great."
But Graham was a witness to the agony of the team's loss to Florida State in the Sugar Bowl, as well as the ecstasy against the Eagles, and he doubts he'll ever forget Beamer's reaction to what would become his closest shot at ever earning a national title.
"He was a very exhausted man, you could just see at that moment, knowing how close he was, but yet he was so proud of us," Graham said. "I think he was on the verge of tears, he was so happy for what type of team he had put together that year and that we had come together for him because we had such a sense of family and camaraderie and chemistry. No matter what type of talent we had, we couldn't have done it without the leadership that we had with him.
"I remember, I believe it was President Clinton calling the locker room and talking to him. I don't know how often the president calls to talk to the losing team. I remember knowing about that, and knowing what a big deal it was for him."
Yet Graham says he doesn't dwell on the bittersweet moments after the loss to the Seminoles, instead choosing to remember Beamer's reactions to his biggest makes.
"I truly enjoyed the look on his face after I would make a kick, if it had been one of those kicks that we might have questioned and he let me kick it anyway and I made it," Graham said. "It was kind of the look that you expected to see on your father's face, you do something that makes him proud and that's kind of the way I looked at it with coach."
By contrast, Burns says it's Beamer's response to one of his more freewheeling moments in a game that stands out the most.
"I completed one pass in college, a fake punt, that he didn't call, I made the call myself on the field," Burns said, remembering a key moment in the team's 46-14 win over Central Florida in 2001. "He appreciated it, because the guy caught the ball and we got a first down and it changed the momentum of the game. But it wasn't called and only me and the receiver knew that, so he had some advice for me after the game. It was thankful, but it was more like 'Don't you ever do that, ever again.'"
Yet Burns adds that his interactions with Beamer following the games tended to be a bit more constructive. In particular, he remembers Beamer's response to his performance against Wake Forest as a senior in 2004, when he hit superb kicks of 54 and 57 yards before shanking a 17-yard punt.
"I was pissed the entire way home and he was just like 'Hey, we won the game (17-10), you had four great punts, but that last one, you just weren't focused,'" Burns said. "'You just went out there and took it for granted that we were winning and having a great day, and you didn't think about it.' So even after the games with something like that, he'd have little small words here or there, little assessments, 'You did really good here, but you looked a little frustrated there, we've got to work on that this week coming up.'"
But, to a man, the special teamers agree that the best post game moments with Beamer were always when he showed off his moves.
"I remember us all cracking up once people started taking video of it and watching the dance moves," Journell said. "It wasn't necessarily the dance moves you'd see these days, but it was great to see him kind of break down and get on the players' levels and kind of relate to us."
Nic Schmitt, a punter on the team from 2002 to 2006, says that even if those dance moves weren't stylish, it was special all the same after the team's biggest wins. In particular, Beamer's boogieing after the Hokies smoked then-No. 2 Miami 31-7 in 2003 seems to stand out for Schmitt.
"He's in there and starts dancing, and everybody gets kind of wild," Schmitt said. "It was maybe once a season, if that. So when it happens, it's special. It always put everyone in a good mood."
A "Father Figure" Off the Field
For all of the insights Beamer shared with his specialists on the sidelines and the practice field, his contributions off the field may stand out most of all.
Journell has more reason than most to harbor ill will against his former head coach — after all, Beamer kicked him off the team in his redshirt senior season following a series of legal dustups. Yet he doesn't have a single bad thing to say about Beamer, crediting him for how much time he devoted trying to set him straight.
"I had a couple hiccups throughout, and he would kind of sit me down and it really felt like he cared about me," Journell said. "He was kind of like a father figure and tried to get me right as best he could and keep me pushing forward, and everything ended up working out."
Even if his Tech career didn't end on the highest of notes, Journell says he always felt Beamer did his best to look out for him, largely because of their similar backgrounds.
"He had a hundred other guys that he was trying to connect with as well, but I felt like when I was there, him and I related on a certain level just from the fact that we kind of came from similar towns," Journell said. "He was from a small town in Southern Virginia, not a lot of people there, not a lot of exposure when you're coming out of high school when you're in a place like that. And I think that's another reason why he gave me the opportunity to come play for him."
Indeed, the specialists agree that Beamer had a special knack for connecting with each player on a personal level, despite his many other duties.
"At one point my freshman year, my grades had really slipped, and he really got on me," Graham said. "And when I didn't graduate right after my senior season was over, he always kept on me. Even though I wasn't a part of the team anymore, he kept on me until I graduated and was very proud of me for that."
Even once Graham graduated, Beamer kept an eye out for his former kicker when he took his shot at the next level.
"When I first got the call to play for the Buffalo Bills, back in 2001, after I had kind of not been able to get in the door in the NFL, it had taken me over a year," Graham said. "I remember when I signed with Bills, their coach told me 'You need to call Coach Beamer and thank him because he had a lot to do with talking to us and letting us know what a good person and player you would be for our team.'"
That helped springboard Graham to an NFL career that's lasted more than 15 years so far. But whenever Graham had downtime in between jobs and needed to do a little training, he'd always return to Blacksburg to see Beamer.
"I almost always ran into him every time I would go in and out and he always stopped and talked, and we would pass memories," Graham said.
"Just the other week I saw him, after he'd already announced his retirement, he told me 'You know Shayne, I was just talking about you the other day. I tell my kickers and when they're kicking and they're doing things, they're kicking to the left and to the right, you're living your life to the left and the right, and you're doing things a certain way, I always think of Shayne Graham. He always kept things straight, kept things the right way, and if you do things the right way then things will go the right way, and that's what I would always tell them, that your kicks would go down the middle if you lived your life down the middle.' That was something that always made me proud to hear him say that."
Burns never had much of a pro career, but he credits Beamer for inspiring him to follow in his footsteps and become a coach himself. He's spent the last few years as a physical conditioning coach with the prestigious IMG Academy in Bradenton, Fla., and he says he's done his best to model his coaching style after Beamer's methods.
"My coaching style is very similar to Coach Beamer's," Burns said. "I'm very demanding of my athletes, they know what I want to get out of them. But I want them to work for me not because they're scared or frightened of what the penalty would be, but because they know I have their best interests in mind, and they know I've been somewhere that they want to go and I'm trying to give them the right steps to take to get there."
Carroll's career took him away from football, but Beamer managed to have an effect on him once he left the team anyway. Fate would have it that Carroll was working as a reporter at a TV station in El Paso, Texas at the very same time as the Hokies were picked to head to that city for the Sun Bowl against UCLA at the end of 2013.
Carroll decided to reach out and see if he could score a few minutes with Beamer, figuring he'd get probably lost in the crush of media requests coming in ahead of the game.
Instead, Beamer gave him all the time he wanted, and more.
"Coach Beamer was unbelievably accommodating, he took a sincere interest in what I was doing, was very generous with his time," Carroll said. "It was clear that he rearranged his schedule to sit down with me, so that I could take more of his time than the other reporters were asking for...I think it just spoke to how he just drips of class."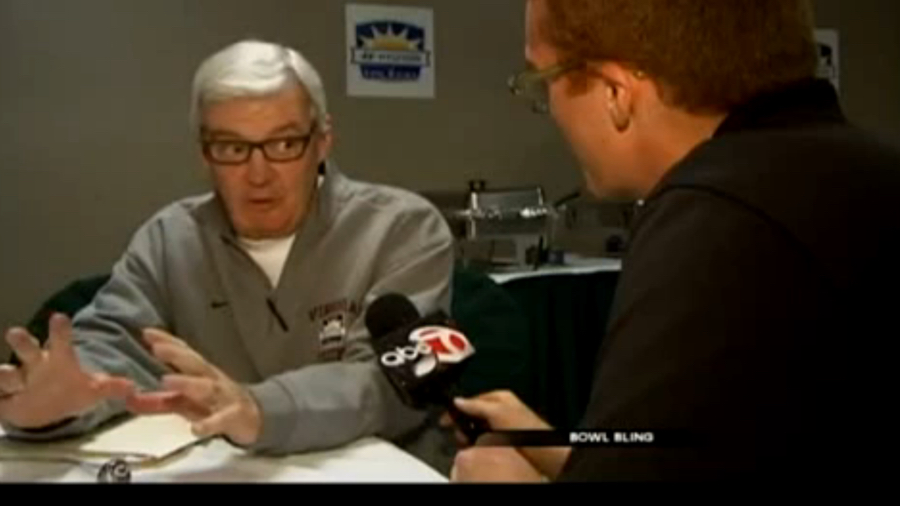 Carroll's since left Texas to take a marketing job in his home state of Minnesota, yet he says Beamer's lessons stick with him to this day.
"The working world seems like a breeze compared with that incubator for those five years," Carroll said.
A Hokie Forever
All the prognosticators in the college football world agree that the Hokies made the right move in picking Justin Fuente to fill Beamer's very, very large shoes, but his former pupils say no one can ever truly replace him.
"It's definitely going to be a shock the first time you turn on a TV and they show the sideline and it won't be him," Schmitt said. "I'm not sure what to expect because you just expect it to be him all the time."
Graham does see a silver lining to the change: a little relief for a man approaching his 70s.
"It'll give him a chance to relax and not have to worry about letting down fans or letting down people when things don't go the right way," Graham said. "That's a lot of pressure when everyone wants you to win everything and it doesn't happen, there are a lot of people who are disappointed. And whether it's right or wrong, that's what sports is, fans want you to win and he'll have a chance to relax and it won't be on his shoulders anymore."
Still, Graham wonders if he'll continue to head back to Blacksburg with the same regularity if Beamer's no longer there. With Bud Foster, Torrian Gray and Charley Wiles staying behind, much of the staff may look the same, but Graham notes there will certainly be fewer familiar faces around town the next time he weighs a trip back to Tech.
"There will be certain things that will be the same, but I certainly know that there's going to be a lot of changes," Graham said. "It could be a good thing, I'm sure it will be, but it's certainly gonna be different."
Burns has similar concerns, though he's had a closer look at the future with Fuente than most — he got a chance to visit a bit with the new head Hokie when he swung by IMG in early December on a recruiting trip, and he came away from the experience feeling "optimistic" about what Fuente can bring to the program.
But that doesn't mean that he can ever truly measure up to Beamer.
"When I go back, how is it going to be different? Will I still know the coaching staff? Will I still feel important when I go back now that the coach I was there with is gone, is that gonna change?" Burns said. "Because I've never had a new head coach at Virginia Tech, I've never known a head coach outside Coach Beamer...It will be a little different, not seeing Coach Beamer out there, having someone else lead the players out of the tunnel for 'Enter Sandman' or stuff like that."
Carroll says he's preparing to feel a similar kind of detachment from the team now that Beamer's gone.
"I think it will make me feel old," Carroll said. "I think it will make me feel like probably like less part of the team."
Journell has a different perspective on the change — though there may be some new faces in Blacksburg in the coming years, Beamer will always be part of the Hokies.
"He's always going to be there in spirit because he's what built that program up from basically nothing," Journell said. "The fact that Virginia Tech is playing in these big games and you see these five-star recruits and all the good guys that are out there on the field playing, that's Coach Beamer's legacy.
"Just the fact that he's not the head coach anymore doesn't necessarily mean, to me at least, that he's not out there."