If you were hoping the arrival of Justin Fuente would suddenly wash away the recent ills of Virginia Tech football, you have to be feeling great right now. The Hokies' offense is scoring at rates not seen in many years, and that hasn't been to the detriment of the defense. And even injured players who could never quite get healthy like Brandon Facyson and Marshawn Williams have returned to form as important contributors.
It's times like these I like to splash a little cold water on myself by remembering that the data is emotionless and may help keep me grounded in reality. As is often the case, when things seem great they're usually not as great as the seem (Ohio State 2014), and when things seem terrible they're usually not as terrible as they seem (James Madison 2010).
Where the Season Stands
Virginia Tech's record is currently 3-1.The actual and predicted score difference and odds of winning each game are: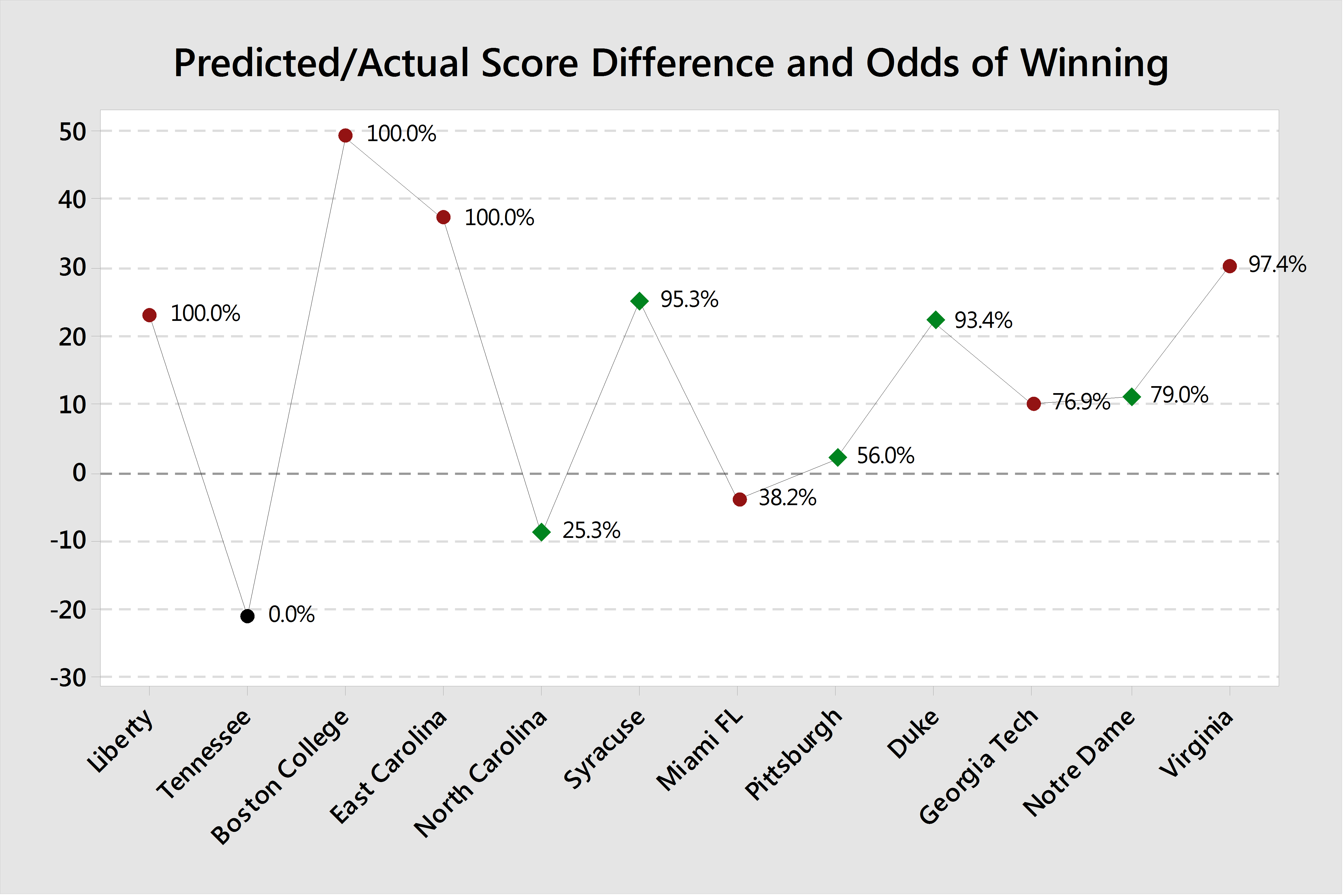 Football Study Hall's stat profile shows Virginia Tech as favored in every remaining game. However, the chart above is a composite of multiple computer systems that combined suggest the Hokies are still underdogs in two matchups including the Tar Heels.
The odds of each possible regular season win total are now:
If you're a berther, seeing the chance of an 11-1 regular season escalate to a realistic, if improbable, 2.7% is a huge boost of confidence. After all, as things stand now it appears a one-loss ACC champion will in fact get a playoff berth. At the very least, a continuation of the bowl streak is all but a certainty.
Realistically, however, the most likely outcome is an 8- or 9-win season, and even that is still based on a fairly small sample size of games.
Rankings and Computer Predictions
The computer rankings and predictions for each team:
As expected, the computers only give UNC a slight edge in the rankings and predicted outcome. The odds of a 2.5-point underdog winning are 42.5%.
Next is a look at any overall offensive or defensive advantages:
Oddly enough, the Virginia Tech offense is still not highly-rated despite the outburst of points over the last two weeks. It is difficult to say exactly why, but consider that Virginia Tech only scored 36 on Liberty, a team that also gave up 29 to SMU and 48 to Jacksonville State. Furthermore, hanging 54 on ECU isn't particularly impressive considering UCF scored 47 the next week.
When Virginia Tech Has the Ball
Here is an explanation of S&P+ ratings, and FEI ratings. All statistics are now opponent-adjusted.
Who has the advantage in the passing and rushing game when the Tech offense has the ball?
The mediocre offense rating is clearly due to a mostly unimpressive run game (Evans' impressive 55-yd TD notwithstanding), but the passing game is unlike anything seen in years in Blacksburg. Additionally, the Hokies are doing very well on passing downs, an indication that the offense is executing well even when the defense knows what is coming.
When North Carolina Has the Ball
Again, examine pass-run comparisons first: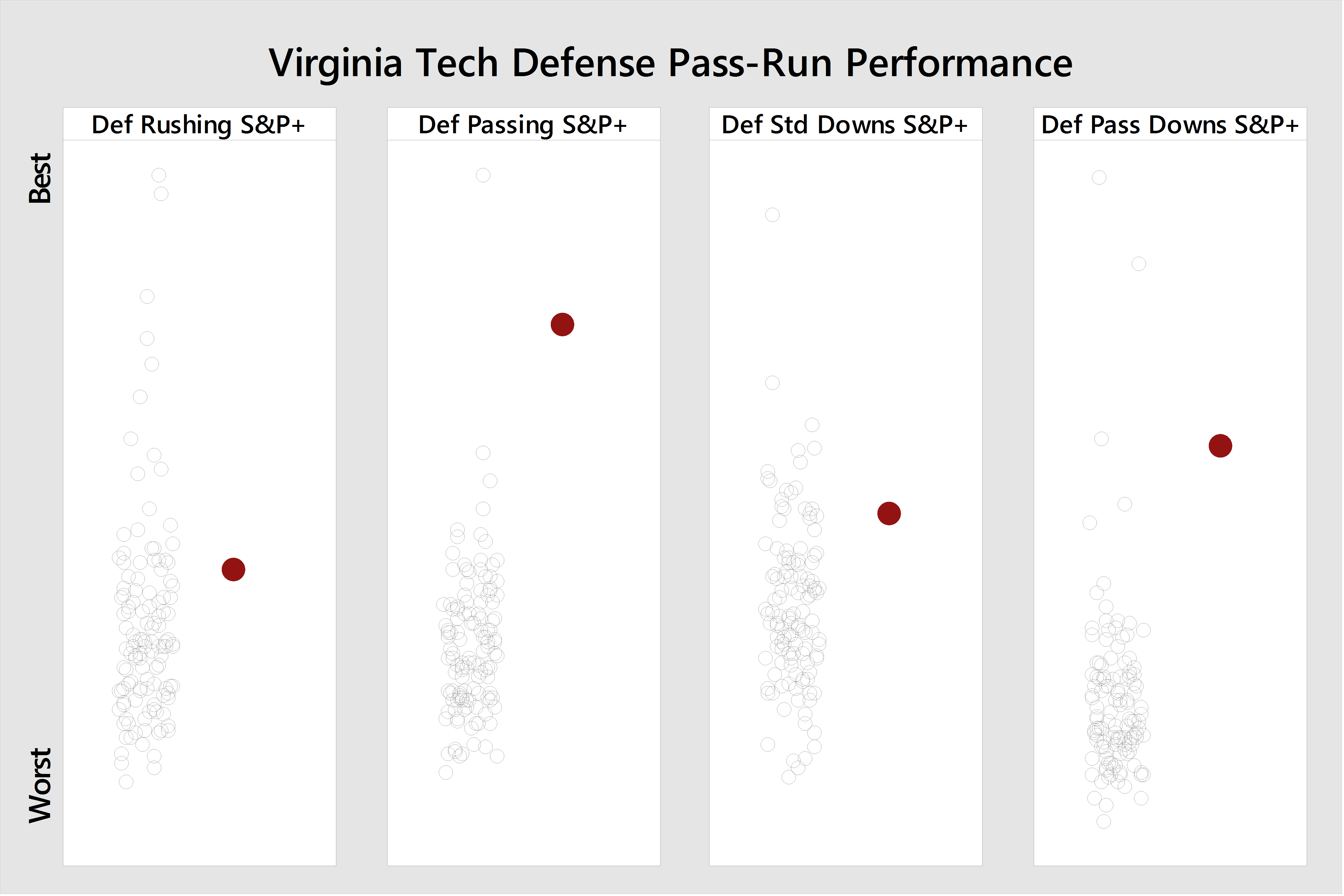 North Carolina's offense has played exceptionally well in both phases of the game, and on both standard and passing downs. However, they'll face a Bud Foster defense that has been formidable as well. Tech ranks No. 2 in the country against the pass. One would expect the two to meet somewhere in the middle.
Who To Watch Out For
Marquise Williams is no longer the Tar Heels' quarterback, so that must mean a step back at quarterback, right? RIGHT?:
Junior QB Mitch Trubisky owns the No. 6 passer rating in the country thanks to 13 TD's, 0 INT's, and a FBS-leading 76% completion percentage (the Hokie defense is the 2nd-stingiest at 41.3%).
Senior WR Ryan Switzer is the ball-hog of the receiving core with 47 receptions (4th nationally).
Kick returner T.J. Logan (also the most productive RB thus far) is 23rd in the country with a 27.21 yard-per-return average, but who cares since Joey Slye is first in the country with a 65.48 yard kickoff average.
Statistical Key to the Game
The statistical ratings provide concern that the recent success of Tech's offense may be just an illusion, waiting to be exposed as nothing special. The Tar Heel defense is below average so the Hokies shouldn't get completely shut down, but this game could be really telling. My key to the game is yards per play gained on offense — anything under 5 and I think Evans and company have been exposed and the Hokies lose the game.
The Stats that Define Virginia Tech's Season
Revisiting my column from this summer on the stats that will define the season, here is how the Hokies performed thus far (each listed as VT - Opponent):
| Opponent | PPP | Pace (sec/play) | ToP |
| --- | --- | --- | --- |
| Liberty | .40 - .21 | 22.7 - 25.5 | 33:42 - 26:18 |
| Tennessee | .33 - .71 | 26.1 - 26.1 | 31:44 - 28:16 |
| Boston College | .64 - 0 | 27.5 - 26.1 | 35:15 - 24:45 |
| East Carolina | .79 - .25 | 26.5 - 26.0 | 30:03 - 29:57 |
I will not value time of possession.
Statistical Prediction
I predicted easy wins the last two weeks and the team certainly delivered, so blame me if reality comes crashing down this weekend.
Not that I'd ever predict a loss or anything...
Virginia Tech 31, North Carolina 27
As always a thanks to Football Outsiders, cfbstats.com, and Minitab Statistical Software.