Last column I indicated contests against Duke and Notre Dame would tell fans more about the 2018 Hokies than prior games. If the 31-14 win over the Blue Devils is any indication, Virginia Tech is a very good team that suffered a single massive lapse. However, it would be naive to draw too many conclusions from one game. Now Virginia Tech must prepare for the second, a game against an even better team with legitimate playoff aspirations.
Will Virginia Tech build on the momentum from the Duke game? Or will the Hokies get exposed as another mediocre ACC team, distant from the national conversation?
Where the Season Stands
Virginia Tech is currently 3-1. The actual and predicted score difference and odds of winning each game are:
The odds of each possible regular season win total are now: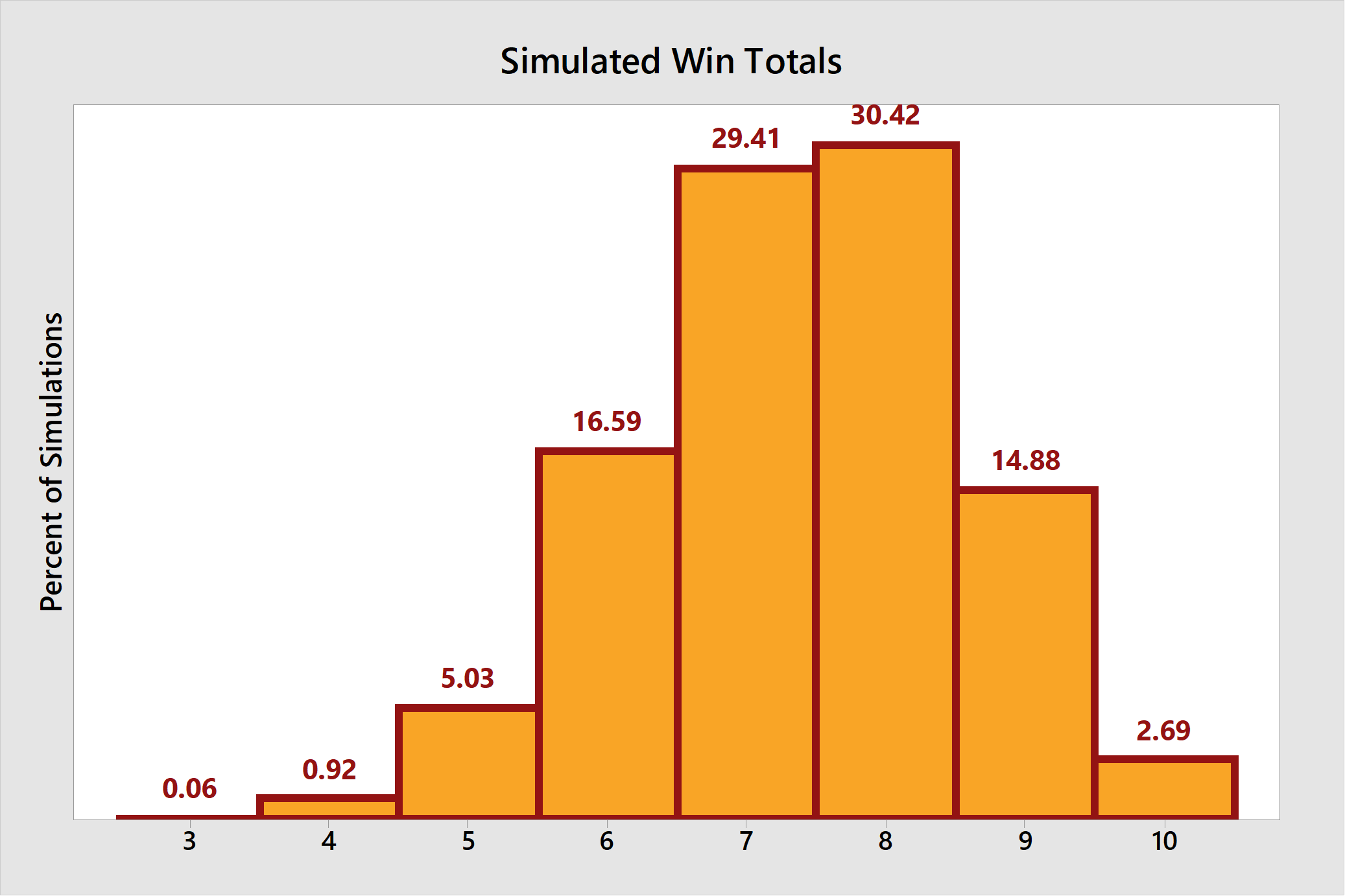 My what a difference a week makes! The rightful world order has been restored, with the Hokies a healthy favorite against Virginia and most of their remaining opponents. Also, a continued bowl streak is now much more likely than it appeared 7 days ago, although booking an additional game December 1st would be very helpful in ensuring that.
Rankings and Computer Predictions
The computer rankings and predictions for each team:
Computers are (not surprisingly) still fairly unsure of the Hokies, but a lot more sure than last week. They are, however, much more certain that the Fighting Irish are a very good team. The odds of a 5.5-point underdog winning is 34.0%.
Next is a look at any overall offensive or defensive advantages: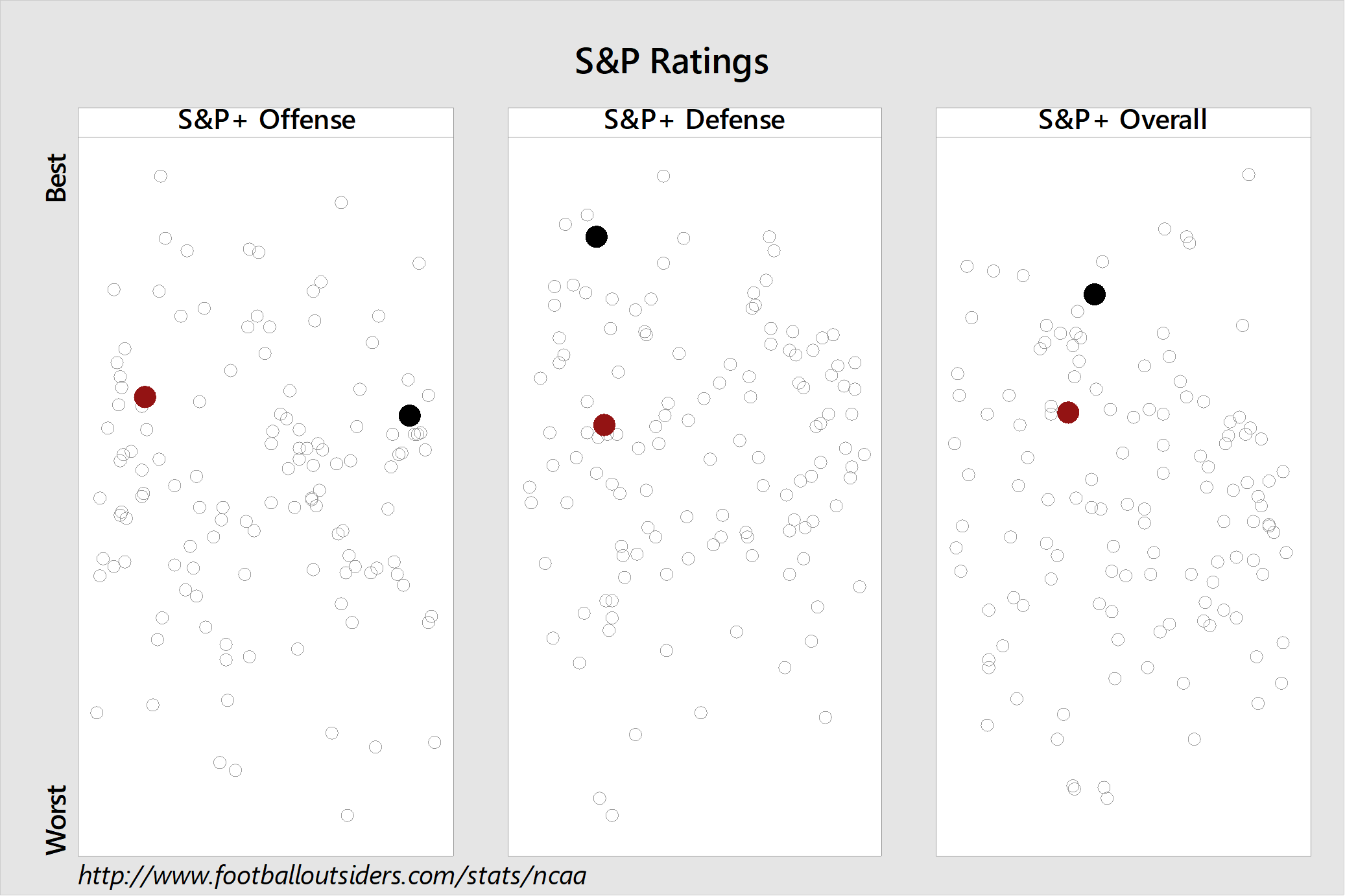 As expected, Tech's good offensive output against a good Duke defense kept the Hokies' offense rating at its highest in years. The Virginia Tech defense rating climbed up, but remains well behind the excellent Notre Dame unit. This will be a very challenging test for Ryan Willis, and perhaps the best gauge yet of how good the Hokies can be.
Special Teams
No one has informed Brian Kelly there is a third phase to the game apparently, as his highly-talented team has thus far only put together the S&P+ 53rd-rated special teams unit in the country.
Not only did James Shibest get the memo, but he actually wrote it, and will hand-deliver it Saturday evening. He will try to improve on the Hokies' rating as it currently sits in an insufficiently dominant second place nationally.
Virginia Tech Leads the Nation In...
Given the availability of so many statistical ratings, at any point in time Virginia Tech is probably leading the nation in something, right?
This week in "Virginia Tech Leads the Nation In...", I present the Oscar Bradburn-led punting unit and their nation-leading 90.9% punt success rate. Out of 22 punts this season, only one has gone for a touchback and four have been returned for an average return of 0.0 yards. Much is made of punting average, but it takes a unit to be successful and prevent long punts from resulting in long returns — the Hokies' unit is not just good, but best in the country so far.
Who To Watch Out For
Year after year, the Fighting Irish recruit well and can be counted on to sign anywhere from 4-8 blue chip recruits a season. Some of those who have stood out thus far in 2018:
Sr DL Jerry Tillery leads the nation with 7 sacks for a total loss of 45 yards.
Jr DB Julian Love is No. 2 nationally with 10 pass break-ups.
Jr QB Ian Book ranks 7th nationally in passer rating (181.2) and third in completion % (74.3), to go with 7 TD's and 0 INT's.
Statistical Key to the Game
It's hard to decide whether to feel more threatened by Ian Book or the really dominant defense. It comes down to whether it is easier to believe the Hokies would win in a shootout, or in a slugfest. If I had to guess which unit has a chance to overperform relative to rating, I'll go with the defense and thus the statistical key will lie in stopping Book and the Irish offense.
For this contest I'll go with explosive plays by the Notre Dame offense — hold them to 3 plays or less of 20+ yards, and the chances of a wild party in Blacksburg Saturday night go up significantly.
Statistical Prediction
Given the last two Virginia Tech games, it feels like anything is possible this season. Book is mobile enough to cause problems, but then again a Hokies' 3-man front stymied a capable Duke air attack. This game could easily go off the rails, but I don't think it does. I believe the Duke wine is more representative of the Hokies than that other game we won't talk about.
Virginia Tech 24, Notre Dame 20
As always a thanks to Football Outsiders, cfbstats.com, and Minitab Statistical Software.