If in mid-August I told you the Hokies would start the season 3-2, the offense would look only marginally better than last year, and the defense would have growing pains due to inexperience, what would you have thought? My guess is a number of fans would have found that to be a fairly obvious and pedestrian prediction.
But here we are, and somehow it doesn't feel anything like what would have been imagined. That's part of the emotional roller coaster of fandom...even when the total picture isn't all that surprising at end of season, the highs and lows can be intense. This season feels especially so — not because anyone would have been surprised to start 3-2, but because the rest of the season feels so uncertain, and it's hard to say exactly how Virginia Tech might play each week.
So what do the numbers say about this weekend and the rest of the season?
Where the Season Stands
Virginia Tech is currently 3-2. The actual and predicted score difference and odds of winning each game are: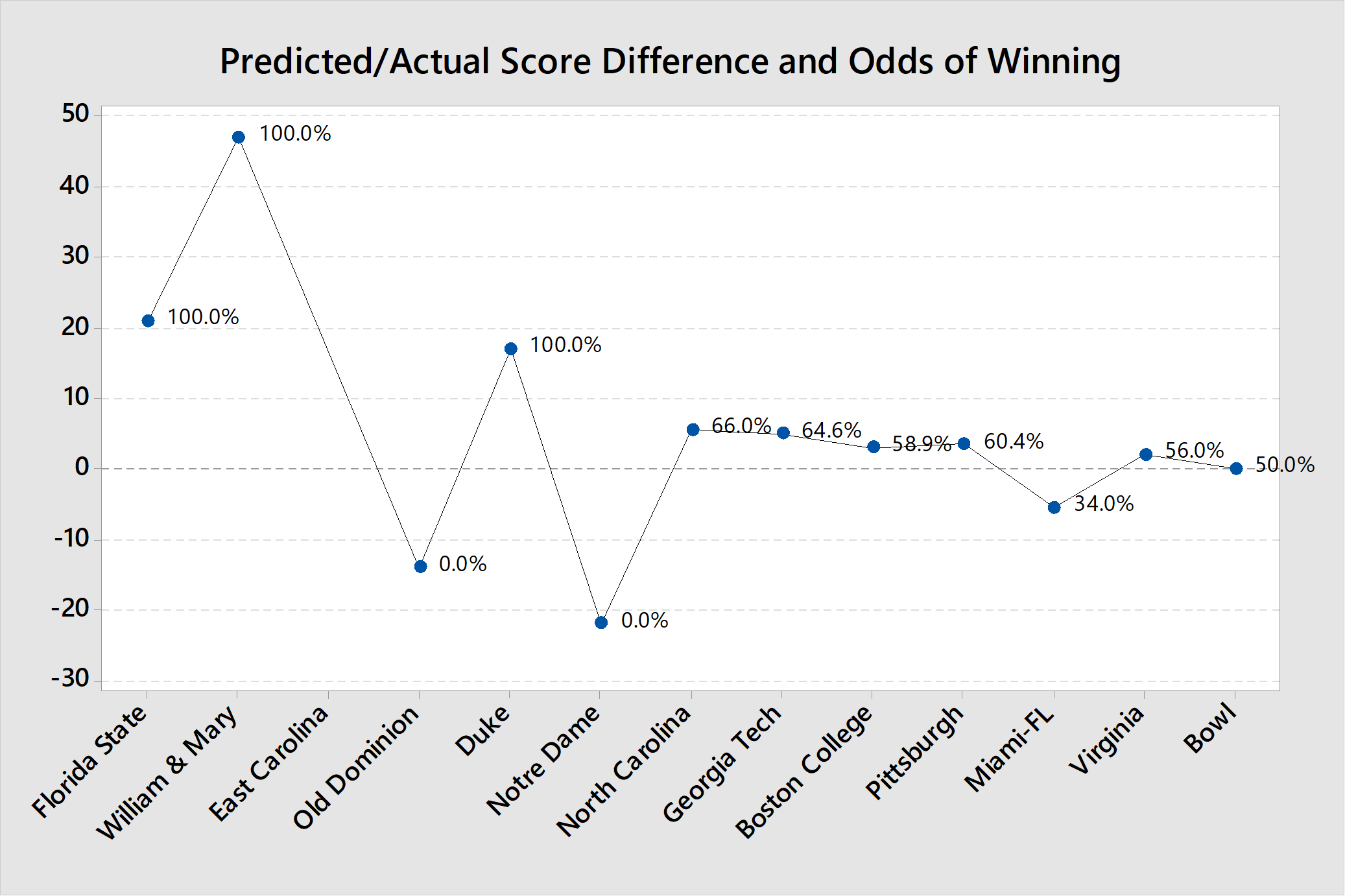 The odds of each possible regular season win total are now:
The rest of the season could go in various different directions. The Hokies are currently estimated to have at least a ⅓ chance to win each game, and at most a ⅔ chance. There is about a 1 in 4 chance that the team either doesn't make it to a bowl game, or runs the table. Really almost anything is within reason. Most panic-inducing is, at the moment, Virginia is only an underdog because the game is in Blacksburg.
Virginia Tech Leads the Nation In...
...Kickoff efficiency.
Before the wheels fell of on Saturday, the game began with freshman Jordan Stout kicking the ball off for a touchback. Not a touchback where the returner took a knee, or where the ball bounced out of the end zone. But one where the ball landed several yards past the end zone, fitting for someone in Joey Slye's shoes.
94% of Stout's 33 kickoffs have been touchbacks, the 2nd-highest rate nationally, and the unit's average kickoff distance is 3rd-nationally at 64.94 yards. The team is delivering exactly what Justin Fuente wants from his kickoff unit — no opportunity for a game-changing play. Just opponent drive after opponent drive starting at the 25-yard-line.
Rankings and Computer Predictions
The computer rankings and predictions for each team:
While the rankings make it look like the two teams are worlds apart, keep in mind two important points:
The game is in Chapel Hill, buying North Carolina about 3 points.
Teams cluster towards the middle. The difference between the 47th-ranked Hokies and 98th-ranked Tar Heels by S&P+ is about 13 points, while the gap between top-ranked Alabama and the Hokies is about 24 points.
The odds of a 5.5-point favorite winning is 66.0%.
Next is a look at any overall offensive or defensive advantages:
I get the frustration not scoring from 1st-and-goal at the 1 against Notre Dame. No question it was a squandered opportunity. But I don't get the criticism of Brad Cornelsen and putting the loss on his shoulders. The Hokies are currently the 40th-rated offense and 59th-rated defense. Neither of those smell like Virginia Tech football of recent years, but that's because the defense has not been this bad and the offense has not been this good.
The offense's percentile performance across all games in college football to this points have been 10th, 77th, 59th, 93rd, and 57th. The defense? 81st, 73rd, 10th, 83rd, 23rd. The defense lost to Old Dominion and Notre Dame, not the offense.
Special Teams
Tech has slipped to 16th in overall special teams — a very good rating still, but this week will match up against the 14th-ranked UNC special teams.
Who To Watch Out For
Despite relatively good recruiting for several years, UNC is not exactly stacked with playmakers...or at least statistically they aren't making plays. But there are certainly some threats to keep an eye on:
Jr RB Antonio Williams averages 6.5 yards per carry.
Jr WR Anthony Ratliff-Williams is a boom-or-bust threat. He catches only 44% of passes thrown his way, but averages 20.2 YPC.
Sr DE Malik Carney has 5.5 TFL, 6.5 run stuffs, and two forced fumbles.
Statistical Key to the Game
Well, both Virginia Tech losses to this point have been on the defense, and breakdowns have allowed opponents to break some explosive plays. Last week I wrote Virginia Tech would have to hold Notre Dame to 3 plays or less of 20+ yards. The Irish then had 5 such plays, and we know how that turned out.
This week I'm doubling down on the same stat. Bud Foster has to find a way to stop the major lapses that are giving opponents easy points, or Hokies will be the ones trying to disregard a hurricane game.
Statistical Prediction
I trust the Hokies to bounce back, although there are some serious issues on this team that I doubt will be resolved this season. North Carolina is not a great team, but neither are the Hokies and anyone expecting a blowout is probably setting themselves up for disappointment. But the offense will put up points, and the defense should do enough to deliver a win.
Virginia Tech 37, North Carolina 31
As always a thanks to Football Outsiders, cfbstats.com, and Minitab Statistical Software.