Hello, sports fans! Welcome back to a new installment of Ask a Fuller, which is basically like Dear Abby except instead of answering questions about how to roast a turkey or deal with impolite houseguests, only the most IMPORTANTEST of inquiries are addressed here. Case in point:
1. Wagoneer wants some bathroom etiquette advice: Exactly how many shakes can you use before you cross the line from shaking it to playing with it?
A. We've all heard the old adage about the two shake limit, lest you delve into behavior that would get you a disciplinary hearing at Liberty. I have two points to make on this subject:
First off, I think this is a bulls$%t rule. You ever pee while you're in a hurry, you think you're done, you give it a quick shake and tuck it away and zip only to find out, unpleasantly, that there were a few more drops hiding out in there and now you've got a damp spot on your underwear.
DON'T ACT LIKE IT HASN'T HAPPENED TO YOU.
I would much rather finish my business, wait a moment, give it a little shake, wait a bit longer, another little shake, see if I can tell if anything is hiding out in there, one last shake, then let's pack it up and go wash my hands. Everybody has their own routine, do whatever you need to do to keep piss off of you.
Second, since I think these types of things are generally aimed at how we behave in a public restroom, why the hell would I want to get hairy palms in a public restroom? There are roughly 5,842 better places to engage in that sort of LURID behavior that aren't covered with other people's fecal matter residue and I cannot imagine a worse aphrodisiac than that fresh shitrus smell.
2. Musky wants to test my math skills as the new school year kicks off: A train is headed east @ 80 mph and another is headed west @ 55 mph on the same track. Does this summarize Hokie Hype at this particular time?
A. Turns out the Hokie Hype trains each left their respective stations last Saturday heading towards each other and the result was:
Don't worry, nothing died except hopes and dreams.
3. Gobble gobble chumps would like a verdict on the best of the honey do list: What is the objectively best chore and why?
A. So the first comment response to this was mowing the lawn, and that's not a bad one. I have a riding mower and sitting down and driving back and forth trying to keep the straightest lines possible while listening to an audiobook or music is very relaxing. However, I have also discovered that my lawn mower has a second use as a discoverer of hornets nests, which happens at least once a year and sucks donkey balls.
Folding laundry is my best chore. I hate RUNNING laundry; sorting, invariably getting in trouble for not sorting correctly, remembering to move things over to the dryer, every time I go into the laundry room (where we keep the cat food) one of the cats thinks he's getting fed and jumps on and off the machines and annoys the hell out of me. No thanks. But folding? That's my jam.
I have discovered in my old age, either through the constant busyness of parenting resetting my factory settings to CANNOT IDLE, or my brain developing in a stupid and annoying way that I have to be doing something at almost all times. So I specifically time laundry so that I have to fold while sports are on. It's shorthand with Mrs. Fuller now; I tell her that I think I'm going to fold some laundry around noon on Saturday and she knows when the Hokies are playing. Football is ideal, because you get so many breaks to actually look at what you're doing.
At the end? Nice neat stacks of sharply folded clothes. My favorite t-shirt back in circulation. I can make my kids turn off Fortnite and put away their clothes.
4. Senjohnblutarsky is having some trouble in the kitchen: Has anyone developed a pan that produces only center brownie type brownies? Asking for a friend with unreasonable expectations about the functional capacities of bakeware.
A. I do like the idea of sous vide brownies that ashore13 tossed out, although I'm not sure how you'd keep it in a sheet format, it just seems like it'd be a big blob of brownie batter that wouldn't cook all the way through without overcooking the outside. think FlippinHokie came closest with:
So...underbaking your brownies is totally a thing. In fact, I recommend it for the consistency that you are looking for. You may also want to consider lowering the oven temp. No special pan required!
My opinion is, take it one step further and just eat the batter. You know why licking the spatula is the best part of making brownies? Because brownie batter is delicious; it's like better tasting pudding. And who cares about raw eggs, people eat soft boiled eggs and over easy eggs all the time, that's just Big Oven trying to tell you how to live your life so they can sell their ovens. My strong recommendation is to make a bowl of brownie batter, then eat that with a spoon. Boom. No crispy edges.
5. Hokienator has us take our weekly digression into actually talking about football: Who would you rather have at running back? Benny Hill the actor or David Wilson?
A. For those of you young'uns who don't know who Benny Hill is:
Now I want to draw a few things to your attention:
Look how Benny sets up the defender at the beginning of this run. He knows where he wants to go, and he knows what he needs to do to elude this particular defender, which is dump a bucket of glue on his head. Next, let's keep an eye on his elusiveness; he's got some shift in his hips in the early going while he's running in a bit of traffic, and again, he uses the environment around him to create space. Then at the end, it's just pure open field speed. I can't imagine what his forty time is.
The one thing that annoyed me at times about David Wilson that I didn't see in Hill's tape was giving ground to try to switch the field. I mean, yes, Hill LITERALLY switched fields at one point, but that wasn't behind the line of scrimmage. The win against Michigan in the Sugar Bowl is the clearest example in my mind; Wilson was so used to out-athleting everyone else on the field that he decided he could stop and attempt to reverse field in the red zone against the entire Wolverines defense. It did not end well for the maroon and orange heroes on that particular drive.
6. Mas scott with a SECOND football question, what the hell kind of website do you think this is? Would a David Wilson sized rabbit be able to catch a rabbit sized David Wilson?
A. Thank you for leading me down this particular Google search, scott. Because there is a thing called a Flemish Giant rabbit that can be over four feet long.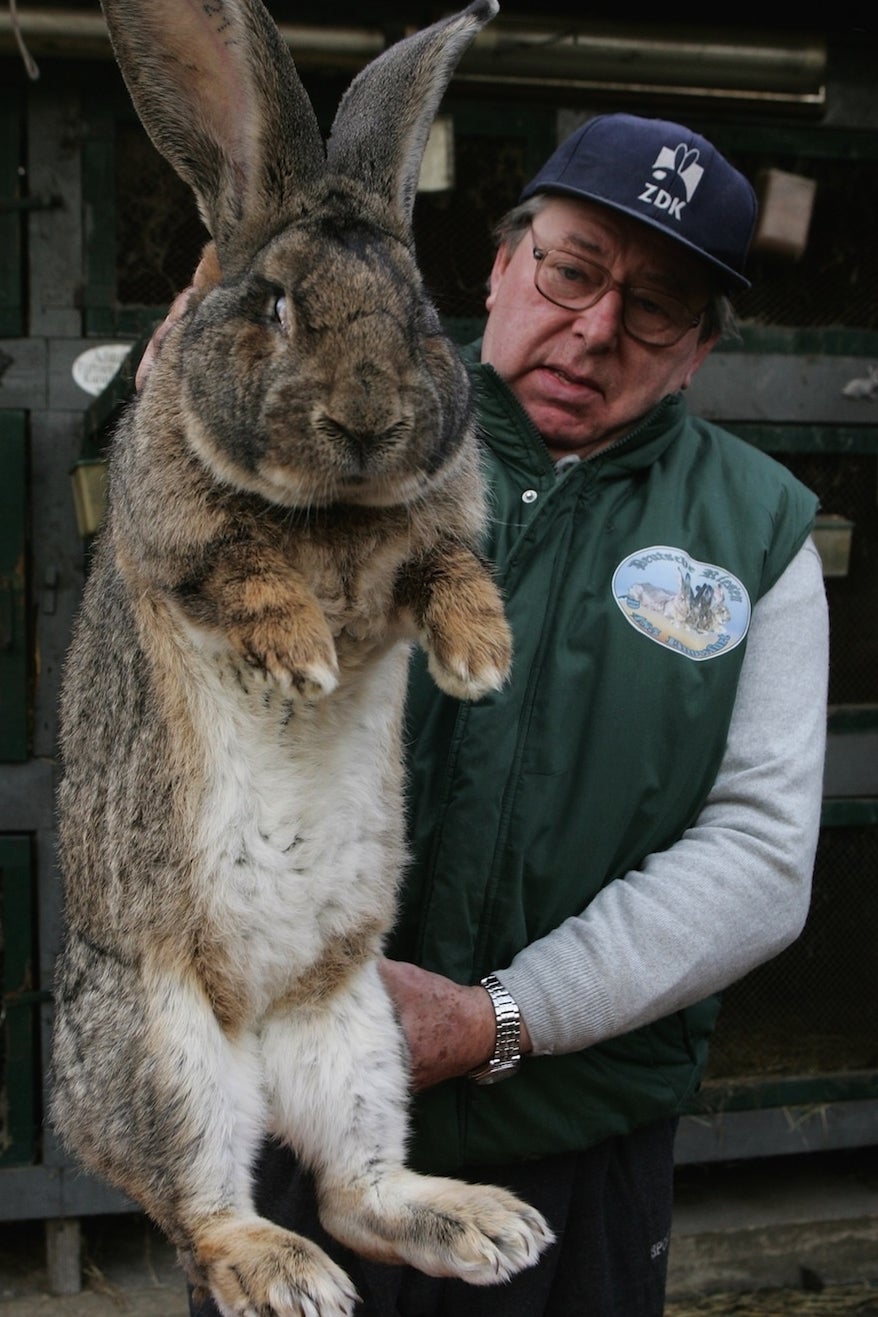 This is disturbing on a number of levels.
Alright, we've seen the depraved glamour shot, let's take a look at the tape.
Ok, that bunny has no agility, no lateral speed and appears capable of a top speed of 4 miles an hour. He's Bunny Kosar, essentially. A rabbit sized David Wilson would only have increased ability and speed, so there's no way Bunny Kosar can touch him.
7. NerdMagic wants to know What is the best college mascot of all time excluding the Hokie Bird?
A. Let's start with some contenders:
Purdue Pete, because a boilermaker is multiple drinks rolled into one. He loses, however, for being a horror movie villain.
The Oregon Duck, because he is entertaining enough to get videos of his antics shared with me on the regular. He loses, however, for not only being bankrolled by Nike and Disney, but he probably gets all his good ideas from their marketing teams.
The Syracuse Orange, because I'm genuinely impressed that they took a terrible mascot and made it work, and this was hilarious:
He loses, however, because F&#k Donovan McNabb.
Other honorable mentions to UC Santa Clara's Sammy the Banana Slug, Scottsdale Community College Fighting Artichokes and North Carolina School of the Arts Fighting Pickles. But for me, the best non -Hokie mascot is: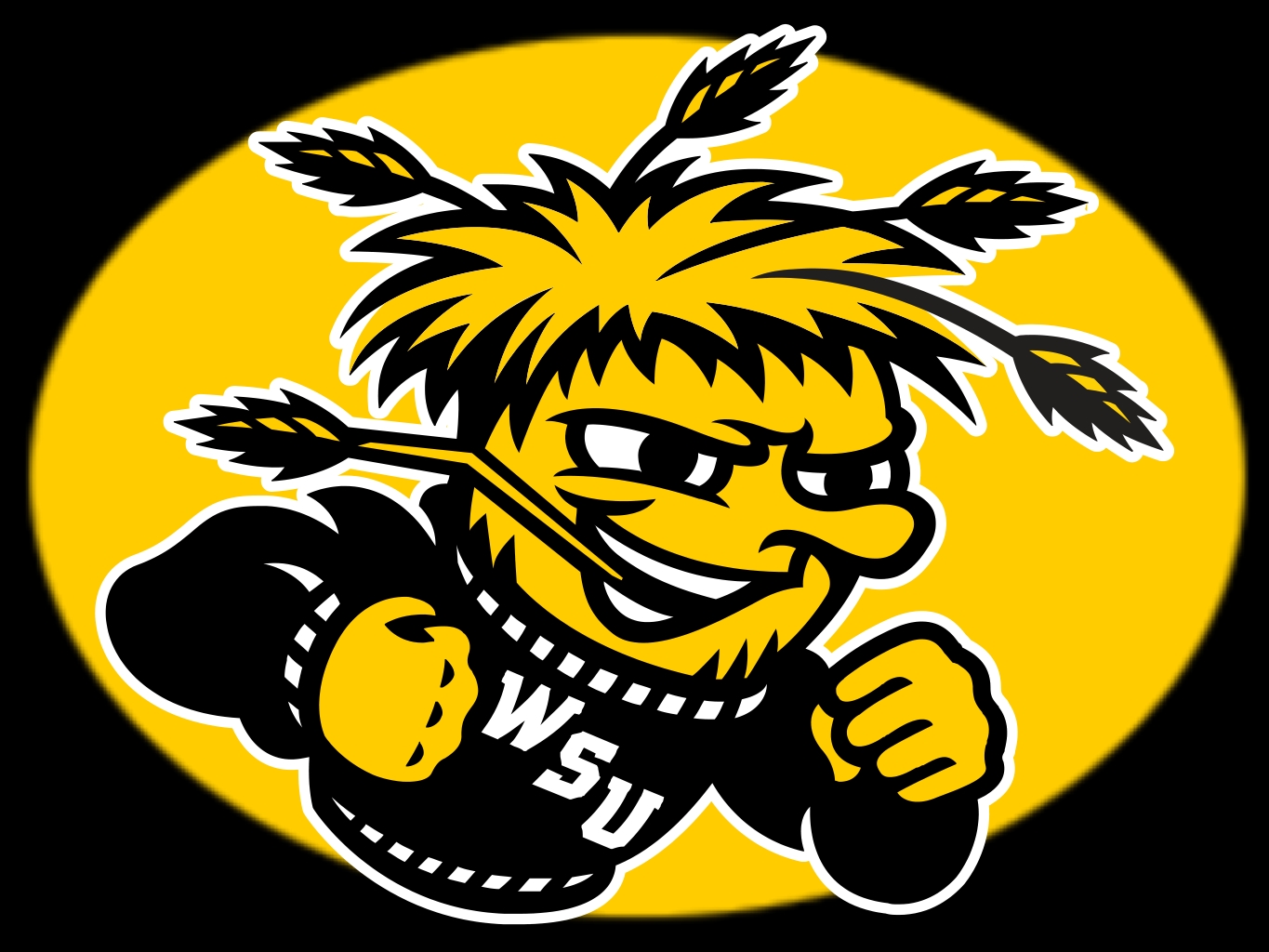 WuShock Killah Sheaf, gonna swarm.
The Wichita State Shockers! Their nickname is hilarious. I'm sorry, I know I am a child, but I cannot hear it without mentally saying the phrase that ends with "One in the Stink". And did you know his official name is WuShock? That's right, he's named in honor of the greatest rap group in history, and he's FOR THE CHILDREN. He bombs atomically. In fact, when's the last time anyone saw Redman? He's probably still trying to earn his way in, although dressing up like a Shaolin themed sheaf of wheat in the middle of Kansas seems like a weird way to do it.
8. Tyler Fanning with an important follow up: What is the worst college mascot
A. Comments put forth suggest the Stanford Tree, but here's why I disagree. You remember in middle school when it was Medieval Project presentation day and those kids brought in cleanly cut, well put together castles and trebuchets that actually worked? And there was that one kid that made his own suit of armor out of printer paper and scotch tape and clearly scribbled in the silver half-assed while he was watching Animaniacs yesterday afternoon and made the sword out of paper towel rolls, right? So, that kid clearly did a bad job, but HE did it. You know the other kids's parents built that castle and the trebuchet and probably finished at 1 am after making their kid go to sleep so they would quit bothering them and JUST LET ME HELP YOU WITH YOUR WORK WITHOUT YOU INTERFERING. I'm saying, they clearly let a middle schooler make the Stanford Tree, and we should appreciate that Mr. and Mrs. Stanford didn't interfere and let them earn their own grade.
No, you already know what the worst college mascot is. How about, in a struggle between monarchical forces and those pushing for democratic representation, let's name ourselves after the side that supported the monarchy! Oh, and make sure that the term is used to describe men with "long flowing hair in ringlets, brightly coloured clothing with elaborate trimmings and lace collars and cuffs, and plumed hats", because THAT'S going to strike fear into the hearts of our enemies. Also, it should connate strong equestrian skills to align with our elitist hobbies, even if the mascot does this:
9. Highty Tighty has some problems, I think:
F**k/marry/kill: Manny Diaz, Bronco Mendenhall, and Mack Brown.
A. You guys ask some messed up questions. Ok, let's walk through this.
I am definitely not marrying Bronco. He's a BYU guy and I don't need any sister wives; a Fuller is a singular treasure to be valued and prized, not thrown in a harem.
I also ain't sleeping with Mack Brown; as Adam Sandler said in Big Daddy, have fun with his loose skin and old balls. In fact, let's go ahead and do this Anna Nicole Smith style and marry Brown; Mack is likely going to be around the shortest (of the three), and I ain't signing no prenup, so give me that Texas money. Still no old balls, though, he's going to need a side piece.
Between the two remaining, Manny Diaz looks like he'd be a considerate, attentive lover. Look how unselfish he's been with Florida and UNC this season. I am still amazed that UNC was able to win a game with Hurricanes in the stadium.
If you thought this was ending with anything other than me killing Bronco Mendenhall, you must be new.
9. HokieRif wants to investigate an important corollary to the program's backslide: Is the program identity crisis and winning ways at all related to the business turnover in downtown Blacksburg, or is it just coincidence? We were rocking the ACC until the Summer of 2012 when Gumby's shut down, we go from finishing 11-3 previous season to 7-6, and the program hasn't been the same since.
A. I just don't know if this is a coincidence. I mean, I can't imagine what players would feel like on a Saturday game day without that two a.m. dose of carbs and grease to soak up all the booze they pounded Friday night. And the loss of protein from the pepperoni and sausage helps explain the players' inability to break or make tackles, since it's clearly impacting the strength program. So no Gumby's, the coaches are trotting out a bunch of hungover weaklings with no energy reserves. Wins evaporate.
Sure, you could have players eat fish and chicken and refrain from drinking, but then that's not a college strength and conditioning program, is it? One final thought: has anyone here ever tried a pizza from Gumby's while sober? Because I'd love to know what they really taste like.
10. Johnny P. is wondering if his direct impact on the outcome of games is waning: I did not drink any whiskey on Saturday and the Hokies still won. How is that possible?
A. I understand your concern. If I didn't do the thing I do every time the Hokies win and that I NEVER do when they lose (or block out those memories to comfort myself) and they still won...does that mean my traditions during the game...don't matter? Is it truly just a result of the effort and strategy put forth on the field by our Hokies against the effort and strategy put forth by the opponent? Do my pre- and in-game routines NOT matter? Do I have no influence or part other than observer in this endeavor that I have invested so much of my emotional energy that I simply MUST be able to impact the outcome?
You know what? I didn't fold laundry during the game on Saturday, because I was stuck outside doing lawn work all weekend And thus, the lack of our two traditions simply cancelled each other out, enabling the Hokies to win. Two wrongs actually made a right! But caution, I am already stockpiling laundry for Saturday, so please don't forget your handle.
11. Jander75...you're the worst: How great will it be when the 5-6 hokies ruin the hoos 11-0 season in Lane North this year?
A.As Hokie Fireman would say: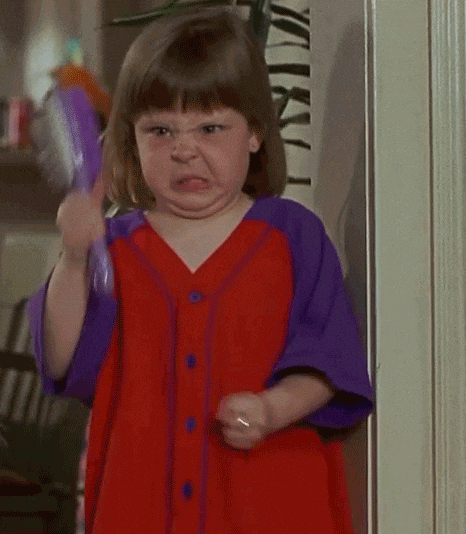 12. Kville Hokies wants to know: LOL and Zima are an obvious pairing. What alcoholic beverage best represents the other teams on our schedule?
A. Some of these are fairly obvious, but let's go through the bunch:
Boston College - Sam Adams OctoberFest, because it disappoints me anew every fall
Old Dominion - Olde English 800
Furman - Firefly Sweet Tea
Duke - There's a Bull Durham beer! But that's not what Duke gets, they get a Cosmopolitan because I don't care how endearing their football coach is, they can never live down their basketball program
Miami - A roofied Long Island Iced Tea
Rhode Island - Narragansett Beer, because they aren't worth the effort to look anything else up
North Carolina - A Hurricane
Notre Dame - Irish Whisky, but not the good kind, the bottom shelf stuff that's been there too long and would have gone bad a long time ago except it's alcohol
Wake Forest - Junior Johnson Midnight Moonshine - yeah, we like to pretend like we're good ol boys from Winston-Salem, but our parents are actually super rich so we only drink fake moonshine that uses someone's name to promote our authenticity
Georgia Tech - Moonshine as well, but actually homemade and horrible tasting because they're engineers, they can do it their damn selves
Pitt - Iron City. NOT IC Light, that's for pansies.
13. Tyler Fanning with a timely question: If you had a boat what would you name it?
A. The Fuller household is now the proud home of a 14 foot utility V Hull, just recently acquired! Of course, the folks I bought it off of ran it all summer so my to-do list this weekend includes cleaning out the carburetor so the engine will run longer than five minutes. Why didn't anyone tell me buying a boat was stupid?
In terms of names, my wife is pushing Catfish, because we have cats. I personally think this is stupid and hope that she does not read this. I'm thinking Kylvin Corken. I dunno, just has a nice ring to it, and the second half reminds me of a sea monster.
14. It's a Stroman Jersey I Swear asking about Fuller downtime: What's the board game of choice at the Fuller household? And which of the five fullers usually wins?
A. Ticket to Ride. Kyle usually wins because he somehow figures out how to get all of his routes through even when it seems like there's no physical way possible to do so.
As you can see, he's also amazing at blocking the routes of his brothers.
15. VT_Fencer with the question of the week: What is the best method of cooking meat over an open volcano that minimizes the loss of life and property.
A. This is complicated! For starters, when you say open volcano, I'm assuming you mean over the cone of a not-currently erupting but full of liquid hot magma volcano, like Mount Doom or Waponi Woo. This is pretty hard, because first you have to find a volcano with an actual lava lake in the middle, like Villarica in the middle of nowhere, Chile. Plus, when you get up there, you have to wear a gas mask because of all the sulphur dioxide floating around and it's generally not that hot; there's a glacier around the top of the volcano. If it IS hot, that means the volcano is erupting and you are probably dead. My best advice for these is, get a helicopter, suspend a grill with your food on it as well as an instant read thermometer (with a remote display in your hand) on a rope and lower it into the volcano until you hit the desired temperature. It will probably be pretty hard to flip your steak! Also, I don't know how much sulphur dioxide the steak is going to absorb. It might kill you if you eat it!
The best advice I've seen is find a lava flow and cook over that. But, like, high over the lava, because the lava, in liquid form, is north of 2,000 degrees fahrenheit, slightly hotter than your typical grill. Oh, and pay attention, because lava moves and if it touches you, it'll hurt. And if it surrounds you and you don't still have that helicopter, you're probably gonna die. Oh, and make sure to season your steak before you cook it, and I always like to salt both sides and then let it air dry in the fridge so the surface is nice and dry so you get a good sear.
That's all the questions I have time for. I'd like to thank those of you who mocked me on another thread using Letterkenny, which made me aware of the show that I can now watch since I have Hulu. Enjoy time with a Hooker on Saturday!