No question about it, turnover luck played a role in the lopsided 40-14 final score against Boston College. Fumbles and tipped balls are about equally likely to go to the offense as the defense, and the Hokies certainly kept flipping tails on BC errors. But even without that fortune, Tech's defense didn't play as poorly as some believe. The Eagles gained 5.72 YPP, about half a yard higher than their season average, but from a defensive perspective 5.72 YPP is about the median nationally. It's not domination by any means, but also isn't exactly getting walked all over.
It is becoming clear that for many Hokie fans, assessing what "good" looks like will require some adjustment this season. For many years the team relied on a lockdown Bud Foster defense and big special teams plays to win 17-13 slugfests. During those seasons, the defense allowing 30 points would almost certainly be a loss and possibly a blowout. This team is set up to win games that the other team scores 30 in, partly because their rapid scoring gives the opponent more possessions (BC had 12 offensive possessions Saturday; even if the first two drives had been TD's instead of turnovers the 2.33 points per possession would have been average). But more so than that, the offense is simply equipped to keep the team in games much like the defense once did. The Hokies are scoring 3.12 points per possession (non-garbage time) according to Brian Fremeau, and are 18th nationally in points per drive differential with the offense scoring .81 more points per drive than the defense allows. In a typical game, the more drives each team has, the more likely that math is to pay off with a win no matter how high the score gets.
Turning the corner from Boston College, the Hokies now face a team on the opposite side of that statistic — Wake Forest gives up .77 more points per drive on defense than they score on offense. The Demon Deacons are coming off a 17-point win over Virginia, and that would be easy to attribute to the absence of the Cavaliers' starting quarterback if not for the fact that the eye opener was the 40 points Wake Forest put on the board. In the loss, the reigning Coastal champs gave up 7.00 YPP to the Deacs, more than the team gave up to No. 1 Clemson earlier in the season.
So should Virginia Tech's suspect defense fear a potential offensive force taking the field in Winston-Salem? Or should the Demon Deacons have the same concern?
Where the Season Stands
Virginia Tech is currently 3-1. The actual and predicted score difference and odds of winning each game are: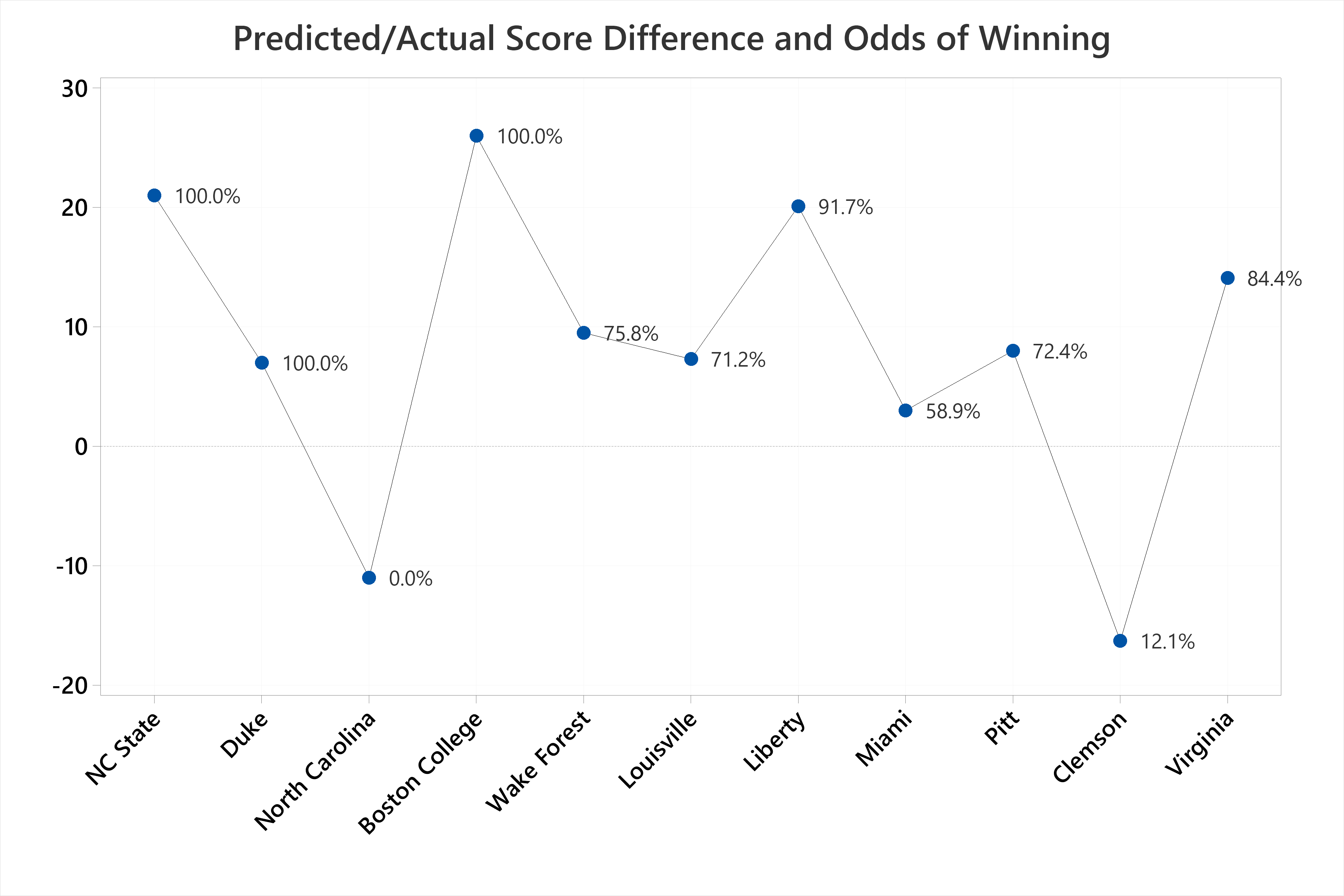 The odds of each possible regular season win total are now:
As things stand right now, Virginia Tech should be favored in each remaining game except for Clemson. The downside is that this doesn't mean fans should expect to win them all. The upside? A 12% chance of beating Clemson is...not bad at all. The team is also at about a 50/50 chance of 8 wins or better, and nearly a 98% chance of "traditional" bowl eligibility, although winning requirements don't mean much this year.
Based on FPI, the odds of each ACC team beating the ACC teams on their schedule is:
Clemson and Notre Dame remain ACCCG favorites, and the second tier of teams (Miami, NC State, VT, and UNC) remains the same even with UNC's improbable loss to Florida State. The highest win total from the third tier is a full two games behind any of those teams, with reigning Coastal champ UVA only favored in a single remaining game (against Boston College).
I'm sure there are plenty of obscure scenarios out there but I want to lay out the current most reasonable path(s) to the ACCCG for the Hokies. With the unusual setup this season, the ACC will be giving the two teams with the highest conference winning percentage spots in the game, but there are restrictions on how many conference games you must play and how tiebreakers will be handled. Based on those rules, for those with an eye on the ACCCG, Tech's best hope to participate involves one or more of the following:
At least one of the favorites (Clemson or Notre Dame) does not meet the minimum number of games requirement.
This may seem obvious, but Virginia Tech wins out including Clemson. The scenarios here are numerous, but in the absence of failing to meet the minimum games requirement Clemson is almost certainly undefeated or one-loss. In a two-loss Clemson scenario with Virginia Tech winning out, the Hokies now have the tiebreaker against Clemson if they are the only two 1-loss teams. If there are multiple, then Virginia Tech needs not only the 3+ team tiebreaker (combined head to head against some combination of Clemson, Notre Dame, NC State, UNC) but also to only have at most one undefeated team. The latter seems clear as Clemson would have defeated Notre Dame and all others have already suffered a loss. But the former? If Virginia Tech wins out, they will be 2-1 against the other potential one loss teams. But UNC and NC State play each other, so only one of those could be among the tied teams; and because Clemson and UNC both play Notre Dame no more than two of those three can make it. To summarize the potential ties here, if UNC is not among the 1-loss teams Virginia Tech would be in the ACCCG and if UNC is in there's still a chance. If you're looking for what to cheer for aside from the Hokies running the table, it is UNC suffering a second loss.
Of course there's only a 2% chance of Virginia Tech winning out and any of this means anything, but good to know they are in a great position should that happen.
Virginia Tech Leads the Nation In...
Among Power 5 teams, the Hokies have the #1 YPC rushing rate at 6.9 yards, a full yard ahead of #2 Notre Dame. Wake Forest has the 7th worst YPC allowed among Power 5 teams at 5.1.
Rankings and Computer Predictions
The computer rankings and predictions for each team: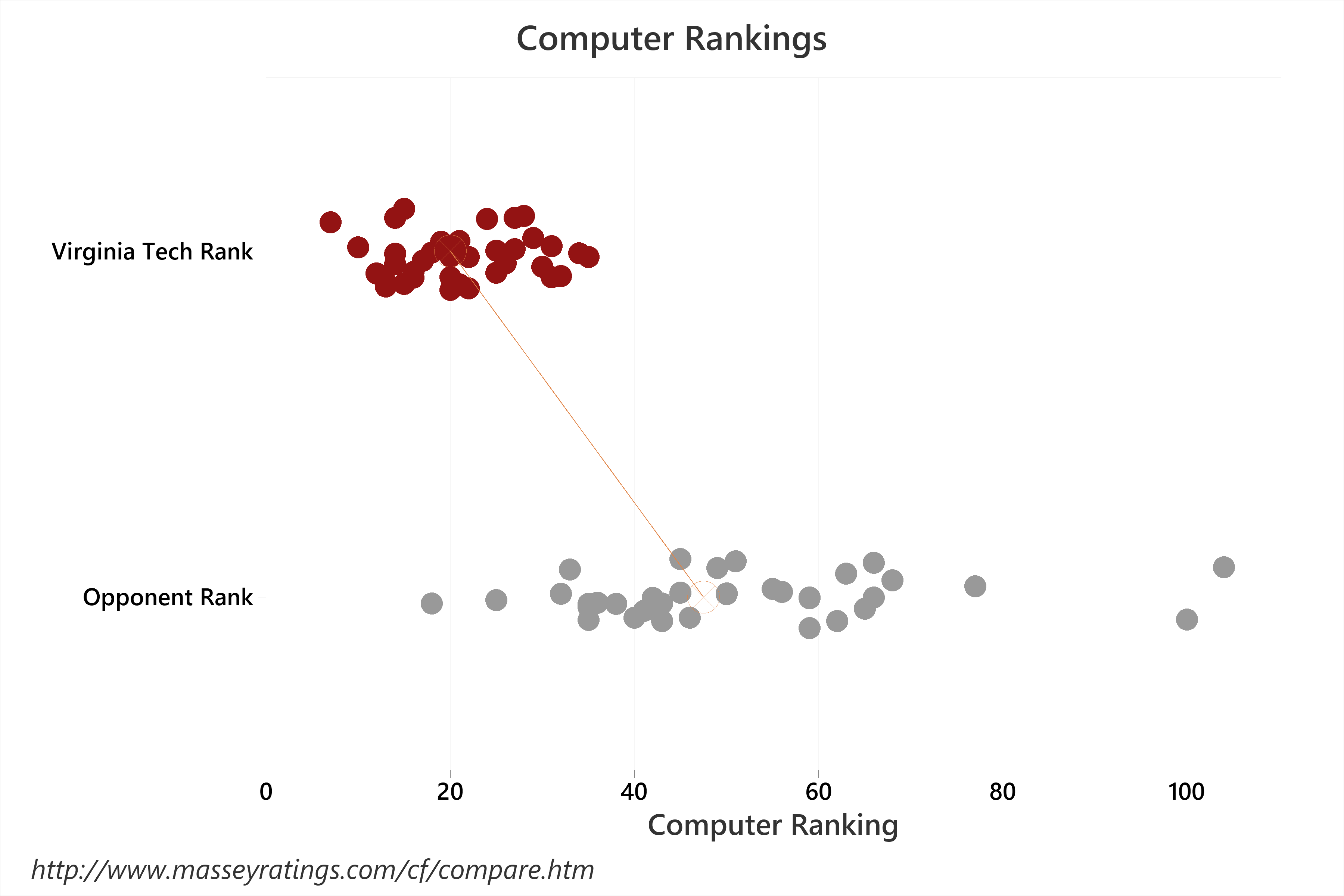 Wake Forest might be the 18th best team in the country. Or maybe 105th. It's really hard to tell I guess. As regular readers know, the spread tends to sit around the middle of computer predictions but in this game is heavily favoring the Hokies. I suspect that Vegas has factored in the likelihood of many fewer Hokie players out than before, and confidence that Hendon Hooker will start and play all or nearly all snaps. Computers tend to simply look at results and not factor in specific player absences or lineup changes. The odds of a 9.5-point favorite winning is 75.8%.
Next is a look at any overall offensive or defensive advantages:
Take a look at this list:
Alabama
Florida
Clemson
Virginia Tech
BYU
Those are the current top 5 in offense efficiency according to FPI. The other four have QB's that are getting plenty of Heisman attention, and Hendon Hooker might also if he had played more than 6 quarters and wasn't being potentially overshadowed by the nation's leading RB. At this point in the season, Khalil Herbert has done everything needed to be a Heisman candidate but will likely never sniff a ceremony invite, even if he continues this pace, because a running back for a team not pushing for a playoff spot just has too many cards stacked against them. Unfortunately Herbert's only shot involves Virginia Tech winning out and the back not just maintaining but accelerating the current pace.
Three thoughts about his explosive start to the season that I keep coming back to:
This is near or at the top of the best offensive lines Tech has had.
Top-end speed is one of the most overrated stats for running backs (ban the 40!), and the elite backs do three things better than the rest: have great vision and patience, explode both laterally and forward, and break tackles. We've seen flashes of some of those from backs in the last few years but it's been a decade since Virginia Tech had a back that could do all three (see Williams, Ryan). Enjoy it.
Kansas has Khalil as a running back and opted for someone else to get the carries. Either Herbert had some breakthrough in the last 12 months or Les Miles and his staff are completely incompetent at assessing talent.
What were we talking about? Oh yeah, this is a Wake Forest game preview. The Deacons have a better offense than defense but both units lag the Hokies.
Who To Watch Out For
In terms of defensive players who could potentially stop the Virginia Tech rushing attack, I thought the linebackers at BC posed the biggest threat and ultimately Herbert and Hooker didn't seem slowed down. No one on the Wake Forest defense appears to be any kind of game changer to me, so instead let's turn our attention to whether there are offensive or special teams players that might keep the Deacons in a shootout:
RB Kenneth Walker III is tied for 4th nationally with 7 TD and 24th nationally with 95.75 YPG on 5.72 YPC. (FWIW: Hendon Hooker has 4 TD's in just 6 quarters and 96.5 YPG on 7.42 YPC.)
QB Sam Hartman is 19th nationally at 8.9 YPA but has struggled to find the end zone in the air with just 3 TD's on the season, resulting in a QB rating of 146.91. (FWIW: Hendon Hooker also has 3 TDS but in just 6 quarters, and an 8.8 YPA resulting in a QB rating of 173.75 - 5th nationally if eligible.)
WR Taylor Morin is 3rd nationally with 14 yards per punt return. (FWIW: Hendon Hooker has no punt returns on the season but would definitely average more than 14 YPR.)
Statistical Key to the Game
The number of Deablos and Wallers cleared to play.
Although I don't anticipate Tech remaining 4th nationally in offensive efficiency for the entire season, the success to date is no fluke and both Hooker and Herbert are legitimate threats. I don't envision Wake Forest winning this thing in a low scoring game. They're going to need to win a shootout and probably win turnovers to keep pace. Turnover luck benefitted the Hokies greatly against Boston College, and although that doesn't tend to swing the other way, it does tend to return to average over time. An even split of turnovers probably means Virginia Tech wins the shootout, but the margin in Wake Forest's favor can't be more than +1 as the Hokie defense probably can't be successful enough to overcome it.
Statistical Prediction
Wake is 4th nationally in giveaways per game and Virginia Tech is 9th, but both teams are above average in defensive takeaways per game; as a result, the teams are 8th and 9th nationally in turnover margin per game and at least one team is thus bound to underperform in this one. They can't both win turnover margin and even a 0 is underperforming.
With the Hokies keeping it on the ground more than any teams other than the service academies and triple option Georgia Southern, ball security is more likely to continue for Virginia Tech. Similarly, there is always hope that the team will finally field a full starting secondary and become a bigger interception threat. Both of these make me think Wake is the more likely team to falter in turnover margin, and this Hokie team is not one that will be easy to keep pace with if you give them the ball.
Virginia Tech 41, Wake Forest 30
As always a thanks to ESPN, Football Outsiders, cfbstats.com, and Minitab Statistical Software.