Virginia Tech lost to Wake Forest on Saturday. Reaction from fans was swift and strong, and in my opinion pretty misguided. Two themes quickly emerged:
Losing to Wake Forest was inconceivable to many fans and comparisons to the meltdown against Duke and/or the ODU loss were rampant. If you fall into the category, humor me for a moment while I attempt to lob out some perspective and reality that maybe you don't want to hear. Virginia Tech was a 28.5-point favorite against Old Dominion and a 10-point favorite against Wake Forest. Since 1980, 23% of 10-point favorites have lost the game outright. Hardly a shocking result, and laughable to include in the same conversation as a 28.5-point favorite that has lost less than 3% of games during the same time span.
Every game seems to be a referendum on Justin Fuente now. Those that want to move on from Fuente put every loss entirely on him, and those that believe he is building something great find no blame at all on him. Of course the truth is somewhere in the middle. But in this loss, the mistakes were uncharacteristic for this team so it's difficult to put that on coaching. Hendon Hooker, who I'm not sure has thrown an interception in his life, threw three. One of the lesser penalized teams in college football gave up 112 yards, many on poor decisions that led to personal fouls and even an ejection. A field goal kicker who led the country in accuracy two weeks ago missed two. I certainly lean in the direction that Fuente is not on a trajectory to compete for conference championships, but blaming him for this loss feels lazy to me.
One more point on the loss before looking ahead to the next game: it wasn't as bad as it seemed. The Hokies outgained the Demon Deacons by 127 yards on a higher yard-per-play average. They converted more third downs (5/16 - 3/15). Virginia Tech gained 54.7% of available yards to Wake Forest's 50.7%. Make no mistake, however: a -3 turnover differential is very difficult to overcome, especially as two of them came after the team had driven 55 and 50 yards down the field and was in good position to score points. Further, most penalty yards are completely avoidable, and personal fouls are a really dumb way to let the other team move up the field. The Hokies shot themselves in the foot in a game that they otherwise would have won comfortably. It could also have been worse — three fumbles were all recovered by maroon and orange.
Time to pick those heads up, Hokies, and turn attention to the next slight underdog on the schedule, Louisville. The Cardinals are on an interesting run in October, having first been embarrassed 27-46 by Georgia Tech only to play a surprisingly tight contest against Notre Dame — a 7-12 loss — and then a convincing win against Florida State last week by a margin of 48-16.
So what to make of those results?
Final scores often hide what the underlying performances were really like, so has Louisville turned a corner and is a team to be feared? Or was the poor showing against Georgia Tech a better sign of what to expect?
Brian Fremeau's game splits shows the percentage of available yards gained by each team. And In Louisville's case, the results are pretty telling for a couple of these. Against the Yellow Jackets the Cardinals gained 52.2% of available yards to the opponent's 57.4%. A difference to be sure, but not as big of one as would be expected in a 27-46 loss...Louisville actually outgained Georgia Tech, but three turnovers sunk the ship (sound familiar?). And Notre Dame thoroughly dominated in this measure, 62.3% to 40.2%. The Irish only had 7 offensive drives, one of which ran the clock out and another in which they failed to convert a 4th down on Louisville's 13-yard-line.
Long story short, Louisville has mostly performed to mediocre expectations and presents another opponent that Virginia Tech will be favored against but not heavily so. Should the Hokies falter again, I'm sure the reactions will be thoughtful and reasonable.
Where the Season Stands
Virginia Tech is currently 3-2. The actual and predicted score difference and odds of winning each game are:
The odds of each possible regular season win total are now:
6-8 wins appears to be the settled on range the Hokies are most likely to fall into, which at least makes this a likely winning season. That said, with two losses already on the books and a remaining matchup against Clemson, it's hard to imagine a scenario where the season is considered a big success.
Based on FPI, the odds of each ACC team beating the ACC teams on their schedule is: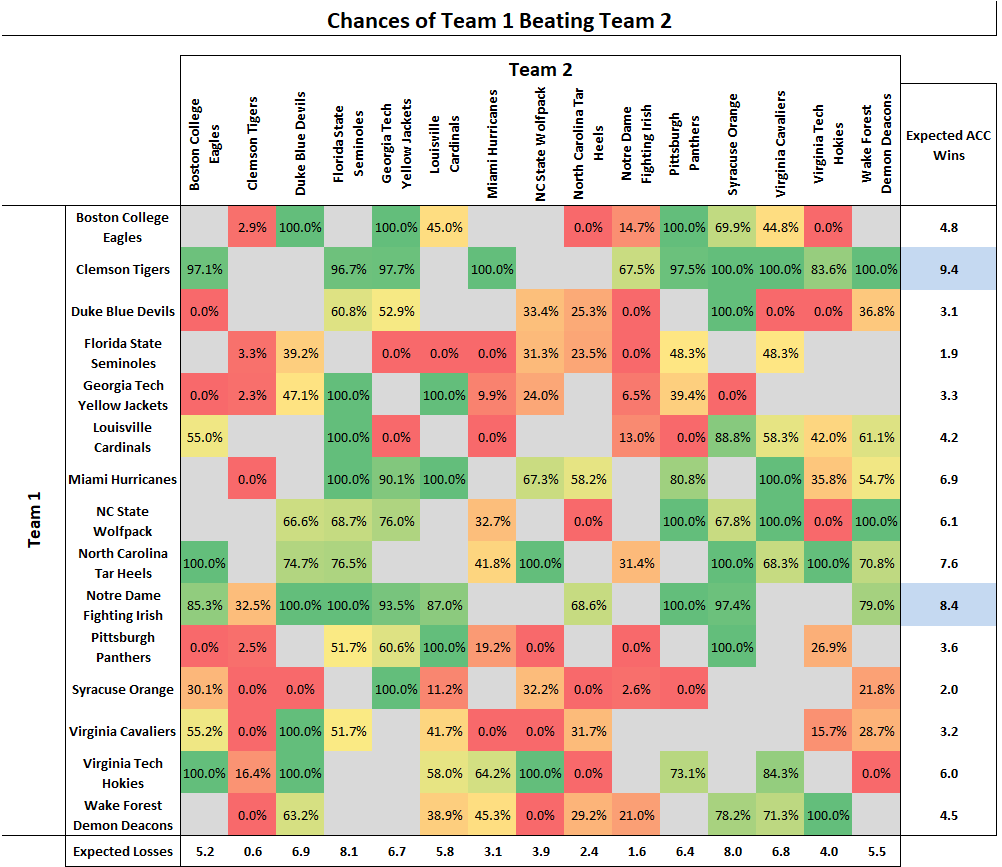 There are no longer three clear tiers in the ACC as teams start to spread out. Short of COVID causing a leader to not qualify, the title game is looking to most likely be Clemson against the winner of Notre Dame-UNC. It is early, however, and lots of football still to play. Virginia Tech winning out (2.76% chance) gives them a head-to-head tiebreaker against Miami, and based on their prior loss it doesn't seem inconceivable that UNC beats Notre Dame but loses to another team. In a four-way tie for second among VT, Miami, UNC, and Notre Dame, where the other UNC loss is to Miami, VT is in a good position.
Virginia Tech Leads the Nation In...
Virginia Tech (sort of) STILL leads the nation in yards per rush at 6.2. Only Michigan has gained more, but Michigan's season just started and their number is based on a single game. What a weird qualifier to write heading in to the last weekend in October.
Louisville allows a well-worse-than-average 4.9 yards per rush, a number so poor that the next team on the list is Virginia Tech — a team that is well known to be completely incapable of stopping the run.
Bonus stat: The Hokies have more runs of 20+, 30+, 40+, and 50+ yards than any other Power 5 team. The only teams ahead in any of those categories are Army and Tech's next opponent, Liberty. I'm sure more will come on that in next week's post.
Rankings and Computer Predictions
The computer rankings and predictions for each team: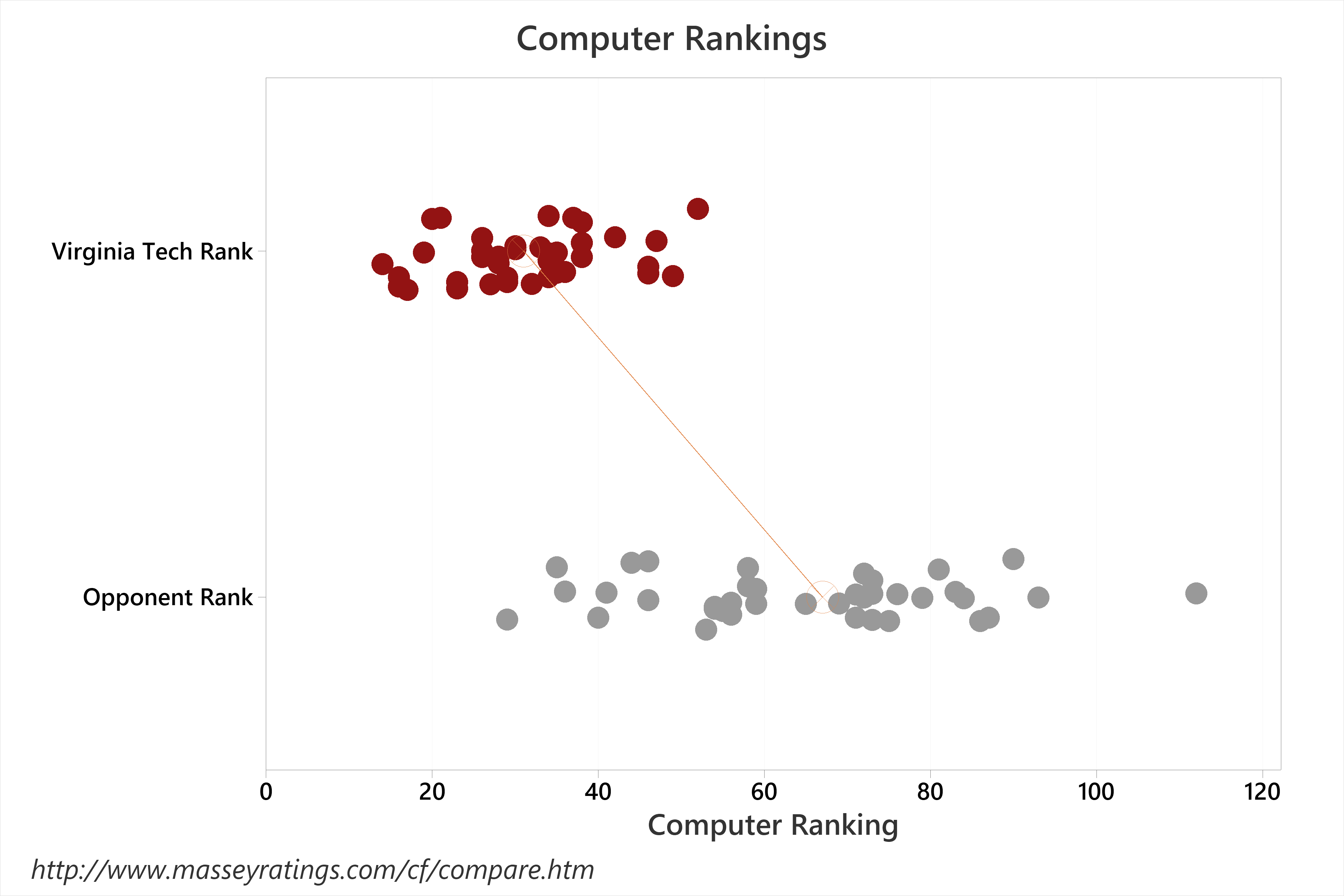 Virginia Tech was not punished much for the showing against Wake Forest, perhaps because from an efficiency and final score standpoint the game wasn't that bad. The resulting predictions are fairly consistent and clustered right around the current spread, with most predicting a narrow Hokie victory. The odds of a 3.5-point favorite winning is 60.4%. For those who seemed to have trouble grasping probability, let me be clear: losing to Louisville would not be some incredibly unlikely event to throw around as program-defining disaster.
Next is a look at any overall offensive or defensive advantages:
Louisville fits a similar profile to the Hokies, with a pretty good offense and an average-at-best defense. But Virginia Tech maintains a slight edge in each and as a result is obviously the slight favorite, even on the road.
Who To Watch Out For
I've checked multiple sites to be sure, and am confident in saying Lamar Jackson is no longer the QB for Louisville which is great. My understanding is that he went to the NFL but was unlikely to do much there since he's just a running QB. I'm not a big NFL fan so I haven't followed up to see if he's ever even seen the field since being drafted.
RB Javian Hawkins is 13th nationally with 115 yards per game (15.7 behind Kahlil Herbert) and gains 5.97 YPC (2.78 behind Kahlil Herbert)
QB Malik Cunningham has the 27th highest passer rating in the country at 150.81 (117.19 behind Tayvion Robinson)
The LB tandem of Dorian Etheridge and Monty Montgomery have combined for 16.5 TFL (no one for VT is touching that, but Tech is 21st national in TFL allowed per game)
Statistical Key to the Game
Hmmm...is it stopping the Louisville run, or not getting the Hokie run stopped? Malik Cunningham is a good quarterback but I'd be surprised if any opposing team watched tape of Virginia Tech and decided they better avoid trying to run. Similarly, Wake Forest provided somewhat of a blueprint for slowing the Hokies down.
I'll stick with both and go with YPC differential — whichever team is able to gain more yards per carry is likely controlling the line of scrimmage and will walk out with the win.
Statistical Prediction
Hooker had a bad game last week, but is still a really good quarterback and likely to bounce back. Similarly, the Louisville defense is not great at stopping the run and really did not perform nearly as well against Notre Dame as the scoreboard would indicate. Much like last week, it's easy to see this one as a higher-scoring affair but I trust Virginia Tech to right the ship and Herbert to resume his explosive ways.
Virginia Tech 38, Louisville 34
As always a thanks to ESPN, Football Outsiders, cfbstats.com, and Minitab Statistical Software.