I don't want to dwell on the Clemson game. Instead, I'll go ahead and tell people what they want to hear and move on. So go ahead and read the section corresponding to your feelings and skip the other one.
Virginia Tech is much better than their record; things are going fine actually and the Clemson game was much closer than the score indicated: Sure, the final score appeared to be a blowout, but there were some definite bright spots. Travis Etienne was held scoreless for only the second time this season and had by far his worst receiving day. In fact, his all purpose yards per play (3.9) was well below even his next worst game (5.6). Trevor Lawrence was held to his 2nd lowest completion percentage of his career (narrowly beating 2019 LSU) and his second lowest passer rating of the season. He threw just his third interception on the season and for only the second time was held to less than 2 TD's. Moreover, Virginia Tech passers actually had a higher YPP attempt (10.6) by far than Clemson (8.9). The bad luck of losing three fumbles was what really made the score appear so lopsided.
Virginia Tech is absolutely a 4-6 team; it's rebuild time and the Clemson score is exactly what it should have been: Oh, you thought Pitt was the worst showing this team was capable of... Let's not bask in limited production from Etienne and Lawrence. Clemson gained 8.33 yards per play against Virginia Tech. In their 70-7 blowout of Georgia Tech earlier this season they only gained 7.63. The Hokies gained 5.9 all-purpose yards per play — less than anyone else against Clemson except Georgia Tech and Citadel, teams the Tigers beat by a combined 122-7. This game was far worse than 45-10 and they don't sell glasses maroon enough to think anything is trending in the right direction.
See? Things aren't/are as bad as people think.
So, do the Hokies stand any chance of recovering some form of dignity against Virginia this weekend?
No matter how miserable the season has been, I'd be lying if I said beating UVA wouldn't make me feel pretty good. And their recent apparent success might be undermined by some deeper analysis.
Where the Season Stands
Virginia Tech is currently 4-6. The actual and predicted score difference and odds of winning each game are:
The odds of each possible regular season win total are now:
Virginia Tech has a clear path to win as many as, say, five games this season. Some things will have to go their way and nothing is guaranteed, but it's certainly realistic to think that the team may drop a 25% increase in win total this weekend alone.
Based on FPI, the odds of each ACC team beating the ACC teams on their schedule is:
Miami is currently expected to finish the season with more ACC wins than Clemson, which is certainly interesting looking ahead to a 2021 season where Notre Dame is (presumably) not considered part of the ACC.
Virginia Tech Leads the Nation In...
Opponent field goal percentage, and not in the good way. Opponents have made every field goal this season (at least that wasn't negated by a time out I don't want to discuss) against the Hokies, and among the 12 teams with this distinction, Virginia Tech's opponents have the most attempts against them (13). Naturally opposing teams have also made all 41 PAT's against the Hokies as well. Remarkably teams (Miami really) have failed at both 2-point conversations attempted against them.
And since only five P5 teams are worse than Virginia Tech at red zone TD percentage with opponents scoring touchdowns on 72% of red zone trips, many of the field goals are from distance. Of the 13 field goals against the Hokies on the season, only 5 were from within 40 yards. Four of them were from greater than 50 yards. In fact, only 52 field goals of greater than 50 yards have been made in college football all season — resulting in 1 in 13 (4 out of 52), 50+ yard kicks this season in all of FBS coming against Virginia Tech. The three opposing kickers who kicked these 50-yarders against the Hokies have combined for the same total against all other opponents all season.
I guess the only silver lining to this stat is that only two teams finished with a 100% opponent field goal percentage in 2019, and one of them was Alabama.
Rankings and Computer Predictions
The computer rankings and predictions for each team: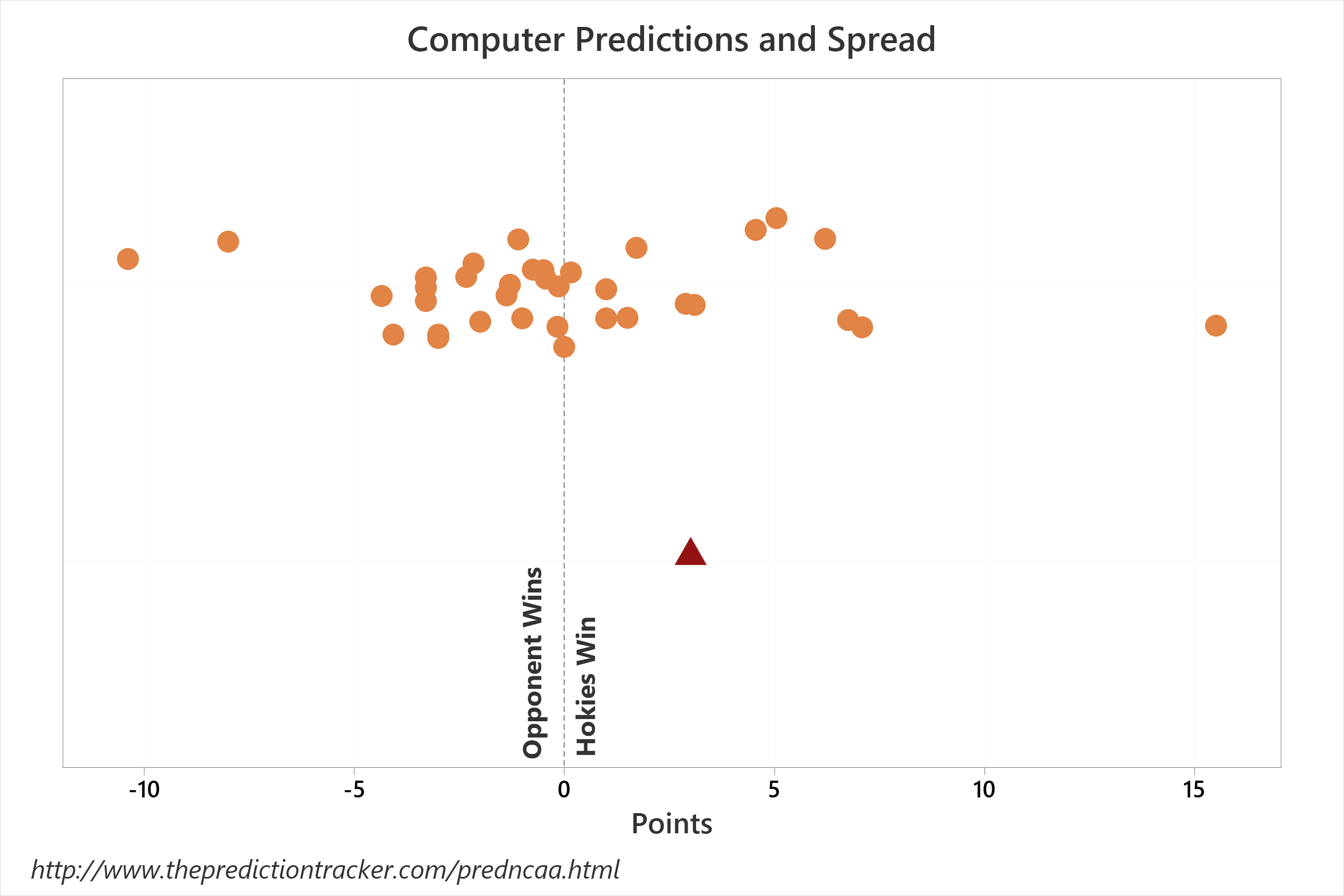 Now you might be thinking to yourself that any computer predicting the Hokies to win by over 15 points is a bit suspicious, and in this case that system (Cleanup Hitter) does rank 40th out of 43 systems on the prediction tracker. But a different system (DCI) thinks the Hoos will win by over 10 and that computer is 42nd so there's that. For what it's worth, the most accurate system this season (ESPN's FPI) predicts Hokies by 5. The odds of a 3-point favorite winning is 58.9%.
Next is a look at any overall offensive or defensive advantages: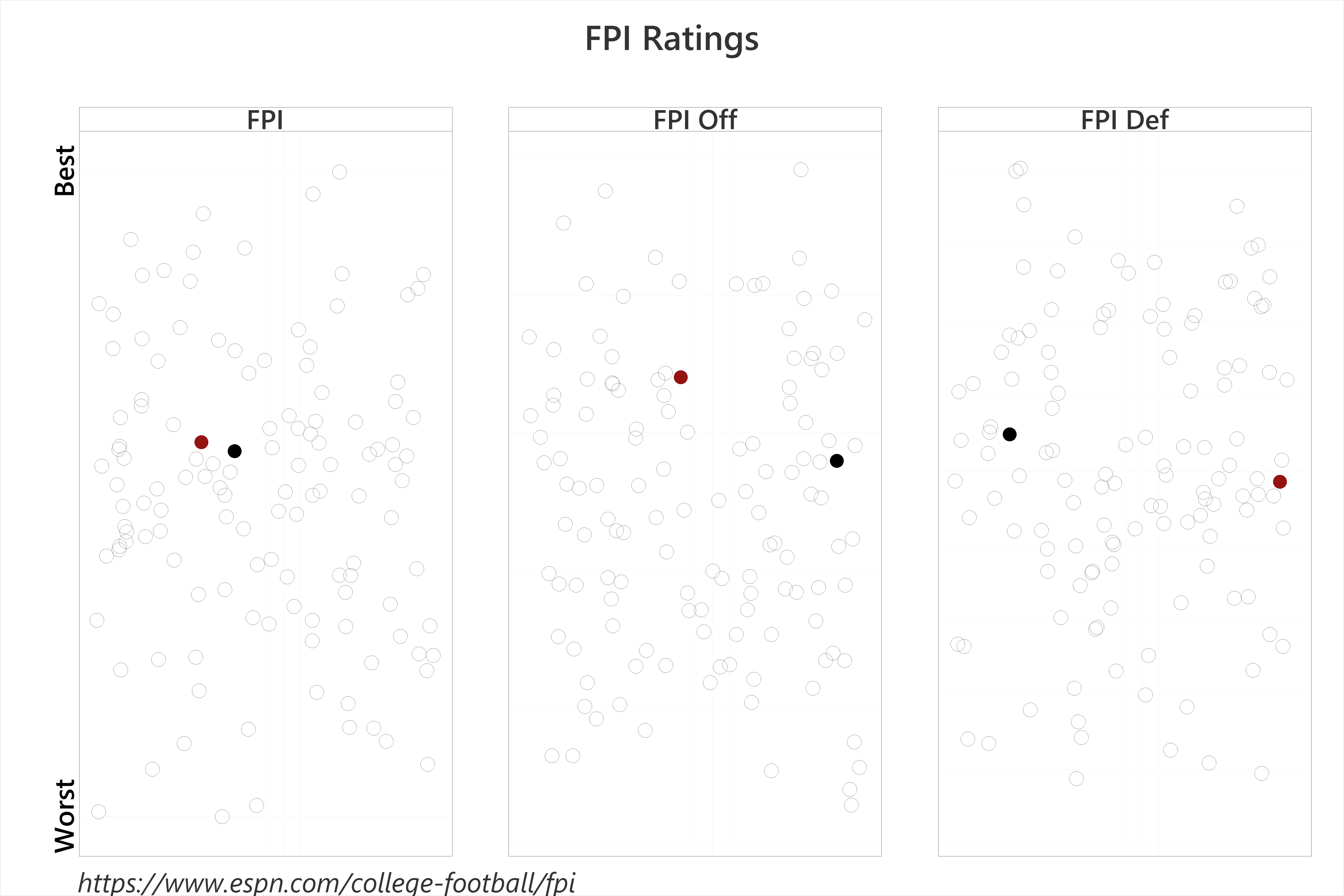 While the Virginia Tech offense has dropped some in rating, it still remains among the top 25 in the nation. While 10 points was certainly a poor showing against Clemson, losing three fumbles has much to do with that and the team did move the ball better against Clemson than most other teams.
Who To Watch Out For
Virginia's best offensive and defensive players from 2019 have moved on to chase NFL dreams, but the team does still have some playmakers:
QB Brennan Armstrong isn't a standout thrower — 39th national in passer rating — but is a threat on the ground, ranking 5th among QB's with 66.13 rushing yards per game.
Freshman WR Lavel Davis Jr. is an explosive threat, ranking third nationally with 25.88 YPR
LB Nick Jackson ranks 17th nationally with 10.9 tackles per game and bears even more responsibility with Charles Snowden out.
Statistical Key to the Game
A casual football fan would probably point to a surging Virginia offense and struggling Virginia Tech defense as the storyline here. It is true the Cavaliers' offense has set season highs in total yards and yards per play the past two weeks. But one of those games was against Abilene Christian, a 1-5 FCS school whose losses include a 13-point miss against Angelo State, a school I hadn't even heard of until, well, now. The other was against Boston College this past weekend. UVA gained a very respectable 8.17 YPP against the Eagles, but only narrowly eclipsed the 8.06 mark set by the Hokies against the same team earlier in the season.
Prior to these two contests, the Cavaliers played Louisville and managed a pedestrian 5.82 yards per play. The Hokies put up 7.34 against the Cardinals. In fact, only twice this season have the Hoos eclipsed 6 YPP against an FBS opponent, and the Hokies have only twice put up less than 6 YPP. All that's not to say Virginia Tech is a great team that should easily beat Virginia, but that the focus is on the wrong side of the ball.
Lost in the narrative of recent Virginia offensive success is that the team has had its worst three defensive performances in the past three FBS games (UNC, Louisville, Boston College). While those aren't terrible offenses by any means, the average YPP given up by the Cavs' defense against them — 7.99 — exceeds even that given up by the Hokies' defense against the same teams (7.88). While the numbers are close, even considering the two teams as potential equals on defense suggests a significant drop off for UVA.
All that said, no doubt the Hoos will score points on Virginia Tech — they have a dual threat quarterback and, well, pretty much everyone scores points on Virginia Tech. The deciding factor for me is whether the Hokies are able to move the ball easily on what appeared early on to be a pretty decent defense. Should the Hokies continue the recent trend of teams racking up 7+ YPP, they may win the Commonwealth Cup back and in the process recover a diamond in a rough season.
Statistical Prediction
Like so many other games this year, I can easily talk myself into whatever I want to happen. Of course I'll predict a win — it's what I do — but how much conviction do I really have? Truth be told, this team had a chance to make a statement against Clemson and even going into halftime proving that, many players just didn't seem to have the fight in them to keep it going. Does the in-state rival bring out that fight more than the king of the conference?
The result of the game depends on it. And in my opinion, if the team can't play hard, smart, and tough against Clemson or Virginia, it's time for Whit to make the difficult financial decision to move on from the Fuente era. Actually, I'm of that opinion even if the Cup does return to Blacksburg.
I'm hoping the lack of fight against Clemson was a confidence issue, and there's enough desire for revenge against the Cavs to fire everyone up just this once.
Virginia Tech 34, Virginia 31
As always a thanks to ESPN, Football Outsiders, cfbstats.com, and Minitab Statistical Software.