Coale's catch and run was a thing of beauty, but we all know how that played out. Now look at the story told by the faces of the coaches, players and fans in the stands by their gambit of emotions: shock, anticipation, exhilaration, joy, ..., and what have you.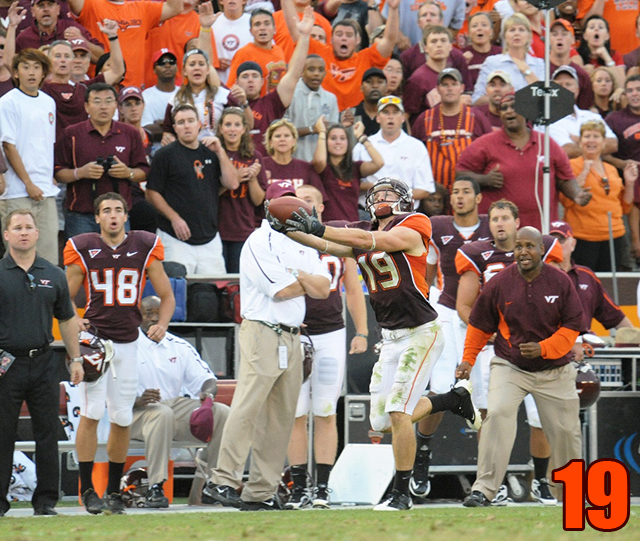 I mentioned on the Twitter yesterday that sometimes I forget just how good Danny Coale is. That's a total bust on my part, but maybe it's a testament to the type of player Coale is. In my opinion he's our most dependable receiver. He's got that knack for always getting open when you need him to be the most and he catches everything thrown his way. It's like the bro's got a natural layer of Stickum over his hands. On Saturdays he just puts his hat on and does work. That's the type of guy you can forget about, because you never have to worry about him.
Trivia*:
Who threw 19 touchdowns for the Hokies in 1990?
The Hokies will play ______ _______ for the 19th time this year. They're looking for their 13th win.
*The first person to leave a comment with the correct answer(s) gets a point. Each correct answer is worth a point. At the end of the season the most points wins a free tee from GameDay Passion.