By

BeerControlOffense
on December 2, 2010, 12:22 PM
| 25 comments
We made it, the regular season is just about over and concludes with championship week (be sure to explain the feeling to a Hoo sometime). There is no reason to be sad because the season is over, instead be happy for our Hokies rebounding and making it to another ACC Championship game. Be excited that Beamer now has a chance to beat F$U in a meaningful game. Believe and trust that he'll get it done. Party it up in the Queen City, find a tailgate that has a TV and watch some $EC football in prep for our big game. Finally, be loud, proud and take no crap from any 'Noles fan inside the BoA Stadium, IT'S OUR HOUSE this week!
It's an abbreviated Six Pick after over-consuming last week. I watched part, or all, of ten of the twelve games I previewed last week. By midnight on Saturday I was in a college football induced coma that put turkey day to shame. This week I am cutting the fat, no shitty Big East or Pac 10 games that will go unwatched by everyone except their respective fans and Matt Zemek. This week, it's a Four Pick, one of those $10-$15 four packs where the alcohol by volume is north of 10%. Each beer/game will get after you and be damn enjoyable too.
Saturday, December 4th
The Civil War: 2 Oregon -16 at Oregon State 3:30 pm ABC
To quote Leslie Nielson (R.I.P.) as Frank Drebin in The Naked Gun, "Nice Beaver."
I know what you are thinking, the Ducks fast high scoring attack is going to run roughshod all over their bitter rivals, the Beavers. There is no way OSU's one dimensional attack of Jacquizz Rodgers toting the rock will be nearly enough to keep pace, and their chance of stopping, let alone slowing down Oregon is very slim. Am I right? Things do look bleak for the Beavers who are just one win away from being bowl eligible. They just got depants by Stanford last week and now face team they hate the most, who just so happens to be trying for a spot in the National Championship game. However, I would like everyone to remember the 2007 five win P.I.T.T. Panther team that physically man handled WVU stopping their vaunted spread attack, denying them a shot at the National Championship and putting a smile on my face that lasted weeks. The Beavers can pull off the improbable upset (especially in Beaverton,) it has been done before and it will be done again… but will it be done this season?
What to Look for: OSU playing their asses off, not just for bowl eligibility, but for pure hate of all things Green, Yellow, White, Black, Steel and whatever other color Nike uniforms the Ducks wear on Saturday. The Beavers and their really bad defense will initially play above themselves slowing the Ducks down, but will have a very hard time getting any points from their offense. Oregon's game of tempo, attrition and speed will get the better of Oregon State like it has of almost everyone else they have played.
Pick: Oregon to demolish, covering the spread
***
SEC Championship: 1 Auburn -5 vs 18 Souf Cackalacki 4:00 pm CBS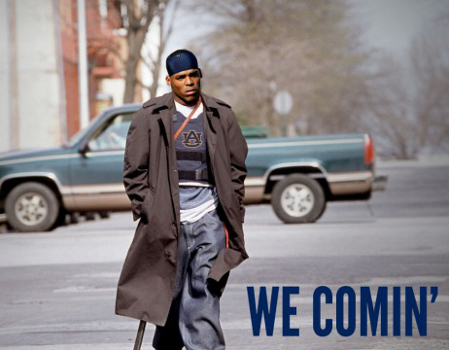 War Eagle Reader embracing their inner rip and run image as Cam "Omar Little" Newton.
It's BIG boy football time. My words probably can't do the $ECCG justice, but I will try anyway. The $EC has the best facilities, coaches and players money can buy and it shows. The last few years the real national championship game has been played in early December in the ATL. This game is an early season rematch of a thrilling Auburn comeback (sound familiar?). Down six in the 4th quarter, Cam Newton lead the charge and the Tigers scored fourteen unanswered for the win. Turnovers and the inability for stud true freshman running back Marcus Lattimore to get yards really hampered the Gamecocks.
In order for South Carolina to win on Saturday quarterback Stephen Garcia has to limit mistakes (gulp) and Lattimore is going to have to get loose a few times on a good Auburn rush defense. If South Carolina wants to go to the Sugar Bowl, Steve Spurrier is going to have to conjure up some of his old Gator Fun-n-Gun magic and get pass happy on a bad Auburn secondary. The Tigers' offense is almost impossible to stop for an entire game. Outside of maiming Cam Newton, this team is going to get yards and score points. Newton's ability to focus when down big, in tight games and in midst of his "pay-for-play" controversy is pretty amazing.
What to Look for: Intense, hard hitting affair right from the kickoff. I don't expect any early game jitters. Both teams will come out swinging, after all they are paid professionals and used to the stage. Newton will get his 300+ yards of total offense again. Not to be upstaged, Garcia will throw for over 300 himself with receiver Alshon Jeffery getting 200 of those yards. That said, history shows us that the Auburn D gets better in the 2nd half and will make crucial stops and Garcia will likely be the facilitator by throwing at least once costly interception.
Pick: Auburn by a touchdown
***
ACC Championship: 20 F$U vs 12 VT -4.5 7:45 pm

The Hokies are asking Tyrod to be elusive for just two more games.
This contest can be summed up by a quote from Charlotte's own Rick Flair, "To be the man, you gotta beat the man!" This is the strange case where both teams can play the underdog/respect angle. As Hokie fans know, the Noles have owned the Hokies for 25 years with VT only posting a single victory during that time. That 2007 win was nice and it felt great, but it was a down F$U team and beating them in the regular season isn't nearly as meaningful as beating them in a bowl or the ACCCG. The Hokies are going to have to prove they can beat the Seminoles when it matters. Conversely, for the better part of a decade Florida State has been an average football team watching Virginia Tech be the top program in the ACC. For a very proud program, that was hard to swallow. In both cases, each team thinks the other is the man. Part of me wishes it were Dadgumit on the sidelines, so Frank could notch a meaningful victory over his nemesis, but the other part of me is glad Frank's master is gone.
What to Look for: The Hokies to start slow on offense, playing conservatively while the offensive line looks pathetic… only for the play to open up and the blocking to get better in the second quarter. The Noles are going to pressure the crap out of Tyrod and give him a bunch of zone looks to: A) confuse him and B) keep as many eye balls on him as possible. It's imperative the Hokies get their ground game going early. I am not even going to try and guess what Bud Foster is going to do against the best offensive line and second best quarterback the Hokies will have seen all season. He will play vanilla for a series or two, watching the 'Nole's game plan unfold and then adjust, then start taking away pieces of their attack. The real fun is going to be in the second half when both teams make adjustments.
Pick: Going with the money, they have been hot all year… VT to cover!
***
Big XII Championship: 13 Nebraska vs 10 Oklahoma -3.5 8:00 pm ABC

If I were Bo, I'd apologize on Friday for what I am going to say and do on Saturday.
This game was a long time annual Big Eight rivalry that ended up on the cutting floor when the merger with the SWC formed the Big 12. This matchup use to be played on Thanksgiving weekend and it rivaled 'The Game' and 'The Iron Bowl.' It's only fitting that Oklahoma is standing in the way of Nebraska's triumphant exit out of the Big 12. These may not be vintage Sooner and Cornhusker teams, but they're good teams that should put on a good show . I have no clue what to expect, both of these teams have talent all over the field and both have shown inconsistency as well. The Nebraska Department of Conspiracy Theory will say the Sooners have been made the "favorite" by Big 12 commissioner Dan Beebe. College football fans note that "Big Game" Bob, shouldn't be a favorite in any game worth a crap. Something has to give and one fan base is going to be really pissed to lose the last (for the foreseeable future) game in this rivalry.
What to Look for: Like that crazy neighbor down the street, I expect Nebraska coach Bo Pelini to blow a gasket over silly mistakes or perceived bad calls a half dozen times. That is roughly 50% less than two weeks ago since the dress down that the president and AD Tom Osbourne gave him in the principal's office. Nebraska will be able to run* on the Sooners' front seven and pass over the top when they get one-on-one matchups. Oklahoma will continue to experiment with the diamond spread formation, getting mismatches and making the Husker defense be a little less aggressive. Neither team will be denied, this game will feature a combined 80 points scored.
Pick: OU to cover, trust the team with the veteran quarterback.
*Assuming rather naively that Taylor Martinez will be a go and close to healthy. If not, they'll get nothing and like it.
Yes, I went Chalk this week and no, I don't feel bad about doing so. As always make your picks in the comment section against me, Joe and the others. It's pretty close, but there is still bowl season.
Beer of the ACCCG Tailgate: Ska Brewing Modus Hoperandi
I've had quite a few craft beers in cans and the best IPA to ever grace aluminum is this little Colorado ditty. I can't purchase this in Virginia, but an excellent Beer store in Durham carries it. #fiveminutedetouroffI85 #myfirstwinoftheweekend