For no reason in particular here's a picture of David Wilson's whip.

via @Bwoolwine

Previewed. CBSSports.com senior writer Brett McMurphy thinks the Hokies will "roll" through their soft schedule. I really want to describe Tech's schedule as idiotproof, but come on, it's college football, so manageable is more fair. Four winnable non-conference games to ease Logan Thomas and an inexperienced platoon of defensive reserves into the ACC schedule sets up for success. Bill Connelly's examination of Tech is as thorough as a physical, honest and fair. I suggest you read the entire preview. College Football Matrix concludes there's a better chance for teams to pull an upset against Tech at Lane than in their own home.

Backup wideout Xavier Boyce will transfer to Norfolk State.

The STRAIGHTBURNER has switched positions from flanker to split end. Duly noted. I read that as, Dyrell has a better chance getting playing time over Coles than Davis. The positions are quite similar, the frequency at which each run specific routes is a notable difference. Some statistics to chew on, Boykin, Coale, Roberts and Davis caught 29%, 22%, 16% and 4% of completions in 2009, and 25%, 19.5% 10.5% 9.5% in 2010 respectively. What do you think the breakdown will be like this season?

Family ties run deep for Virginia Tech football (and The Facts of Life aren't too bar behind). Mark Giannotto traverses Tech's family tree.
On this year's roster alone, there are 11 players with a father or sibling that once played at the school, including four starters on defense. Since Coach Frank Beamer took over the program in 1987, he has coached at least 70 players with a father or brother who previously played for the Hokies, according to Virginia Tech's sports information department.
Tech being able to recruit brothers successfully was something Bud Foster was quite proud of.

MUST CREDIT BEAMERBALL.COM AND @BEAMER_BALL. Bud Foster described linebacker Telvion Clark as having, "a tremendous camp", and now he's starting at backer over Tariq Edwards. Redshirt freshman defensive end Zack McCray will have the opportunity to work his way onto the two-deep this week. Backup tight end Eric Martin is still not practicing and can be out for as long as two weeks.

I believe Collin Carroll's Tweets will have a prominent place in Hokie Tracks going forward.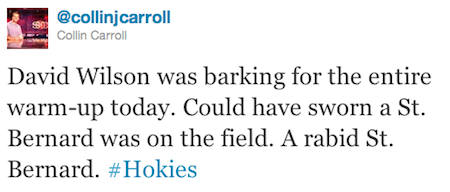 ♫ Dave gon give it to ya. ♫