By

joe
staff
on October 6, 2011, 5:45 PM
| 1 comment
Before today the only Miami game I had watched was their Labor Day opener against Maryland. Although it was a 24-32 loss I was impressed with how competitive they were considering they had 9 players, most of which were either starters or on the two-deep, suspended (8 by the NCAA and wide receiver Aldarius Johnson was suspended indefinitely by Al Golden). The 'Canes that played on Labor Day are not the team that will travel to Blacksburg on Saturday, on paper they are much, much better. Aside from defensive end Olivier Vernon, all of their suspended players are eligible; 5 have been playing since the Maryland game.
I wanted to get a better idea of how the Hurricanes looked with a more complete roster so I watched the first half of Miami–Bethune-Cookman and the second half of Miami–Kansas State.
Miami was sloppy in the first half against I-AA Bethune-Cookman. They gave up a lot of big plays, and committed 6 penalties for 41 yards, their only penalties of the game. If the Wildcats don't fumble on the two-yard-line and miss a field goal, they take a 17-14 lead into the half, instead of being down 7-14. Miami would eventually blowout the Wildcats, 45-14.
In the second half against Kansas State Miami battled back from a 3-14 deficit, to take a temporary 24-21 lead, before losing 28-24. With less than a minute remaining Jacory Harris could have retaken the lead on a 4th and goal scramble that was initially ruled a touchdown.
Fast forward 43 seconds into the video.
Jacory played strong in both of these games. He threw one interception to four touchdowns and 447 yards. He missed some throws, under throwing a wide open Benjamin down field comes to mind, but other than that he looked sharp.
Miami's offensive line is really good, and everyone says that, but they weren't as dominate as I expected. There were times when Bethune-Cookman beat them inside and clogged up the middle. However, they only gave up two combined sacks.
We have to prevent Lamar "Dash" Miller from getting to the sidelines. Stretches, passes to the flats and pitches are all part of Miami's scheme to get him to the corner. He can do the rest from there. Miller reminds me of a more mature David Wilson. They are both superior athletes and don't stop running until they're on the turf, but Miller sees the holes and cutback lanes better than David.
This is a stretch to the left. The offensive line is down blocking and ideally Miller should carry the ball left and cut up through the first crease he sees. There's a gaping hole between the tackle and guard, but Miller can see the defender coming up to fill. He cuts it backside, between the center and guard, where there's nothing but daylight.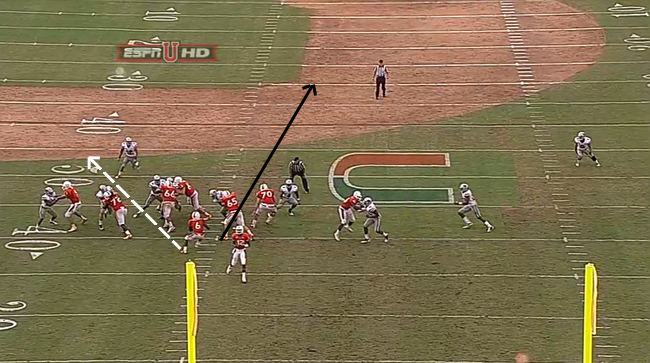 Want more? Here's six frames of progression. On this play Miller is carrying the ball out of his own end zone on another stretch.
Bethune-Cookman's front-seven is doing a good job of moving down the line and getting inside of Miami's blocks.
Miller sees the clusterfuck in front of him...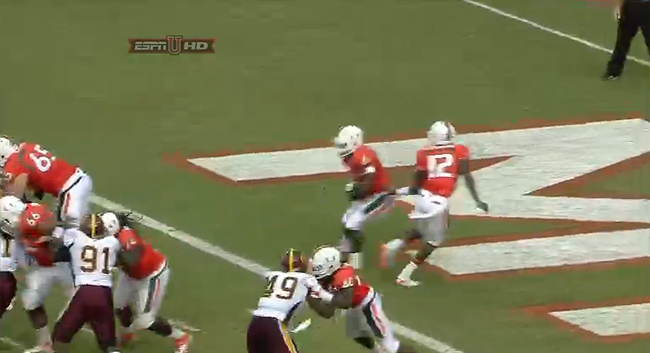 ...and decides to cut it back.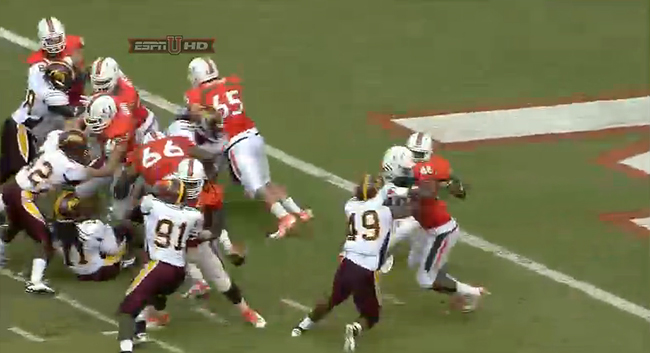 Tight end Clive Walford (#46) seals the outside.
There's nothing but daylight.
Long story short, if we want to contain Miller the guys in the box can't over-pursue and give him the option to go back the other way. This is where we'll see how far along G-W has come. Foster's scheme tries to force these plays outside, right where they're trying to go, to the free tackler/Whip/G-W.
Miami lines up in a lot of "heavy" formations, that is to say ones with a fullback and two tight ends. Jacory has the option to throw the ball outside to his receiver if the box is loaded.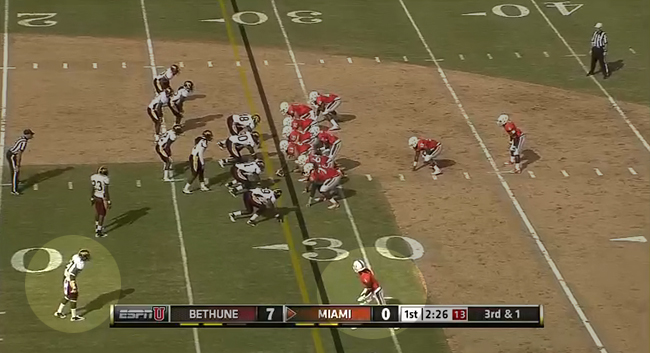 On this particular play the ball is batted down at the line of scrimmage. However, Miami has to like any match up where there speedy receivers are all alone, one-on-one, facing soft coverage.
Wide receiver/punt & kickoff returner Travis Benjamin is a burner. They want to give him every opportunity to get in space with the ball. He leads the 'Canes with 15 receptions.
This is what happens when he beats coverage. It was a double-move that he goes to the post with.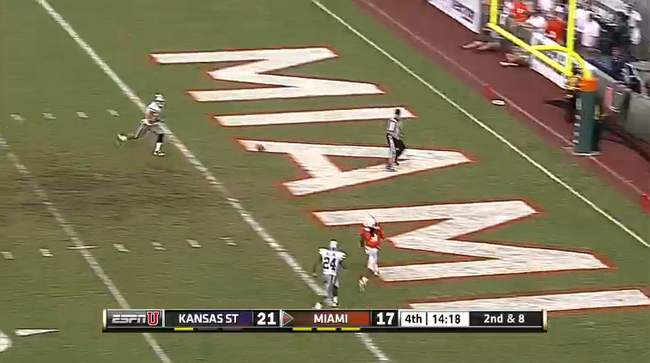 Let's look at this neat little slip screen. Benjamin lines up outside of the formation.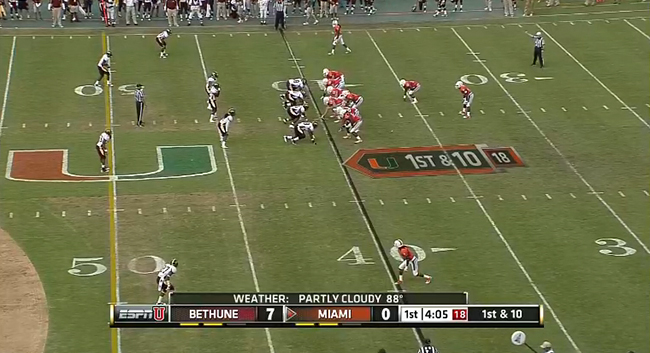 Before the snap the defense sees Benjamin moving in towards the formation, possibly looking to crack down on a backer. Couple that with a strong-I look in the backfield and the defense reads run.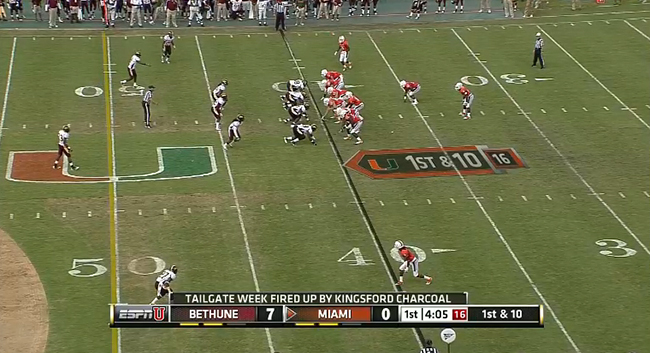 It's a run fake, and Benjamin is going to slip under, and out the other side of the formation.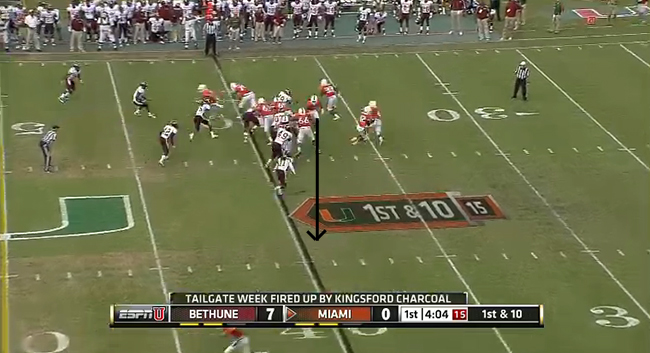 He's wide open.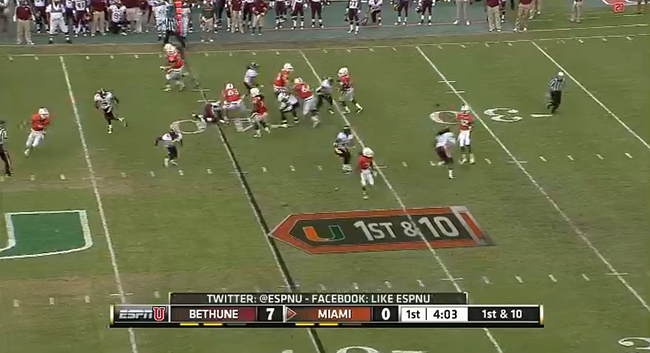 And there's nothing but green in front of him.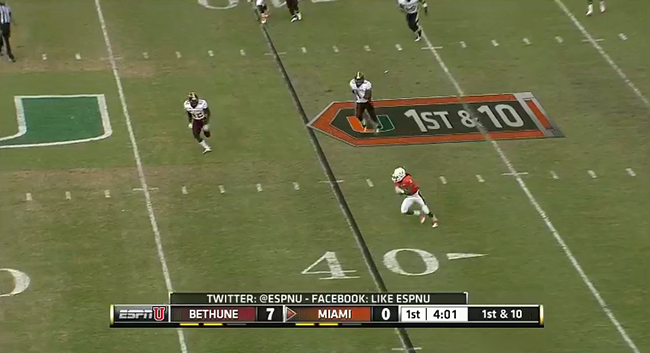 On the very next play Miami had Benjamin split out wide and went right back to him on a hot route.
Miami's base defense is a 4-3. However, their linebackers, safeties and defensive linemen are very athletic so they'll come out in a variety of looks. There were plays when the field was split into even thirds by all three backers, leaving only the middle linebacker in the box. Sometimes, a defensive end or defensive lineman would line up standing in a two-point stance. On other plays an outside backer would creep up to the line and the safety would move into the box.
Here are some different looks.
Against Bethune-Cookman Miami tried to keep everything in front of them and control the line of scrimmage and pressure the quarterback with just the down linemen. There were very few blitzes. However, Bethune-Cookman was still able to pop a couple of big plays. Conversely, versus Kansas State they were much more aggressive. The linebackers and safeties came on a lot of blitzes. As a team, they missed their fair share of tackles.
Linebacker Sean Spence is an absolute animal. He's got superior speed and is a great tackler and that allows him to cover a lot of ground, and play in space.
Watch Spence move laterally and shadow the quarterback.
As soon as the QB makes his move Spence is up the field making the tackle, like a tiger pouncing on his prey.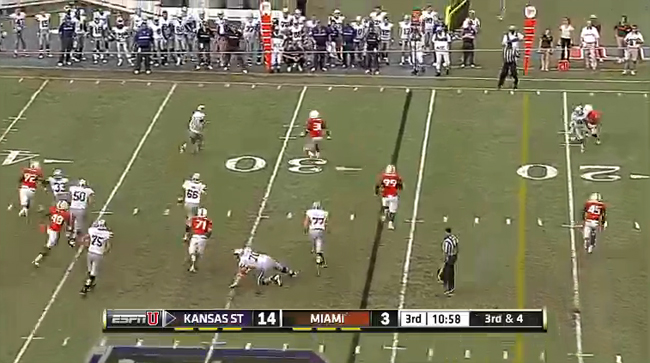 In summary, Miami is an extremely talented and straight forward football team. Expect a smash-mouth game that the better team wins.