After re-watching the ECU game, I feel a lot better now about the team going forward than I did Saturday afternoon. Watching the game live wasn't easy on my eyes. The penalties, turnovers, special teams gaffs and little mistakes added up and overshadowed what was otherwise a clinic in power football supported by a tremendous defensive performance. We controlled the clock for 37:22, rushed for 241 yards, held ECU to 112 total yards and only won by seven points. We spotted ECU 92 yards on penalties, turned the ball over twice, only threw for 91 yards, got lucky ECU dropped some balls, missed a gimme field goal, shanked some punts and won by seven points. There's a very thin line separating wins and losses, and I'm happy as hell we're on the right side of it.
This week's film study won't have a theme, but will be a hodgepodge of things that caught my attention.
Two of the very few plays you could criticize the defense were the setup and score for ECU's only touchdown. Dominique Davis' 16 yard completion to Andrew Bodenheimer on a 3rd and 4 was aided by a lapse in coverage. Cris Hill, who otherwise had a great game, blew his coverage on the pass. Bodenheimer runs a hard, crisp in route that leaves Hill back-peddling up the field and himself wide open.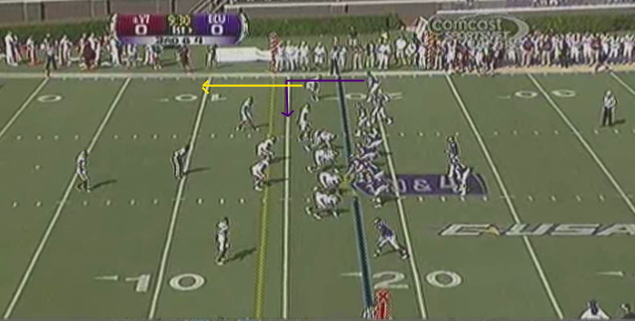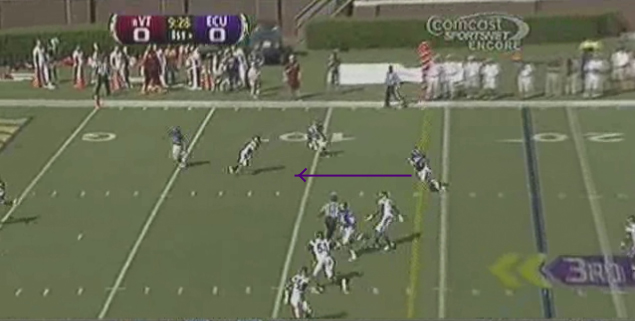 Am I doing this Danny Coale impersonation right?
It's hard to defend any team lining up on the 2-yard-line from scoring. ECU runs a simple counter, Bruce Taylor over pursues and is washed away by the left guard and Dobson scores easily.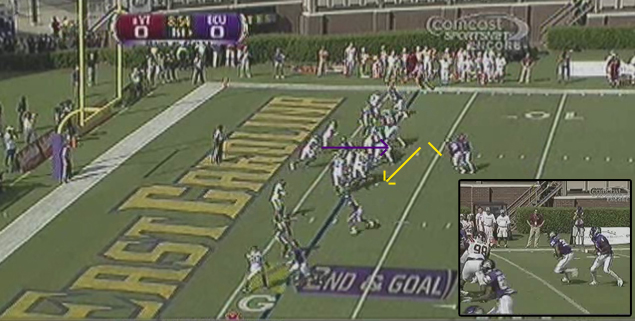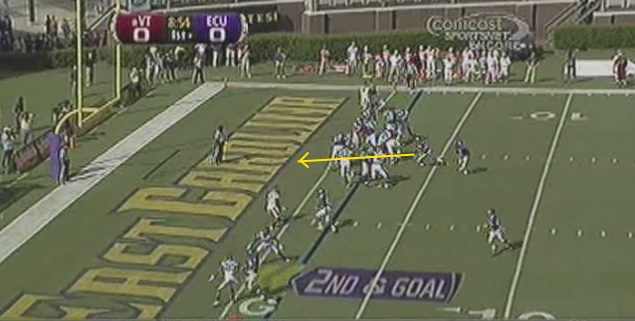 Gayle's best pass rush was a rip-spin-and-dive that saw him fall just inches short of a sack on Davis. However, I'd like to highlight what happens when a back tries to block him. It's a protection mistake, the right tackle needed to peel back and protect outside when no pressure came inside.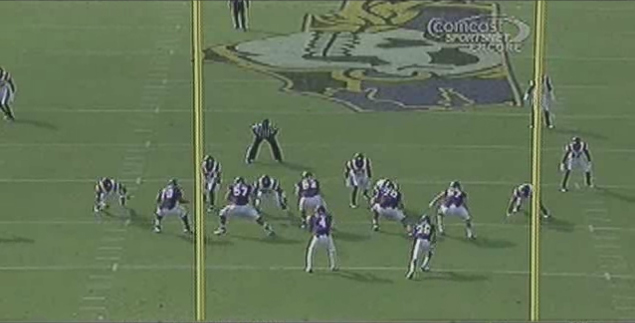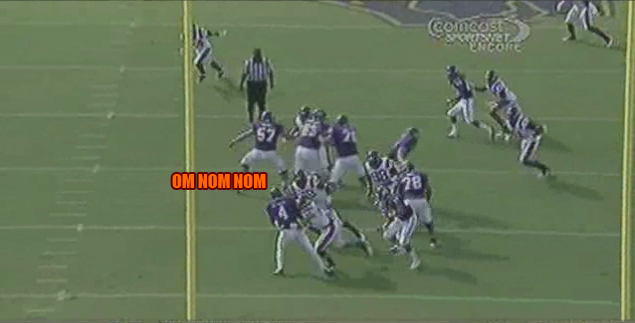 Logan Thomas: 8/20 91 yards a pick and 11 carries for 66 yards.
/decreases Hype-O-Meter
I wrote that about Thomas Saturday night. Laziness at its finest. Here are better statistics. Thomas accounted for 10 (4 rushing / 6 passing) of the Hokies 20 first downs. So 75% of LT3's completions were first downs. He successfully converted 5 (2 rushing / 3 passing / 7 incompletions) of 12 third downs. The Hokies only attempted converting a total of 14 3rd downs, one being a knee to end the game, and were successful on just one more, a 5-yard pickup by David Wilson. It's shocking to me how often the coaches are putting the ball in LT3's hands on critical downs. His completion percentage (40%) is way too low, but it's a luxury knowing he can get 6 or so yards on the ground when we need it the most.
His lone interception was just a horrible pass. That ball needs to be thrown at the pylon, over Boykin's shoulder so he's the only guy with a chance to catch it. Honestly, as bad as the decision was to throw the ball, as the veteran Boykin needed to do a better job of trying to bail his young quarterback out. No, there's not a chance in hell he can make the catch, but don't let Magazu make it either. Play some defense, or just tackle him. An offensive pass interference gets us, at worst, a short field goal attempt.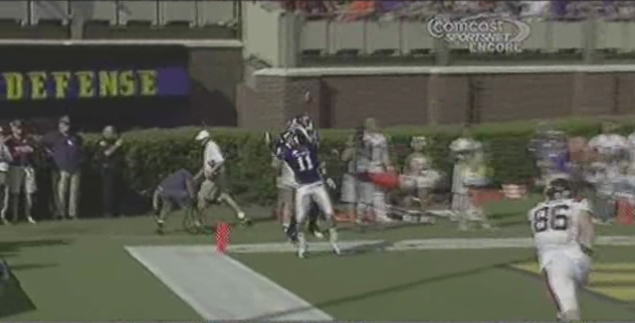 Who's covering who again?
Thomas was most impressive and consistent running the option. The option was something sorely missing from the offensive playbook during the Tyrod era. It keeps defenses off balance, has a synergy with the draws, sweeps and zone plays we love to run out of the shotgun, and ultimately leaves defenders with the choice of trying to stop the guy who can run them over, or run by them. We have the right personnel to make it a lethal attack.
Here's a zone read.
LT3 reads the end collapsing on Wilson.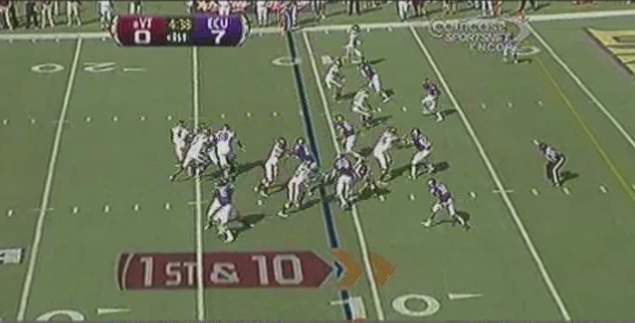 So he keeps the ball, AND OMG LOOK AT ALL THE ROOM.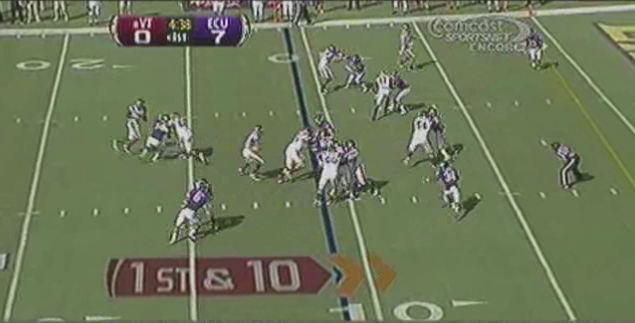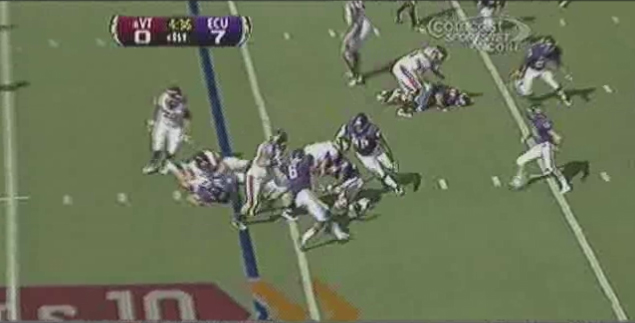 And we do it again.
Look at that hole.
The very next play we run a designed stretch / read for Wilson. The same action in the backfield keeps the defense inside.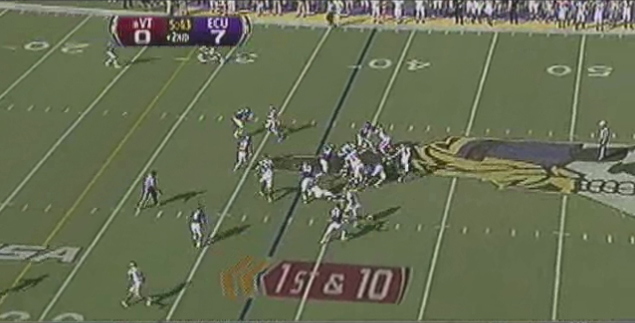 Wilson has room to get outside.
After blowing out Appalachian State both Mike O'Cain and Frank Beamer acknowledged how important tempo is to an offense. The penalties, dropped balls and lack of big plays made it hard for the offense to settle into a nice rhythm for the entire game. Tech failed to get a first down on six drives. The offense shot themselves in the foot on four of them, the ammunition: two false starts, a delay of game and David Wilson's fumble.
I can really only criticize the play calling on two series. I thought going run (1st and 20 from the ECU 24), run (2nd and 15), pass (3rd and 18) after the holding penalty was timid. However, you could argue Logan had thrown his pick on the drive before and we wanted to come away with some points. A first down end around (I think I mistakenly called this a reverse Saturday) with Marcus Davis late in the 3rd quarter wasn't worth the risk, especially since we were gobbling up yards on the ground by plowing straight ahead. Other than that, O'Cain called an intelligent game. The defense had ECU in a headlock and for the most part O'Cain took advantage and called run after run for a quick ten count.
Last year we played this sloppy and lost to Boise State and James Madison. This year we caught some breaks, did enough to win, and stayed undefeated while gaining some valuable experience along the way. If this team can cut out the mistakes they have the talent to be very good.