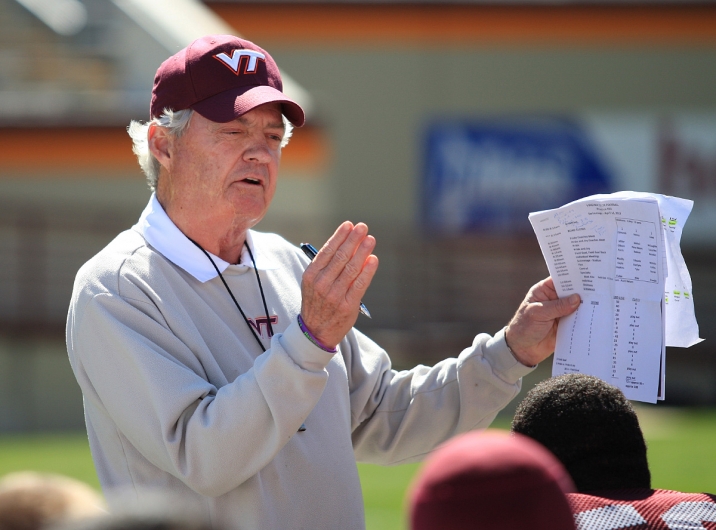 On Saturday the glorious day known as Spring Game will be here. Spring Game Day is a day of warm weather foolishness, drunken debauchery and hopefully a little football...and that's just for the alumni.
Spring Game day is a holiday unlike any other, signifying the start of a new football season while somberly reminding you that actual football isn't here another four months and change. While that is a depressing thought, on Saturday the helmets will crash, touchdowns will (hopefully) be scored and the parking lots will be littered with more beer cans, liquor bottles and boxes of wine than at a joint party thrown by Marshall Henderson and Johnny Manziel.
While this weekend will be mostly fun and games, and by games I mean corn hole in BOTS (Bottom of the Stairs...if you get it, you get it), it will also be a significant measure of progress made by the team in the past month or so. Every single position group has questions of some sort, and will be looked for to answer the call of the coaches.
We've talked a lot about the new coaches, so I won't say much more than this: it will be a different type of Tech team on the sideline this season, and hopefully that will be noticeable from the stands on Saturday.
What I do want to talk about however, are the question marks at each position. I usually write a "What To Watch For" style column a couple days before the game, ranking eight to ten things I think should be watched. This year, I'm going to mix it up.
Below are the biggest questions for each of the 10 position groups heading into the game (quarterback, tailback, fullback, receivers, tight ends, o-line, d-line, linebackers, secondary, special teams) which I have ranked in order of least to most concerning.
10. Special Teams
The Question: Will they ACTUALLY take the bubble wrap off Kyshoen Jarrett?
Maybe it's just me, but I'm tired of Kyshoen not fielding every single punt. I wrote after the first scrimmage that he was the lone returner back on punts, and I was happy. The Frankinator must have read it, because sure enough in the second scrimmage Jarrett was back there with Michael Holmes. One returner scares teams, and the other has a long return of 15 yards. During the second scrimmage, Jarrett dropped a punt, picked it up and still took it all the way back. It will just get to the point that punters will solely kick to Holmes' side, completely negating Kyshoen's explosiveness. It will be interesting to see how many punts that he will get by himself on Saturday.
9. Defensive Line
The Question: Will the backup defensive tackles please stand up?
Some people have this higher, but I'm not as concerned. Call me spoiled, but I just have a feeling that this will sort itself out. It does help that Derrick Hopkins and Luther Maddy have been playing like men possessed this spring, and there are a few different options to back them up. The first, and best, option is Kris Harley. From my very untrained eye, I've seen nothing but good things from him, but apparently he doesn't bring it every day in practice and Charley Wiles has buried him on the depth chart for it. It simply has me befuddled. Harley has blown up the first team offense on multiple occasions, and while I don't know what he does in practice every day my eyes have told me that he's a beast. I also bet that there will be one defensive end that moves inside, my guess being Corey Marshall. That will also be very disruptive on passing downs, and it makes me excited. Imagine a third-and-long with Gayle, Marshall (or J.R. Collins), Maddy, and Nicolas on the line. Mike London just started weeping.
8. Wide Receiver
The Question: Who will be Logan's go-to guy?
This will sort itself out by Alabama. I thought this was going to be an obvious answer, since D.J. Coles has been around since the Eisenhower administration, but this spring has been a fun one for the wideouts. Coles has been used as everything from receiver to tight end to fullback, and provides an excellent short yardage threat. Demetri Knowles and Joshua Stanford have been the other guys Thomas has looked at a bunch, and I think that they will do great things for him. There is probably something about throwing to a bunch of natural receivers as opposed to a converted running back, quarterback and sprinter that makes the passing game better.
7. Tailback
The Question: How will the carries be split?
I think French said it best, but let me rehash. We all have eyes. Trey Edmunds will obviously be the best of the bunch. He runs hard, and is the prototypical guy to be able to handle the physical workload that the Loeffler offense will require. My question is will he get the sufficient carries? J.C. Coleman is still listed as the number one back, with Edmunds and Michael Holmes as the number twos. I love Coleman as much as the next guy, but I think that he has much more of an opportunity to be a Dexter McCluster game-changer than an every down back. This also all hinges on whether or not the staff gives up on Holmes, who has had a good spring. It really seems like the coaches (Shane especially) simply want Holmes to succeed, and may give him more carries than they should. That being said, I have confidence that this will shake out by Alabama as well.
6. Linebackers
The Question: Will depth be a concern?
This unit is one injury away from being a strength to a weakness. It is fantastic to seem Tariq Edwards back and paired beside Jack Tyler, which I think will actually be an upgrade over the Tyler/Bruce Taylor (who seemed to be a step slow all year) combo from last year. Those two, along with Ronny Vandyke should provide a very solid linebacking corps. The backups of Chase Williams, Deon Clarke, Josh Trimble, Dahman McKinnon, Devin Vandyke have little to no experience, and Bud Foster may have to be on his heels changing his unit should one of the starters go down.
5. Secondary
The Question: Who replaces Exum?
I may be in the minority here, but I think that this Exum injury is a blessing in disguise. Because he's missing practice, three different young corners are getting big time reps while Exum works on his Twitter game. Even if Exum comes back, which I think there is a good possibility of, there needed to be another corner or two that could play when called upon. I think that Brandon Facyson may be able to take the biggest step forward (even more than Kendall Fuller). Watch out for him and Donaldven Manning, who is having a good spring in his own right, on Saturday. Also don't be surprised if Donovan Riley, the third guy competing for Exum's spot, is moved to rover when Fuller comes in.
4. Quarterback
The Question: Who is Logan Thomas?
A pretty valid and scary question. We've seen the Thomas that threw for nearly 60% and had 30 combined scores in 2011, and we've also seen the train wreck that was Thomas completing barely 50% of his passes and throwing 16 picks. That is a terrifying difference. Not to mention the fact that he just looked less confident, and never really had a great game in 2012. I've said before that no matter what happens this season, Thomas will get an equally inordinate amount of blame or praise depending on the outcome. Two reasons why I think Logan will improve on last year (other than the obvious fact that it can't get much worse):
1. He's throwing to actual receivers, instead of other dudes who learned to play receivers two years ago (see the receiver section above).
2. The leadership quotient. I always think that each football team needs a leader, either from the coach or the quarterback. If your team has neither, there is a very limited ceiling. Look at the Houston Texans: the Matt Schaub/Gary Kubiak combo will never make a Super Bowl. It just won't happen. I also think that this applies to individual units. Why has the Tech defense always performed better than the offense? Because it always had Bud (a complete maniac/leader) and usually a vocal team leader. When the offense has a less than vocal quarterback (Glennon, Marcus...Logan?) paired with the less than vocal coaches, it leads to come underperforming. Let's just say that this group of coaches don't have a problem, and so Logan doesn't need to be the vocal leader if he doesn't want to be. It take pressure off of him that can put towards his on-field performance.
3. Fullbacks
The Question: Will any of them be any good?
The fullback is coming back in vogue, but that only matters if they can block. Shane hasn't really had to deal with the grooming of this position since his arrival. Also, according to multiple people, the fullback will have a different type of blocking assignments as opposed to the run straight ahead and hope you hit someone type of assignments in years past. This is a pretty big concern, because the fullback will be essential to success in the power running game. While there are other ways to run (two tight ends, H-back etc), it will just mean that Loeffler may have to get more creative if none of the fullbacks can contribute. While that sounds like a good thing, remember that mismatches for the offense also create mismatches for the defense.
2. Offensive Line
The Question: Who will be the starting 5?
While many of you probably assumed that the line would be concern number one, I have this weird sense of faith and confidence in Jeff Grimes to be able to turn out the best five guys and have at least a competent line. He's shifting the depth chart around, moving guys here and there. You would think that eventually he would find the right starting five. It will also be impossible to predict who ends up in each of the positions because they will be mixed and matched on Saturday.
1. Tight Ends
The Question: Will any of the tight ends be able to produce?
While it may not seem like a big deal, tight ends will be a huge part of the offense. They run the play action bootleg, short pass to the tight end a lot. It's a beautiful play if run right, which is why this has been the biggest concern over the past two scrimmages. The tight end play has ranged from suspect to downright disappointing. Ryan Malleck has dropped a bunch of passes, and has not looked like much of a threat when he catches them. Zach McCray has been a solid blocker, but he is obviously still transitioning from defensive end. Duan Perez-Means has been decent, but not stellar. Darius Redman will be a load to bring down, but is still very young and probably won't see a ton of time.
Well there we are. This took about a thousand words more than anticipated, but I think it was necessary, so when you don't end up making it to the game you can at least hit the football talking points.