Virginia Tech Hokies (5-1, 2-0) against Pittsburgh Panthers (3-1, 2-1)
Time: 12:01 PM
Date: Saturday, October 12, 2013
Place: Blacksburg, Virginia
Stadium: Lane Stadium (65,632)
TV: ACC Network
Radio: Virginia Tech IMG
Spread: Virginia Tech -9
Weather: 72 F, Partly Cloudy
The Skinny
By: Joe
A picture is worth one-thousand words (image via @Los_281.
These two sad bros by the water after last year's loss say it all. I imagine their conversation as, "How did we lose?" "Because, Pitt." And no one tell them it's only going to get worse.
I was a student when we lost to Pitt in 2001. I was present for the losses in 2002, 2003, and 2012. Each game I felt confident in Tech's chances, then miffed at the result. Even though each game is a unique event, with different circumstances, those losses have conditioned me to be apprehensive.
This will be a physical football game. If the Hokies can grind out a win, they'll head into their bye in great position to make a run culminating in November with an opportunity to seal the ACC Coastal against division favorite Miami. If they lose, there will be another unexplainable sad picture to post next season.
Statistics
By: joelestra
Next week more detailed stats come out! I'll be travelling, but hopefully will have time to get more in-depth.
I start the statistical comparisons each week using rankings and predictions based on computer algorithms, which are not susceptible to the biases of humans (If you say they're biased because they're programmed by humans, stop. Just stop.). I would argue that both VT and Pitt are a little hard to figure out so far this season and hope that computers are better at sorting that out (more in a minute):
Many of these can be converted into game predictions, which are shown below and compared to the spread:
For the second week in a row, all computer predict a Hokie win! Two interesting things this week:
The spread opened at -7 and has moved to -9. Moving a spread two points is difficult, and moving it to points when it started on a 7 or a 3 is REALLY difficult. In other words, there has been very heavy betting activity on Virginia Tech this week and Vegas is trying to entice bettors to take Pitt.
The computers are very consistent in their predictions - the standard deviation of predictions is 3.22, the lowest of all FBS games this week.
Next let's look at how we rate defensively, offensively, and overall against Pitt and situationally:
Yawn..."Look for Virginia Tech to be very average on offense this week and to struggle against our defense". Actually, this week our offense is at a bit more of a disadvantage than the last few weeks as Pitt's defense is pretty good. Not VT-good (3rd in the nation) but good (28th). They also bring the 30th-rated offense, whereas we're managing to at least stay in double digits at 92nd.
Finally, as the stat nerd here, I feel compelled to comment on the numerous observations that Pitt has beat us four times in a row. Only one of those games happened in the past decade. And with the benefit of hindsight, here are what the statistics would expect based on Sagarin's ratings:
2012 - Expect Pitt by 3, they won by 18
2003 - Expect a tie, they won by 3
2002 - Expect VT by 6, they won by 7
2001 - Expect VT by 9, they won by 31
Three of those are within a single standard deviation of the expected score and not even remotely surprising. 2001 was a real gut punch, and I think made the others feel more painful as though there was some reason we just couldn't beat Pitt. But get over it - Virginia Tech is the favorite on Saturday. What happened 12 years ago has no impact on that. Knowles will still return kicks he shouldn't, Willie Byrn will still be open, our D-line will cause chaos, and Pitt's offense will "have their hands Fuller." (Sorry. I'll see myself out.).
Pitt Matchup Problems
By: French
Aaron Donald (#97): Senior Aaron Donald (6-0, 285) is an outstanding defensive tackle. He commands double teams as a three technique and often ties up both the guard and tackle to his side. One-on-one, he will almost always achieve at least a stalemate and stay square to the blocker, as he does here against UVA right guard on a dive play.
00:23:59–00:24:09
The guard is attempting to drive Donald to his right with the help of a chip from the right tackle. Donald feels the pressure on his outside and fights underneath the tackle's chip to fill the hole, where he finds the tailback waiting.
Donald has extremely strong hands which he get's extended on blockers and then sheds them. When he rushes the passer, he rushes square to the blocker and tries to throw them to the side instead of getting around them, which leaves him in excellent position to defend draws. Donald ranks second nationally in both tackles for loss (2.3) and sacks per game (1.5). This will be a tough matchup for a slowly improving Virginia Tech offensive line.
Devin Street (#15) and Tyler Boyd (#23): Pitt has one of the best pairs of receivers in the country. Street, a 6-4 senior, caught four passes for 73 yards against the Hokies last season. He isn't particularly fast, but he is an outstanding route runner who changes speeds well to get open. Unlike most tall college receivers, he doesn't just try to outleap defensive backs, but he is a hand catcher who grabs the ball at the highest point. He loves to run deep outs to the short side of the field. Kyle Fuller will be tasked with preventing Street from running deep outs and comebacks for first downs without being beaten over the top with a double move. Like Eric Ebron, Street can go up and take the ball away despite great coverage. He is averaging 21 yards per catch on 21 catches.
Tyler Boyd is a 6-2 freshman who played receiver, running back, and quarterback for one of the most successful high school programs in Pennsylvania. Boyd is a true triple threat who returns kicks, catches passes, and lines up in the backfield on some plays. He is second in the ACC behind Duke Johnson in all purpose yards at 175 yards per game. Boyd leads Pitt with 23 catches and averages 18.5 yards per catch. His pedigree as a running back makes him dangerous on reverses, jet sweeps, and quick screens, but don't let his YAC fool you. He is also an excellent down the field receiver who excels at posts and deep out routes.
James Conner (#40): Last season, true freshman Rushel Shell ran roughshod over Bud Foster's defense. This season, true freshman James Conner may be the backup to junior Isaiah Bennett, but he gets most of the important carries from the running back position and is currently 6th in the ACC in yards rushing, averaging 5.69 yards per carry. Conner is a true power back who runs north south with minimal cutting. He has excellent speed, but does not try to make people miss, as UVA defensive back Brandon Phelps can attest.
00:20:49–00:21:01
Pitt did not run many counters against UVA or Duke. I am not sure if Conner is quick enough to cut back against the Hokies like Shell did last year, but if he get's downhill against Bonner and Jarrett, that is a tough matchup.
Playing The Numbers
by: Mason
Every offensive coach has said the same thing throughout the season. They want to be able to run the football. Against Pitt, they are going to have maybe the best opportunity since the Western Carolina game to do just that. If the rushing game doesn't show up on Saturday, it might be a sign that Virginia Tech won't have an above average rushing offense all season.
Pitt has allowed every team to average over four yards a carry against it, except Virginia. Pitt likes to keep two safeties deep, which means against a dual threat QB Pitt will struggle to have the numbers in the box to account for everyone. Here is the very first offensive snap of the game for UVA, and we see right away that Pitt doesn't have the correct number of defenders in the box to shut down the rushing attack.
00:07:38–00:07:45
The Panthers have seven defenders in the box, with a single high safety and another safety in coverage over the slot receiver. They leave the boundary corner way off of the line of scrimmage, which leaves him totally ineffective when the ball is run away from him. UVA has seven blockers, as well as a running back and a running quarterback. Just by doing the math, it's obvious that unless a Pitt defender makes a spectacular play the run will pick up good yardage. The crazy thing is, this isn't a one time thing. This happened consistently throughout the game. It appears that Pitt has the ultimate "bend don't break" mentality. Here they are in the third quarter using the same two deep safety coverage. UVA should have been running from this pistol formation every play, because there aren't enough defenders in the box.
01:30:45–01:30:53
The very next play, again, not enough defenders to defend a run from the pistol (and again, UVA throws the ball). The safeties are so far off the line of scrimmage, neither one is even in the picture.
01:31:20–01:31:28
Bud Foster would be having a heart attack watching this film. The defense is freely giving the run to UVA. See for yourself.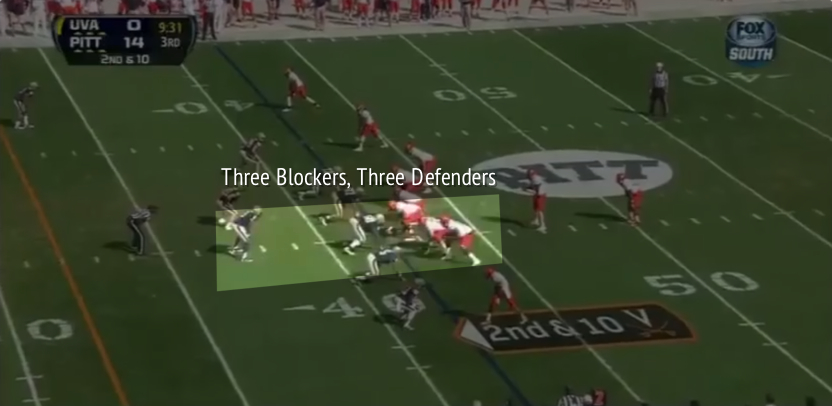 Take the formation and divide it in half. On UVA's left side, there are three blockers (including the center) vs three defenders (two defensive linemen and a linebacker). If UVA just hands the ball off to that side of the formation, they theoretically have enough blockers to get the running back into space before having to deal with the free hitting safety.
It gets worse though, especially against a team with a running quarterback. Let's say that UVA ran a veer play towards the left side of the line. UVA could get a double team on defensive tackle, have the offensive tackle go to the next level and block the playside linebacker, and read the defensive end. A team that is built to run the football from the spread dreams of facing this type of formation.
Luckily for Pitt, UVA's QB struggled to make the correct read on Pitt's defensive linemen. UVA had to resort to throwing on 1st and 2nd down against a soft front because they couldn't rely on their mobile QB to make the right decision in the running game. Duke didn't struggle making the right reads though, as they amassed 213 yards on the ground with an almost six yard a carry average. Duke's quarterback Brandon Connette had 101 of those yards, far and away his highest total of the season. Against Troy the next week, Connette carried the ball two more times and averaged only half as many yards.
In short, if Pitt lines up the same way against Virginia Tech that it did against it's other opponents... Loeffler and Co. should have a field day on the ground. Anything less than a season high total on the ground would be unacceptable. The only thing that would stop the Hokies from running all over this defensive game plan would be a lack of execution by the offensive line, poor reads by Logan Thomas, or bad vision by the running backs. If the Hokies have a dominant spread rushing attack in them, this is the team that should bring it out of them.
Coping with Power Football
By: French
After a long stretch of playing spread and Air Raid offenses (with the exception of Georgia Tech), Pitt will challenge the Hokies with a variety of pro set's featuring the I-formation, ace formation, H-Backs and tight ends, and two excellent wide receivers in Street and Boyd. As discussed above, Pitt's top two running backs are big power backs who are most comfortable running the same power play (zone blocking play side and then pulling the back side guard around to the point of attack) that the Hokies ran five consecutive times before scoring their final touchdown against UNC last week. Pitt's offensive line is massive and experienced, with both guards exceeding 320 pounds.
Quarterback Tom Savage is a 23 year old redshirt senior who is playing his first meaningful football since leading Rutgers to a 9-4 season as a freshman. He is a tall, strong-armed quarterback who stands in the pocket and puts the ball into tight windows. He has a great arm, but is not particularly mobile. He won't hurt the Hokies in the running game, but he is mobile enough to move in the pocket and buy time for his receivers to get open down field.
Pitt's talented wide receiver tandem of Devin Street and Tyler Boyd allows the Panthers to keep both tight ends in to help pass block against blitzes. Anticipate more two-man routes than the Hokies have seen in a long time. Pitt is most dangerous when both receivers line up in twins to the wide side of the field. Each is equally dangerous in the slot or wide. Will the Hokies keep Kendall Fuller in to cover the slot, or will Detrick Bonner be forced into man coverage like last season?
Pitt loves to run inside zone and power from the one back, two tight end formation. Foster's defense has had tremendous success against one back power offenses. The critical element to that success has been a defensive line technique where each defensive lineman slants hard to the play side against outside stretch plays. As we saw against Alabama, the Hokie defensive line ripped through the gap to the side where the ball was going, and maintained gap fits on the back side. As result, the Tide tailbacks cut back right into the back side defensive end, tackle, and linebacker for repeated negative carries.
Paul Chryst's team used that tendency against Foster last year. Pitt would zone block right, triggering the stunt, but would align an H-Back on the back side of the play. As the defensive end or linebacker moved towards the flow of the blockers, that H-Back would blindside the back side end and seal them inside.
Shell and Gregory would take the hand off, plant their outside foot, and counter back against the grain.
00:20:08–00:20:14
The Pitt tackle would find himself in perfect position to seal the inside linebacker (most often Bruce Taylor) and the H-Back would just need to get enough of the end to prevent him from getting upfield.
The Return Of The Whip
By:Mason
What does Cornell Brown do nowadays? Yes, he has been busting his tail on the recruiting trail (just this weekend he brought 4-star recruit Ricky Walker over to the Hokies), but with the injury to Ronny Vandyke, Brown was left with walk-ons Josh Trimble and Derek DiNardo. Both of these players are capable defenders, but with the emergence of stars Kendall Fuller and Brandon Facyson, Foster hasn't had much use for the Whip position this year.
The Whip linebacker has been a very important position for Bud Foster. In Foster's old 4-4 and new 4-2-5 schemes the Whip linebacker was required to be a great open field tackler, to be physical when taking on blockers in the run game, and to drop back into coverage. In an ideal world Foster would prefer not to take his Whip out of the game when teams bring on a third wide receiver. However, this season he recognized that when facing spread teams the athletes at cornerback gave him the best matchup.
The secondary play has been so good that the Hokies are currently ranked ninth in pass defense nationally. Considering the other eight teams ranked higher haven't faced anywhere near the quality of passing offenses that the Hokies have, I think this secondary is currently the best in the country. Against spread teams like Western Carolina, ECU, Marshall, and UNC (all who feature at least 3 WR's almost every down) Trimble and DiNardo had little hopes of getting much playing time. That is likely to change this week.
Pitt will bring a different challenge to this Bud Foster defense. Head coach Paul Chryst believes in power football. He has a firm grasp of the rushing game and is able to pull offensive linemen from all over the formation to overwhelm you with blockers at the point of attack. If teams get too unpredictable with their run blitzes then Chryst also uses a fair amount of zone blocking. Tactically, it's a potent one-two punch and if Chryst ever starts getting the type of recruits he was getting at Wisconsin while offensive coordinator there, Pitt could begin to rise in national prominence again.
The Virginia Tech defense did a great job against the last pro-style offense they faced in Alabama. Whenever the Crimson Tide brought three wide receivers on the field Foster ran his nickel package out and dropped Jarrett into the box to help in run support. I assume he'll do the same against Pitt. If Pitt brings two tight ends, a fullback, and a running back onto the field, Foster will have to bring in the Whip. I can't imagine that Fuller and Facyson, regardless of how talented they are in the pass game, are going to be able to have repeated success in the running game fighting off the blocks off tight ends or pulling linemen.
It will be interesting to see what Foster does when Pitt has their 1x2 (one running back, two tight ends, two wide receiver) personnel on the field. Against Alabama, Foster would bring in the Whip and place him to the field side of the formation. Then he would slant the defensive line in the Whip's direction, hoping to funnel the running back to the boundary and into Jarrett (who was aggressively attacking the run all game). Here's a perfect example (except for the offsides penalty, of course).
00:02:34–00:02:39
Anticipate that Foster will try a similar tactic against Pitt, but he may try to keep Kendall Fuller in the game by lining him up in the Whip spot and having him play man-to-man against the field tight end. This would allow Kendall to lock down the passing threat, and he may be able to use his quickness to defeat the block of the slower tight ends. He may try both at first and then stick with whichever one is working best.
Regardless of how Foster chooses to match up personnel, it will be an interesting chess match all afternoon. Pitt has a lot of talent on their offense (they have two good wide receivers and Savage has a rocket for an arm) but they only averaged 3 yards a play against the intensely mediocre "Orange Crush" defense two weeks ago. They have had two weeks to prepare for the Hokies though and history has shown that you can't sleep on Pitt.
Execute, Execute, Execute
by: Mason
I would love nothing more than to see Virginia Tech have success rushing the football this week. As I wrote earlier, I think this could be a great opportunity for the Hokies to move the ball on the ground from some spread formations. Regardless of how Loeffler chooses to attack the Pitt defense, through the air or on foot, crisp execution will be even more key this week than last. Pitt's two deep safeties are going to prevent a lot of explosive plays. This style of defense was created to force the offense to snap the ball as many times as possible before getting in the end zone. The theory is that, eventually, someone will miss a block or drop a pass or draw a penalty and the offense will get backed into long yardage situations.
This isn't a terrible strategy to take against Virginia Tech. Loeffler's bunch have had issues executing his game plans, just look at the third quarter of the UNC game. Pitt's defense is counting on Virginia Tech shooting itself in the foot. The Hokies needs to avoid negative plays at all costs because the opportunities down the field to make up for those mistakes won't be as plentiful as previous weeks. The Hokies will probably find themselves in quite a few third-and-shorts against the Panthers. Being able to consistently convert in those short yardage situations will come down to the Hokies ability to execute Loeffler's short yardage pass plays and rushing attack.
Getting to the Quarterback and Offensive Efficiency
By: French
The Panthers are the biggest, most physical offensive team that the Hokies have faced since Alabama. Outside of Conner and Boyd, their offense is full of juniors and seniors who contributed to defeating the Hokies last year, especially on their massive offensive line. Quarterback Tom Savage will not hurt Virginia Tech with his legs, but he is a very confident NFL-style quarterback who will take a hit to make a throw and who will throw timing routes into tight spots. His receivers are tall, very polished, and present a huge challenge for the Hokie corners. Last season, Pitt torched the Hokies on wheel routes to big receivers, and the first touchdown pass I saw on tape was a perfectly thrown wheel route to Devin Street. Imagine my anxiety watching this after watching Mike Shanahan do the same thing last year against Bonner.
00:29:19–00:29:50
The accuracy of the throw (the replay is included in the clip) and the change of speed to get open by Street is scary good.
Yet, with all those impressive players, Pitt struggled to move the football against UVa and only scored touchdowns on short drives following a muffed punt and a fumbled snap. UVa knocked Savage out of the game with a concussion and spent most of the game making his life miserable. The Hokies ability to cover receiver in man coverage on crossing routes allows Bud Foster the ability to blitz his linebackers, and Savage isn't mobile enough to avoid the rush. If the Hokies can keep Kendall Fuller on the field without losing their ability to stop the run without a true whip linebacker, expect Bud Foster to blitz frequently and disrupt the timing of the Pitt offense.
Offensively, efficiency is the key for Virginia Tech. The offense must stay on the field and finish drives. Like Mason, I am hopeful that the Hokies can get the running game going. Duke was very effective running read option against the Panthers, so I expect more read option than inverted veer this week. Getting chunk yardage (6+ yards) will take pressure off the passing game. On the outside, Pitt will play soft coverage and force the Hokies to dink and dunk their way down the field. Logan Thomas must remain patient and hit check downs early and often before looking to stretch the field.