By French (#TeamPie), Mason (recently bought an iPhone 4s), Joe (#TeamCake), and joelestra (number cruncher)
Virginia Tech Hokies (4-1, 1-0) against North Carolina Tar Heels (1-3, 0-1)
Time: 12:30 PM
Date: Saturday, October 5, 2013
Place: Blacksburg, Virginia
Stadium: Lane Stadium (65,632)
TV: ACC Network
Radio: Virginia Tech IMG
Spread: Virginia Tech -7.5
Weather: 55-80, Clear
The Skinny
Virginia Tech is 7-2 against North Carolina in ACC games. The Hokies suffered that second loss last season. In 2012, the Tar Heels won at home 48-34. UNC out rushed Tech by nearly 300 yards (339 to 40). This week Frank Beamer has repeatedly used the word "pounded" to describe what the Heels did to his Hokies last season.
Statistics
Well, needless to say the computers were wrong last week! Let's hope they're not wrong this week though, as they are universally in agreement that VT should win this game:
It's interesting that while the computers typically cluster in one area with outliers on either end, in this one they seem spread all over the place with the average probably being around 12-13 (easily over the 7.5 point spread). However, the rankings used to make those predictions don't have the wide variation: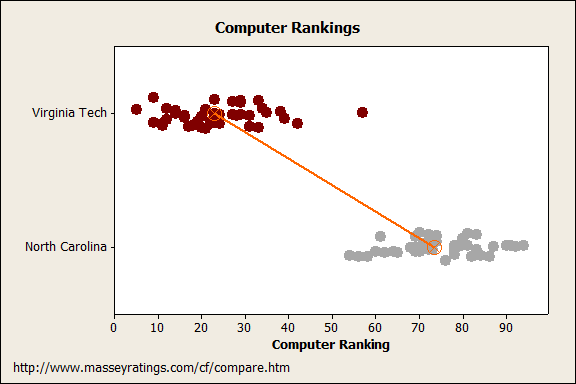 With the exception of a single computer's ranking of Virginia Tech, there isn't a single system that has UNC ranked above any other ranking of VT.
How do each team's ratings compare?
As is becoming a weekly statement, Tech is at a small disadvantage on offense and a large advantage on defense. The good news is that after an offensive performance against GT that can at least be described as "not embarrassing", Tech is now rated the 91st offense in the country. Statistically speaking, the Hokies are still among the worst offenses in college football.
On the bright side, the defense is ranked 4th, and as seen in previous years, a defense that good will keep the Hokies in almost every game. Consider this:
Alabama's offense scored 14 against VT and has averaged 29.7 in their other FBS games
East Carolina's offense scored 10 against VT and has averaged 39.3 in their other games
Georgia Tech's offense scored 10 against VT and has averaged 33 in their other games
So here's a situational look at how that plays out against UNC:
That graph is familiar. Long story short, expect to not be impressed with the Hokies on offense, but for Tech's defense to make UNC really struggle when they have the ball.
Keep an Eye On...
Eric Ebron (#85): No player on the UNC offense can cause more problems for the Hokies than 6-4, 245-pound tight end Eric Ebron. Ebron spends most of the game split out wide or in the slot, and he causes all kinds of matchup problems.
Ebron has wide receiver speed, and a big body that he uses to occasionally get a little extra push. He is outstanding at catching the ball at it's highest point, away from his body. Perhaps most impressively, Ebron is an outstanding route runner and he specializes in using double moves (slant-and-go / sluggo) to get open.
Ebron is such a big target and so smooth running routes, it is surprising that only one of his 17 catches has gone for a touchdown. Renner looks to Ebron first on 3rd down because he has the ability to get into the body of a defender and then break open. Here, Ebron runs a square in.
00:10:19–00:10:26
Ebron drives into the body of the safety, then (with a little push off) breaks sharply to the inside. The sharp cut and subtle push takes Ebron from being tightly covered to wide open in a flash. The Hokies tendency in nickel is to have Jarrett and Bonner covering inside receivers. Expect UNC to go trips to the wide side of the field often and look for Ebron to attack vertically when matched up on the much smaller Bonner, then come back to a balanced formation and attack Jarrett with crossing routes.
Trey Edmunds and the Virginia Tech O-Line: With UNC's fast break offense, the Hokies must score and control time of possession. East Carolina manhandled the UNC defensive front last week, and the Tar Heels' line seemed content to step to their gaps and then absorb blocks. The Hokie offensive line should be able to get terrific movement as long as they keep their leg drive going. This is a game where the Hokies should not be tentative and need to attack those defenders. Trey Edmunds was a non-factor outside of his pass protection against Georgia Tech, but with Logan Thomas banged up and this vulnerable UNC front, look for Trey to have a big comeback game by bouncing several runs to the outside just like he did against Marshall.
John Heck (#71): While UNC left tackle James Hurst made himself plenty of money in a dominating week on performance against Jadeveon Clowney, the rest of the offensive line in very young and has struggled through stretches this season. James Gayle will be matched up with 6-6 300-pound redshirt freshman John Heck. Heck is the son of former all-pro NFL tackle Andy Heck, but he struggled mightily against East Carolina's "Mr. Popeye" Derrell Johnson. Gayle is coming off a terrific effort against Georgia Tech, but has been woefully inconsistent rushing the passer this season. With the Hokies desperately needing to get to Renner with four rushers, Gayle must make plays from the blindside matched up against a redshirt freshman.
Tre Boston (#10): While the UNC defense has struggled this season, safety Tre Boston has been outstanding. The 6-1, 205 pound senior has tremendous range and hustle, which stands out even more given his teammates lack of both. On passing downs, Boston often plays as a robber in Cover-1, reading the quarterback's eyes and helping any defender that gets beaten over the top. Late throws, especially between the hashes, will get intercepted if Boston is in zone coverage.
Here, ECU runs a four verts to the left.
00:45:15–00:45:29
The left slot breaks behind the nickel corner, but Boston comes from the right hash all the way across the field to intercept the ball
Boston is also the Tar Heels best run stopper. Given how dangerous he is in the passing game, it is critical for the Hokies to force Boston into playing inside the box. Play-action will be much more open with Boston biting on fakes inside.
Antone Exum: After his injury, the questions were when would Exum return, and would the defense be able to manage in his absence. After the brilliant play of Brandon Facyson to start the season, the question became what will the coaches do with Exum when he's healthy. It's unclear who will start, but if he's 100%, Exum will receive a significant portion of snaps against Carolina.
Exum rehabbed not only a torn ACL in his right knee, but a lateral and medial meniscus, and a bone fracture in 8 months. Credit his work ethic and determination for putting in a tremendous amount of work to get his knee right off the field, to get back on it so quickly. However, on Tuesday Torrian Gray said Exum had a little rust. There's no doubt North Carolina will test him when he's on the field. Will he pass?
When Virginia Tech is on Offense
The Tar Heels gave up over 400 yards of total offense in their first three games before getting absolutely torched by ECU. Shane Carden lead the Pirates to 603 yards of total offense, sparking UNC tailback AJ Blue to say his teammates overlooked ECU. UNC's 4-2-5 defense takes a bend but don't break approach, but it is not nearly as talented as some of the squads Butch Davis rolled out against the Hokies.
On film, North Carolina's defense does little to impress. ECU repeatedly bounced runs outside, and the Tar Heels did not seem interested in pursuit after stepping to their initial gap. Their defensive line tends to absorb rather than get off blocks, and most of their pass rush comes from their third down package where they play two stand up defensive end/outside linebacker hybrids.
Take a look at a very mundane running play from the East Carolina game.
00:14:03–00:14:20
Before the play even begins, #95 Kareem Martin (who is a senior and regarded as the best defensive lineman on the team) has his hands on his hips. You would think this was well into the drive, but it is actually the third play of the second drive of the game. ECU runs a power play right at Martin. Martin does an inside stunt and the tackle drives him inside. Martin barely puts up a fight and is driven across the formation before disengaging, but he doesn't exactly come flying back into the play.
Similar play shows on film time and again. As the game wore on, the defensive line seemed content to absorb blocks and then watch the defensive backs make solo tackles. It's unknown whether it's a conditioning or effort issue, but there was very little pursuit to the football and even less gang tackling.
00:49:45–00:49:52
The Pirates collectively drive the UNC defensive line nearly seven yards downfield. Nobody gets off their blocks, and when the safety makes contact with the back, the linebackers just seem to stop as if it is a fait accompli that the back will go down. Regardless of the reason, their defensive coordinator was probably going crazy watching this play during their film review on Monday.
East Carolina maintained a blistering pace, and ran the ball very effectively. Most of ECU's inside running plays bounced outside, and UNC's pursuit was poor. Runs that should have been 3 yards got 6 or 7. Meanwhile, the Tar Heels played a soft zone coverage and the Pirates wore them out throwing to their running backs and slot receivers underneath the zone. Then, when ECU took a chance to go deep, they picked on senior Jabari Price and junior Tim Scott with double moves. Price does not have great closing speed, and Scott has trouble finding the football. The strength of their secondary is Tre Boston, who is very active in run support and stretches sideline-to-sideline reading the eyes of the quarterback to makes plays. If the running game is effective, it limits Boston's impact in the passing game on first and second downs because he is so focused on run support. Expect Loeffler to call Demetri Knowles number early on a play-action with a double move to stretch the field. Even an incompletion will open up opportunities in the running and short passing game for Virginia Tech.
If UNC continues keep two safeties deep, expect Loeffler to work on establishing a running game from the spread formations. Hopefully Logan won't have to be as involved in the rushing attack this week. With Coleman and Edmunds having over a week to get healthier, both of those backs should factor more into the running attack.
Like last week, Coleman will probably spend a significant number of snaps lined up as a WR and then motioned across the formation, where he can threaten the defense horizontally. It's evident by the sixth game that Edmunds will be the main in between the tackles back, so he'll mainly feature as the tailback lined up in the backfield with shotgun and pistol formations. Tech can run a variety of read options in their offense, but the two main QB reads this season has been the veer from the pistol formation and the inverted veer. Edmunds will be the main option on the veer reads, while Coleman and Mangus will be the handoff men for the inverted veer.
Loeffler has spent a lot of time lining up his RB's in typical WR spots this season. This has allowed him to get mismatches in the slot with his WR's against linebackers, while also allowing him to motion them into the backfield. However, eventually these RB's will need to become a factor in the passing attack to keep defenses honest.
The big news of the week has been the possibility that Facyson may get some snaps at WR. It's pretty hard to say what role he may play, but however Loeffler chooses to use him it'll have to be limited to a specific package. Facyson won't be lining up and running the full playbook, he'll likely only have to learn a couple of routes. Nothing too complicated. Whether or not you agree with the decision, it'll lead to some interesting and entertaining moments throughout the season.
When Virginia Tech is on Defense
Despite the poor effort versus East Carolina, the Tar Heels scored at will. North Carolina runs a no huddle quick snap spread offense similar to the systems run by East Carolina and Marshall. But, unlike the Pirates and Herd, the Tar Heels run a much more multiple system with a wider variety of plays, more deep passes, and much more counter action. You still see the staples of the spread (read option, quick screens, post-wheel combination routes, four verticals) but UNC is much less reliant on them than most teams.
The UNC offense starts and ends with the passing game. Their three top receivers are all tall and athletic, and Bryn Renner likes to take five and seven step drops and throw down field. The Tar Heel's favorite route is a slant and go, or a "sluggo" route.
The "Sluggo" route attempts to take advantage off zone and off-man coverage. The receiver runs a slant, with the quarterback keying in on the receiver in an attempt to get the cover man to jump the route. Let's take a look.
00:32:48–00:32:56
Here, Renner identifies a quarters coverage, with Ebron lined up in the middle of a wide trips formation on the left. At the snap, one wide receiver fakes a screen. The inside receiver runs a corner and go (initially faking a cross block.) Ebron fakes a crack back, then runs a slant, and when the safety jumps the route, he adjusts and slips behind the coverage for an easy touchdown. This fake screen with a sluggo has shown up on film a few times. Also, they run the sluggo route from a straight pass pro so often, that it's possible it's an automatic check when Renner identifies man coverage.
The Tar Heels like to throw the ball down the field, so pass rush is clearly the ticket to disrupting their passing attack. James Hurst in an outstanding left tackle, but the rest of their offensive line is suspect in pass protection. You would initially expect Bud Foster to blitz and blitz often.
But, unlike other spread teams, UNC neutralizes pass rush by calling effective late developing screens to the running backs against blitzes and man coverage. If the back can catch the pass, the defensive backs have their backs turned in coverage with tons of real estate available. If the defensive line hesitates and peels off to cover the screen, it provides time for those receivers to work open down field. Renner is a confident quarterback with an excellent arm. He may be the best quarterback the Hokies face all season.
North Carolina has struggled to run the ball consistently this season. Their starting tailback Romar Morris is a speedster who runs track in the spring. He tends to bounce runs to the outside even when the hole is inside. He was injured against ECU, and was replaced by the much larger AJ Blue. Blue has given the Hokies problems in the past as a short yardage back, and he went public with his concerns about his teammates lack of urgency against the Pirates.
Most spread teams base running play is a power play where the tailback aligns on one side of the shotgun formation, crosses the face of the QB, and follows a pulling lineman off tackle. Most of those teams run read option using the same action. The general flow of all those running plays goes away from the running back alignment.
UNC uses those power plays, but their most effective play is actually a toss sweep to the tailback.
This toss demonstrates the strength of the Tar Heels: 1) their speed 2) their scheme to counter the normal tendencies of the defense. Note, the tackle steps inside, and the defensive end is instructed to step inside and squeeze the read option. The Hokies do this to the extreme, with the back side defensive end crashing hard inside on most plays. Bryn Renner takes the snap and runs against the flow then pitches the ball underhand to the tailback.
Let's watch an example of the play. Here, the tackle blocks down and the Georgia Tech end crashes, taking himself out of the play.
00:12:32–00:12:58
UNC's slot receiver cracks on the outside linebacker. The wide receiver turns the corner out, and you have a sprinter one-on-one with a deep safety. UNC will run this play multiple ways. If the Hokies' ends stay outside, UNC will adjust by pulling an interior lineman and the tackle will attempt to reach the end. Also, if the defensive end jumps outside, Renner has kept the ball instead of pitching it and cut straight up field. It's hard to tell if that wrinkle is part of the play design, but it gained close to 7 yards in the 2nd quarter against ECU.
Renner isn't a terrific runner, but he is shifty in the pocket. Expect UNC to also run some read option to attack the Hokies crashing back side defensive end.
In order for the Hokies to continue their run of defensive dominance, they'll need a great game from everyone. The defensive line will be relied on to get pressure on Renner. If they are unable to beat their blocks and get in Renner's face he has the type of arm that can beat any secondary, even one as talented as the Hokies. Defensive line depth will be key as well. Backups like Dadi Nicolas and Nigel Williams have to be explosive and have a positive impact on this game.
Tariq Edwards and Jack Tyler will have their opportunities to blitz the QB and make big plays. When Foster isn't trying to dial up the pressure, they will have to drop back in coverage and guard against receivers cutting behind them. Getting depth on their zone drops is important, as spread offenses like nothing more than to drop the ball in between the linebackers and the safeties. If the linebackers can force Renner to throw to the outside, it significantly increases the likelihood that Tech will be able to get a game changing turnover.
Kyle Fuller has been outstanding so far this season, but this may very well be the most difficult matchup yet for him. He's been predicting what route a WR wants to run and then jumping it. A couple of times this season though he has guessed wrong, only to be bailed out by a bad throw or a safety rotating over the top. UNC practices those deep throws and double moves as much as any other squad on the schedule, so Kyle will have to be careful with his aggressiveness. If Foster sends a blitz and it doesn't get to Renner, Kyle isn't likely to get bailed out by a bad throw if he bites on the wrong move.
Exum is finally set to return and all any Hokie has been able to talk about is whether or not he should be taking over Facyson's spot. Considering this is his first game back, expect him to share snaps with Brandon to start out with. Depending on how Exum's knee holds up he may earn a greater share of those snaps. Torrian Gray has gotten some unbelievable production out of Brandon though, so if Exum wants to lock down that starting role he'll not only have to return to his playing level of late last year but surpass it.
What Virginia Tech needs to do to Win
This game is dangerous for the Hokies. UNC presents numerous matchup problems all over the field with big wide receivers and a running game that is built around concepts that traditionally give Bud Foster's system fits. UNC's defense has been awful, but if they can hold Virginia Tech under 28 points, their offense is well built to win in a shootout. It is critical for the Hokies to dominate time of possession and finish drives. The Tar Heels are tailor-made for attacking downhill with power and inside zone, and hard running after contact. There is no excuse for the Hokies to not run the football effectively against a defense that gave 227 yards rushing to East Carolina. Once the running game is established, Logan Thomas must execute on 3rd-and-medium in the passing game and keep drives alive, and then make smart decisions in the red zone. This could be a breakout game for the Hokie offense if they bring Alabama-game effort to match the level of execution in the passing game against Georgia Tech. If the Hokies can get a lead early, UNC's defense might buckle to adversity. After the first touchdown drive by the Pirates, there was a lot of very poor body language and effort by the UNC front-seven for the rest of the game. There have been players-only meetings in Chapel Hill, and it appears that this game has become their Crossing of the Delaware. Expect UNC to come out with terrific effort early, and see if the Hokies offense can match their intensity.
Also, the Hokie special teams must perform better. Both the punt and kickoff return teams have been poor this season, with head shaking decisions by the returners, and blocking that could only make a pee-wee football coach proud. The return game coupled with Cody Journell's kicking troubles, have had the Hokies lose out on points and field position. UNC has the offensive talent that puts a premium on every scoring opportunity and short field. The Hokie special teams must do a better job of putting the Hokie offense in positions to score.