By

joe
editor
on September 5, 2013, 9:40 AM
| 23 comments
By French, Mason, and Joe
Virginia Tech Hokies (0-1) against Western Carolina Catamounts (0-1)
Time: 1:34 PM
Date: Saturday, September 7, 2013
Place: Blacksburg, Virginia
Stadium: Lane Stadium (65,632)
TV: ESPN3 (Online Only)
Radio: Virginia Tech IMG
Spread: Virginia Tech -42
Tickets: Virginia Tech Football Tickets (Sponsored)
Weather: 79 F / Fog
The Skinny
On Saturday, the Hokies will play the Catamounts for the first time. Western Carolina is the seventh North Carolina school to play in Lane Stadium. Frank Beamer has long said that his teams make their biggest improvement between week one and two, and Virginia Tech will look to improve on: catching the ball (9 drops) and kick coverage (surrendered 2 scores against Alabama). While the Hokies were stout running the ball against Alabama, WCU presents an opportunity for Tech to improve offensive chemistry, identify playmakers at the skill positions, rest starters, and develop depth.
Statistics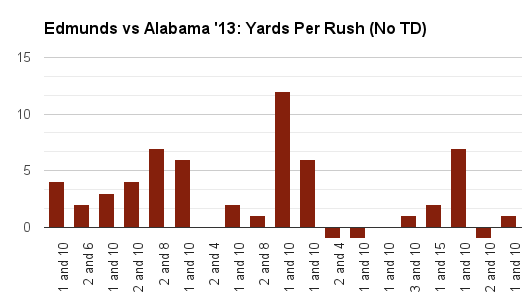 Against Alabama, 75% of Trey Edmunds' 20 carries (15) gained positive yards. Two gained no yards, and 3 lost a yard each.
Keep an Eye On...
Logan Thomas: While most of the blame for the Hokies poor passing production fell on the receiving corps, Logan Thomas had some breakdowns in his mechanics that cost the Hokies. In film review, Logan demonstrated a habit of dropping the football out of throwing position while scanning the defense. Here's an example.
00:07:12–00:07:18
Here, Logan is facing a 3rd-and-6 to prevent a 3-and-out following the interception return for a touchdown. Alabama plays an underneath zone, with defenders aligned right on the first down line. At the snap, Logan looks at his decoy route, a deep route to Willie Byrn on the right. This is a decoy because his primary route appears to be the double crosses at the sticks between Stanford and Coles. Things go awry when Logan plants his back foot.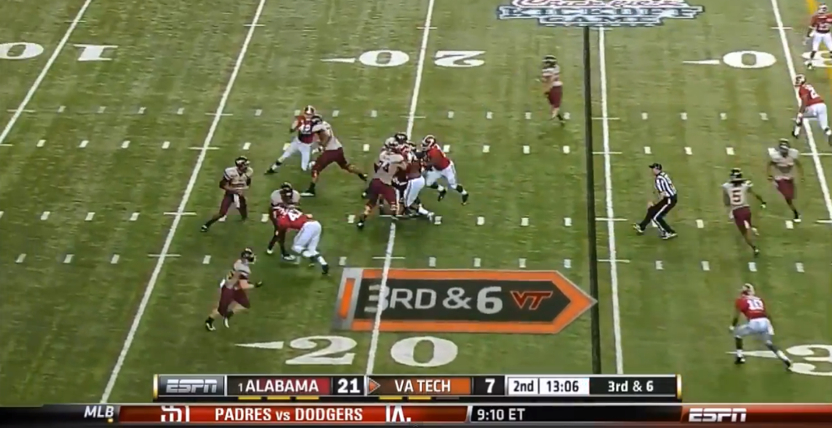 When Logan plants, he senses pressure on his blind side, and he drops the football down almost to his hip when he steps up into the pocket. At this point, Coles is in an open spot, but he runs out of space quickly due to the Alabama zone. Logan makes the correct read, but has to use the extra split second to bring the ball back up to his ear in throwing position. Now, he has to rush the throw, which comes in low and late (running Coles into the zone defender.)
Logan must continue to improve his mechanics in order to lead Virginia Tech back into the ACC Championship Game.
Eddie Sullivan and Troy Mitchell: It's possible both Western Carolina quarterbacks see meaningful snaps on Saturday. Eddie Sullivan started last week, but was relieved early by Troy Mitchell. Mitchell racked up 161 yards throwing, 38 yards rushing, and 2 scores before leaving the game with concussion-like symptoms. Head coach Mark Speir didn't name a starter on his conference call Tuesday, but said Mitchell is "healthy".
If Mitchell is 100%, he could present a challenge on the edge as a running threat that the Hokie defense didn't have to defend against A.J. McCarron.
Charley Meyer: He's expected to play (hamstring) after sitting against Alabama. He's never played in a game, but Logan Thomas had this to say about him in July, "He's got a passion to be better like I've really never seen. He'll definitely play this year. And he'll be huge for us. He's the one that's going to make that receiving corps go, and they follow after him because he brings it every single day." Is he a playmaker and catalyst, or another receiver that needs seasoning?
Courtland Carson: The Catamounts have a small defensive front (ends weigh 240, 245, and tackles are 250 and 270), but Carson is an active playmaker from his middle linebacker spot. Last week, he shared the team lead in solo tackles (8) with defensive back Ace Clark, and chipped in a sack. Watch closely to see if the Hokies improved interior offensive line is quick enough to cut off Carson's pursuit angles.
Joel Caleb and Chris Mangus: After getting a heavy workload against the defending national champions, Trey Edmunds suddenly has depth behind him. J.C. Coleman is expected to be available, but you have to wonder if Frank Beamer risks playing him extensively as he recovers from a tricky high ankle sprain. Chris Mangus ran the ball extremely well between the tackles in limited carries during garbage time against the Tide, and Joel Caleb returns from suspension. If the Hokies can get a lead early, expect both to get a significant number of carries as Shane Beamer figures out who will get regular work with Edmunds.
Against Alabama we saw part of the playbook that Loeffler kept under wraps all offseason. The triple option package from shotgun was well thought out and lead to Tech's best moment of the game, Edmunds long TD run. That package could have been more effective though with Joel Caleb available to Loeffler. Caleb gives Loeffler a lot of flexibility with his formations due to his history of working with both the WRs and RBs.
Tech's first drive saw D.J. Coles receive two pitches from Logan off of the triple option. Coles is a fine athlete and has been very productive for Frank Beamer in the past, but acting as a runningback is not him at his best. His lack of experience in running towards contact, instead of away from it, caused him to needlessly stretch out both runs and get tackled for minimum gain. Someone with experience acting as a running back (like Caleb) would have been more comfortable cutting up field and picking up what yardage is available rather than always looking to hit the home run.
When Virginia Tech is on Offense
Expect boring, vanilla football. Western Carolina plays a base 4-3 defense. The Hokies will likely work to establish four primary plays: inside zone, zone stretch, weak zone, and the bootleg from pro-formations. While Scot Loeffler may show some read option from the spread, expect the Hokies to go vanilla and not give 4-3 teams a look at their new system on film.
Western Carolina has a small defensive line, with tackles under 270 pounds. They will use quickness and numerous stunts up front. It will be a major change of pace from the massive athletic Alabama line. The Hokie offensive line starters should push the Catamount front around, and if they don't, it would be a major step backwards. If the Hokies get up early, look for Augie Conte, Parker Osterloh, and Wyatt Teller to gain some experience and build some depth behind the starters.
Western Carolina gave up over 400 yards passing to Marshall last season, while Middle Tennessee running back Jordan Parker rushed for 156 yards on 22 carries last week. The Hokies should pound the rock, and expect them to attack the Catamounts deep with play-action to build confidence in their passing attack.
Virginia Tech should line up under center more this week than they did last. Not only will this help to protect Logan Thomas from unnecessary hits, but a game plan that consists of running the ball right down an opponent's throat will do wonders for this team's psyche. Tech hasn't had success running the ball consistently against anyone except Duke in over a year, that should change on Saturday. There's been a lot of talk of the Hokies getting back to being a tough team, this matchup is a perfect opportunity to get the bully mentality back.
Not only will lining up in I-formation and pounding the rock feel good, it will be good practice. Loeffler should be featuring more pro-formation packages moving forward, especially considering how much his receivers struggled in the opening game. Relying on the offensive line to keep you ahead of the sticks will open up the play-action game. Western Carolina will have to commit it's linebackers, and maybe a safety, to have any hopes of stopping Tech's power rushing attack. Demitri Knowles and D.J. Coles should have plenty of opportunities to attack the secondary down the field. Hopefully those two can make some plays. Few things help a receiver get over drops like catching a bomb down the field, and regardless of how much he struggled last week, Demitri Knowles is indeed a playmaker.
00:02:32–00:02:42
When Virginia Tech is on Defense
Western Carolina is the first of three consecutive spread teams on the Hokies schedule before Virginia Tech runs into the Georgia Tech flexbone. Kendall Fuller and Brandon Facyson will get numerous reps from the nickel package, but if the Hokies get up early, look for Torrian Gray to try to develop trust in backup safeties Der'Woun Greene and Desmond Frye.
In their first college action against Alabama, Nigel Williams and Woody Baron both had impressive outings that relieved some doubts about defensive tackle depth. Meanwhile, former star in waiting Kris Harley continues to be buried on the depth chart. Will Harley get an opportunity to show some of the explosive playmaking ability he teased us with last season, or will he stay inside Charley Wiles' dog house?
Dadi Nicolas and Tyrell Wilson are proven commodities. With J.R. Collins, James Gayle, and Wilson all graduating, and Corey Marshall's status unknown, suddenly a 2014 starting job is open for a defensive end. Expect Ken Ekanem, Matt Roth, and Seth Dooley to get repetitions on Saturday, and consider it a live audition.
After two returns for touchdowns against Alabama, Coach Frank Beamer has promised major changes on punt and kick coverage teams. Both Ryan Malleck and Ronny Vandyke were expected to play on the punt team, and they were missed Saturday. Does Beamer plan to utilize starters on the punt and kickoff team this week, or will he protect against injury versus a weaker opponent?
Please note: WCU surrendered a punt return score last week.
It will be interesting to see what Foster does with the Whip position versus a spread team. Foster was able to effectively hide his walk-on Whip players versus Alabama by using them to set the edge and spill any rushers back towards Tariq Edwards and Kyshoen Jarrett. An offense that prefers a third or fourth WR to a fullback or tight end makes it harder to protect those less athletic fill-ins. Foster believes in his Whip position and prefers to leave them on the field, but the past couple years he has had to be more practical than pragmatic. Tech uses a nickel package more nowadays, and this matchup will be a good opportunity to get more snaps for freshmen Kendall Fuller and Brandon Facyson. Both played brilliantly against Alabama, especially in coverage. Kendall Fuller may already be a better cover corner than his brother Kyle. The more snaps Kendall gets in game situations the better, considering next year he'll be a starter for sure.
Devin Vandyke showed great promise this spring and continued his exceptional play during August scrimmages. Bud Foster's linebackers rarely leave the field, so it'll be difficult for DVD to get much in-game experience unless it's a blowout. If Loeffler's group can put some numbers on the board Foster will be able to get some game tape on his promising young players at the linebacker position.
What Virginia Tech needs to do to Win
With 258 career wins, Frank Beamer leads all active FBS coaches. It shouldn't take too much work on his part to get to 259. His squad is bigger, stronger, and faster. However, there is a reason they play the game, and even as early as week one there have been some impressive upsets this year.
The quickest way a team loses a game it should win is to turn the ball over. Loeffler should focus on the rushing attack to limit the possibility of interceptions. With the size advantage Grimes' unit enjoys, a ground-and-pound game plan will enable the Hokies to wear down the Catamounts while keeping Foster's defense fresh. Kyle Fuller broke the seal on Tech's takeaways against Alabama when he secured his first interception of the 2013 season. It would be nice to see BeamerBall spring back into life with a handful of interceptions and/or fumbles against an overmatched Western Carolina offense.
Speaking of BeamerBall, let's see if the extra focus spent on Frank Beamer's treasured Pride and Joy team pays off. The Hokies should be able to avoid any miscues on special teams, especially with the influx of veteran players willing to get involved with the coverage teams.
Let's be honest. The Hokies overmatch the Catamounts in just about every phase of the game. Most Hokies felt oddly optimistic after the Alabama game because of the potential the team showed. Well Saturday, that promise should have on-the-field results. There is no reason the Hokies shouldn't rout Western Carolina, and anything short of a beatdown will be considered a disappointment.