Trim and tan from a summer vacation on Claytor Lake, Virginia Tech defensive coordinator Bud Foster is giving a personal tour of the Merryman Center. It's one of the final days before football will take over his life and Foster is spending the morning at the headquarters of Virginia Tech's program.
Over the course of the day, Foster would do more than act as guide to Hokie football HQ. He would show he's more than just a defensive genius and sideline-dweller. He would show he has the ambition and vision to run a Division I program.
Months earlier in the adjacent Jamerson Athletic Center, Foster had arguably the most important meeting of his coaching career with the man he most needs to prove himself to.
This has been a big offseason for Foster and everyone else whose office is in Merryman. He and head coach Frank Beamer are not only trying to get the program back on track after back-to-back subpar seasons. They also have a new boss in Director of Athletics Whit Babcock, who arrived in Blacksburg in February.
Babcock met individually with each of his employees after taking over. His meeting with Foster the Friday before Tech's spring game was supposed to last 30 minutes. However, Foster viewed their meeting as more than just a simple get-to-know-you. He saw it as a job interview.
They spoke for nearly an hour and 40 minutes.
"This is my dream job"
Foster is entering his 34th season as an assistant coach, all under Beamer. He still has aspirations to become a head coach at a school in one of the "Power 5" conferences, but doesn't believe he needs to prove himself at a smaller school.
By no means is he trying to push Frank Beamer, who he calls "a great man" and the face of Virginia Tech athletics, out the door. In fact, he's turned down job offers from other prominent coaches like Kevin Sumlin, Jimbo Fisher, Mark Richt, Dabo Swinney, and Steve Spurrier (twice), to remain by his mentor's side.
Yet, he envisions himself taking over Beamer Co. once the man he simply refers to as "Coach" retires. When Foster had his initial meeting with Babcock, he was asked where he saw himself in three years.
"I said, 'You know Whit, just like you said you found your dream job, this is my dream job,'" Foster said. "'You've been here three months and I've been here for 27 years and built this program.'
"The thing I let him know though, I'm not a status quo guy. I'm not going to be Frank Beamer. I'm going to carry on the foundation that Frank Beamer started and build on it. Just like Tom Osborne did for Bob Devaney, or Jimbo Fisher after Bobby Bowden. We built something here and I'm a big part of that."
Foster said he could have been more aggressive pursuing other opportunities, but he knows there are a lot of dead end jobs in his business. More than that, Virginia Tech and Frank Beamer have provided Bud and his family stability in an industry where turnover is the norm.
There's Always Room For Improvement
Everything inside Merryman's reception hall is big, bright and Hokie. Giant photos and memorabilia are in every direction. A mannequin that's gone hard on arm day is wearing a Tech uniform and there are banners commemorating bowl appearances. Two ACC Championship trophies are just chilling on a pair of end tables.
You probably want your basement to look like Merryman's lobby, but the Hokie-fied interior design begins to vanish as we move away from the entrance.
"All of this—all of it needs to be papered," Foster said gesturing towards the barren walls. "We need to wrap this whole building."
His message: there's always room for improvement.
"I told [Whit Babcock] in my meeting, one of the things I was concerned with was complacency," he said. "I had that on my concerns list. He said, 'What do you mean by that?'
"I said, 'Well, we've won around here a bunch, and we have young alums and old alums. Also though, I think there's complacency in our department. We have to keep marketing ourselves and promoting ourselves.'"
Foster is aware college athletics is a what-have-you-done-for-me-lately business, but believes it's important to remind the fans how good Virginia Tech has been.
"What we've accomplished, we got to throw it in people's faces," he said. "This is what we've done. A 15-year-old kid won't go, 'OK, Virginia Tech has been to 21 straight bowls,' you gotta sell that. "That's where we've got to keep hammering. We've got to be out there all the time. Whit understands that."
Foster is on the same page with his new boss and knows money from the fanbase is what fuels a powerhouse football program. He knows how important it is to get the young fans to jump on board, even during the lean years, to maintain the reputation of the Hokie Nation.
"What's been so unique about the Hokie Nation is, like the postman, even if it's rain, sleet, or snow they're going to deliver," he said. "That's what the Hokie Nation's been. They've been riding so far, but we have to stay on that path too. Continue to be the passionate group that we're known for.
"It's financial support, it's a lot of different things. If we want to still be an elite program. If our fans want us to be an elite program, they've got to give. That's the bottom line, they've got to give. They've got to donate."
Foster has clear-cut goals for the program.
"What we've built here is second-to-none, and what we've done here over the last 20, 21 years is second-to-none," he said. "As good as we've been, I think we can stay consistent, and we played for a national championship, and I want to do it again and win one."
Always Be Coaching
The walk through Merryman included a stop inside Virginia Tech's luxurious locker room. Once through the doors, Bud spots Trey and Terrell Edmunds. He pivots from host to coach and immediately takes advantage of the impromptu opportunity to talk to the duo about the workouts they just wrapped up.
Foster is proud to have coached so many sets of brothers at Tech, whether it be the Fullers, Edmunds, Vandykes, Martins, Hopkins, Warrens or Browns. It's proof to him that he's doing things the right way. He knows if he treated the older ones poorly, the younger ones would've never followed them to Blacksburg.
At the end of July, Trey and Terrell's youngest brother Tremaine Edmunds would announce a verbal commitment to Virginia Tech.
Foster's not generally regarded by the public as an ace recruiter, but enjoys that aspect of his job. He works to make hay in Northern Virginia, which he claims is the toughest part of the state because many of its residents have moved in from other parts of the country and may not be familiar with Virginia Tech.
He evaluates prospects his own way. It's impossible for Foster to understand how recruiting websites determine their star ratings by only seeing a player once or twice at camps. He identifies who will fit his system and works to bring them to Blacksburg.
Like another defensive-minded head coach, Nick Saban, Foster said he wouldn't delegate all responsibilities if he were a head coach because he knows how much weight a call from the head ball coach carries with prospects.
It's Personal
Foster is a long-standing believer in the Golden Rule. He learned his ethical code from his father at an early age and from Beamer throughout his playing and coaching career.
"You can be the meanest and nastiest dude on the field, but off the field I want you to be respectful," he said. "You're representing this university, this program, this family, your family. Bottom line: treat people how you want to be treated. If you live that way, you'll have a chance to be successful in all aspects of your life."
This credo has earned Foster the respect of his players, colleagues and peers.
He's an animated talker. He keeps his hands in front of his chest, fingers locked together like a mini teepee. They stay like that as he's talking, then explode apart for emphasis when he's made his point.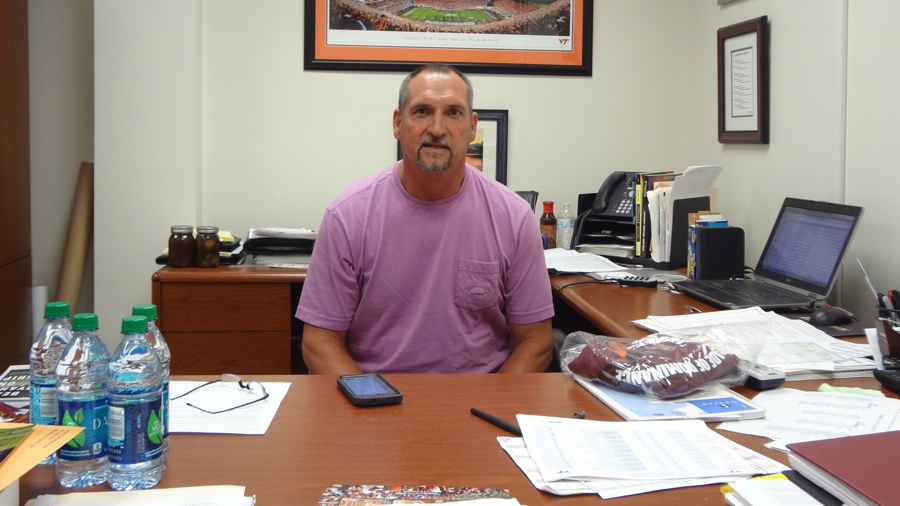 He talks ball candidly and thoughtfully, no matter how absurd the question. It's an extension of his straightforward and honest approach to life.
On his personnel: He's convinced that no one in America could block 230-pound defensive end Dadi Nicolas if he weighed 250.
On what jungle animal would make the best defensive end: He'd take 4 gorillas across the line, "They've got speed, quickness, length, tenacity, and aggressiveness."
On the 2009 Miami game: "I told [Miami defensive coordinator] John Lovett, 'Y'all better be careful here that your kids aren't buying into the media hype, because you're getting ready to run into a buzzsaw.' And that was one of those days where everything's going right. I was rolling sevens."
He's as fond of playing Georgia Tech's one-off offense as one might expect: "They're a pain in the tail. We change our whole scheme for that game. We probably had more [coaches] try to come and talk to us about that as much as anything.
"I've got a lot of respect for Paul Johnson. He's seen it all with his offense. It's kind of like with our defense, we've seen it all. That's where he's good, making adjustments and countering, and that's what we've done over the years."
More than inventing effective defensive schemes or playing chess in Lane on Saturdays, the opportunity to develop young athletes on and off the field is what keeps Foster coaching.
"Obviously my livelihood is to win football games," he said. "My mission is to develop young people to be successful the rest of their life, believe it or not. I take pride in being a great teacher, or a good teacher—I don't know if I'm a great teacher—but a good teacher, a good mentor."
Even so, Foster's sideline switcharoos have rightfully earned him a reputation as one of the best, if not the best, game day coaches in college football. While he's quick to praise the coaches that taught him along the way, Foster takes complete ownership of his defense.
"What I put on the field is me, that's my product. I coach the coaches, they coach the players. I coach them if I don't see something right, but it's my decision. It's my product. When somebody attacks me, or my defense, or one of my kids ... I take that personal."
Life off the Field
Bud Foster's Ford Fusion is, two, three, now four car lengths ahead and becoming less visible by the second. He hits the gas pedal like he knows he won't ever get a speeding ticket in the New River Valley. Bud is on his way to make a pitstop at the ATM before heading over to Auburn Hills Golf Club. Auburn Hills is nestled in the countryside of Riner, Virginia, about 12 miles south of Virginia Tech.
Thirty minutes later he's welcomed in the clubhouse by a burly, tall, freckled, blond-haired man who tosses a bowl of pretzels on top of the fairway green table everyone is sitting at. Bud introduces Phillip Nolen.
Phillip and Bud have known each other for about 7 years. Nolen runs the local livestock auction, brokers cattle and bought Auburn Hills on a whim last September.
Phillip's also a member of Bud's inner circle. It's a simple job: Help Bud decompress and have a good time. He's doing that today by serving us lunch and rhetorically asking, "You need some more beer?" or saying in a rich southern accent, "It's looking dry in here."
Both are followed up by the waterfall sound of ice cold Bud Light splashing into glasses.
Nolen's new investment hosted the inaugural Lunch Pail Defense (LPD) Golf Tournament, a charitable event hosted by Foster's foundation. The event raised close to $7,000.
"It's fun to do and it's a feel good thing," Foster said, "I think our kids are the future. There's a next president, doctor, or someone who will cure cancer, and all they need are the means to get started."
LPD's short term goal is to eventually award a full college scholarship to a teen that embodies the "What's Important Now" (W-I-N) lunch pail attitude of the foundation. Or as Bud put it, "Take on a Foster Child".
Phillip and Bud looking at a picture they took with Christiansburg Mayor Michael Barber at the LPD Golf Tournament.
Rain forces golfers to trickle inside. One by one, they gravitate to Bud. Whenever someone approaches him he gets up out of his chair to shake hands and chat. It's easy to envision Foster winning over a room of boosters and high-profile donors. He won't schmooze and charm your pants off, rather he'll remember your name and care what you're talking about. The latter is what leaves a long-lasting impression.
Claytor Lake, the New River Valley and Blacksburg are home for Bud and his family. When he told his kids he was a finalist for the Clemson head coaching position in 2008, they asked if they could still attend Hokie games if he got the job.
He won't cry himself to sleep if never gets the opportunity at Tech, or anywhere else. He's only 55 and hasn't given much thought about when he'll stop carrying a lunch pail to work, or what he'd do if he's not Frank Beamer's successor. No matter what, he'll eventually retire to his house on Claytor Lake, a relaxing spot that's been therapeutic to him over the latter portion of his career, to continue his charity work or perhaps be a spokesperson.
Nolen has a different idea for Bud's retirement job.
"A marshall driving around with a little flag," he said. "He could encourage them in that loud big voice he has, 'Hey! What are y'all doin' over there!'"
Pace of play would never be an issue at Auburn Hills again.