There is an overused football axiom that goes something like: the backup quarterback is always the most popular player on the team. Over the course of the 2013 season, a significant portion of the Virginia Tech fan base clamored for Mark Leal to get an opportunity to play as Logan Thomas went through stretches of turnovers and erratic play. I was vocally opposed to any performance-based benching of Thomas. Leal may have replaced Thomas during the spring game and been slightly more effective, but I didn't feel he had the ability to elevate an offensive unit that was lacking in playmakers this season. The Sun Bowl largely confirmed my opinion, as Leal had some success moving the ball but didn't appear to be confident, made some poor reads on critical plays, and was not a threat in the running game.
That does not mean Mark Leal can't be a serviceable quarterback for the Hokies. I have often compared him to the legendary Raiders quarterback Daryle Lamonica, whose love of throwing deep balls resulted in his nickname of "The Mad Bomber." For much of 2011 and 2012, it was rare that BeamerBall.com posted a practice or scrimmage video that did not include a beautiful deep pass. As Leal has matured, he has demonstrated fantastic touch on his passes at all depths when he is not pressured. He has decent mobility and can create plays with his feet, and he is excellent on bootlegs. Against UCLA, I hoped that Loeffler would give Leal the opportunity to throw a deep ball (play-action off a fake jet sweep would have been spectacular.) Let's take a look at his film to see some of his strengths.
The Good
00:00:32–00:00:37
That's the best film publicly available on YouTube of Leal's deep ball skills. Like I said, he throws a pretty deep pass. It's unfortunate there aren't more clips to dissect.
Without having good video of his Mad Bomber throws, let's examine the touch he puts on passes. Perhaps Leal's most impressive throw was an incompletion. In the third quarter, Leal faced a third-and-short with the game still in doubt. Loeffler, instead of using Coles on the fake out and back to a slant route that resulted in so many touchdowns this season, calls a slant-wheel combo with Coles on the wheel route.
00:15:26–00:15:32
Thomas, for all his wonderful skills, often didn't put enough touch on the throw and would overthrow this pass. Leal lays it in perfectly, but Coles bumbles the catch. A top receiver, especially in the red zone, has to make that catch. The throw is about as good as a college quarterback can be expected to make, especially in a pressure situation.
Leal can also put fantastic touch on throws where he doesn't have his feet set perfectly after avoiding pressure. Here, Leal scrambles to buy time for Ryan Malleck to break open for a touchdown.
00:09:51–00:10:00
The route is a designed clear out for Malleck. The flanker runs a crossing route from his alignment tight on the left side of the formation. The tailback goes to the left flat. The cover two corner lets the crossing route flow to the inside linebackers and then jumps the short corner. Malleck chips the defensive end and runs a corner route behind the Cover 2 corner. Leal steps up in the pocket and then moves to the left sideline. Without resetting his feet, Leal floats a beautiful pass in stride to Malleck who runs in for a touchdown.
Finally, Leal is effective in executing the bootleg component of Loeffler and Grimes zone stretch scheme. Leal does a fantastic job of executing a play fake and then hiding the ball while rolling out on the boot. Let's take a look.
00:12:37–00:12:45
Leal executes an effective ball fake that draws both linebackers to the left. He rolls to his right and makes his read. On a bootleg, the read is flat (either the fullback or an H-Back) to back side drag (often a tight end running a drag route, in this case left to right.) Leal identifies that the corner has jumped the H-Back leaking to the flat, so he correctly looks at the drag and hits Zack McCray on a beautiful throw.
Room For Improvement
While Leal has some strong points to his game, he has some weaknesses that cause some concern. Watching the film, three areas where Leal needs to improve are his ability to identify the open man and throw in rhythm, maintaining his mechanics, and most importantly reading defenses. Let's rewind to the spring game.
Here, Loeffler calls an in route-wheel combo. Malleck aligns as a wing, runs to the flat and turns up. Knowles seems to run a deep in route.
00:09:10–00:09:17
Leal targets Knowles, but throws behind him and Knowles is forced to lean back and make a tough catch falling down. If you watch again, you will notice that Leal hesitates before making the throw. The hesitation not only causes the throw to be late, but Leal can't get everything he wants on the throw. Leal hesitates often, and against UCLA, he was sacked several times after holding on to the ball far too long.
Leal's mechanics also break down, especially under pressure. In some circumstances, it is very difficult to notice the breakdowns, especially against man coverage. Let's take a look at one of the standard throws that every college quarterback must be able to make: a curl route to the boundary against man coverage.
00:09:45–00:09:51
Here, Leal identifies the coverage correctly, with D.J. Coles on the boundary one-on-one against off coverage. Leal opens up and throws a nice throw to Coles for a solid game. But, let's look again at Leal's mechanics.
If you freeze the shot before Leal releases the ball, you can see that his left leg is angles wide to the sideline at the beginning of his wind up. This has two effects. First, it means that he isn't throwing weight forward into the throw, and a throw that isn't at full velocity is dangerous on a short curl to the boundary. Second, if the corner jumps the route, Leal will have to take an additional stride to get back into throwing position and turn back to his right, where the other three receivers are running their routes. That extra second can be the difference between a completion and a sack.
Those mechanical breakdowns increase when he faces pressure. On film, Leal has a bad habit of bringing the ball down to his hip out of throwing position and crouching in the pocket when he feels pressure. Not only does he take himself out of position to throw, but he also could be prone to fumbles.
The final and most glaring concern with Leal is his ability to read defenses. I have very little film of Leal playing against zone coverage, as UCLA played a great deal of man once Leal entered the game. But, Leal failed to take advantage of several UCLA alignments where he had a major matchup advantage. Most of you saw my Twitter feed where I went into hysterics on a third down play where Joel Caleb motioned out and had Jordan Zumwalt in man coverage. Leal never looked at him. Rewatching the film only increased my concerns.
Let's take a look at a critical third down pass. Scott Loeffler calls a double slant from twins to the field side, with Chris Mangus rubbing off their route to the flat on the right.
The alignment should key Leal's pre-snap read. A slant route to the inside receiver is sandwiched by the middle linebacker and the defender aligned heads up on the inside receiver. The outside receiver's slant is sandwiched by the defender on the slot and the corner. Leal also must read that if Mangus goes to the flat and the defense is in man coverage, the deep safety is at least ten yards from the line of scrimmage. Worst case, Mangus will catch the ball before the safety can arrive, and best case is that Mangus catches the ball in stride and has space to make the safety miss. With the first down marker close by, this should be an easy opportunity to move the chains.
Instead, he throws the slant to the inside slot receiver.
00:18:27–00:18:31
Against this coverage, it is the most dangerous throw. The middle linebacker is looking directly at the quarterback and only needs to take one step to his left to defend the throw. Leal either didn't read the coverage correctly or determined that he was going to make the quick throw without even considering the defense. That won't work against good football teams.
The failure to identify the weak point in the defense happened several other times. The most egregious error came early in the fourth quarter before UCLA blew the game open. Again, facing a third down, Leal gets man coverage against a five wide formation. Loeffler gets the matchup he wants, with Bryn matched up one on one with Zumwalt, who is also playing seven yards deep. Byrn runs a standard crossing route in front of Zumwalt, who has no help to his left due to a vertical route from Kalvin Cline. Outside of Cline, the Hokies have another deep route (designed to run off any support for Zumwalt). This should be an quick easy throw for a first down. But instead, Leal gets sacked. Why?
00:11:07–00:11:12
This could be an experience issue, but we have seen this play time and again and Loeffler loves this crossing route. It is almost inconceivable that Leal would not jump on that mismatch. More troubling, if you freeze the shot he doesn't even look at Byrn initially.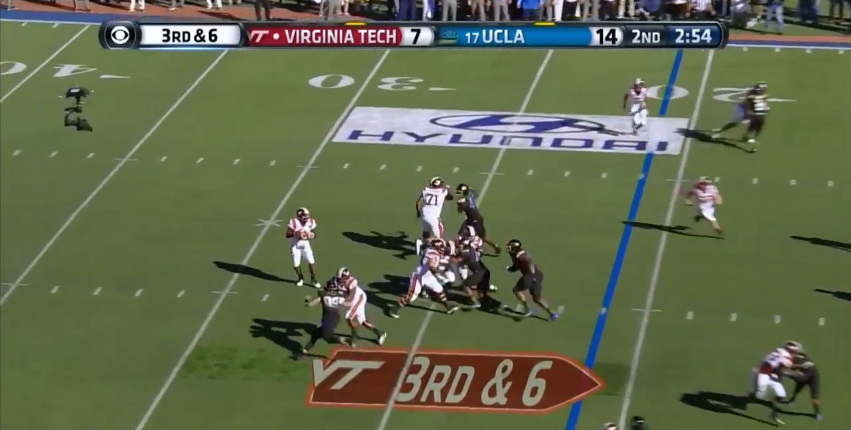 He is looking right all the way. Is this perhaps the desire to throw the deep ball too strong to make the correct throw? Only Leal may know, but not only does he not look back to Byrn, but notice the position of the football. After taking the snap, he still has the ball down by his hip. He isn't in position to throw. Fast forward a click, and as he starts to look back to the middle of the field, the ball is still far too low.
It didn't help matters that McLaughlin was beaten badly to the inside on the play. But it is still a throw that can be made if Leal takes the hit. Instead, as he tends to do against pressure, he crouches (taking the ball out of throwing position again) and ends up taking a sack to kill the drive. Leal has to do a better job of identifying the defense and not panicking under pressure. His first interception is the kind of play that a young team can't overcome.
The Dagger Interception and Loeffler's Responsibility
Scot Loeffler also has to bear some responsibility for nursing his inexperienced quarterback through a tough situation. HokieNation screamed bloody murder after Leal's second interception, but a second look shows that while Leal should not have thrown the pass, Loeffler may have put him in a bad position.
00:19:38–00:19:47
The Hokies run a rare play from the I formation and go play-action. Demitri Knowles and Josh Stanford cross, with Stanford going deep and running a 15 yard out, while Knowles runs a shorter crossing route. Jordan Zumwalt drops into a zone and drops deep enough to undercut the throw for an easy interception and return. Leal has to see Zumwalt drop into his throwing lane and look for a different alternative (with Zumwalt dropping that deep, Knowles should have been open on the crossing route, but I can't see Knowles on the replay.)
00:10:12–00:10:20
Short of a stumble by Leal in the pocket, this play is identical. Stanford runs the deep out, and this time Zumwalt doesn't drop as deep and Leal puts the ball perfectly into Stanford at the boundary. This is an NFL throw, but, Zumwalt learned his lesson. His job was made easier by Loeffler's frustrating insistence on not using the I formation between the 20's. As I noted often during the season, if the Hokies line up in the I formation between the 20's this season, chances are we were going to see play-action. With the run fake not being credible and seeing the play earlier, this was an easy read for Zumwalt. Leal shouldn't make the throw, but Loeffler shouldn't have put him in the position to make the throw.
I am not sure who the Virginia Tech quarterback will be next season. Leal can be an adequate quarterback, and maybe a good one with improvement in the offseason. At the same time, I fully expect him to face stiff competition. Unlike years past, if Leal wins the job over Andrew Ford, Brendan Motley, Bucky Hodges, and Chris Durkin, it will not be a rubber stamp because of his experience like other position battles. It will be because, for better or worse, he is the Hokies best option.