By

Joe Lanza
editor
on March 14, 2014, 9:22 AM
| 20 comments
Last Sunday evening I spoke with 6-1, 160 pound H.D. Woodson defensive back DuWayne Johnson. Johnson committed to the Hokies on February 8th while attending a Virginia Tech junior day event.
Excited to say that I am a Virginia Tech Hokie 2015 DB Commit! Go Hokies#hokies #HOKIENATION— DuWayne Johnson (@fitch_Boss) February 8, 2014
Although, he didn't intend on giving his verbal while on the trip. "When I went down there, I had no idea... I didn't plan on committing when I was in town. It just happened."
DuWayne attributed a comfortable familiarity for accelerating his decision. "When I was younger, I used to go down to Blacksburg a lot." DuWayne's father, Wayne Johnson, is a longtime assistant / defensive backs coach at H.D. Woodson. DuWayne told me he and his dad would travel to Tech to watch former Woodson standouts like Roland Minor, William Walls, and Josh Morgan.
Additionally he noted, "I like the campus and stuff a lot .... there was just something about it when I went."
Aaron Moorehead was DuWayne's primary recruiter. "I have a good relationship with Coach Moorehead. Him and Coach Gray are both cool guys. We talk about football, but most of the time we're not even talking about football. They're asking what I've been up to."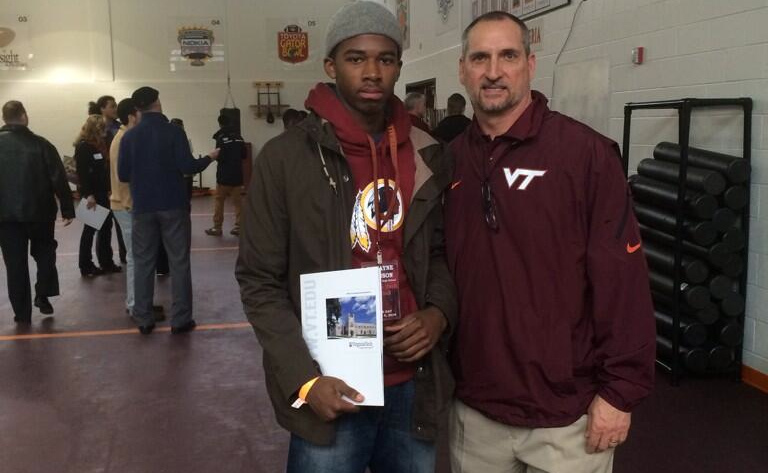 Is that... Bud Foster smiling? (Photo via DuWayne Johnson, @fitch_Boss)
As with most defensive backs that eventually sign at Tech, right now Tech's staff wants DuWayne at corner.
He told me his strongest assets on the field are ball instincts and confidence.
DuWayne's trying to add some more muscle to his frame before beginning his college career, which might come sooner rather than later. "I'm planning on enrolling there early, because they want me to enroll early. So I still have some time to add weight."
According to DuWayne, a lot of schools previously pursuing him have indicated that they'll continue to recruit him. He said he has scholarship offers from Clemson, Georgia, North Carolina, Auburn, and Colorado among others. However, he told me, "I'm firm with Virginia Tech."