By:

Joe Lanza
on March 17, 2011, 2:22 AM
| 6 comments
If one wants to prove that chaos has a schedule, then my winter break routine could be used to attempt to make the argument. After my last exam I'd go hard and blow it out in Blacksburg. The venue was dependent on the year: dorm, apartment party or downtown, but the result was all the same. What looked like a long night would be cut short from overindulgence, libations and greasy-ass food, beers and whatever was cheap followed up usually by a 20-inch Gumby's pizza slathered in ranch dressing. I only rolled on twenties yo. The next morning I'd sell all my books, hop in the car, use the cash to finance my trip home, and haul it north. Once there it was a continuous rotation of eat, sleep, watch football and party. Rinse and repeat until I felt dirty. I'm sure the vast majority of undergrads did and do something similar.
David Wilson does not.
However, after the Orange Bowl David Wilson embarked on a well deserved break, some of which is documented here.
He first decided to visit France for a couple of days, because that's just what intelligent cultured people do. He traveled across Alsace, heard Emmanuel toll at Cathédrale Notre Dame and made his way to Paris.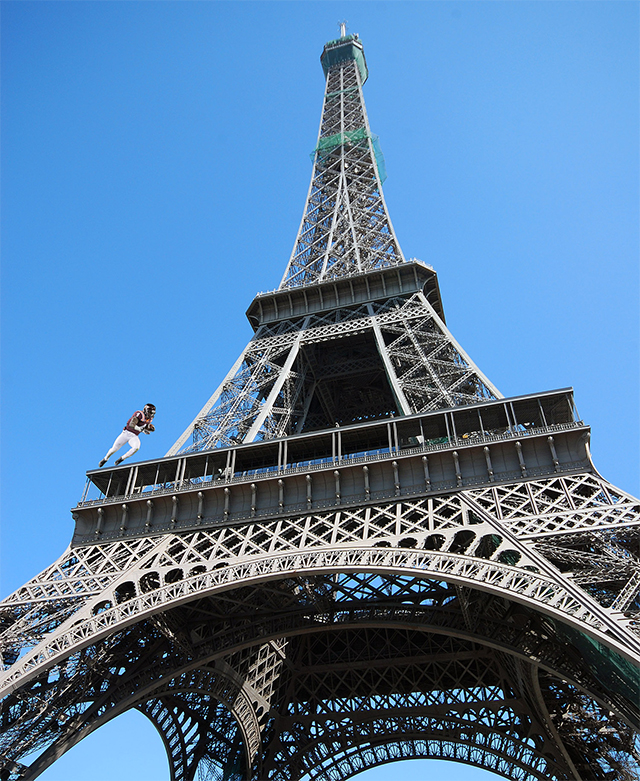 Of course he just had to climb the Eiffel Tower. I mean, it was there and all. From the top he was able to get as good of a look at the world as the world had of him.