By:

Joe Lanza
on April 2, 2011, 4:33 PM
| 6 comments
I decided to watch UVa's Festivus this afternoon. Why? It was on ESPN3 and sometimes you just do things because they're convenient and easy. It looked like you might expect.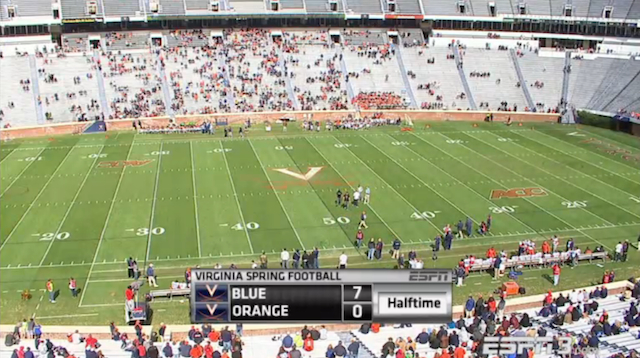 What I learned from watching the Blue-Orange Game:
Scott Stadium's grass field that earlier in the day took abuse from rain, sleet and a lacrosse game looked less sloppy than the football team. A missed field goal, interceptions, fumbles, missed blocks, missed tackles essentially dwarfed most positives.
UVa is one quarterback away from competing against Duke.
Watford is green, but you know, #newhoos.
If UVa is going to televise Festivus next year, do away with the kickoffs and punts. The crowd shots were embarrassing.
Final Score: Blue 17 - Orange 7 - Humanity 0