Dominating Miami makes a lot of things feel better, doesn't it?
Now Virginia Tech's attention turns to Pitt, a team for which all ratings, records, and on-paper talent don't seem to apply. When Pitt is the better team they beat Virginia Tech. When Pitt is the lesser team they beat Virginia Tech. It doesn't really matter. They don't have their own stadium; their fans don't come to games; they think the team has much greater historical significance than it does; and they beat Virginia Tech.
Will Justin Fuente break the cycle, or will the Pitt of Despair continue?
Where the Hokies' Season Stands
Virginia Tech is currently 5-2. The actual and predicted score difference and odds of winning each game are:
Needless to say, Pitt is the biggest remaining obstacle although a later upset it certainly possible.
The odds of each possible regular season win total are now:
If that was posted in August it would have been well received. In 10,000 simulations the Hokies won at least two more games every single time. A win at Pitt would make a 10-win season quite likely, as well as a berth in the ACC Championship Game. Unfortunately a win at Pitt is a mythical creature as likely to be seen as a unicorn or a winning season in Charlottesville.
Rankings and Computer Predictions
The computer rankings and predictions for each team:
Whoa whoa whoa. There is a computer rating that ranks Virginia Tech as the No. 2 team in the country. It is called Nutshell and in Massey's comparison it is the least accurate system, but I for one now think it is a wonderful system and have ever since five minutes ago. The odds of a 3.5-point favorite winning are 60.4%.
Next is a look at any overall offensive or defensive advantages:
Pitt has a very good offense, but does not feature a particularly stout defense. The Hokies' middling offense is the team's best in years and the defense is very, very good.
When Virginia Tech Has the Ball
Here is an explanation of S&P+ ratings, and FEI ratings. All statistics are now opponent-adjusted.
Who has the advantage in the passing and rushing game when the Tech offense has the ball?
To satisfy curiosity, those outliers on defense are Michigan, Michigan, Michigan, and Michigan. Back to this game, the Hokies continue to not impress rushing or on standard downs, and to be good at passing and very good on passing downs. The Panthers' defense is mediocre across the board.
Offensive and defensive line performance are compared using Football Outsiders' metrics:
The Hokies' unit has not performed well in most categories and is particularly weak at power success rate; the Panthers' unit on the other hand is very good at stopping the run but not particularly good at preventing power success. Who wins the short yardage game will be interesting.
Now let's take a look at the FEI personality traits of the Hokie offense versus the Panther defense:
The Tech offense does not stand out in any personality metrics, but the Pitt defense seems to give up touchdowns on a high percentage of drives, indicating this game may be feast or famine for Evans and company.
The No. 52 Virginia Tech offense is closest in personality to:
TCU
Tulsa
Temple
The No. 99 Pittsburgh defense is closest in personality to:
Old Dominion
Texas
Rutgers
When Pittsburgh Has the Ball
Again, examine pass-run comparisons first: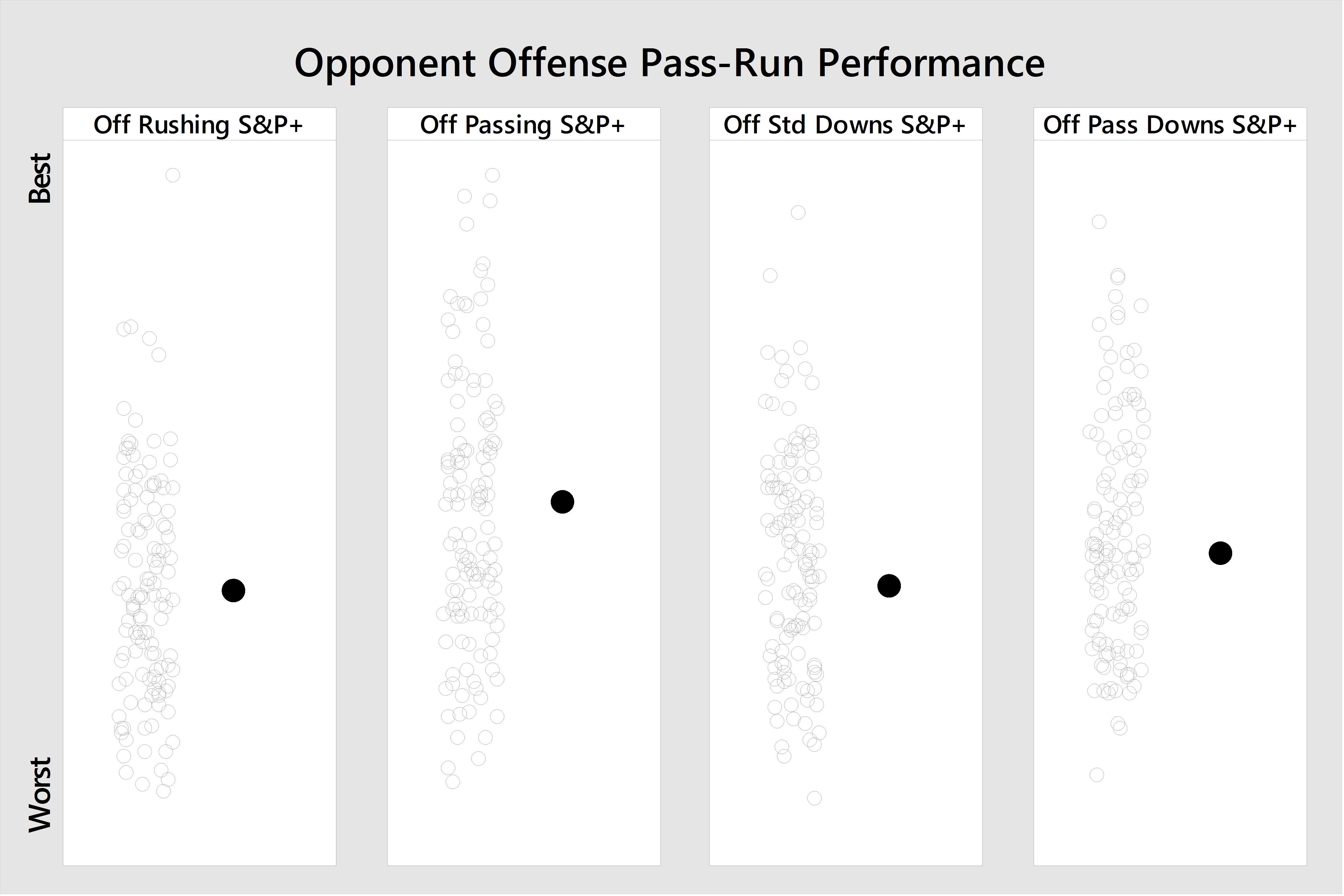 Pitt is above average in all categories, while Virginia Tech is excellent across the board — especially against the pass.
Offensive and defensive line performance are again compared using Football Outsiders' metrics: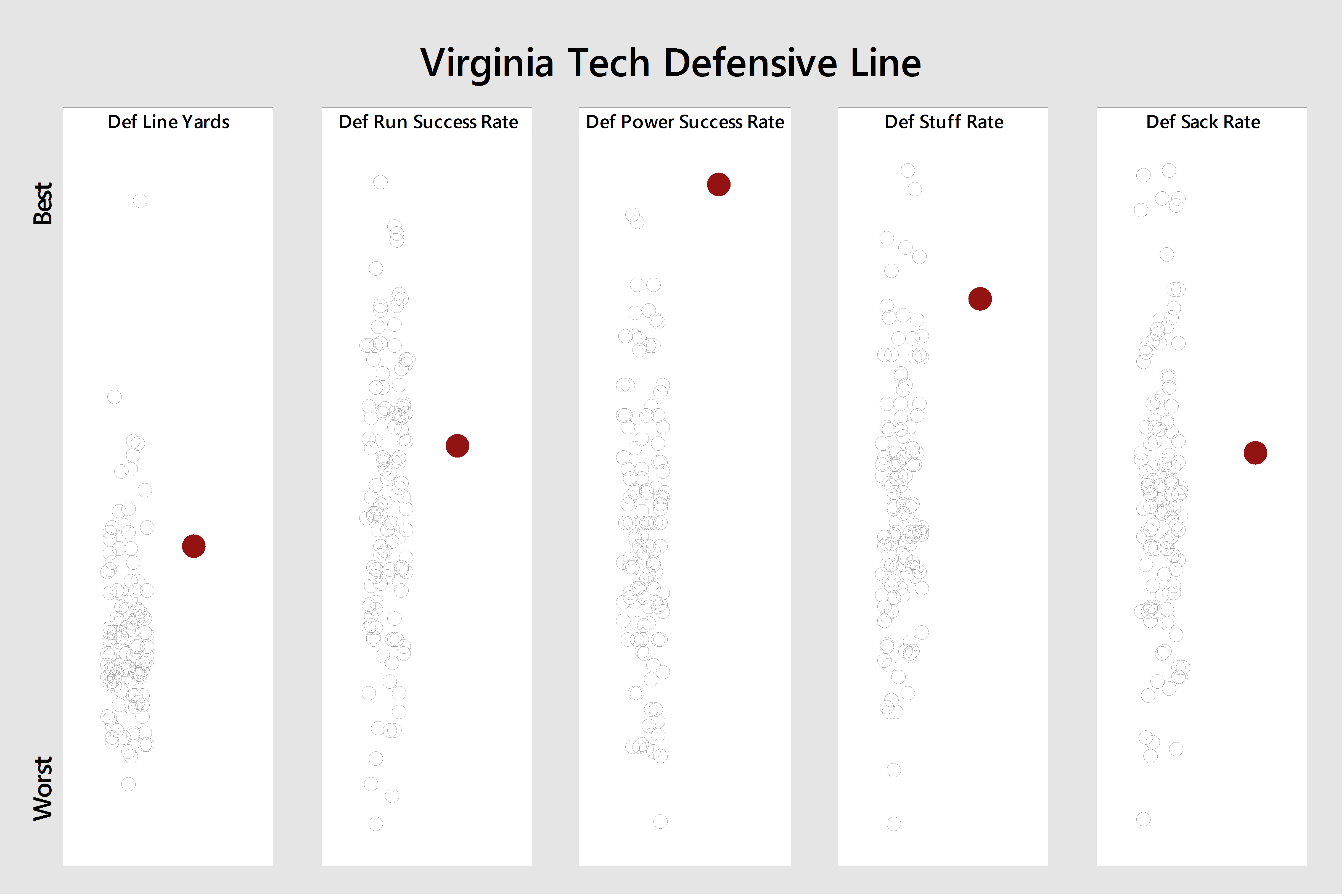 On 3rd- or 4th-and-short don't even think about it, Pitt.
As for personality traits: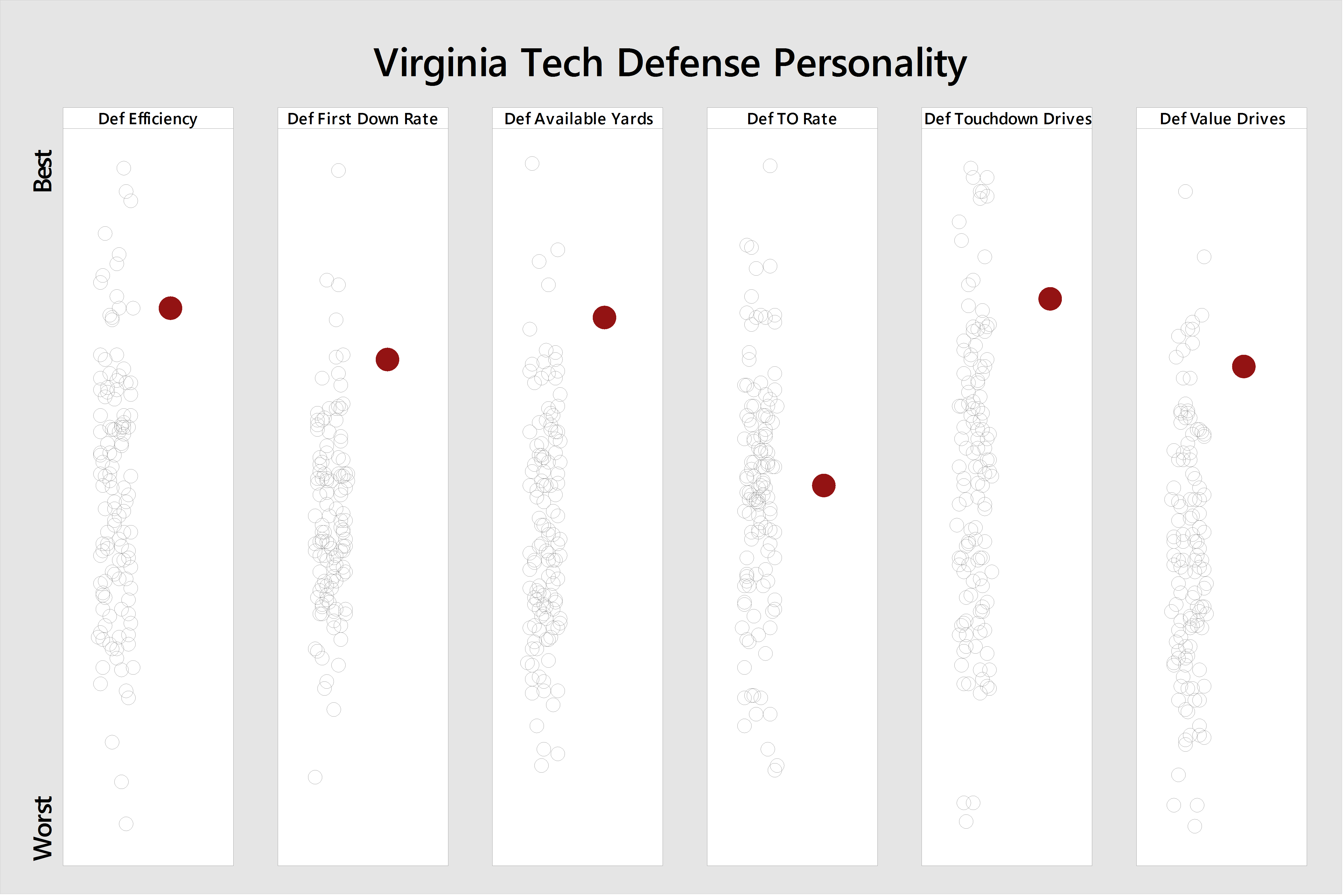 This is a difficult matchup that will be interesting to watch play out...both teams are very good in all categories except for drives that end in turnovers. That has been the Achilles heel of the Panthers, but the Hokies have not been particularly great at creating them.
The No. 15 Virginia Tech defense is closest in personality to:
Clemson
Ohio State
Louisville (defense guys, not offense)
The No. 18 Pittsburgh offense is closest in personality to:
Oregon
Texas
Boise State
Special Teams
First a look at the Hokies' kicking units:
The Hokies have been great at kicking off, and not very good at returning kicks; then great at returning punts, but not so great at punting. But on balance the team has been very good at winning field position.
When the Panthers kick: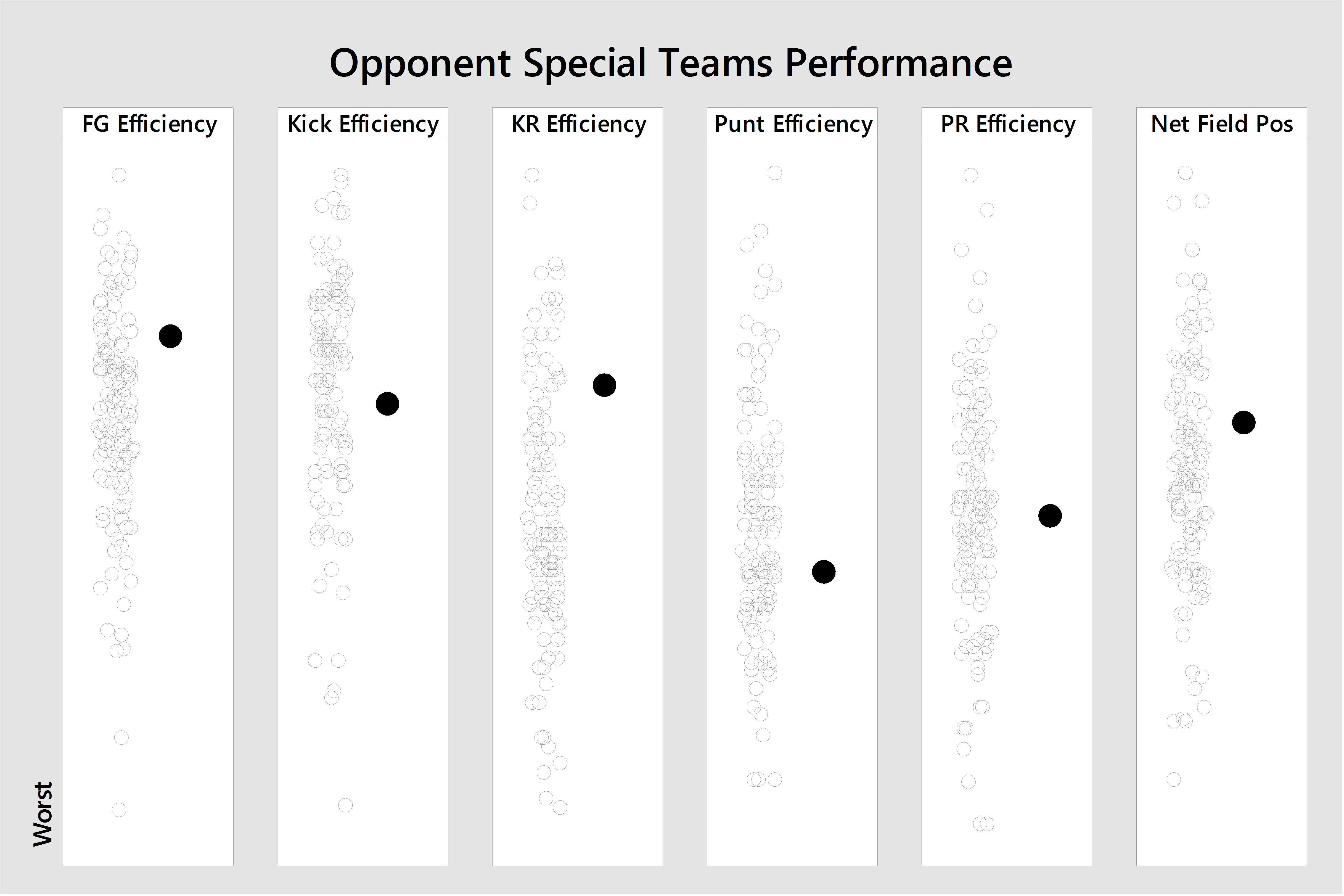 Pitt only really stands out at returning kickoffs, but that may be meaningless given Joey Slye's propensity to just kick it out of the back of the end zone.
Who To Watch Out For
Home run threat WR Jester Weah averages over 21 yards per catch on the season.
Senior Ejuan Price is third in the country with nearly 2 tackles for loss (1.86) per game.
Quadree Henderson may lead the country in kickoff return average at 35.94 yards, but it won't matter because Joey Slye remains No. 1 in the country with a 65.29-yard kickoff average.
Statistical Key to the Game
To keep Pitt from putting up too many points, creating turnovers will be key to this game when Virginia Tech is on defense. The Panthers feature a very good offense that will be difficult to shut down entirely, but they are turnover prone and the Hokies need to take advantage. Thus turnover margin is the statistical key to the game.
The Stats that Define Virginia Tech's Season
Revisiting my column from this summer on the stats that will define the season, here is how the Hokies performed thus far (each listed as VT - Opponent):
| Opponent | PPP | Pace (sec/play) | ToP |
| --- | --- | --- | --- |
| Liberty | .40 - .21 | 22.7 - 25.5 | 33:42 - 26:18 |
| Tennessee | .33 - .71 | 26.1 - 26.1 | 31:44 - 28:16 |
| Boston College | .64 - 0 | 27.5 - 26.1 | 35:15 - 24:45 |
| East Carolina | .79 - .25 | 26.5 - 26.0 | 30:03 - 29:57 |
| UNC | .41 - .05 | 28.9 - 19.4 | 39:59 - 20:01 |
| Syracuse | .24 - .31 | 22.2 - 20.1 | 26:35 - 33:25 |
| Miami | .55 - .21 | 26.4 - 23.5 | 29:28 - 30:32 |
I will not value time of possession.
Statistical Prediction
Well, it is the Pitt of Despair so really the question is how much the Hokies will lose by. There is the distinct possibility that the Panthers are able to pound the run game to avoid turnovers and wear down Tech's defense, and it is unlikely the Hokies' DL will be able to disrupt Pitt's OL like they did Miami's.
So Pitt will almost certainly win the game, right? Nah.
Virginia Tech 30, Pittsburgh 24
As always a thanks to Football Outsiders, cfbstats.com, and Minitab Statistical Software.