The Hokies win at Pitt felt so good, Whit Babcock got a contract extension just for hiring the guy who coached the game.
Now comes the part of Virginia Tech's football season that will define how fans feel from January through August. Virginia Tech is currently, and likely will remain, favored in every game left on its schedule. But the opponents are not cupcakes, and even if Tech wins the next three, Virginia will be determined to spoil the party.
First, Duke must be conquered. While the Blue Devils have taken a step back this season and fallen short of expectations, they remain well-coached and certainly a threat to call into question the Hokies' success thus far. So what do the numbers suggest is in store?
Where the Season Stands
Virginia Tech is currently 6-2 and will go bowling for the 24th straight season. All irrational optimism aside, before the season few realistically thought bowl eligibility would be secured with four games remaining, and Tech would be favored down the stretch. The actual and predicted score difference and odds of winning each game are:
Important note for the graph above and win totals below: the predictions used before were a combination of multiple systems put together by a site called Superlist. The predictions the site was providing, especially for Virginia, have been getting farther from what most others predict and no longer seemed realistic. So this week I switched to using the estimated score difference provided on the Football Study Hall Advanced Stat Profile of Virginia Tech.
The odds of each possible regular season win total are now:
So...almost a 99% chance of going 8-4 or better in the regular season. Oh, you want to know what Virginia's odds are of making a bowl? This website covers Virginia Tech, not Virginia, and there is a level of professionalism to be maintained that does not include poking fun at others' misfortune.
Seriously though it's 0.1% according to Football Study Hall. But hey, that's the same chances of Tech going 6-6 also!
Rankings and Computer Predictions
The computer rankings and predictions for each team:
The worst computer ranking given to the Hokies is better than the best ranking given to the Blue Devils, and every computer but one predicts a win. The odds of an 11.5-point favorite winning are 80.0%.
Next is a look at any overall offensive or defensive advantages:
In a scenario not often seen in Blacksburg over the past few seasons, Virginia Tech brings a better defense AND a better offense to the table.
When Virginia Tech Has the Ball
Here is an explanation of S&P+ ratings, and FEI ratings. All statistics are now opponent-adjusted.
Who has the advantage in the passing and rushing game when the Tech offense has the ball?
The Hokies continue to demonstrate much better passing than rushing, as well as significantly better performance on passing downs than standard. The Blue Devils, fortunately match up well as passing and passing downs are the weaknesses in their defense. In other words, looks for another game on Jerod Evans' shoulders.
Offensive and defensive line performance are compared using Football Outsiders' metrics: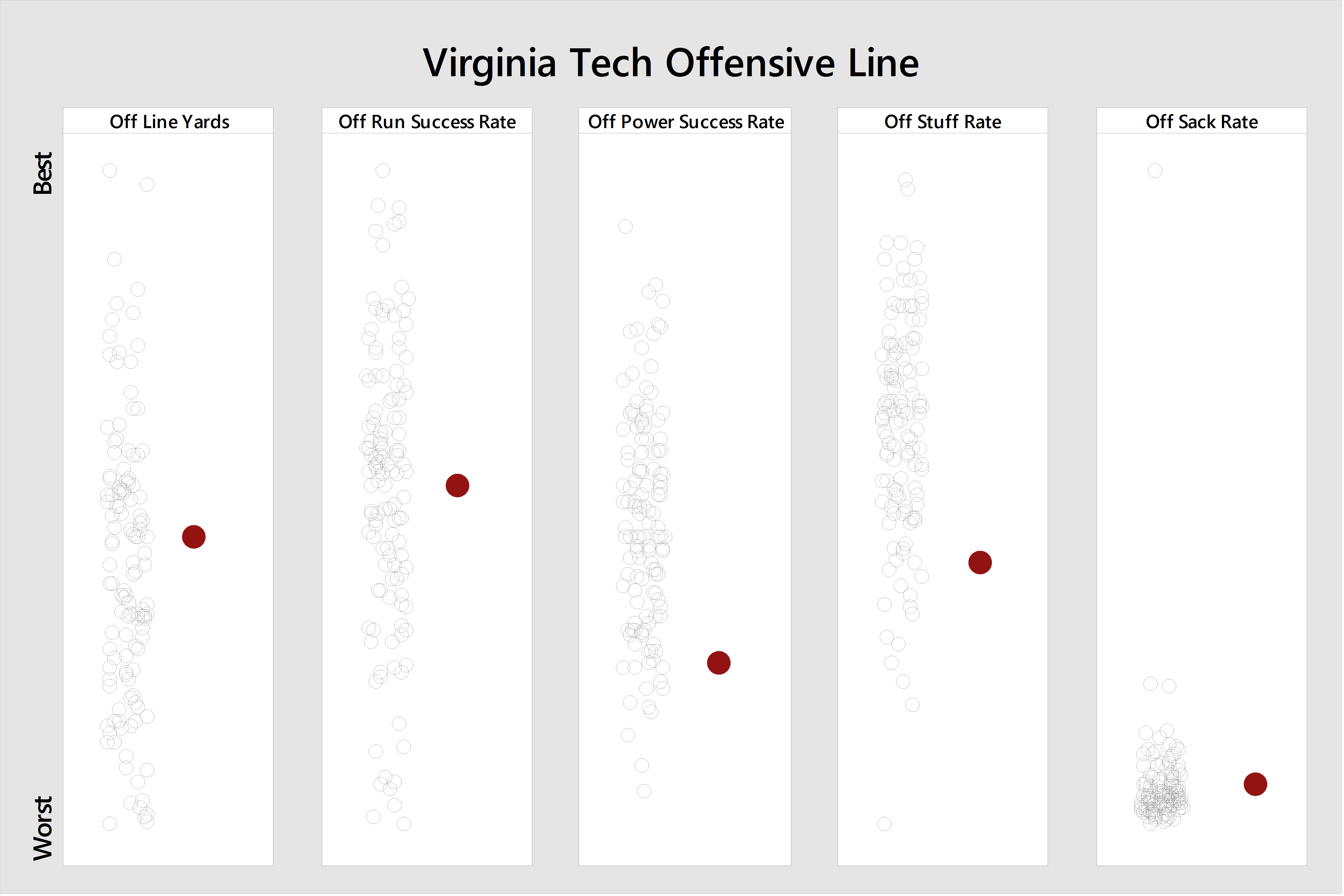 The biggest weakness on the Tech line remains power success and stuff rate, indicating that the team is getting stopped far too often without gaining even short yardage. The Duke defensive line does not appear poised to take advantage, but isn't particularly weak either.
Now let's take a look at the FEI personality traits of the Hokie offense versus the Blue Devil defense:
Virginia Tech remains balanced in personality characteristics, as does the Duke line.
The Virginia Tech offense is closest in personality to:
Utah
Temple
Nebraska
The Duke defense is closest in personality to:
Oklahoma State
Miami-OH
Mississippi State
When Duke Has the Ball
Again, examine pass-run comparisons first: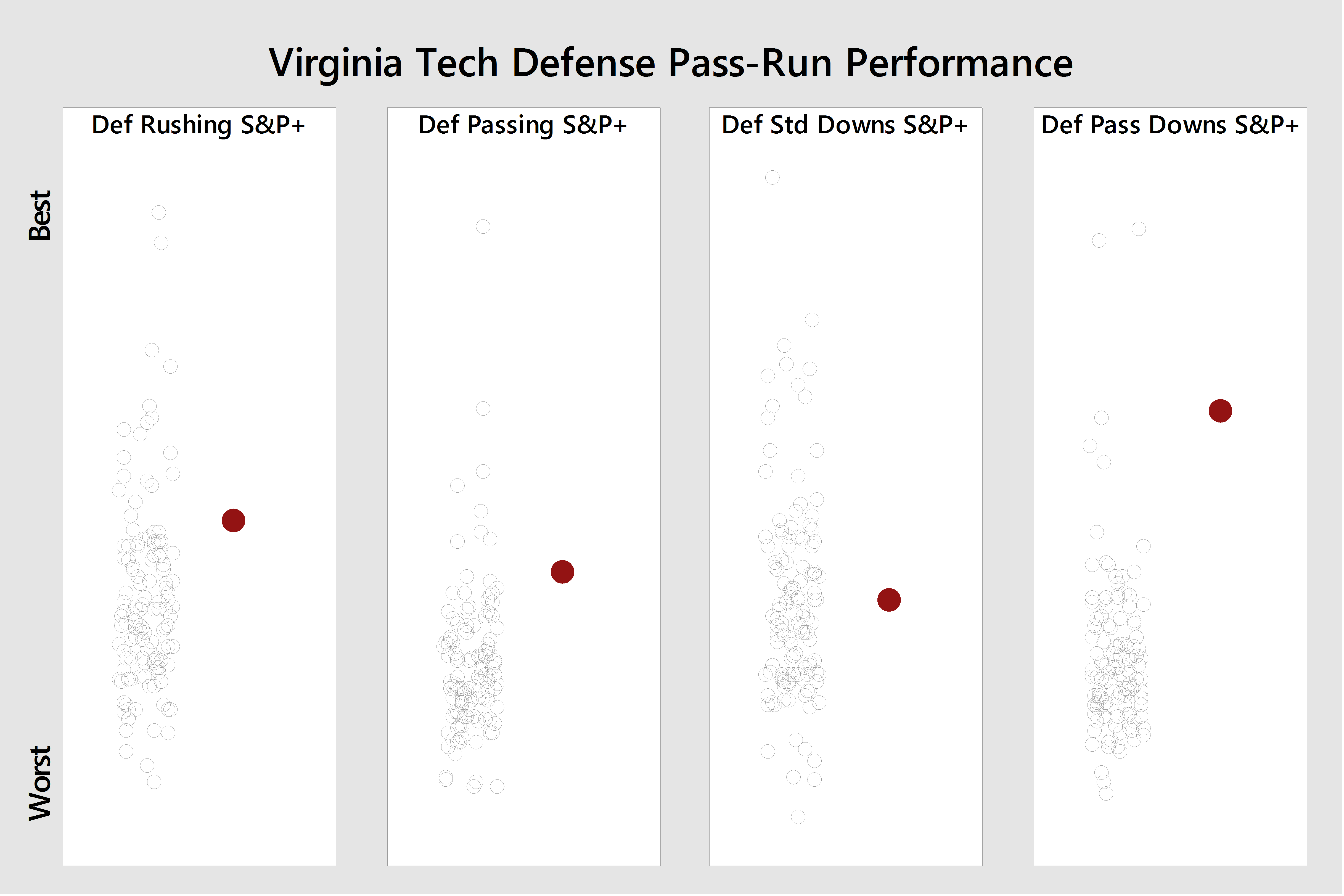 The Blue Devils don't stand out on any categories, rating a little below average across the board. The Hokies, meanwhile, are very good and especially difficult to pass against.
Offensive and defensive line performance are again compared using Football Outsiders' metrics: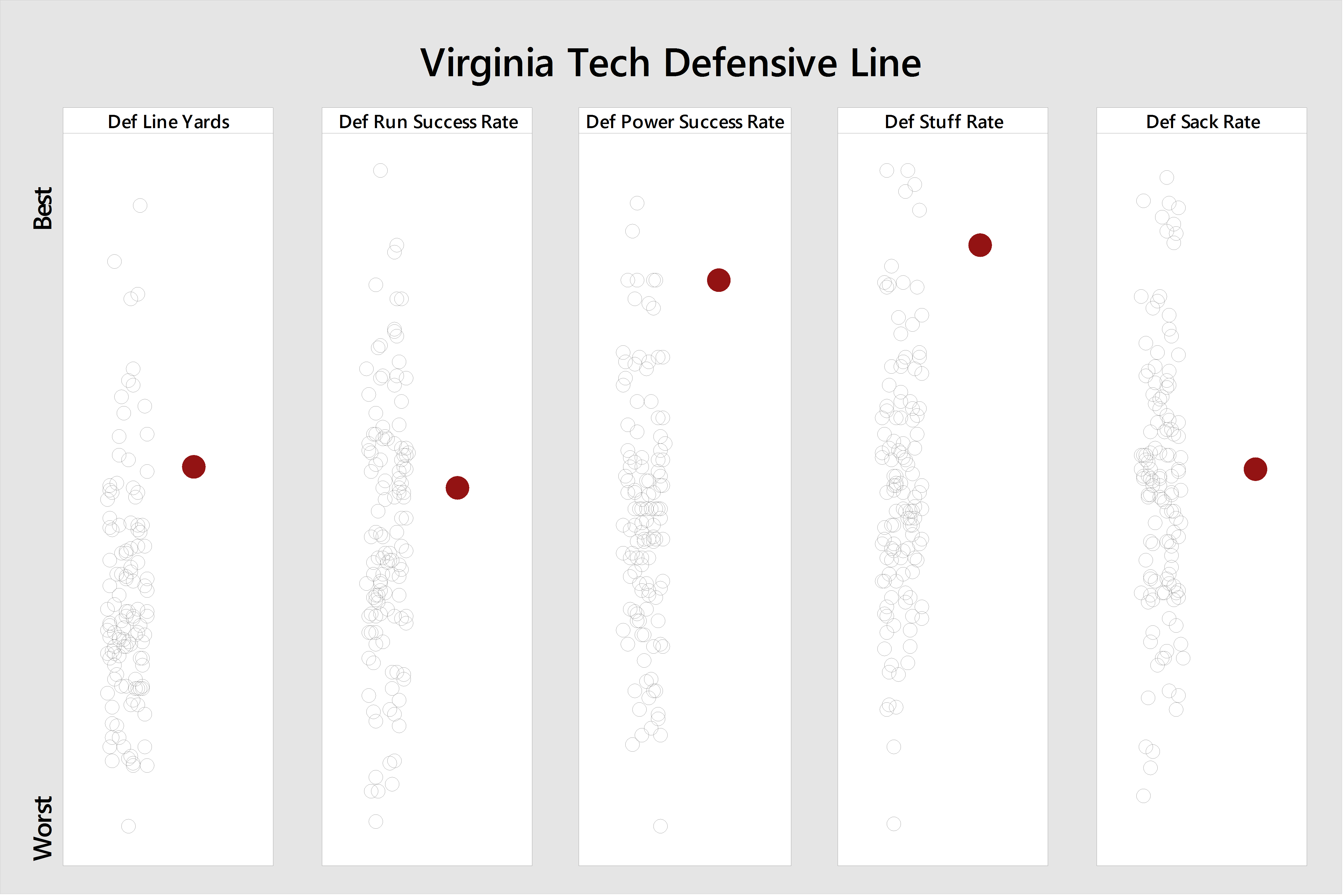 This again appears to be a good matchup for Virginia Tech, with the one above average category for Duke — stuff rate — being matched by an elite unit in that regards.
As for personality traits:
The mediocre Blue Devil offense exhibits low scores across the board in all personality metrics, and the one category in which the Hokies haven't stood out — drive-ending turnovers — is exceptionally poor for them. Again a good matchup for Tech.
The Virginia Tech defense is closest in personality to:
San Diego State
Clemson
Boston College
The Duke offense is closest in personality to:
Charlotte
Georgia Southern
San Jose State
Special Teams
First a look at the Hokies' kicking units:
As indicated last week, Tech's units seem good on one side of each kick (punt returns and kickoffs) and mediocre at the other side (punting and kickoff returns). But net field position has been elite.
When the Blue Devils kick:
So there you have one of the worst field goal kicking units in the country, along with the best kickoff unit.
Who To Watch Out For
There aren't many Blue Devils who stand out for anything statistically, but dig long enough...:
SR S Corbin McCarthy leads the nation among DB's with 10.5 tackles for loss.
SR Breon Borders is 11th in the country with 11 passes defended.
This week's Mr. Irrelevant is JR Shaun Wilson with a kickoff return average of 26.89 yards (19th nationally), because Joey Slye remains tops in the country with a 64.98-yard kickoff average.
Statistical Key to the Game
The matchups in this game seem to heavily favor Virginia Tech, so let's talk about where it's the Hokies game to lose. One way would be to let the opponent sustain drives by converting 3rd- and 4th- far too often (i.e. Syracuse), and the other would be turnovers. I don't envision Duke's offense having the potential to convert in the way that Syracuse did, so turnovers it is. If Virginia Tech is neutral or wins the turnover battle, it seems highly likely they will walk out with a win.
The Stats that Define Virginia Tech's Season
Revisiting my column from this summer on the stats that will define the season, here is how the Hokies performed thus far (each listed as VT - Opponent):
| Opponent | PPP | Pace (sec/play) | ToP |
| --- | --- | --- | --- |
| Liberty | .40 - .21 | 22.7 - 25.5 | 33:42 - 26:18 |
| Tennessee | .33 - .71 | 26.1 - 26.1 | 31:44 - 28:16 |
| Boston College | .64 - 0 | 27.5 - 26.1 | 35:15 - 24:45 |
| East Carolina | .79 - .25 | 26.5 - 26.0 | 30:03 - 29:57 |
| UNC | .41 - .05 | 28.9 - 19.4 | 39:59 - 20:01 |
| Syracuse | .24 - .31 | 22.2 - 20.1 | 26:35 - 33:25 |
| Miami | .55 - .21 | 26.4 - 23.5 | 29:28 - 30:32 |
| Pitt | .48 - .65 | 24.4 - 29.1 | 33:17 - 26:43 |
I will not value time of possession.
Statistical Prediction
Duke is a well-coached team, and a 3-5 (0-4 ACC) slide has been a huge surprise, and probably ensures David Cutcliffe another year at the helm as bigger schools are less likely to pursue him. It is natural to wonder whether this is a temporary blip in a successful run, and Duke may start to show potential again on Saturday, but I'm not buying it, especially with leading rusher Jela Duncan out. Hokies win easily.
Virginia Tech 37, Duke 17
As always a thanks to Football Outsiders, cfbstats.com, and Minitab Statistical Software.