Virginia rolled into the season with a bang. The Cavaliers won 5 of their first 6 games including a decisive 42-23 road victory at Boise State. However, since then they've dropped 4 of 5 including a heartbreaker last week where it appeared they might knock off undefeated Miami. Still, this is clearly an improved Cavalier team that believes they can beat the Hokies.
Where the Season Stands
Virginia Tech is currently 8-3. The actual and predicted score difference and odds of winning each game are: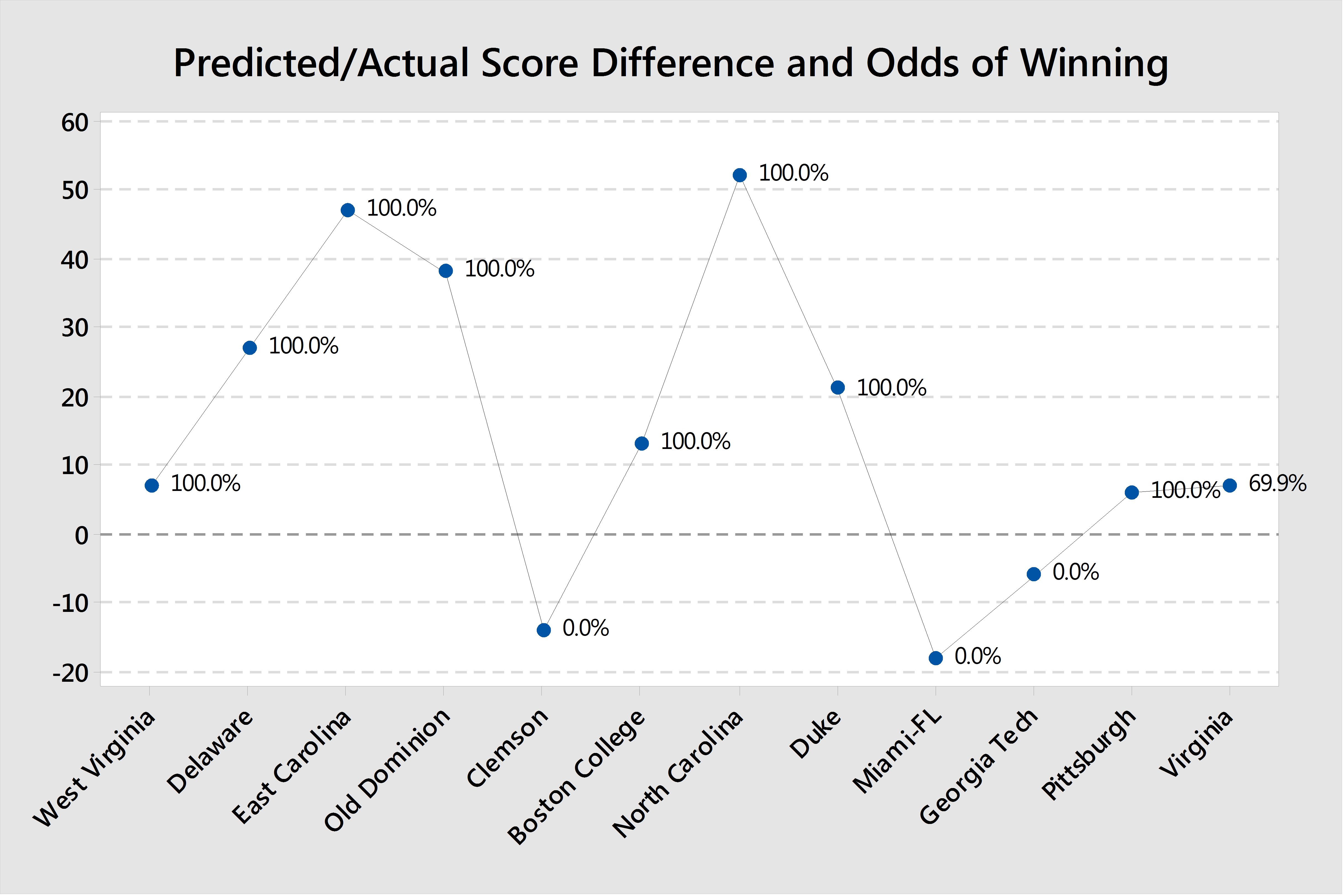 The odds of each possible regular season win total are now:
The Hokies have a 70% chance of playing a bowl game for a 10th win.
Rankings and Computer Predictions
The computer rankings and predictions for each team: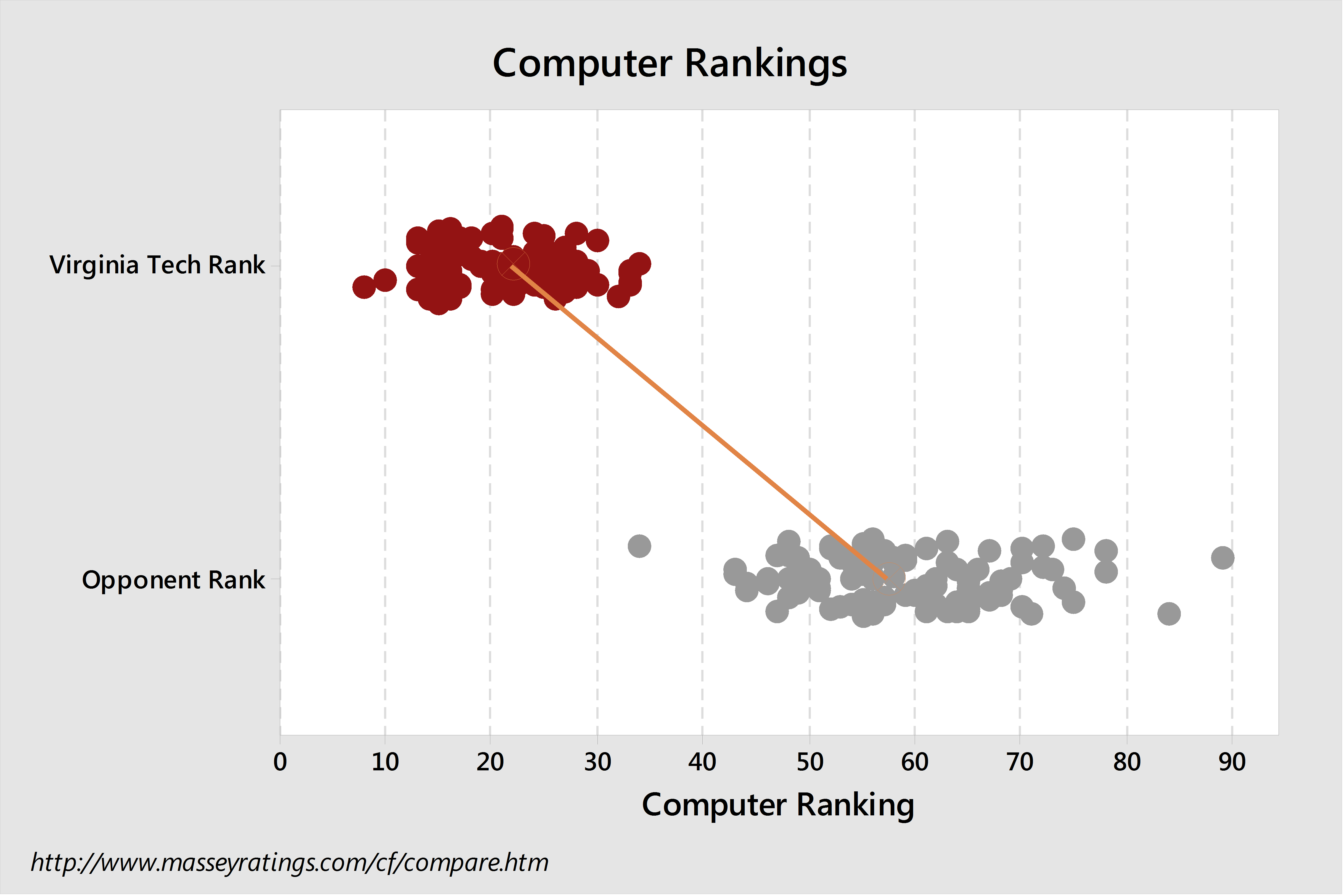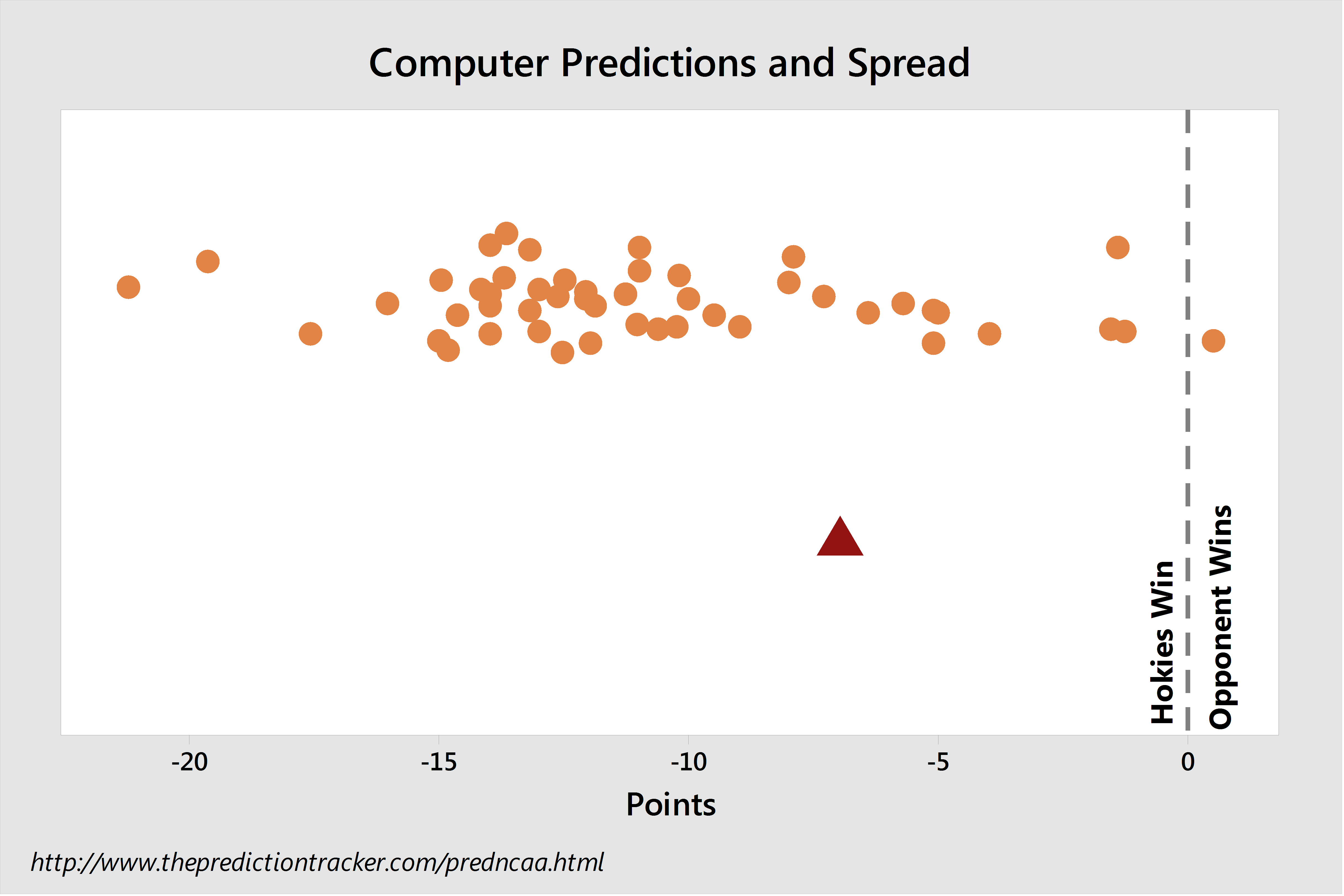 There are plenty of reasons to be concerned about this game, but all evaluations begin with the backdrop. Virginia Tech faces a rival it has not lost to since the players were in elementary school. Take away the name "Virginia" and no one would be surprised at the 7-point spread given performances of each team to this point in the season. But no fan wants to approach a rivalry game with too much confidence, because that makes the pain of defeat that much greater. The odds of a 7-point favorite winning is 69.9%.
Next is a look at any overall offensive or defensive advantages:
UVA's offense is...less bad than Virginia Tech's. But the Hokies have a better defense, still among the best in the country.
When Virginia Tech Has the Ball
Here is an explanation of S&P+ ratings, and FEI ratings. All statistics are now opponent-adjusted.
Who has the advantage in the passing and rushing game when the Tech offense has the ball?
The Tech offense has not been great, and it especially struggles in obvious passing situations. The Hoos on the other hand are fairly good at stopping such plays, so avoiding them is critical.
Offensive and defensive line performance are compared using Football Outsiders' metrics: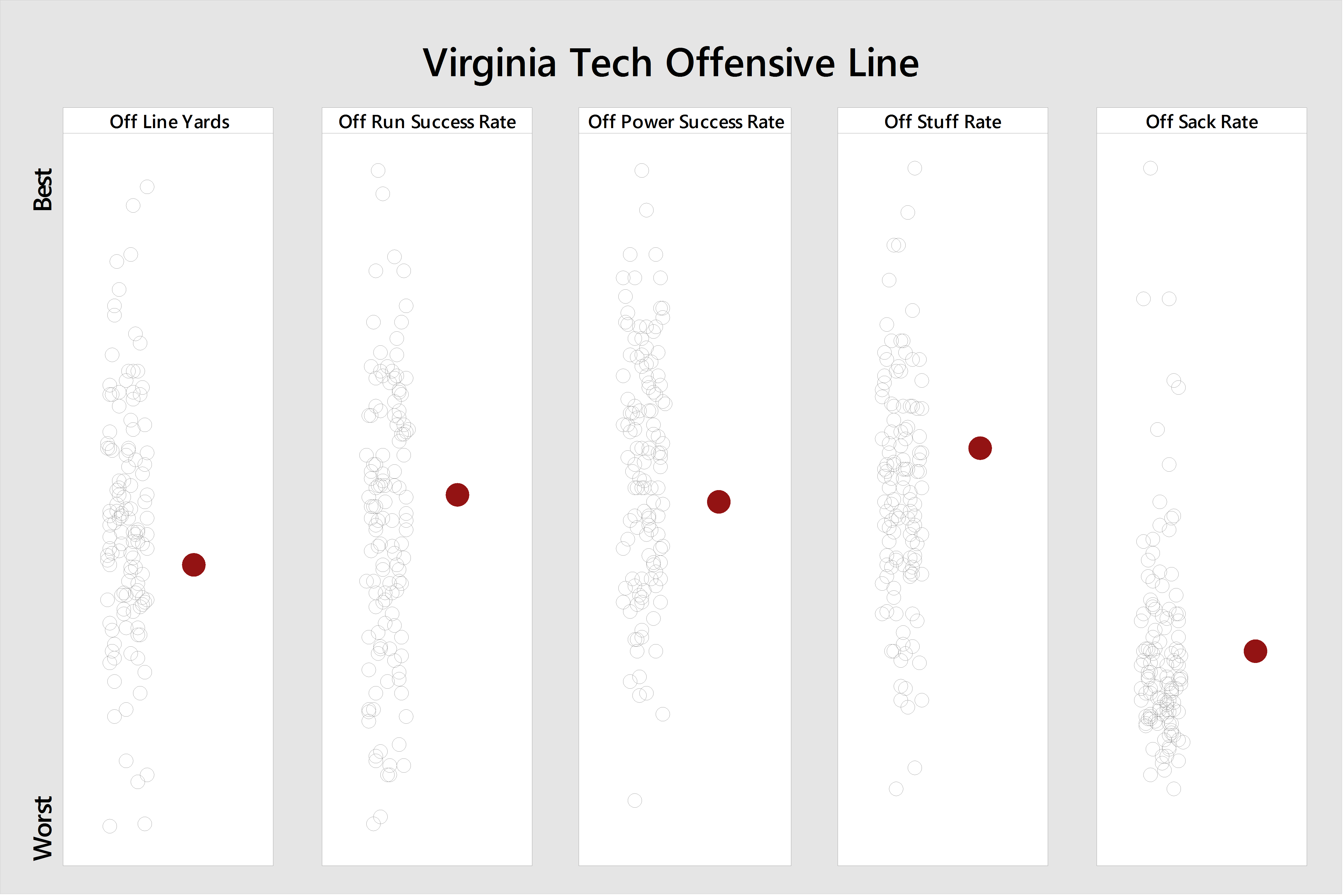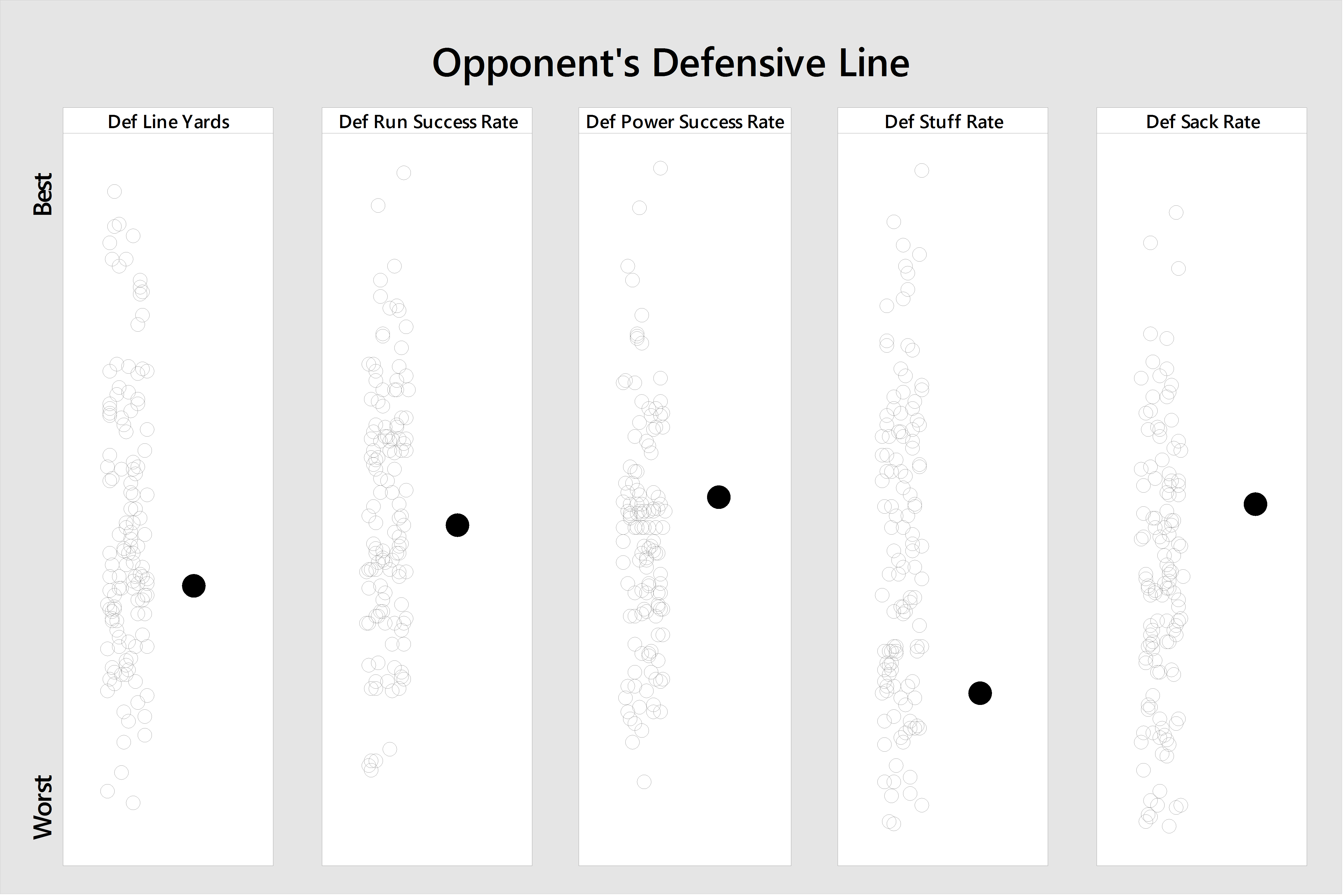 Now let's take a look at the FEI personality traits of the Hokie offense versus the Cavalier defense:
The Hokies continue to excel at avoiding three-and-outs and turnovers, while the Cavaliers are unremarkable in any categories.
The Virginia Tech offense is closest in personality to:
Florida International
Georgia State
Marshall
The Virginia defense is closest in personality to:
Western Kentucky
Central Michigan
Minnesota
When Virginia Has the Ball
Again, examine pass-run comparisons first:
The Hoos are quite poor at running the ball, while the Hokies are quite good at stopping it. Although the loss of DE Vinny Mihota for the rest of the season (knee) is blow to Tech's front-seven. Offensive success for UVA will likely need to come through the air and not on the ground.
Offensive and defensive line performance are again compared using Football Outsiders' metrics: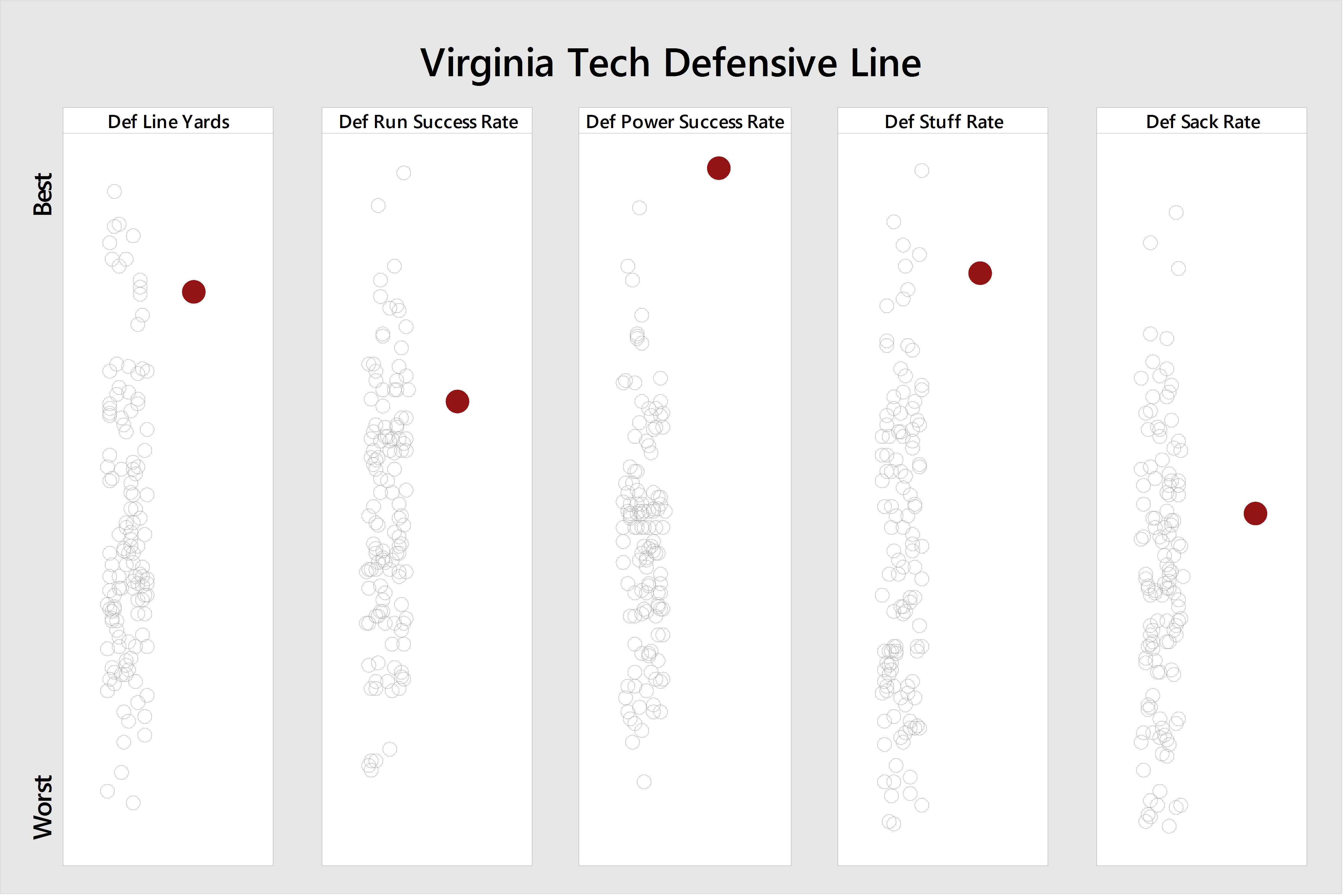 As for personality traits: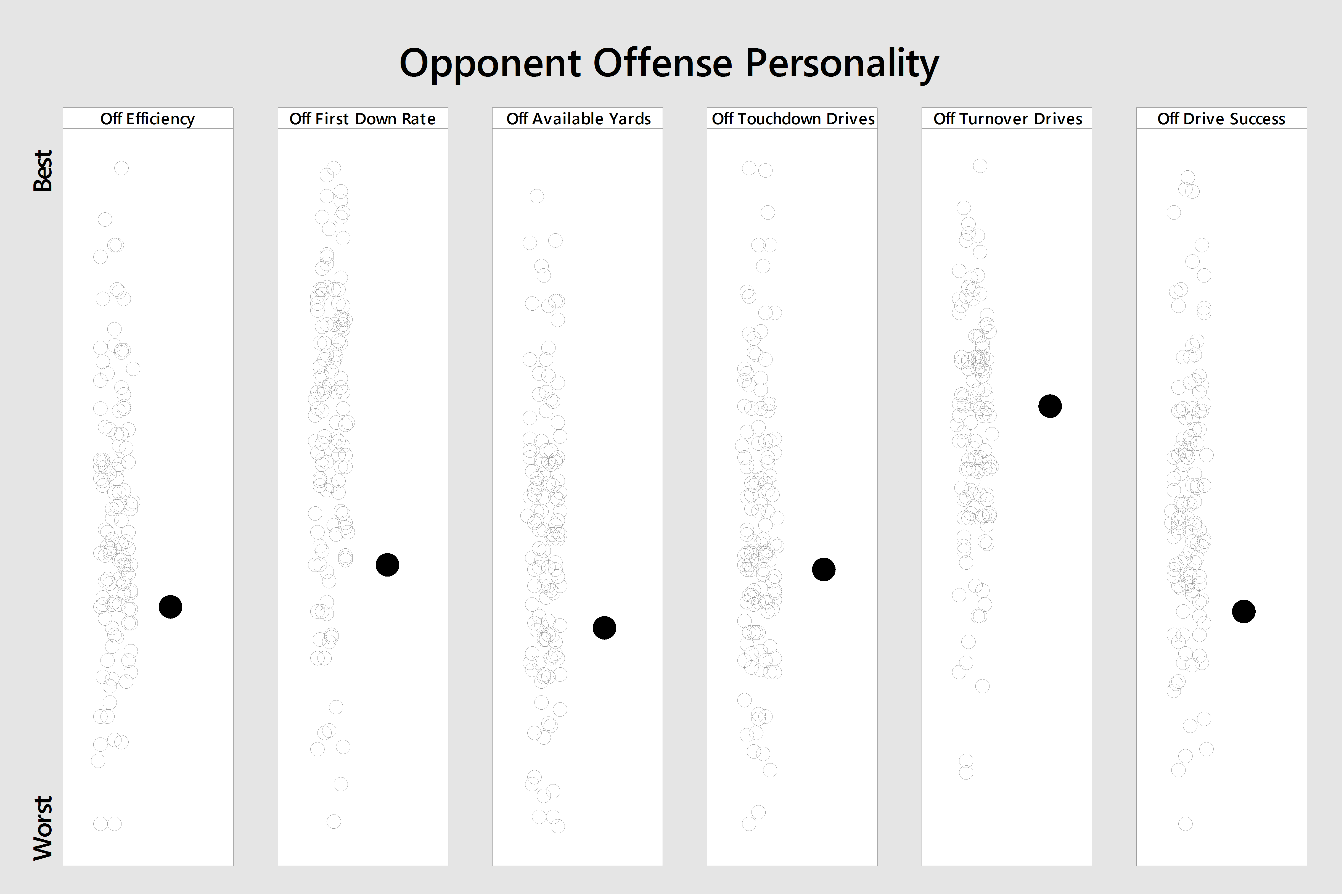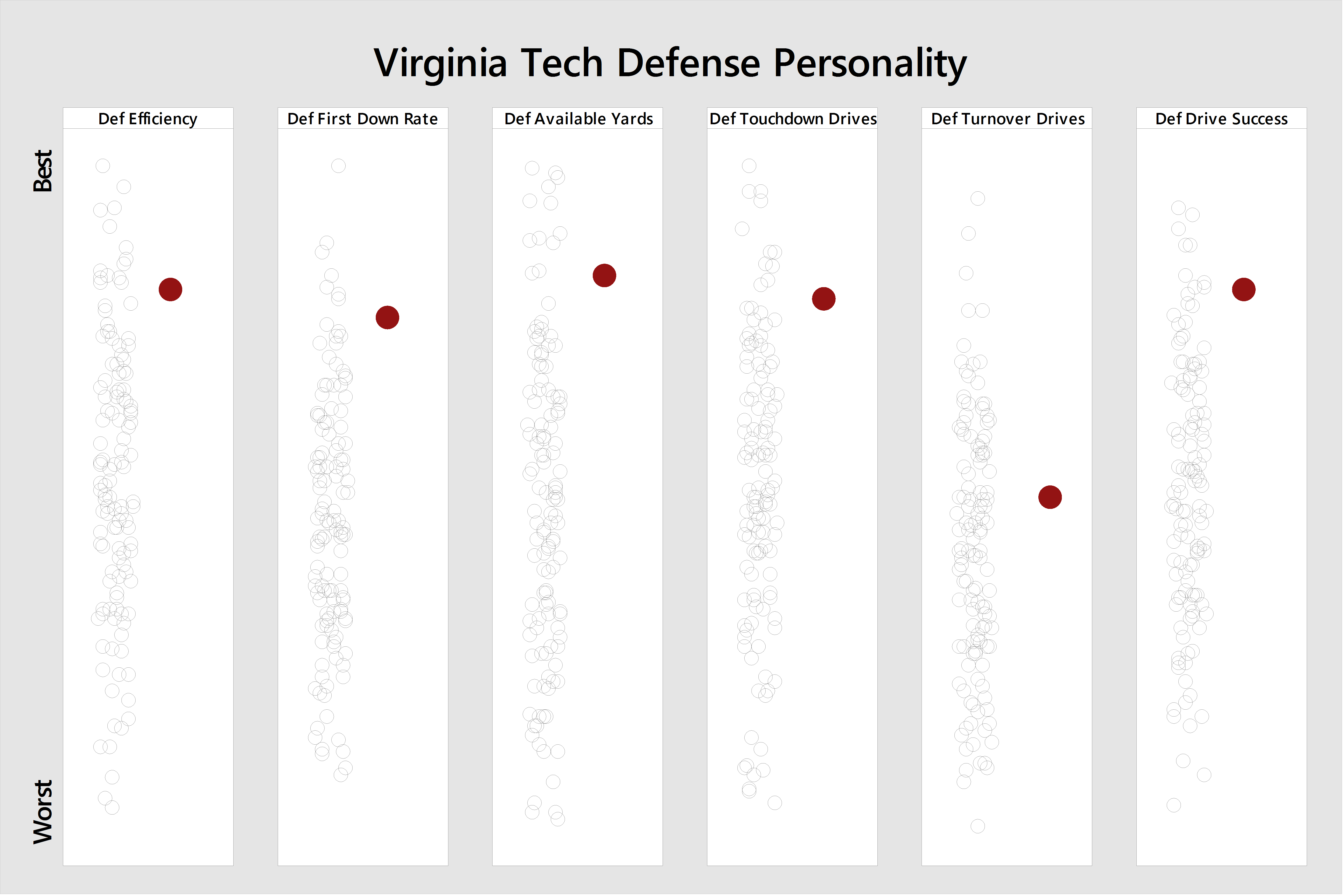 Two categories the Cavaliers are poor at — three-and-outs and value drives — align with the area the Hokies' defense are exceptional at. Expect UVA to have many drives go almost nowhere, but also for them to be explosive when they do move the ball.
The Virginia Tech defense is closest in personality to:
Penn State
Washington State
South Florida
The Virginia offense is closest in personality to:
Bowling Green
Utah State
Akron
Special Teams
First we look at the Hokie's kicking units:
Overall, FEI ranks the Hokies' special teams No. 6 nationally. In particular, opponents have had difficulty making field goals and returning punts against the unit.
When the Cavaliers kick:
The Hoos only really stand out on kick returns, not a major concern given the players to watch below.
Who To Watch Out For
Despite not much recent on-field success as a program, Virginia has a fairly long history of fielding a few exceptional players each year:
LB Micah Kiser (No. 53, SR, 6-2, 240) is 6th in the country with 115 tackles (combined solo and assisted), and additionally has recorded 5 sacks.
WR Andre Levrone (No. 14, SR, 6-3, 225) may be the team's No. 3 receiver, but he's a deep threat with a 20.8 yards per catch rate (10th nationally).
Kick returner Joe Reed (No. 2, SO 6-1, 215) is 10th nationally at 28.58 yards per return, but that shouldn't matter if Joey Slye plays. Slye leads the nation in touchback percentage at 86.44% and is No. 2 nationally in kickoff average at 64.47 yards.
Statistical Key to the Game
Virginia may not be a high efficiency offense, but they do possess the potential for explosive plays, and the Hokies have a tendency to give them up. Whether the Hoos are able to take advantage of this imbalance will likely decide the game, so my key is number of 20-plus yard gains by UVA. Virginia Tech can afford a couple, but any more than that — especially if they go for touchdowns — and I'm very concerned the Hokie offense won't be able to respond and keep them in the game.
Bonus stat: Both offenses are among the worst in the country in the fourth quarter...in a tight game, will either team be able to create the game-winning points late?
Statistical Prediction
This is far from the first time I've been nervous about this game and eventually time and chance will catch up to the Hokies. But I think losing 4 of the last 5 has hurt the Cavaliers' confidence, and while I have no doubt they really want this upset, the Hokies really want to avoid it. I'm concerned about explosiveness from them, but relieved that the QB Kurt Benkert (-53 yards) is not much of a runner. It's easy to pick this game as a near toss-up, but I'm not going to because F#@% UVA.
Virginia Tech 38, Virginia 13
As always a thanks to Football Outsiders, cfbstats.com, and Minitab Statistical Software.