Perhaps the biggest frustration among Virginia Tech fans over the final years of the Frank Beamer era, was the Hokies' ineptitude on offense. An offense that was rated 7th nationally in 2010 by S&P+ had slipped to 94th by 2014. Even Bud Foster can't produce a defense capable to regularly cover an offense with that many shortcomings. As the offense stalled down the stretch of Beamer's tenue, the Hokies struggled for bowl eligibility more than once.
Shortly after Beamer announced his retirement, Whit Babcock came through with everything Hokie Nation desired in a replacement. As a person, Justin Fuente comes across as a younger version of Beamer — someone who embraces the program's family atmosphere and behaves on and off the field in a way that makes fans proud. His hiring was without drama, and he was open and honest with the Memphis team he was leaving. But perhaps most importantly, he had serious offensive credibility, especially with regard to quarterback development, and he brought most of his offensive staff to Tech with him. For the first time in several years, fans had optimism that Virginia Tech would be a force on offense. Pairing a productive offense with a Foster defense was tantalizing.
In Fuente's last game at Memphis, the Tigers' offense, ranked 27th in S&P+, dropped 63 points on SMU. Just three years prior, the team's offense had been rated 117th.
Promise Delivered?
Fuente's first season in Blacksburg seemed to set the stage that a high-scoring powerhouse was on its way. First year JUCO transfer QB Jerod Evans and WR Isaiah Ford rewrote Tech's record books in 2016. The former broke single-season records and the latter destroyed career records. Evans' play pushed his name in the 2017 Heisman conversation. However, he unexpectedly declared for the NFL draft. Instead of building on that progress, another first year QB — Josh Jackson — would have to take the helm. The offense took a step back in 2017, ranking even behind the final Beamer-led teams:
Few, if any, anticipated Tech's offense to be as inept as ever in Fuente's second campaign. Let's explore the decline and expectations moving forward.
The Passing Game
Passing S&P+ shows Tech's air game has improved in the last two seasons, but remains well below the elite levels fans experienced during Tyrod Taylor's years at the helm:
Given the offense as a whole regressed from 2016 to 2017, it's unsurpring the pass game did too. There are several possible explanations for this, most notably the loss of Ford and Bucky Hodges, and the reduced running threat Jackson posed compared to Evans. It could also be that Jackson is a less accurate QB. Compare the stats for the primary receivers both QBs threw to. Cam Phillips and C.J. Carroll are the two receivers both Evans and Jackson had at their disposal. While each was able to improve on their 2016 yards per catch, both took substantial dives in catch rate:
Yards per Catch
Catch Rate
Player
2016
2017
2016
2017
Cam Phillips
12.9
13.6
78.40%
66.40%
C.J. Carroll
8
10.5
72.00%
63.30%
Isaiah Ford
13.9
×
56.00%
×
Bucky Hodges
14.4
×
59.30%
×
Sean Savoy
×
11.6
×
62.90%
Eric Kumah
×
11.6
×
52.80%
It would not be fair to put this drop-off entirely on Jackson's shoulders, however. With the early departures of Ford and Hodges, opposing defenses were less concerned about deep threats. Additionally, Phillips would now typically find himself lined up against a team's top corner, who previously would have been focused on Ford.
Given the single-season records Evans was able to break in his lone year as the Hokies' QB1, it might be surprising that the passing game in 2016 wasn't more highly rated. Consider the records he broke — total yards, total TDs, total passing yards — all of which are cumulative stats. He broke these records through a combination of volume and solid play. Evans attempted 422 passes and 172 rushes in 2016 — 107 and 26 more than Taylor's highest totals, and 240 and 41 more than Michael Vick's largest tallies, respectively. The only QB with similar volume in a season is Logan Thomas' final two seasons. But Thomas completed 54% of passes for 7.0 YPA, and Evans completed 63.5% for 8.4YPA. Additionally Thomas' rushes went for 2.6 YPC while Evans went for 4.2.
Contributing to Evans' volume, the offense ran at the 16th-fastest adjusted pace in 2016, resulting in more plays than in prior years: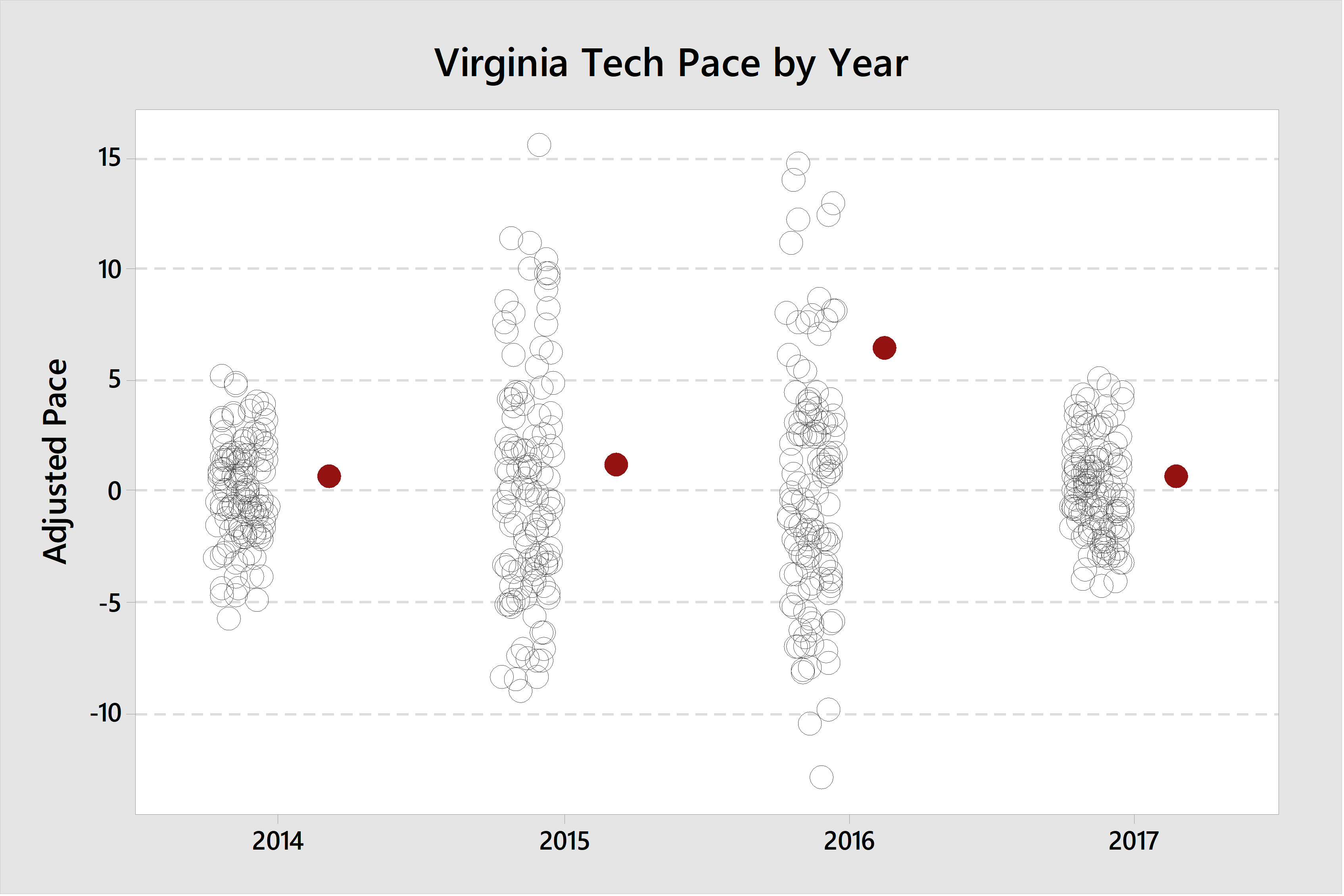 (Data is not available prior to 2014.)
In 2017, Tech returned to a more moderate pace of play.
Fuente arrived at Tech as a coach widely considered to be an elite QB developer, not an elite QB recruiter. (Yet he signed three, 4-star QBs thus far during his Tech tenure.) His two most notable students have been Andy Dalton during his time as OC for TCU, and Paxton Lynch while head coach at Memphis. Consider the QB rating of each during their time as starter:
| Player | Year 1 | Year 2 | Year 3 | Year 4 |
| --- | --- | --- | --- | --- |
| Andy Dalton | 118.5 | 129.2 | 151.8 | 166.5 |
| Paxton Lynch | 110.4 | 137.6 | 157.5 | - |
Fuente stepped in during Dalton's second season, so the gap from year 2 to year 3 is the first under his wing. The progression by each of these QBs is remarkable, and this history cannot be forgotten as fans ponder how Jackson may perform in his second season. An improvement in rating equivalent to the average of Lynch and Dalton would make him a likely top 10 QB in college football. Two is a small sample size, but is the best data we have on what progression might look like. On top of that, each of those prior QBs continued their progression between their second and third seasons under Fuente.
Jackson certainly struggled at times, and poor accuracy in the Camping World Bowl, and on deep balls, left a bad taste in the mouth of many. But he was a freshman, and his rating of 135.2 compares very favorably to Dalton and Lynch in their debut seasons. Additionally, among freshman QBs he rated 2nd to UGA's Jake Fromm.
Before calling for 4-star 2018 signee Quincy Patterson to immediately take the reins, consider the need for the highly-touted recruit to learn the offense and develop better mechanics himself. Combine that with the possibility of Jackson's 2018 jump, especially with more experienced WRs. Should Jackson takes a step up from year one to year two similar to Dalton and Lynch (average 19-point improvement), Virginia Tech is looking at a QB with a top 15 rating in the nation.
Fuente, QB developer, is for the first time since taking the job in a position to actually develop a quarterback.
The Rushing Game
The running game throughout Fuente's tenue is comparable to the sunset of the Beamer era. The latter coincides with the absence of elite tailbacks Ryan Williams, David Wilson, and Darren Evans (2012-15):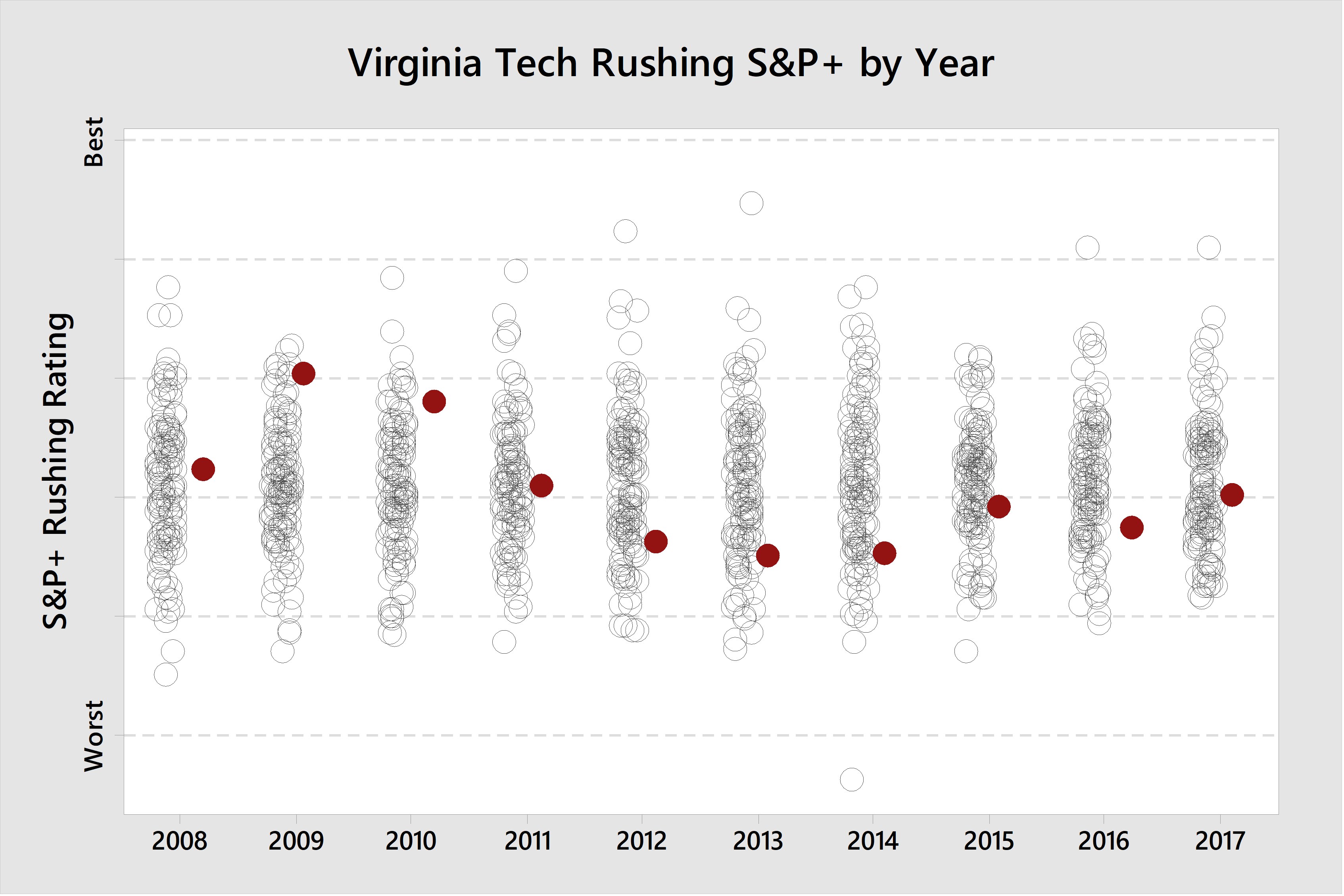 In the more successful years with talented backs, a few players handled the overwhelming bulk of the carries. However, recently — in a trend that started prior to Fuente — a huge number of players are getting a meaningful number of carries throughout the season. Consider the number of players each season with at least 10 carries: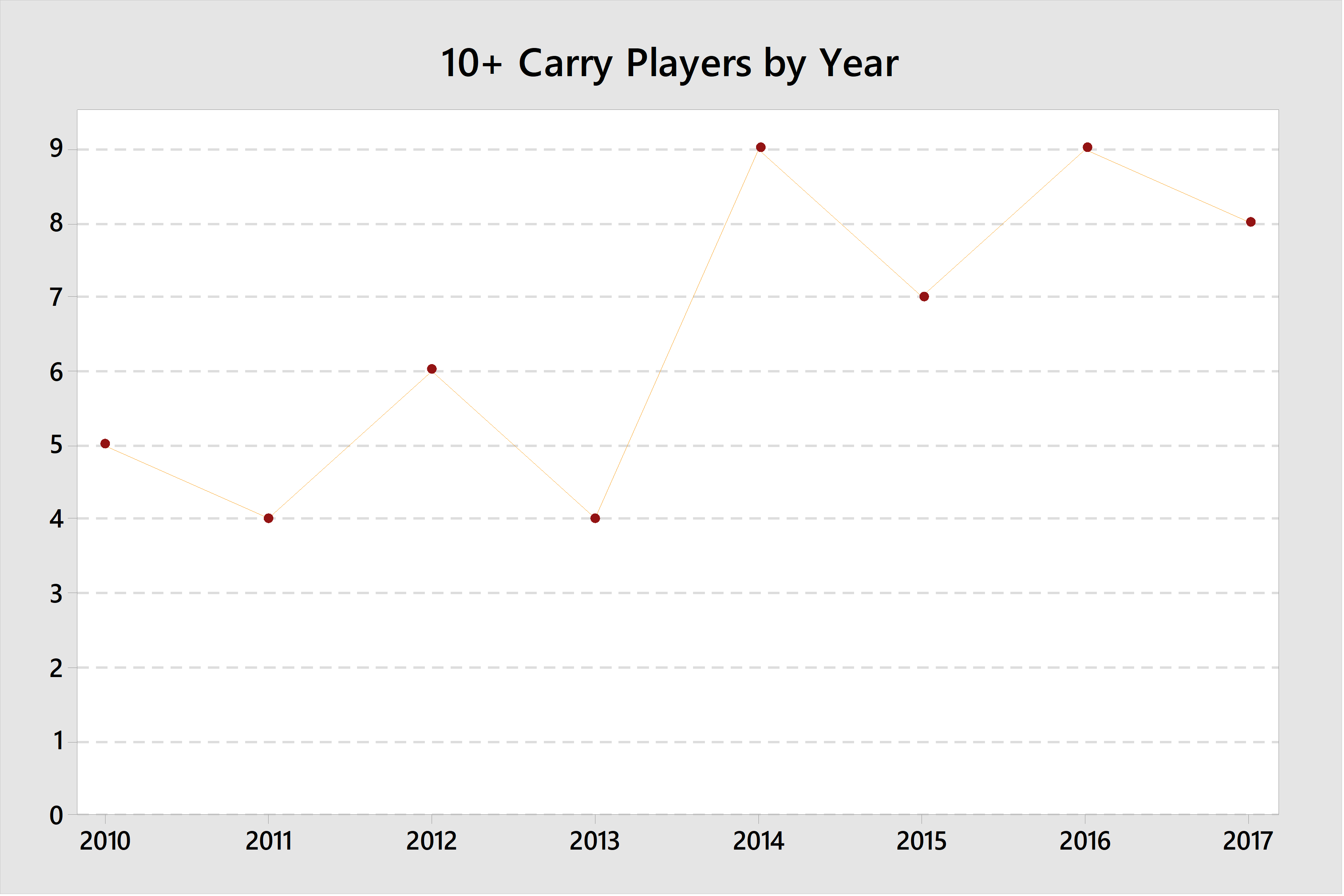 The quarterback has often been featured in the Hokies' run game, but under Fuente both Evans (2016) and Jackson (2017) each led Tech in carries. Outside of that, since 2010 the only QB to top Tech in carries was Thomas (2012). However, the quarterback isn't taking an unusually high percentage of the carries compared to prior years: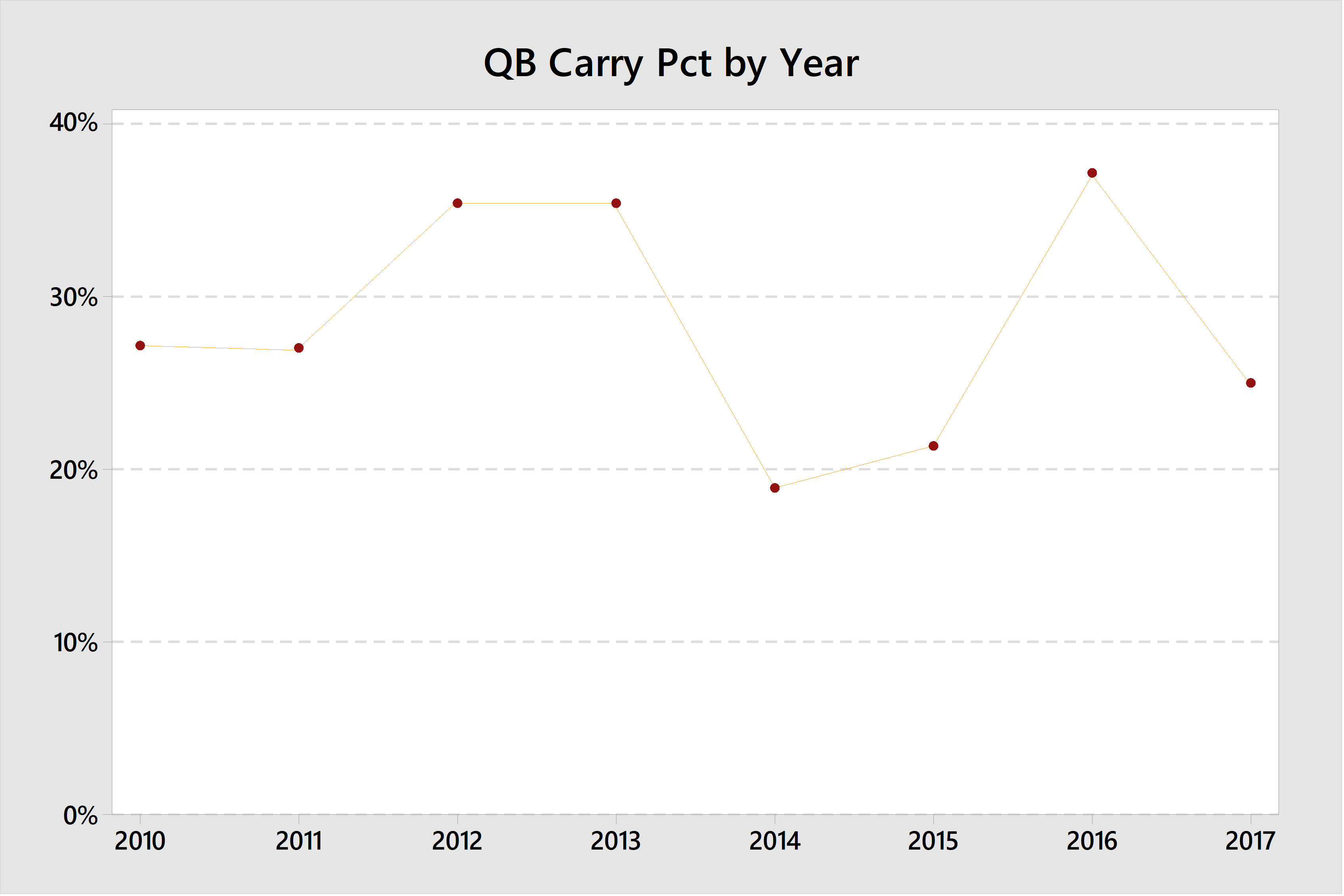 The remaining carries are simply getting distributed across many other players on the field. Most notably, the wide receivers are getting a much higher percentage of the load as jet sweeps are frequently part of Fuente's influence/misdirection attack: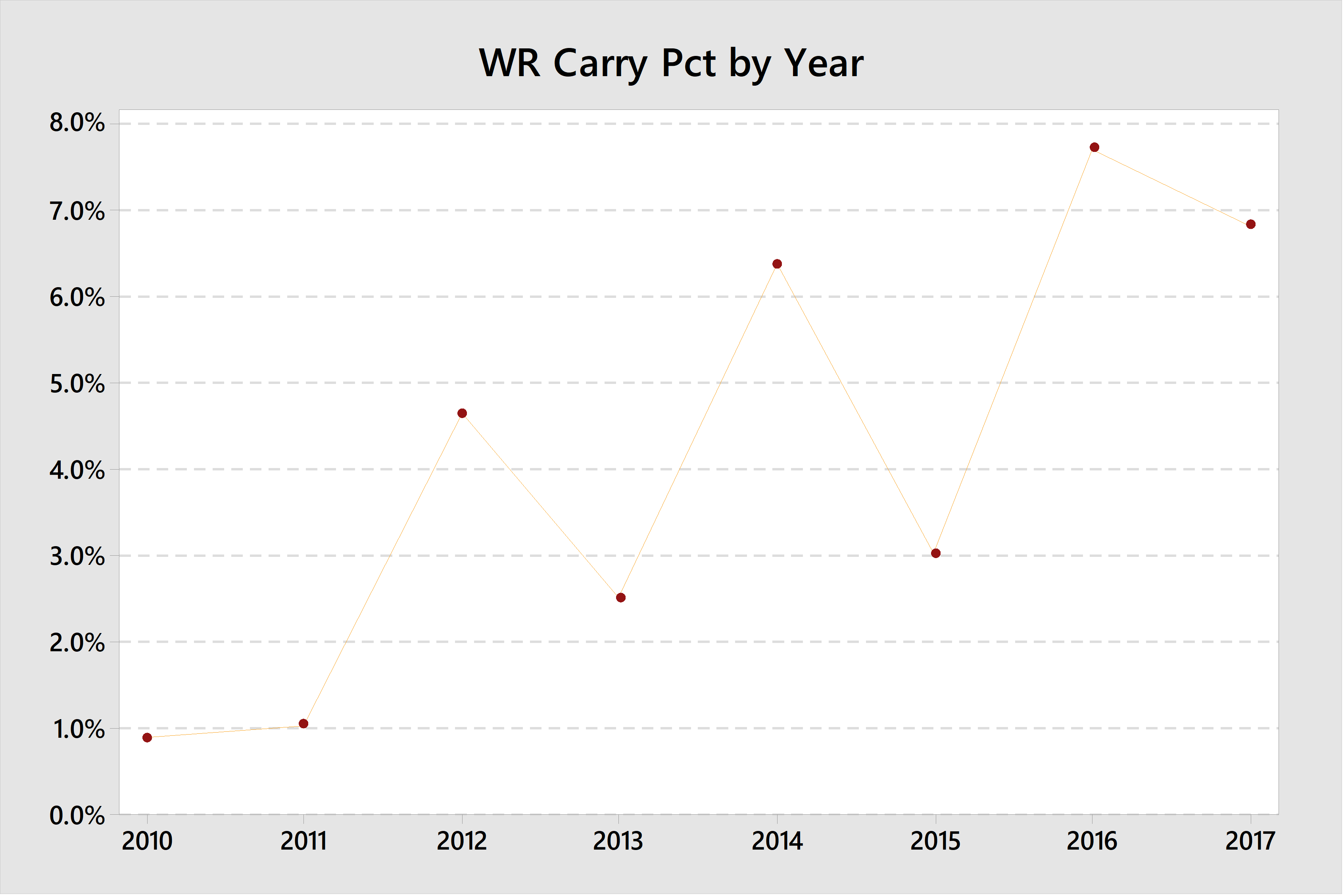 Given Justin Fuente's reputation as a quarterback developer, it might be easy to think that the team runs a pass-first offense. However, if anything the team is rushing more often than previously and is a fairly balanced attack: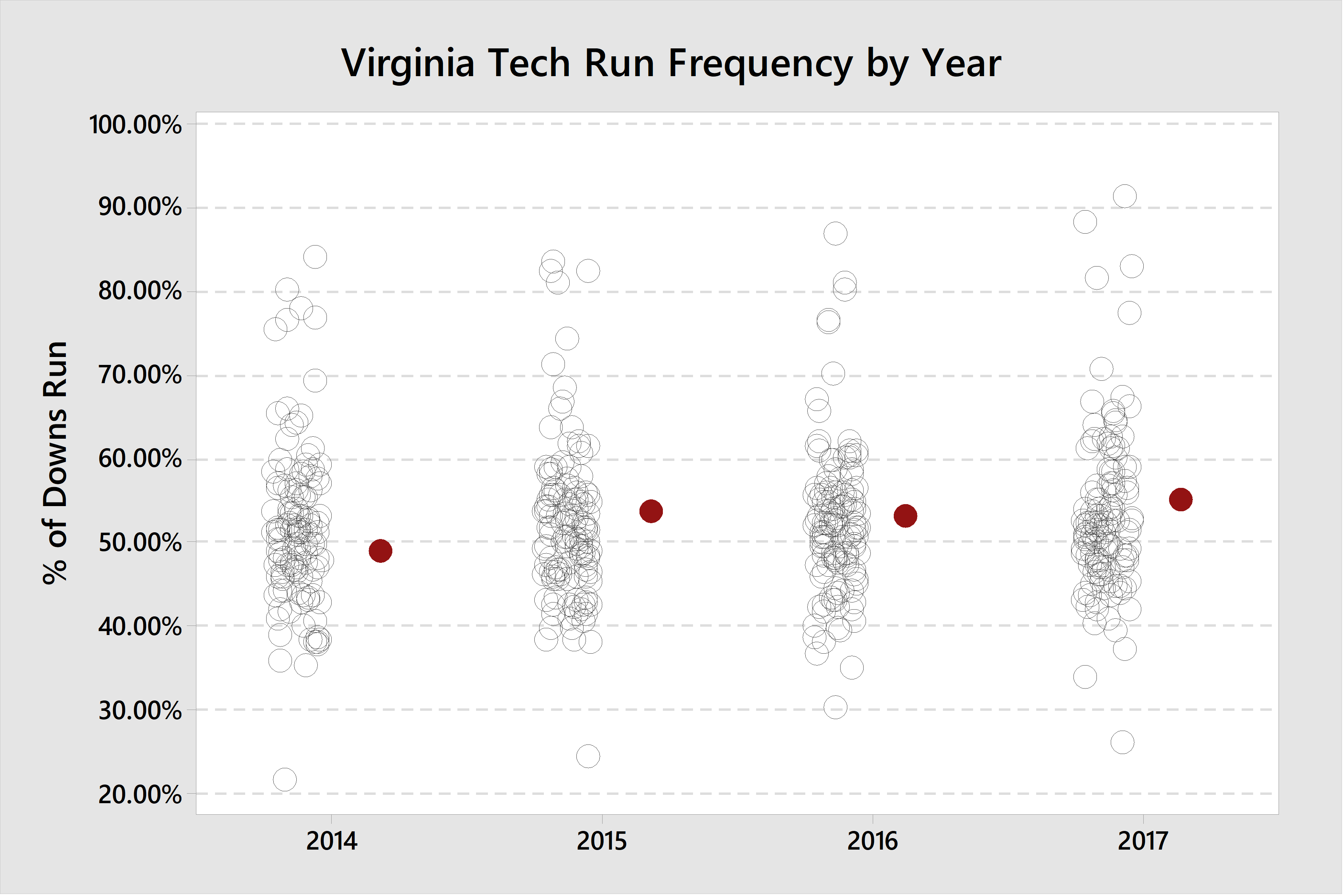 In Fuente's final season at Memphis the Tigers had an adjusted run rate of 49.1%, just a little below the median team.
Situational Trends
One of the more notable trends in the first two seasons has been situational — how the offense performs in standard downs versus passing downs. As a refresher, passing downs are 2nd down with 8+ yards to go or 3rd down with 5+ yards to go, when a passing play is much more likely. Standard downs are all other downs when the play call is less predictable.
On standard downs, the team made a major leap from 2016 to 2017, moving from the 95th to the 40th-rated team: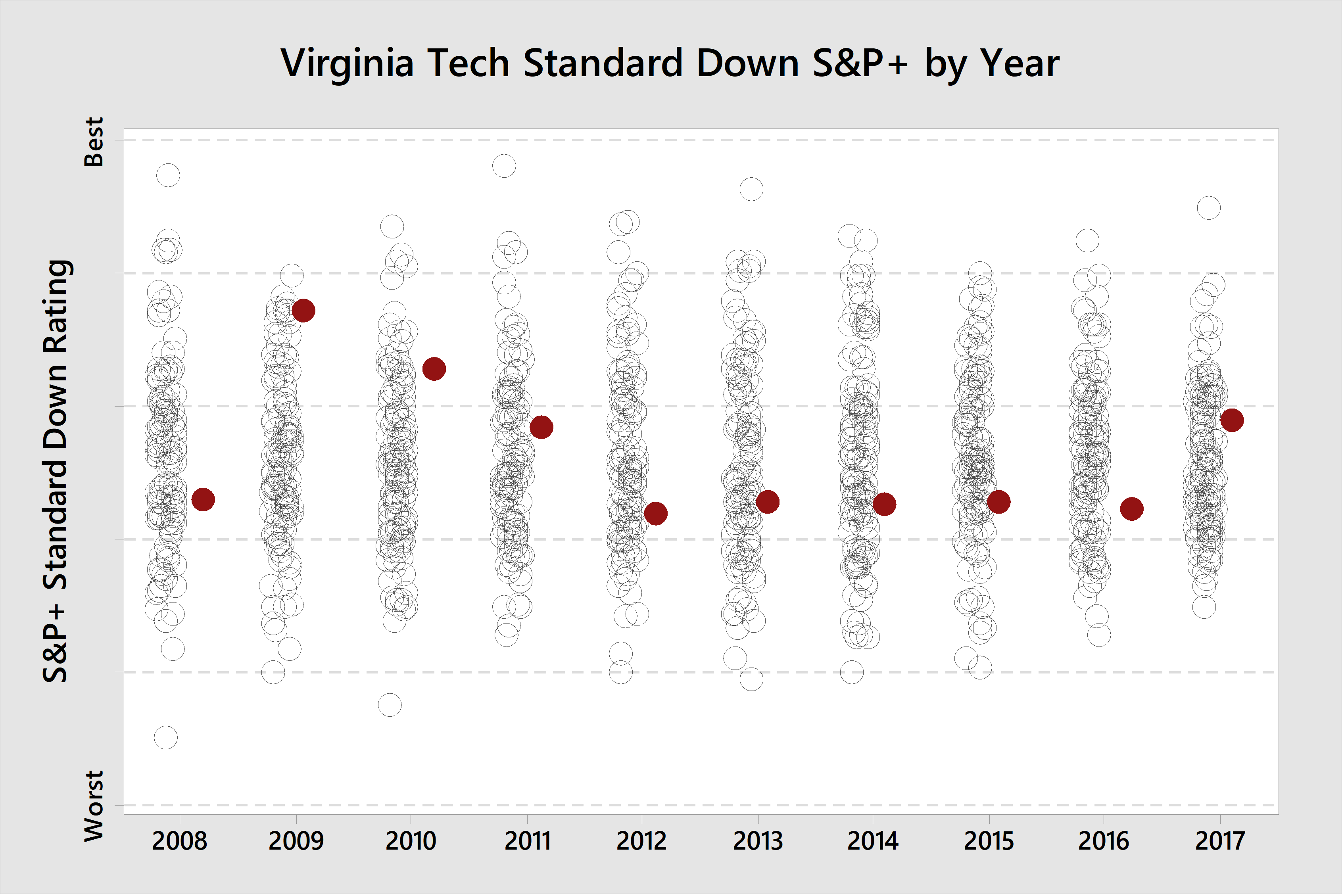 Success on standard downs means the team is set up to avoid passing downs, which are easier to defend given their predictability. In a season where the offense left a lot to be desired, this is a definite bright spot.
Conversely, when the team did find itself in a passing down last season, the results were dismal: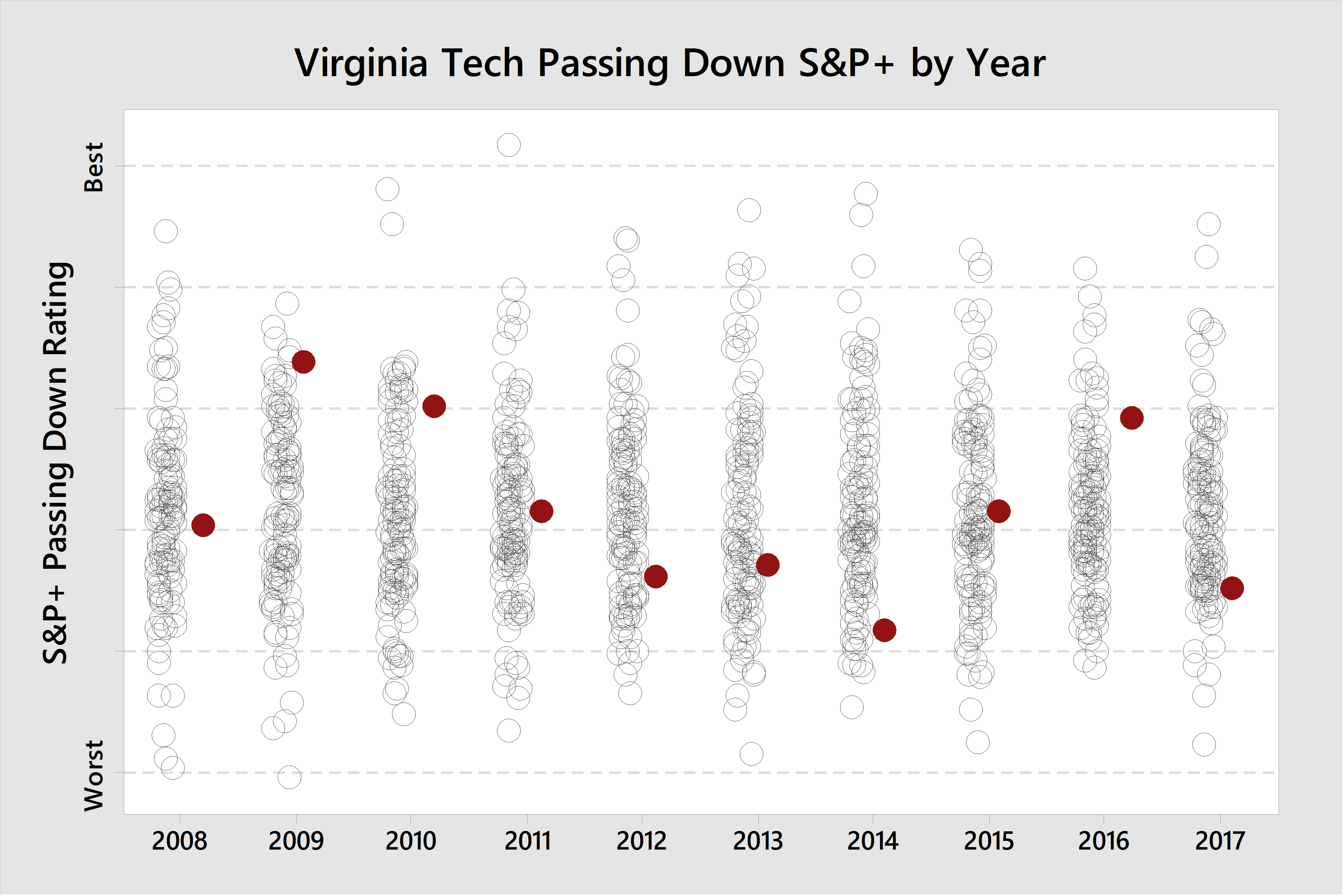 It was a bright spot in 2016 when Tech rated No. 16 nationally, but the performance plummeted No. 109 a year later. Failed conversions on passing downs often mean a punt or field goal attempt; this stat alone likely explains the regression of the offense as a whole. Put together with the success on standard downs, the data paints a picture of team that often moved the ball but stalled before scoring a touchdown.
According to FEI, the Hokies gained 47.6% of available yards in 2017 (53rd nationally) and gained at least one first down on 78.8% of drives (13th nationally), but scored a touchdown on just 23.4% of drives — 89th nationally. On drives that gained at least one first down, the team scored a touchdown on 29.6% of drives — 109th nationally. Stalled drives were a major issue.
What to Expect in 2018
Much of 2018 is speculative at the moment, as injuries will surely happen in practice and at many positions there is no certainty around who will start. Personally, I'd be surprised if Jackson is not the starting quarterback. Possibly derailing that would be injury, Patterson turns out to be a generational player that can't be kept off the field immediately, or Ryan Willis performs much better than Jackson in camp, enough to overcome his experience and knowledge of the playbook.
Jackson might not be as dynamic of a runner as some past Tech quarterbacks, but if Fuente relied on his legs regularly in 2017 then it's hard to see 2018 looking much different. I'd expect Jackson to once again shoulder a heavy load of carries and perhaps even lead the team again unless an elite running back emerges that gets a large share of carries. Additionally, there is no reason to believe receivers will not continue to get more carries.
Speaking of receivers, there is perhaps no position that would more likely determine the success of the offense in 2018. It's hard to argue with past QB development by Fuente, and looking back at the receivers that Lynch and Dalton targeted it is obvious that the QB's success is not dependent on having a dominant WR. Neither QB had successive seasons with the same leading WR. Keeping Ford or Phillips might be less important than keeping Jackson in terms of success.
Fuente's first two seasons at Memphis only showed slight improvement on years before his arrival. As he brought in more talent and installed his system, year 3 showed more significant improvement and even larger gains were made in year 4. Notably, however, the team has not dropped off offensively since and posted the best rating yet in 2017: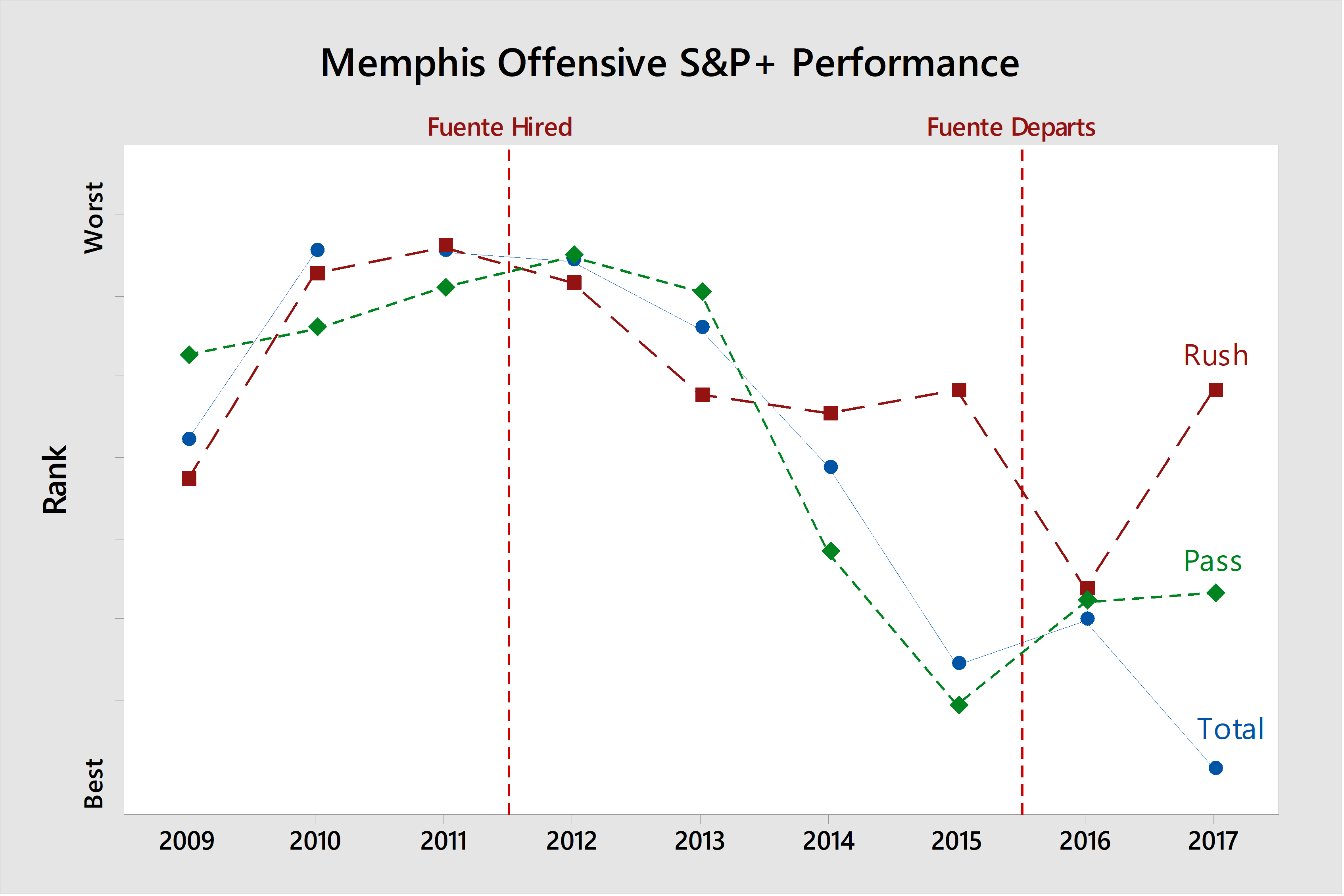 2018 Virginia Tech Offensive Forecast
S&P+ Offense Rating: 45th nationally
S&P+ Passing Rating: 20th nationally
S&P+ Rushing Rating: 70th nationally
Statistical Leaders:
QB – Josh Jackson, 64% completion for 3,300 yards, 8.4 YPA
WR – Sean Savoy, 70 receptions for 900 yards
RB – Deshawn McClease, 150 rushes for 700 yards