After a competitive first half against Boston College provided the fanbase hope, the Hokies collapsed after halftime, ultimately losing by 10. Virginia Tech barely gained yards in the third quarter, much as they had done in the third quarter the week prior against Georgia Tech. Multiple beat writers and fans lamented the Hokies' third quarter woes.
But does the team really have a problem after halftime? Or is this an overreaction to two games? One would expect roughly 25% of the team's points to be scored in the third quarter, and to this point they've scored 18.3% (45/246). However, the last two games were shutouts in that quarter, so looking at the numbers based on those two is a biased sample. Before those two games — 22.8% of points came during the third quarter, hardly different from 25% by any meaningful amount.
The Hokies got 99 problems, but the third quarter ain't one.
Where the Season Stands
Virginia Tech is currently 4-4. The actual and predicted score difference and odds of winning each game are: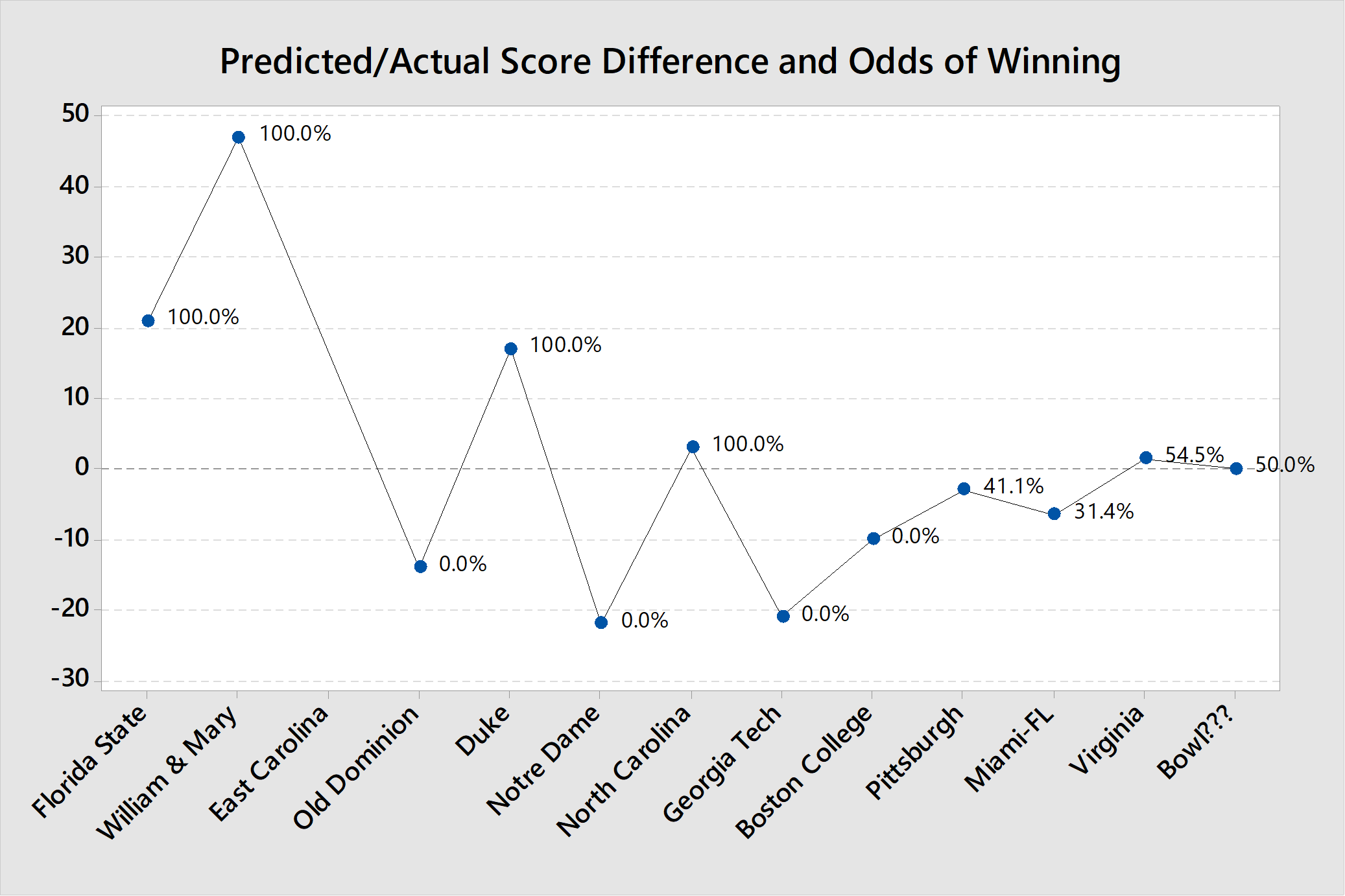 The odds of each possible regular season win total are now:
It hasn't been a fun ride since week two, and doesn't look like a fun ride from here on out. Missing a bowl is now more likely than making one, and even if an additional game is added — and the options for that are getting thin — a bowl is far from certain.
Virginia Tech Leads the Nation In...
Touchback percentage. Kicker Jordan Stout has pinned opponents to a touchback on 93.5% of kickoffs, a full four points better than the next best nationally. This has led to the 2nd-highest kickoff average as well, at 64.87 yards. A 100% touchback rate would result in a 65-yard average (absent any penalties affecting kickoff spot). Tech has effectively provided opponents with no advantage in returning the ball.
Rankings and Computer Predictions
The computer rankings and predictions for each team: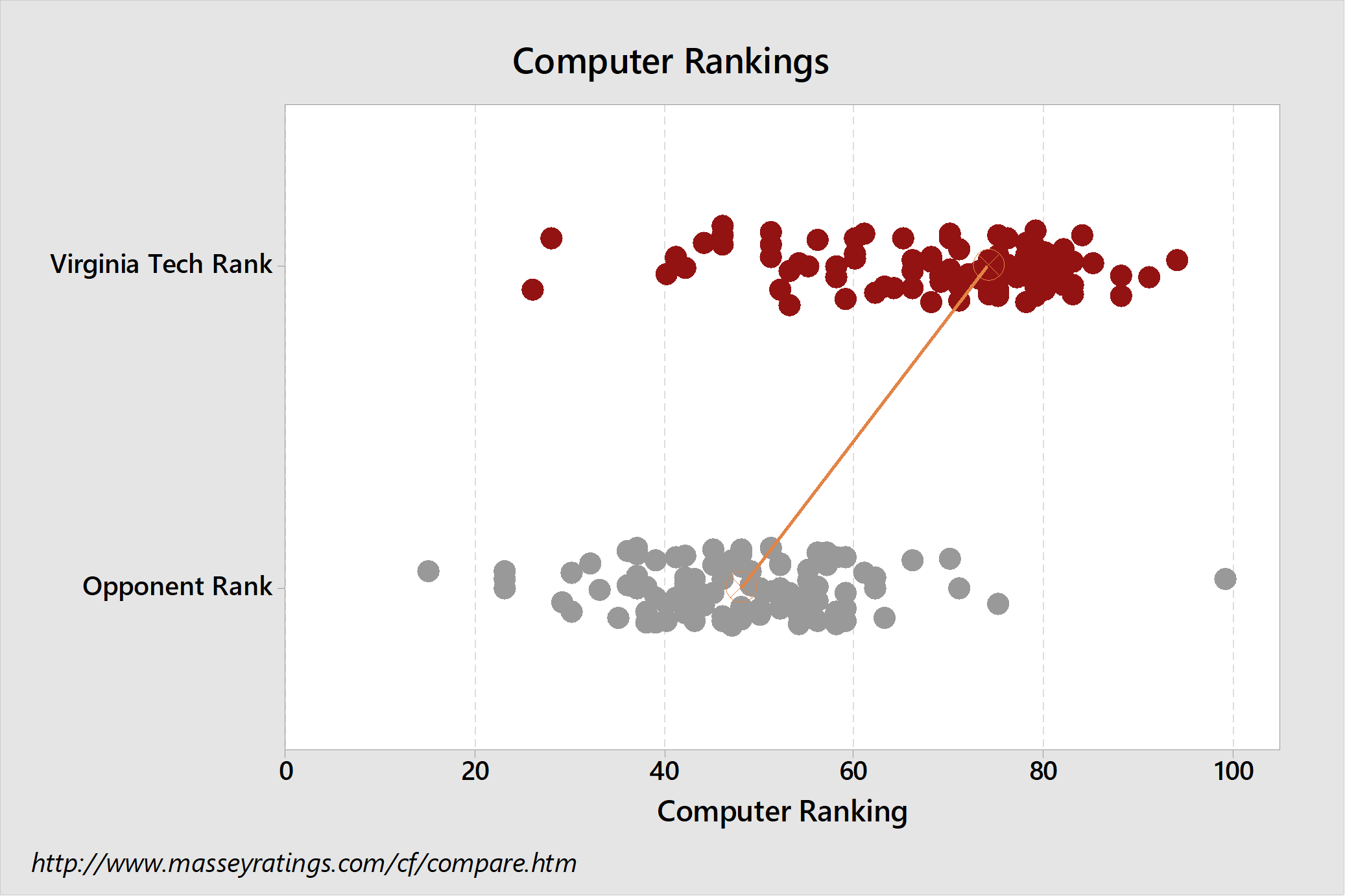 Pitt has had an interesting season, mostly not looking that great, but at times flashing signs of greatness. As a result, despite not being ranked all that highly the team is in the driver's seat for the honors of getting waxed by Clemson in the ACCCG. The odds of a 3-point underdog winning is 44.1%.
Next is a look at any overall offensive or defensive advantages: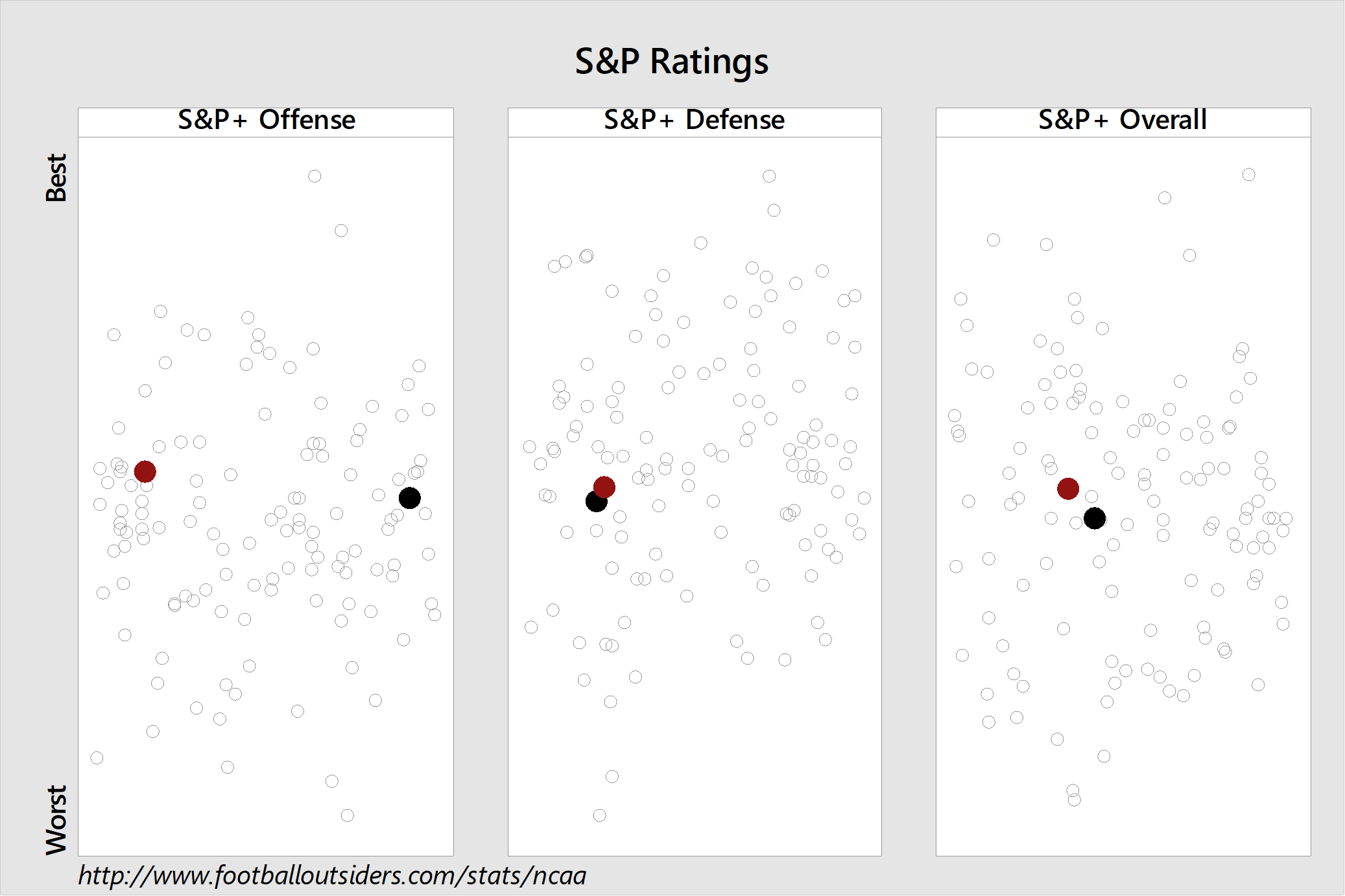 These two teams could not be rated much more similarly. Both are historically known for their defensive ability and average offenses, and while the offenses certainly fit the bill the defenses are having lackluster seasons.
When Virginia Tech Has the Ball
Here is an explanation of S&P+ ratings, and FEI ratings. Most statistics are now opponent-adjusted.
Who has the advantage in the passing and rushing game when the Tech offense has the ball?
In terms of run/pass ability, this is a matchup of weakness on strength, and strength on weakness. The Hokies have been pretty effective in the pass game in spite of missed opportunities in play calling, while the run attack has continued to struggle. Pitt on the other hand is adept at stopping the run, but weak against the pass. This game might make Ryan Willis look pretty good.
What style offense do the Hokies use and what style will they face?
Virginia Tech continues to be a fairly explosive but not particularly high-paced offense. They face a Pitt defense that shows feast-or-famine tendencies in the secondary — an above average havoc rate but below average explosiveness rating. This points to Virginia Tech gaining a few big gains in the passing game.
Offensive and defensive line performance are compared using Football Outsiders' metrics:
The Virginia Tech offense is closest in personality to:
Arizona State
Penn State
Notre Dame
The Pittsburgh defense is closest in personality to:
UTSA
Ole Miss
Nebraska
When Pittsburgh Has the Ball
Again, examine pass-run comparisons first:
There's no question that Pitt's offensive ability lies almost exclusively in the run game. A trio of very capable backs could give the Tech defense fits, and no question the inability to score on the final goal line possession in 2017 will be fresh on their minds and be a huge motivating factor.
What style offense do the Panthers use and what style will they face in the Hokies defense?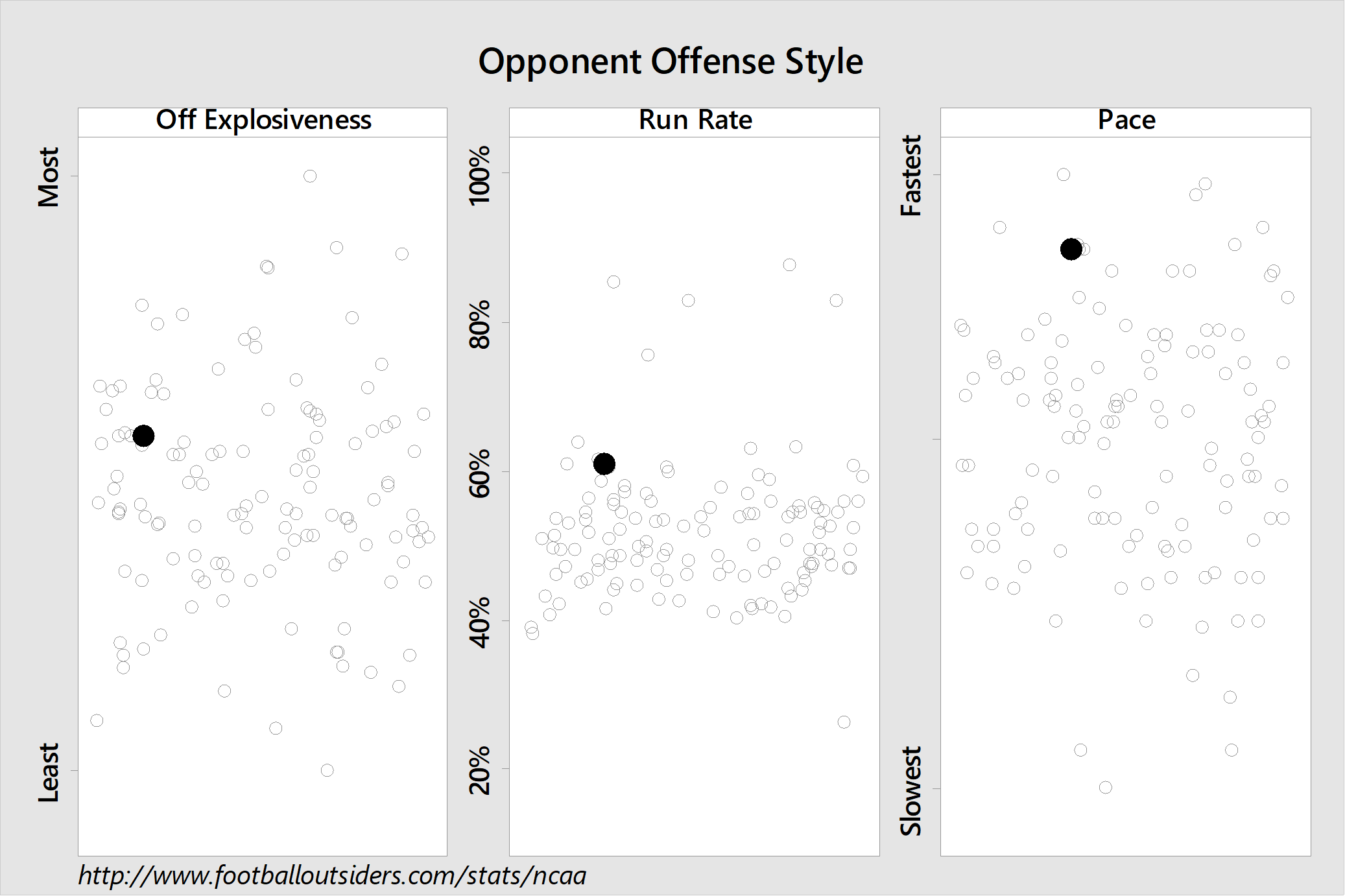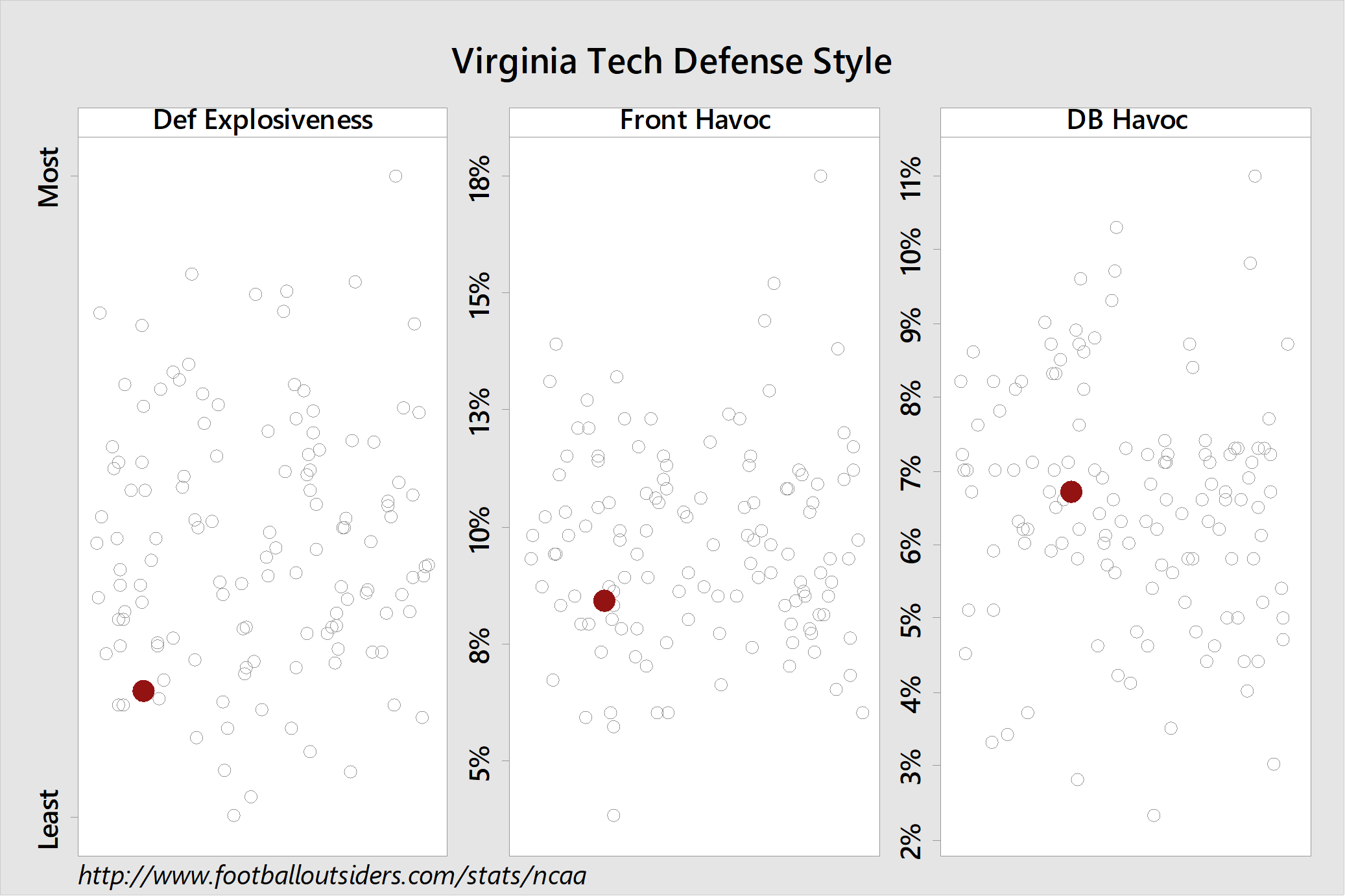 Pitt's offense has demonstrated explosive abilities, and moves at one of the fastest paces in the country. Just like Pitt, the Hokies' secondary has been feast or famine with a high havoc rate, but low explosiveness rating. Unfortunately, this points to the Hokies continuing to struggle with preventing big plays.
Offensive and defensive line performance are again compared using Football Outsiders' metrics: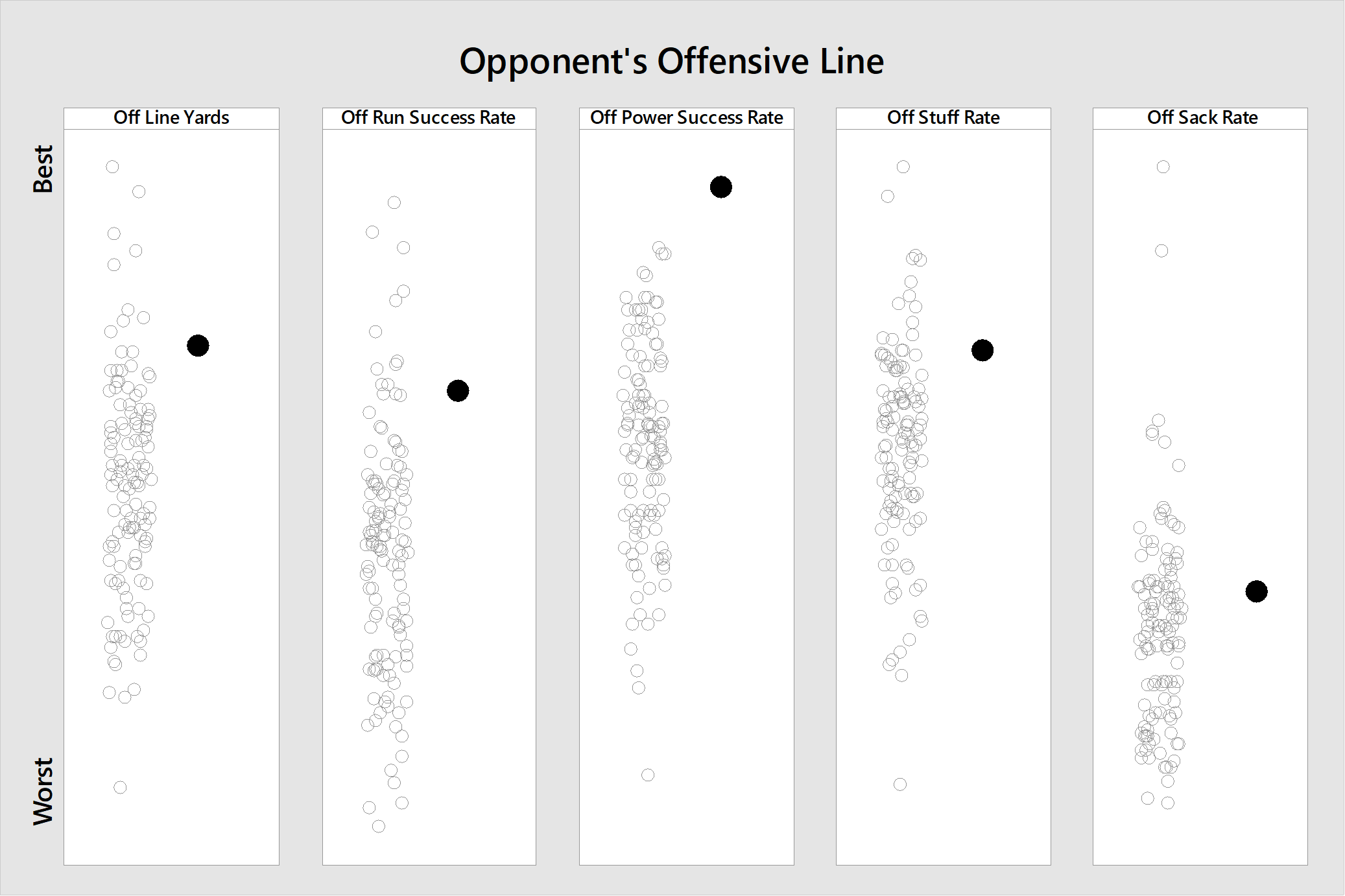 The Virginia Tech defense is closest in personality to:
Syracuse
Wake Forest
South Florida
The Pittsburgh offense is closest in personality to:
Coastal Carolina
Georgia Southern
Washington
Special Teams
First we look at the Hokies' kicking units:
The Hokies are certainly above average in kicking, and below in returning kicks. That said, as pointed out last week, the FEI special teams ratings don't feel right this season. The team has the highest kickoff touchback rate in the country and second highest kickoff distance average (as discussed above), and yet FEI has the unit barely above average. It is hard to imagine that opponent adjustments could account for that.
In any event, kick returns could absolutely be better.
When the Panthers kick:
The team's kickoff return rating is excellent, led by Maurice Ffrench's 5th-rated average in the country. However, this will largely be irrelevant as it is very unlikely for a Tech kick to get returned.
Who To Watch Out For
I think it's fair to say the Heisman committee won't be tuned in to this contest:
RB Darrin Hall (SR, 5-11, 225) is averaging 7.39 YPC (89 carries, 658 yards, 7 TDs), in part due to his 229 yard explosion against UVA last week.
DB Dane Jackson (R-JR, 6-0, 185) has forced 4 fumbles on the season, tied No. 3 nationally
This team is too similar to Virginia Tech to have a third standout player
Statistical Key to the Game
It feels like the path to a win comes down to two things: stopping the Pitt run game, and exploiting the Panthers' weak pass defense. It's hard to say which is more important, so I'm thinking through the converse — if those are successful, is it more likely the Pitt pass game wins it, or Tech on the ground?
Unfortunately at this point it feels like the Pitt pass game is more likely to suddenly look great, so it's more critical that the Hokies exploit the weak pass defense.
If the Virginia Tech offense can average over 8 YPA and attempt at least 40 passes, the Panthers will be on their heels and have trouble winning the shootout.
Statistical Prediction
Playing Pitt never seems to follow along with expectations or trends, and the Hokies have been in such flux all season it is hard to predict anything week to week anymore. The team is bound to fall on the good side of some of these toss-up games, and this week seems like as good of an opportunity as any. I'm not sure the Virginia Tech defense can corral the Pitt run attack, but I do think the offense is capable of going pass-heavy and turning this into more of a shootout.
Virginia Tech 30, Pittsburgh 27
As always a thanks to Football Outsiders, cfbstats.com, and Minitab Statistical Software.