Entering Tuesday, many wondered how out of practice Virginia Tech would look after such a long break. As the seconds ticked away in the final minute of the Hokies' 69-53 loss to Georgia Tech, it was clear that Mike Young's team needed more time to find its feet.
Earlier in the evening, the Hokies and Yellow Jackets were tied at 24 heading into halftime. It seemed like the game was going to be decided on the last possession after Virginia Tech hung around with Georgia Tech, despite 11 first half turnovers.
But then Moses Wright and the Yellow Jackets broke the game open.
With 17:45 left in the second half, Georgia Tech went on a 12-0 run over four minutes that expanded the lead from one to 13. That sparked a 19-8 advantage over a span of ten minutes for GT, which essentially ended VT's chances of a comeback.
"We got beat by a better team tonight," Young said, "and I thought, for the first time in recent memory... I think we lost our edge."
Virginia Tech (14-5, 8-4 ACC) pulled within six points with 7:20 to play after an 8-0 run of its own but could not sustain the run, leading to a Georgia Tech (12-8, 8-6 ACC) victory.
In their first game back from a 17-day break, the Hokies couldn't get both the offense and defense into gear. Georgia Tech seemed to get a finger on every pass on Virginia Tech's offensive possessions, while the Hokies got into foul trouble defensively and didn't have the inside matchup for Wright.
The six-foot-nine forward from Raleigh played like he had something to prove, corralling 10 rebounds and scoring 26 points on 9-of-11 shooting. He dueled with VT's Keve Aluma all night and got the best of him in most instances.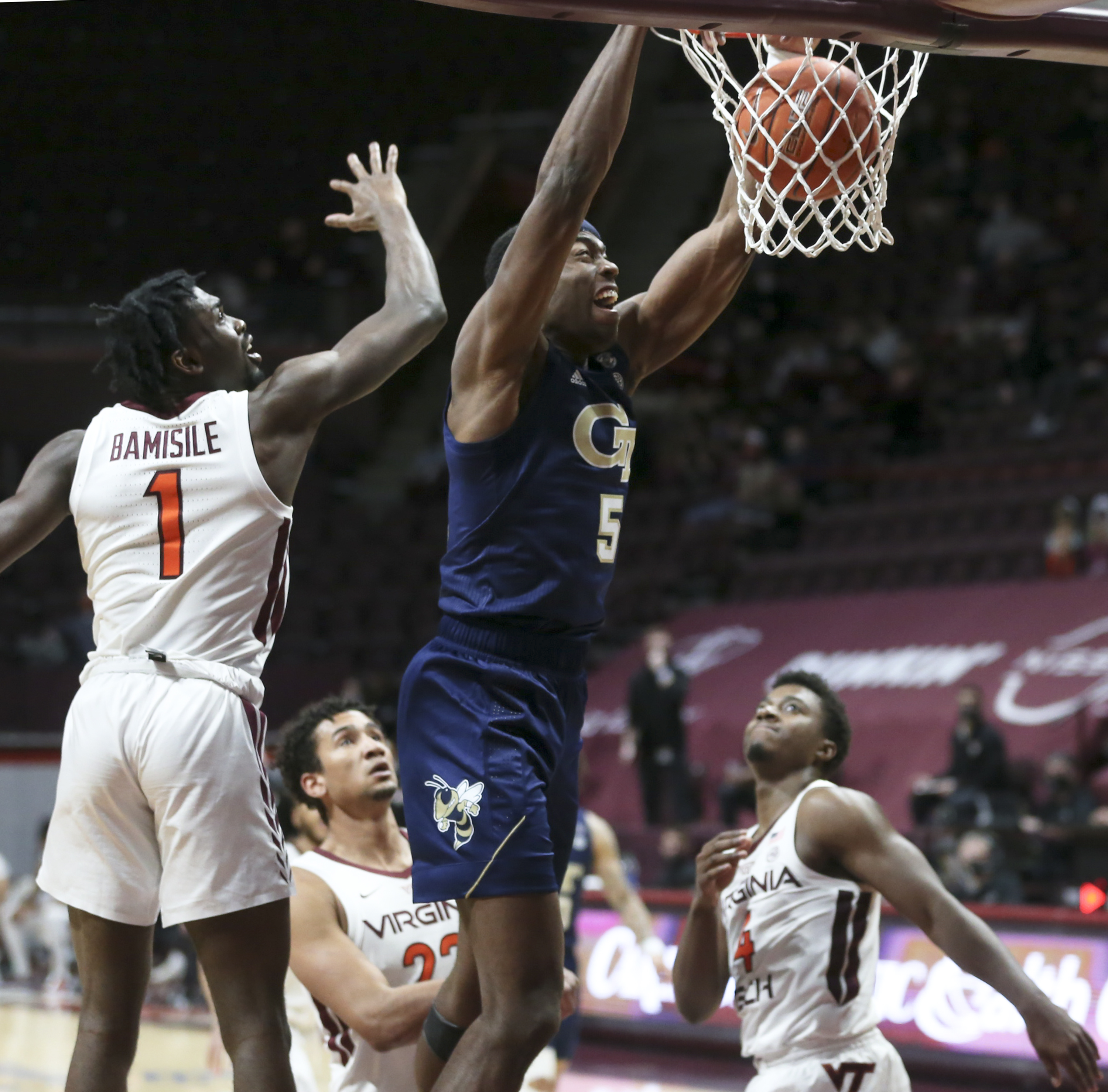 ACC Pool \ Dave Knachel
"We were trying to make a statement out there," Wright said. "We wanted to show that we belong."
And that they did.
Georgia Tech, which entered with three AP Top 25 wins on the season, picked up its fourth in Blacksburg. Only Virginia Tech can say the same.
The Yellow Jackets also won back to back road games in the ACC for the first time since 2008. On Saturday, GT blew out Miami by 27. On Tuesday, it was the better team once again.
Michael Devoe and Jose Alvarado led Georgia Tech in previous games, and while the duo contributed in Tuesday's win, the spotlight was all Wright's.
Wright opened the game up for Georgia Tech, even though Virginia Tech rarely sent a double team. When the Hokies keyed in on Wright, he dished the ball out to his shooters, who hit their marks.
GT drained eight of its 20 three-point attempts and shot a 52% clip from the floor through 40 minutes, including 62% in the second half.
Devoe, Alvarado and Wright were large reasons for that productive half.
Devoe, who averages 14.6 points per game, scored 11 of his 12 points in the second half. Alvarado gave the Yellow Jackets some important buckets in transition and hit three treys en route to 13 points.
Arguably Alvarado's best stat, however, was his five steals. The senior leads the ACC in that category, averaging close to three per game, and picked the pocket of multiple Hokies on Tuesday.
Pastner plays Alvarado at the top of GT's 1-3-1 zone, a look that at times VT had trouble breaking down. His quick reactions helped force multiple Hokie turnovers, which led to 19 Yellow Jacket points.
Virginia Tech turned the ball over 16 times, which ties a season-high in ACC play (Clemson). Justyn Mutts and Nahiem Alleyne each recorded four turnovers, while Hunter Cattoor had three.
The Hokies' zone woes were similar to their game at Syracuse. Too many times the ball moved around the perimeter without finding the inside of the zone, which didn't lead to great shot selection.
"We have to do a better job of getting the ball through Keve Aluma and actually move the ball," Young said. "We did more with Syracuse than we did tonight. If we have the opportunity to play them again, we'll handle things better."
Aluma was the one constant for Virginia Tech in its return to the court.
Just like before VT went on pause, Aluma led the charge for the Hokies. He recorded his fourth double-double in the last five games with 12 points and a career-high 14 rebounds, and despite shooting 5-15 from the field, Young was proud of his performance.
"I don't think I need anything more from Keve Aluma than what he gave me today," Young said.
Aluma's ball movement shouldn't be understated either. The six-foot-nine forward dished out a team-high five assists.
Point being, when Aluma flashed to the gap in the center of Georgia Tech's zone and the Hokies got him the ball, it paid off.
Virginia Tech also got Tyrece Radford back from suspension on Tuesday, and the guard scored 11 points in his return to the floor. After being indefinitely suspended on Jan. 25, Young gave Radford a second chance.
"I love that kid and I am so happy he is back in a Virginia Tech uniform," Young said. " We followed the process and procedures of the department and he was a champion throughout, he did exactly what he was supposed to do. I'm proud of him on how he's handled himself over the last month."
Alleyne (12 points) and Mutts (nine points, five rebounds) both contributed to VT's performance too, though it wasn't enough to overcome 41% shooting and 16 turnovers, despite dominating on the boards, 31-23.
Virginia Tech's 53 points is the least the Hokies have scored in a game this season, two points shy of the 55 VT put up in December against Penn State. That's just the kind of night it was in Blacksburg.
The Hokies still sit in third place in the ACC with an 8-4 conference record, half a game ahead of Louisville at 7-4. The two meet on Wednesday, March 3 in Cassell Coliseum in a primetime showdown at 7 p.m.
Young & Co. now have a few days to rest before hosting Steve Forbes and Wake Forest on Saturday in Blacksburg.
"We had to get this one behind us, win lose or draw, and learn from it," Young said. "We're gonna be a heck of a lot better on Saturday. ... We'll play better."