The Hokies got away with a game against North Carolina that it had no business winning. There was a post-game win expectancy of only 25% given the statistics for each team. The Tar Heels had 9 scoring opportunities to Virginia Tech's 4, and 150 more yards on 4 less plays. The teams each had the same number of turnovers. And yet the Hokies came away with the win.
Take it and hope the Hokies play well enough to earn a win Thursday night.
Where the Season Stands
Virginia Tech is currently 4-2 (3-0 ACC). The actual and predicted score difference and odds of winning each game are: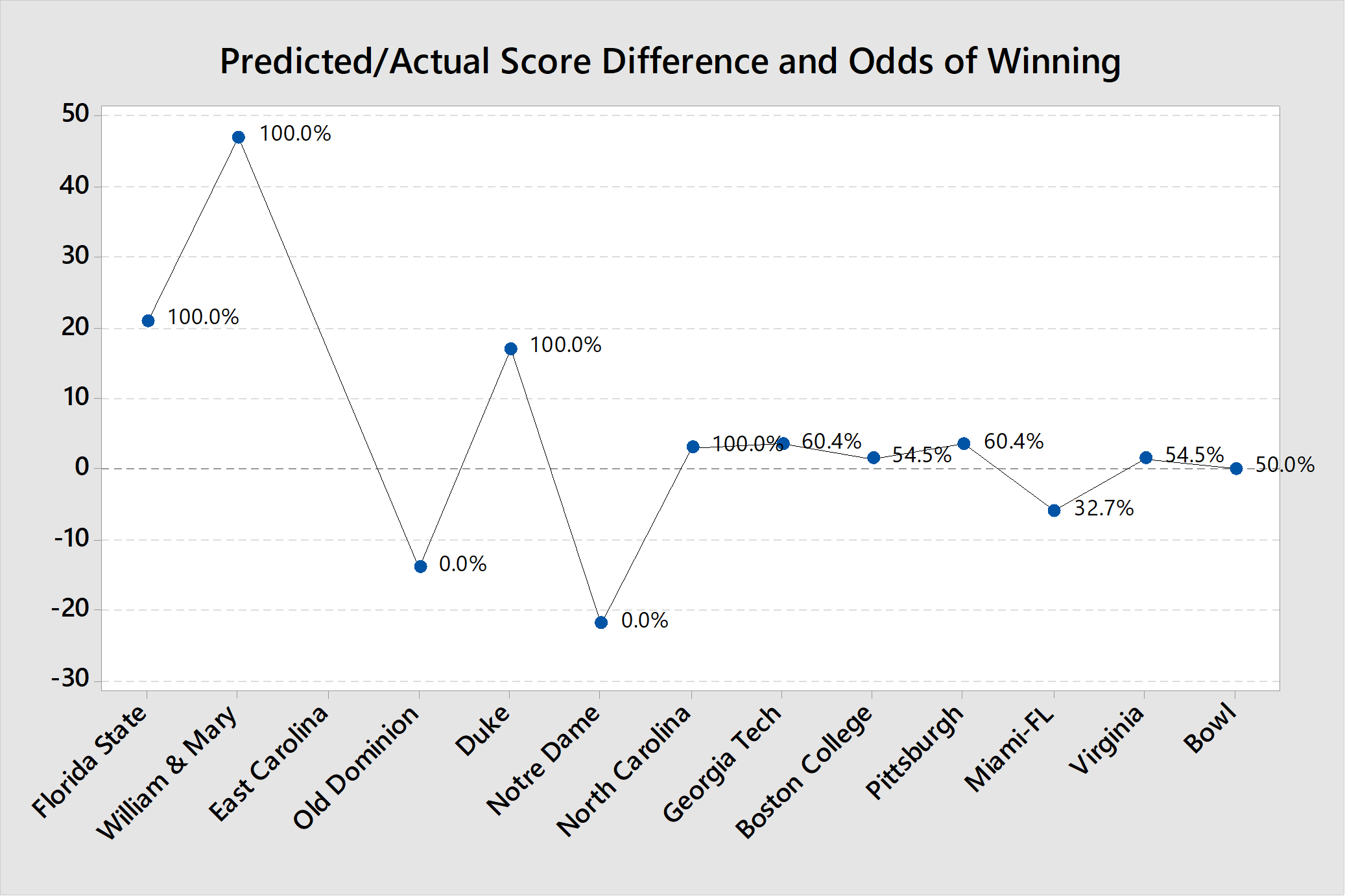 The odds of each possible regular season win total are now: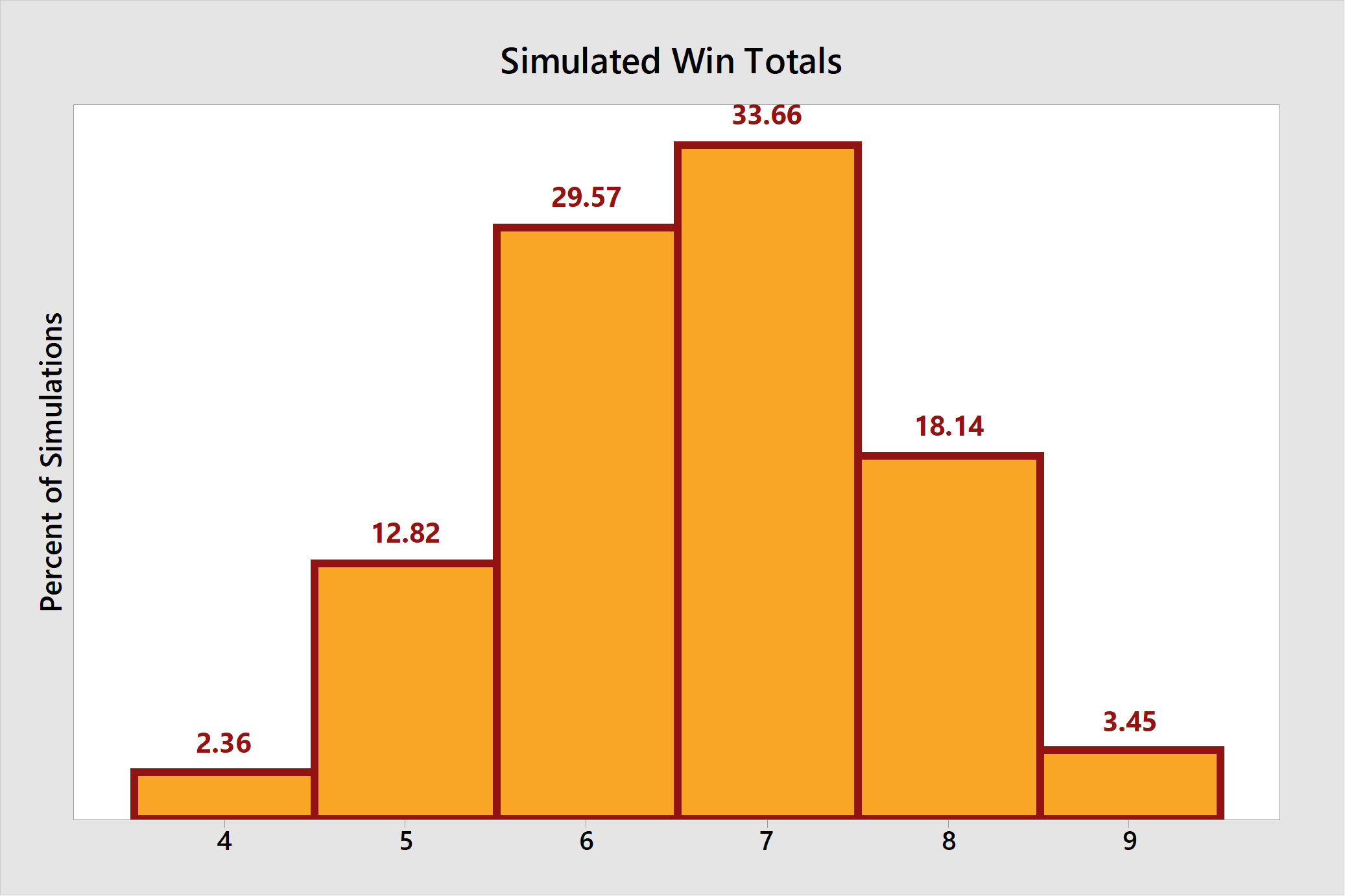 In the absence of a replacement game for East Carolina, the Hokies maintain about an 85% chance of continuing the bowl streak. While it may seem urgent to schedule a game, keep in mind that as poorly as the team has performed for much of the season, they are 3-0 in conference — all away games — and somehow still in the thick of winning the division...meaning the weekend after Thanksgiving needs to remain open for the time being.
Virginia Tech Leads the Nation In...
Kickoff efficiency (100%). The team is averaging 64.95 yards per kickoff (No. 2 nationally) and has a 94.59% touchback percentage (No. 1 nationally). The two returned kicks went for a total of 45 yards.
Rankings and Computer Predictions
The computer rankings and predictions for each team: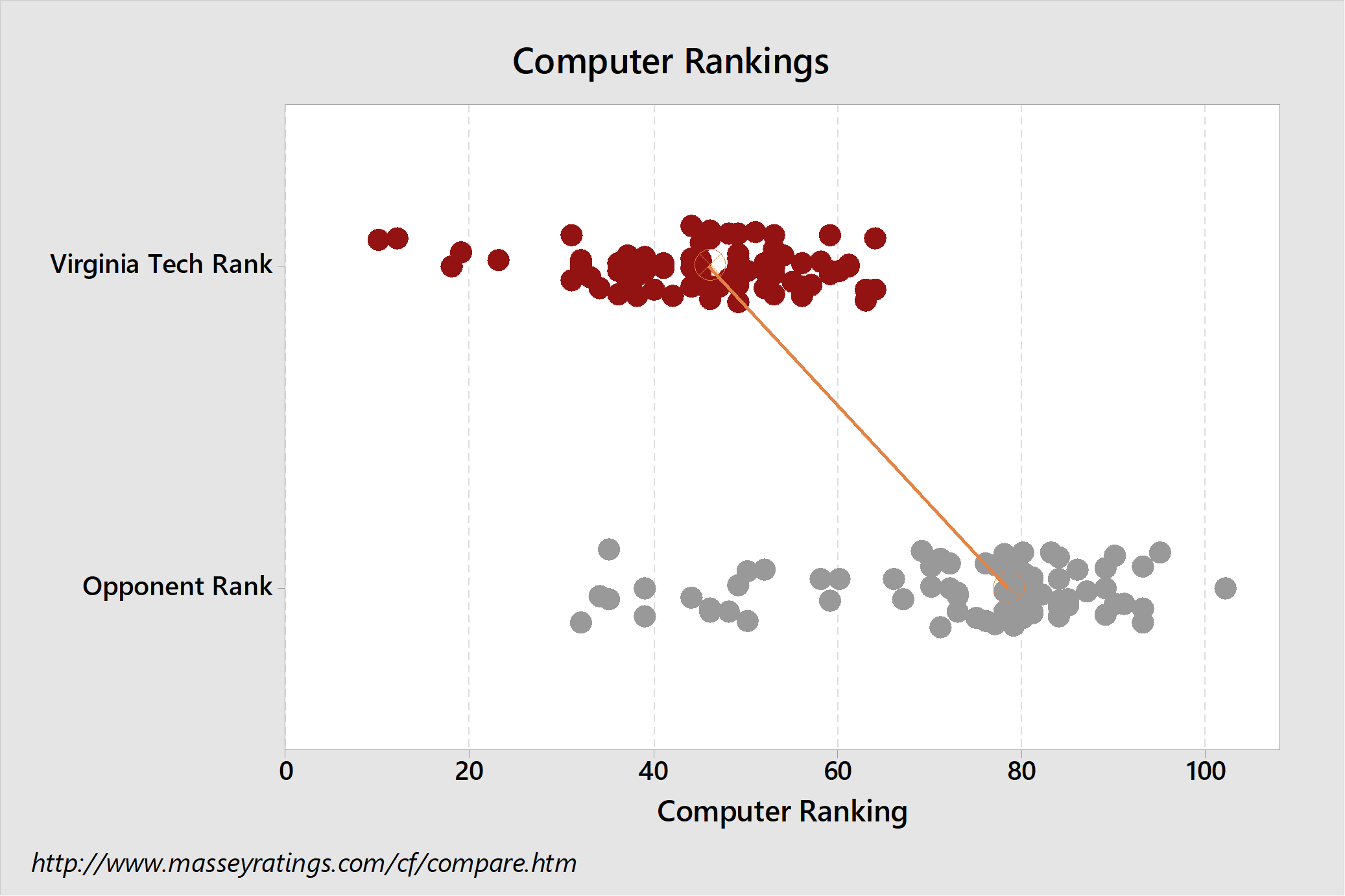 Computers generally agree Virginia Tech should be favored, but most do not give the team much of a margin. The odds of a 3.5-point favorite winning is 60.4%.
Next is a look at any overall offensive or defensive advantages: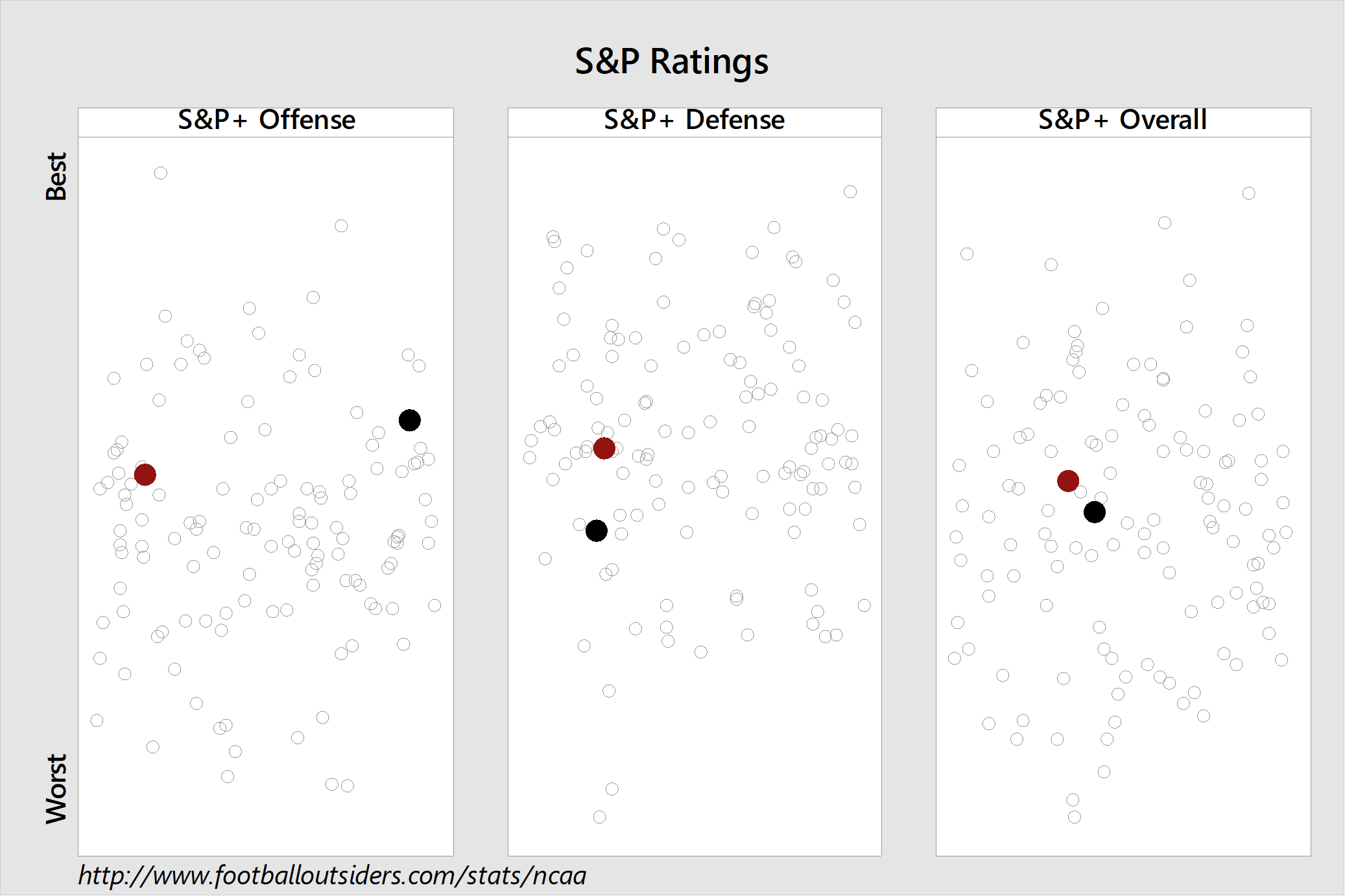 This matchup isn't exactly GameDay material, but is a Thursday night game in Lane Stadium and will get hyped nonetheless. The biggest difference from prior Techmo Bowls is, this year, it is the Virginia Tech offense that will likely have to be the star to pull off the win.
When Virginia Tech Has the Ball
Here is an explanation of S&P+ ratings, and FEI ratings. Most statistics are now opponent-adjusted.
Who has the advantage in the passing and rushing game when the Virginia Tech offense has the ball?
While not stellar in any categories, the Hokies have been a little better in the passing game than rushing. Georgia Tech's defense is not particularly good, but has been especially bad on passing downs and is potentially a good matchup for the better Tech.
What style offense do the Hokies use and what style will they face?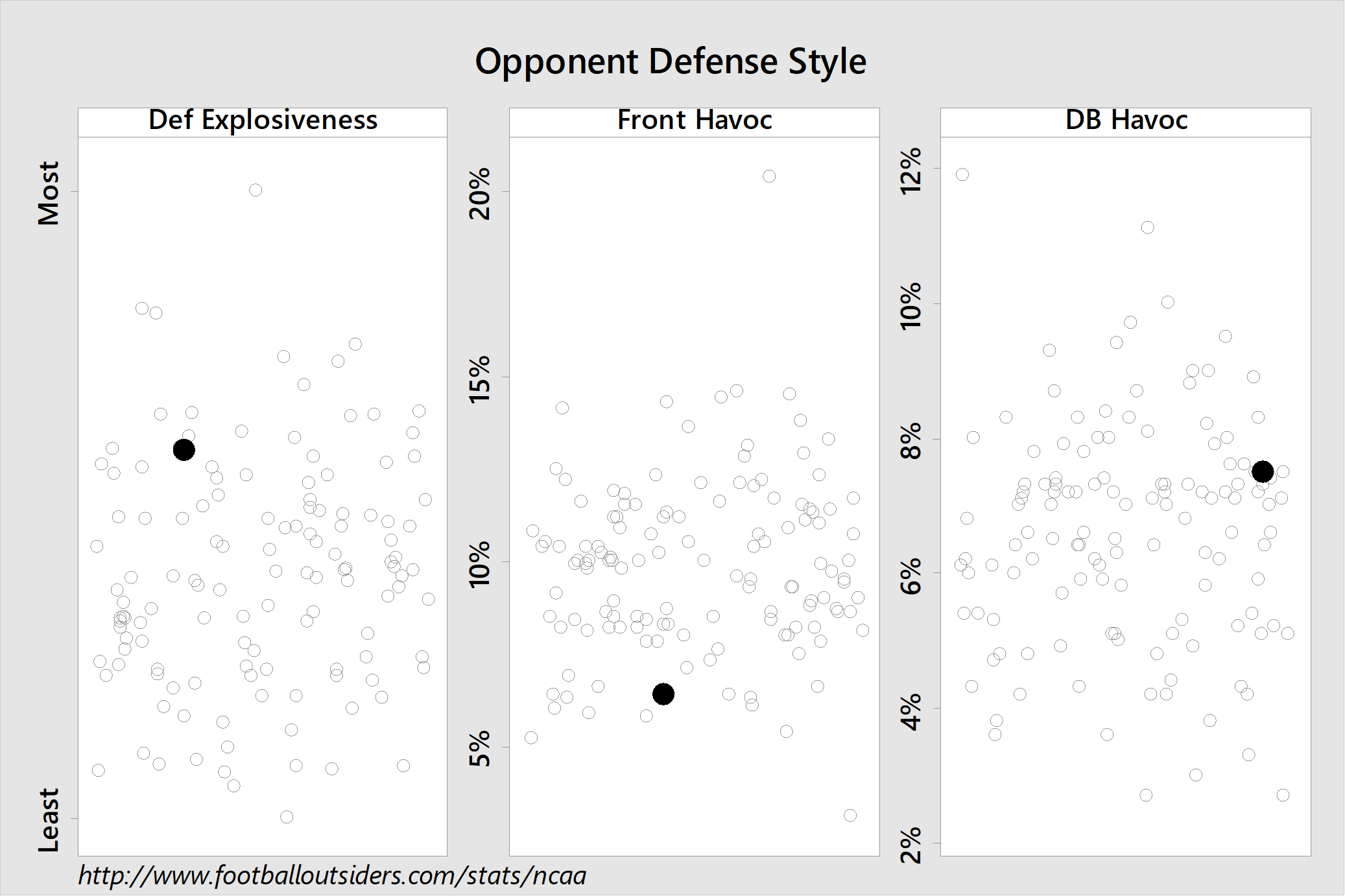 Virginia Tech has been a fairly explosive offense, and has been middle-of-the-pack on run rate and pace. Georgia Tech, however, has been fairly good at preventing explosive plays. Additionally, their line has been poor at creating havoc (sacks and TFLs).
Offensive and defensive line performance are compared using Football Outsiders' metrics:
When Georgia Tech Has the Ball
Again, examine pass-run comparisons first: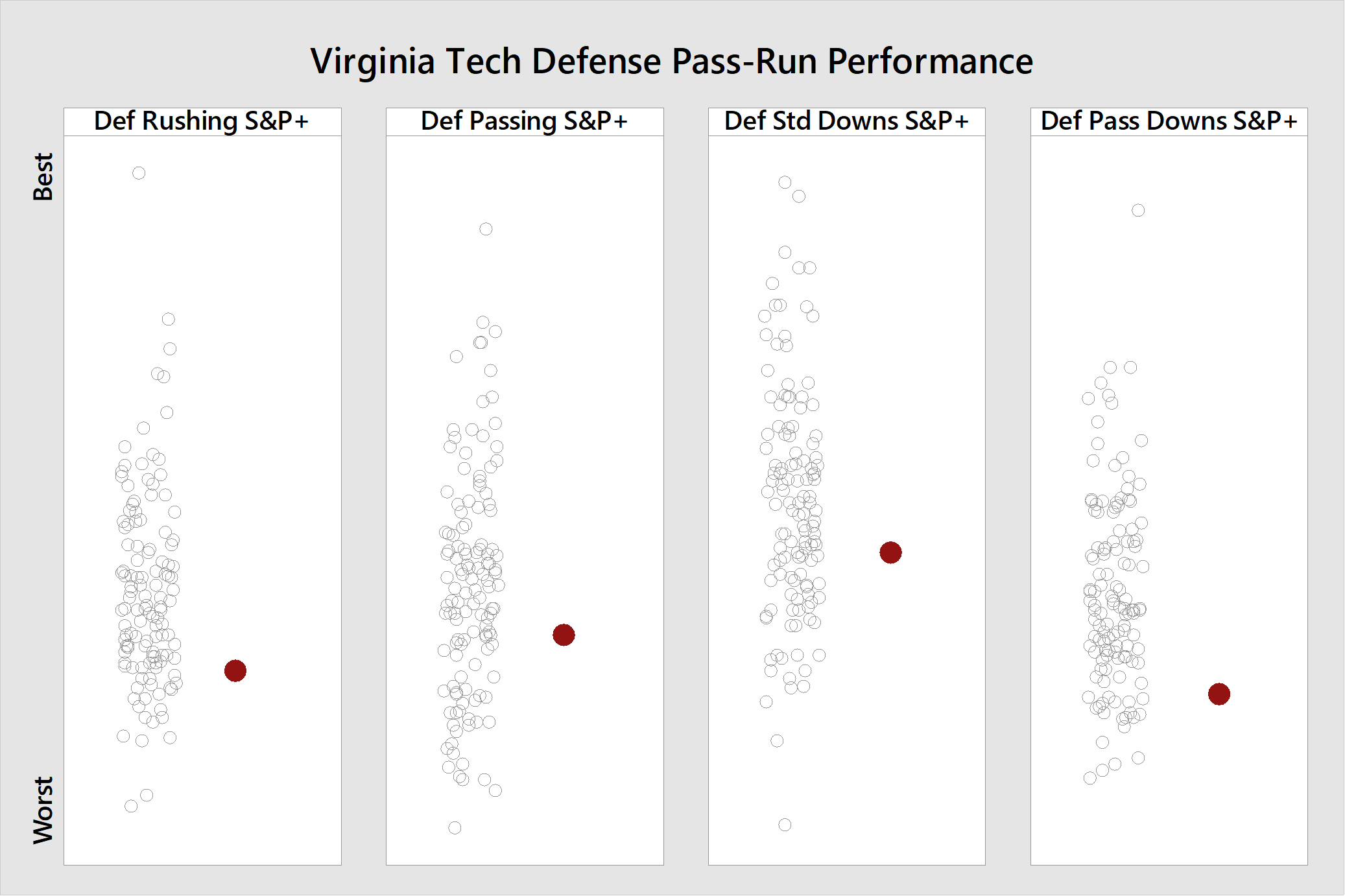 Surprise! Georgia Tech has a good offense, especially rushing, but is not very good when forced into passing situations.
What style offense do the Yellow Jackets use and what style will they face in the Hokies defense?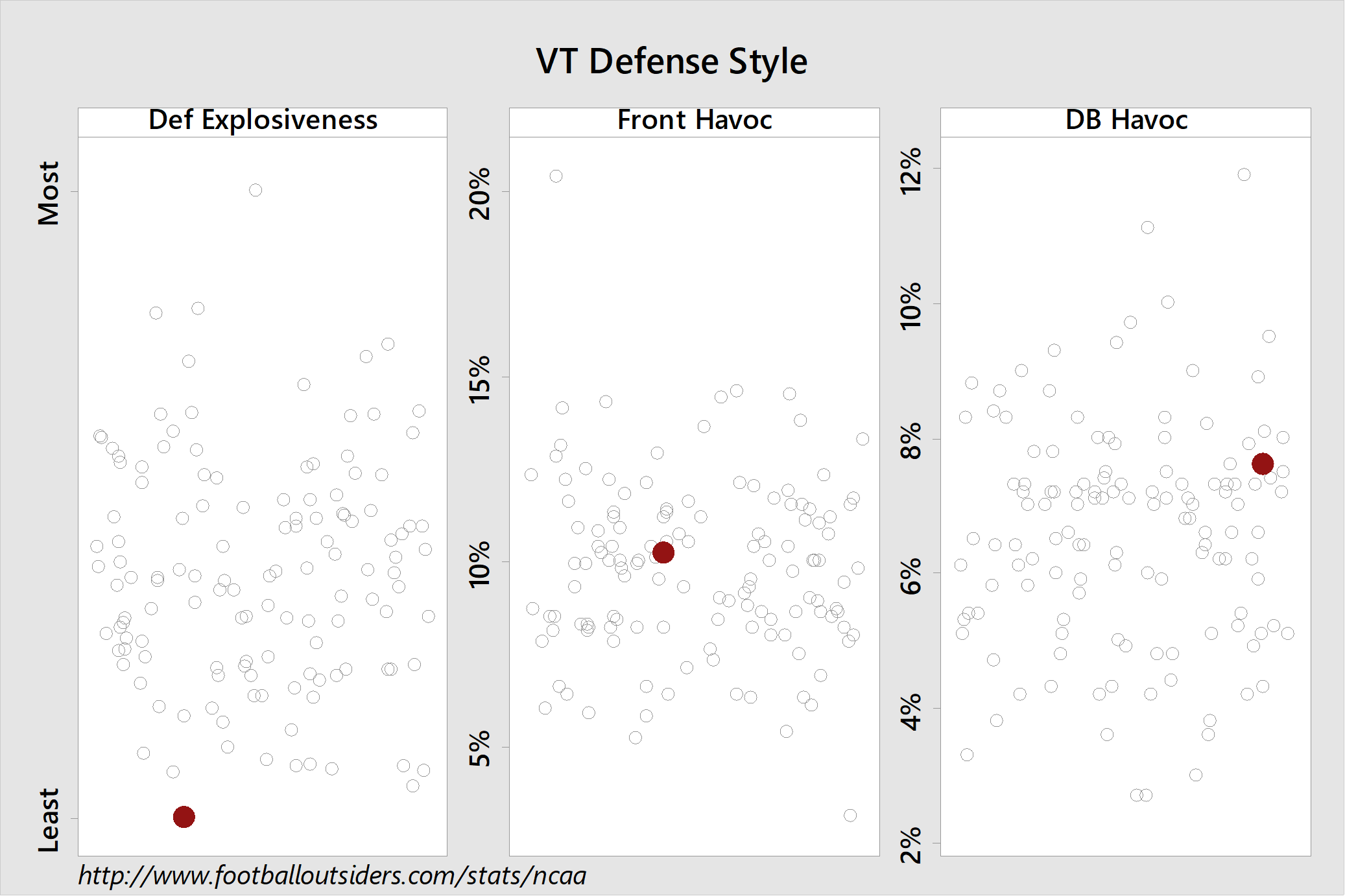 Georgia Tech is not particularly explosiveness, and obviously is run-heavy and average-paced. They face a Virginia Tech defense, however, that rates dead last in the nation in allowing explosive plays.
Offensive and defensive line performance are again compared using Football Outsiders' metrics: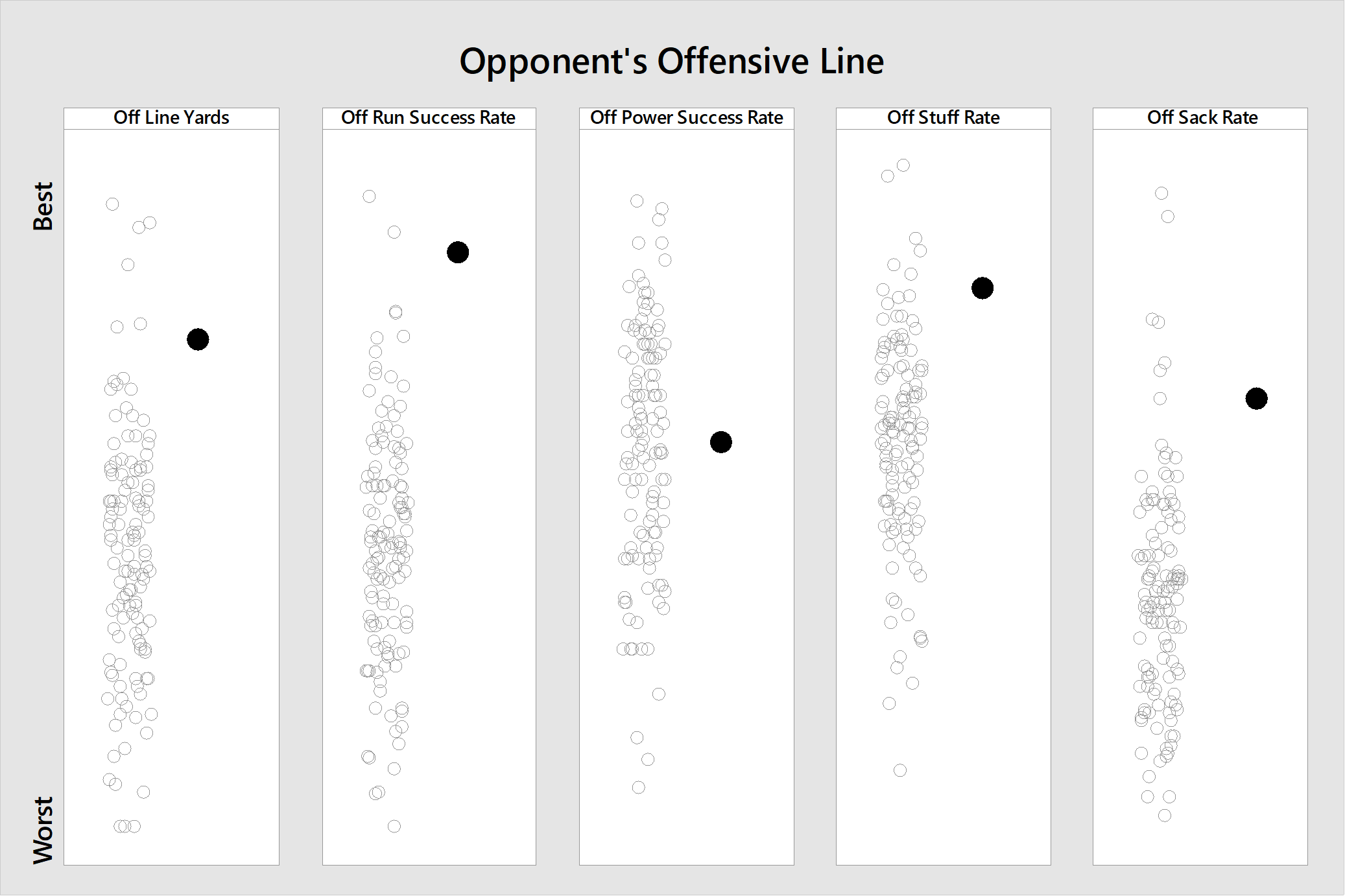 Special Teams
The Hokies are rated the 10th best special teams unit in the nation, while the Yellow Jackets are rated 105th. This gap could result in a potential game-changing play given how closely rated the two teams are. Virginia Tech is led by their top-ranked kickoff unit, featuring a 100% efficiency rating.
Who To Watch Out For
I don't actually research this for the Georgia Tech game each year. I just look up the stats for the QB and the leading tailback, and figure if I've heard of anyone else they're probably good too:
QB Tobias Oliver (R-FR, 6-2, 182) is 25th nationally in rushing average (6.95 YPC, third among QBs). He attempted 9 passes this season.
QB TaQuon Marshall (SR, 5-10, 185) leads Georgia Tech with 9 rushing touchdowns.
B-Back Jordan Mason (R-FR, 6-1, 212) rushes for 6.84 YPC, No. 28 nationally.
Statistical Key to the Game
The Hokies' defense absolutely has to find a way to stop giving up huge gains to have any chance at salvaging an even mediocre season. Facing the Yellow Jackets' offense is already a frustrating proposition due to its methodical nature. It chips away a few yards at a time and down the field it goes. Those runs that break for huge gains are even more painful. It's hard to imagine that not happening given that stopping it involves flawless execution on assignments: a glaring weakness for the Hokies.
Somehow manage to keep the Bees to three or fewer plays of 20+ yards, and Virginia Tech can sneak another win this week.
Statistical Prediction
It is just really difficult to imagine the Yellow Jackets not scoring significant points in this one on explosive plays, but after a whole article on objective measures here is where I prefer to turn into an irrational optimist. Vinny Mihota is allegedly healthier, and Ricky Walker is still Ricky Walker, ready to disrupt the interior of the line and disrupt plays. The extra time helps the team prepare and improve on some of the earlier flaws shown this season.
Virginia Tech 30, Georgia Tech 28
As always a thanks to Football Outsiders, cfbstats.com, and Minitab Statistical Software.