By:

Joe Lanza
PUBLISHER
on April 15, 2010, 1:05 PM
Or, well, as official as he can without actually signing with the Hokies. Conor committed back in December, but reaffirmed his plans to be a preferred walk on in the fall on Wednesday.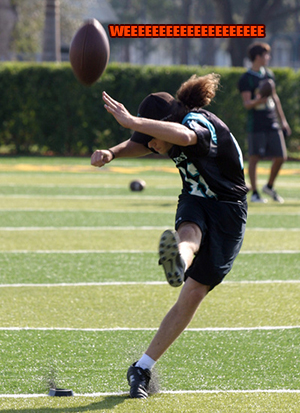 Goulding will be a preferred walk-on for the Hokies, where he hopes to earn a spot as the team's kicker or punter.

Goulding chose Virginia Tech over fellow Atlantic Coast Conference school Miami. As a preferred walk-on, Goulding has a guaranteed spot on the team. If he plays at all as a freshmen, Hokies coaches have told him he'll receive a scholarship in January.

"(As a freshman) I thought, 'Let's try this out and see how good football is,'" Goulding said. "It turned out to be very, very good. I'm thrilled about this."
That's not too shabby for a kid who just started kicking the pigskin four years ago. I don't believe he'll impact this year's kicking competitions too much. However, maybe some new blood will push the other guys harder.
Below are his highlights from the 2008 season.
PrepZone: Gulf Coast kicker Goulding commits to Virginia Tech; eight Sharks sign [Naples Daily News] via @GoVTechGo