Your sights and sounds of Blacksburg or wherever Hokie Nation is headed.
On Wednesday I made my way down to Blacksburg to party, visit with friends, cause general havoc, and watch us defeat Georgia Tech. Co-piloting the trip was my blogging brother from another mother F4H. The night started off with delicious cheeseburgers, onion rings, french fries and Yuengling at Mike's Grill. It then saw us hit ever bar on Main Street, including rails at TOTs and a pitstop at Big Al's to meet up with @vttrapp.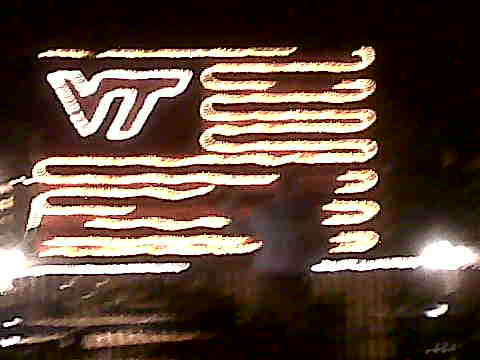 Somewhere in that blur is me holding a rail.
It concluded with a rainy walk up Main Street to B-Dubs for chicken wings and Long Island Iced Teas, where I infamously dropped mine.
On Thursday morning ACC Bloggerpalooza hit its critical mass when we met up with our Georgia Tech counterparts Winfield and Dane along with @VTJawo and BeerControlOffense at the Clubhouse Tailgate co-hosted by Jim from The A-Line. As you will see below, when it comes to preparing meat, these gentlemen do not fuck around.
As kickoff drew closer we made our way down to @Slicktrip's tailgate, which really wasn't a tailgate at all. It was a college party complete with kegs, coeds, and debauchery. While there I did a keg stand and so did F4H and the girl below.
Shortly after we decided to head over to Lane to watch the game with @MTribble.
The pictures and video below are courtesy of the one and only Hokie Trooper.
Epic.

Lane stadium looking sexy.

via: 30 FPS your online GIF and Grab.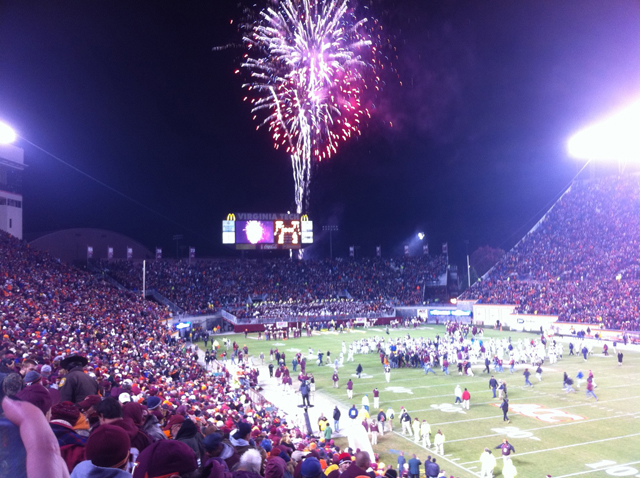 VICTORY!

It's a celebration bitches.
After the game F4H and I met up with @Slicktrip, bumped into @Linze2 and took downtown by storm. We drank our fair share of the victory bourbon.
It was an amazing couple of days.