By:

Joe Lanza
PUBLISHER
on September 24, 2010, 11:31 AM
| 6 comments
So... Let's talk about BC.
Virginia Tech is to Boston College, as Maggie Simpson is to Baby Gerald.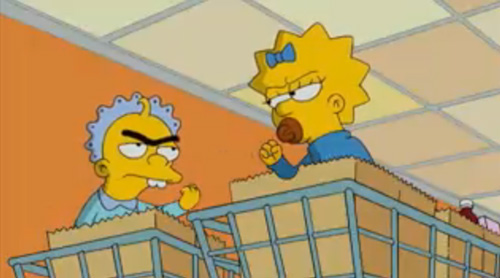 I think that best sums up my feelings about Boston College.
Against Boise State and James Madison Jeron Gouveia-Winslow struggled to make plays at Whip linebacker. To counter ECU's Air Raid the Hokies abandoned their base 4-3 defense for most of the game and featured two new looks: the Nickel and 30. Both formations featured athletic freshman free safety Antone Exum. In the Nickel he replaced Gouveia-Winslow and in the 30 he was substituted in for a defensive lineman. Exum ended up playing marvelously in his first career start, grading out highest among defensive players. The question now is, what defense will we see on Saturday?
Boston College likes to grind out yards on the ground behind their authoritative offensive line and Montel Harris is a no nonsense back (1457 yards in '09, 195 yards in '10). He's capable of running through cracks towards daylight when he sees it. In the Nickel Exum played more like a Whip, that is to say, aggressively in space effectively cleaning up the wash as it came his way. Therefore, I do think we'll see a lot of Nickel mixed with our traditional 4-3, and quite possibly a new personnel grouping crafted specifically for BC by Foster.
Regardless of who's playing behind them, the defensive tackles and ends need to play a hell of a game. First and foremost the Eagles want to win the war in the trenches. If they're able to do so, and they usually are, it's going to be a long afternoon. However, Soaring to Glory is unhappy with OL performance so far against softies Weber State and Kent State and massive right guard Thomas Claiborne (6-3, 332), a three year starter, will not be apart of the first unit per BC Interruption.
Dave Shinskie, a 26-year-old sophomore and former minor-league baseball player (note to self: recycle Chris Weinke jokes), remains the same QB we saw last year in Lane -- dependent on his OL to give him time, and his receivers to bail out shaky throws. Rashad Carmichael and Jayron Hosley should have their chances to turn one or two of these around. Unlike ECU QB quarterback Dominique Davis, Shinskie isn't very mobile. If we can force 3rd and longs the defensive line will be able to pin their ears back, pick a route to the quarterback and just get after him.
The Eagles use a run-of-the-mill 4-3. They rely on fundamentals and hitting rather than anything fancy to out game opposing offenses. Perhaps the most interesting trait is how far off the ball the safeties and corners are. The safeties play in a two deep, sometimes almost 20 yards behind the line of scrimmage. The corners are 5-7 yards off the line. They really want to keep everything in front of the defense and allow the linebackers to read, react and make plays.
Tyrod and the receivers really need to take advantage of this space. There's going to be room for slants, wide receiver screens, outs, etc... The wide outs need to catch the ball, use their athleticism to shed the defender and then gain yards after the catch. There could be soft spots over the top if BC loads the box in an effort to stop the run, but they haven't done this a bunch against us in the past.
How the offensive line gets on and more importantly off their blocks will be significant tomorrow. BC's defense features two outstanding linebackers, cancer dominator Mark Herzlich and Luke Kuechly. Both fly to the football and are great at disrupting play. If you don't know by now our offensive line primarily zone blocks. What's zone blocking? Say the play call is a run to left. Right out of their stance each lineman is going to take a 45 degree step with their left foot and look to block a defender on the line of scrimmage in their "zone", better put as personal space. It's common that two linemen are engaged with one defensive linemen or there's no defender on the line to be blocked. In both cases linemen are taught to move and make a block at the next level, against a linebacker or safety. If two linemen are engaged in a double team, then one needs to fold off and find another man up the field to block. If there's no one to block, then that's immediately recognized after the snap and the lineman goes up the field to make a block. Fast instinctive linebackers flying through the box to the ball carrier can trip up, and knock a folding lineman off his path to a defender. The offensive line needs to be decisive and their timing has to be perfect. Tech struggled mightily against JMU with this. It's not trivial though, think of it as ballroom dancing with one or two partners who don't want dance with you.
Not only is Saturday our first ACC game, it's our first true road game. It will be extremely difficult to overcome riding a donkey out of the gate. What's going to happen? It's simple really. If we play like we did the first ten quarters of the season, we lose. If we play like we did the last two quarters, we win. Here's hoping for the latter, after all BC has basket-hockey season to look forward to right around the corner...
Go Hokies!
*My many thanks to JoshC for helping me polish off this preview.