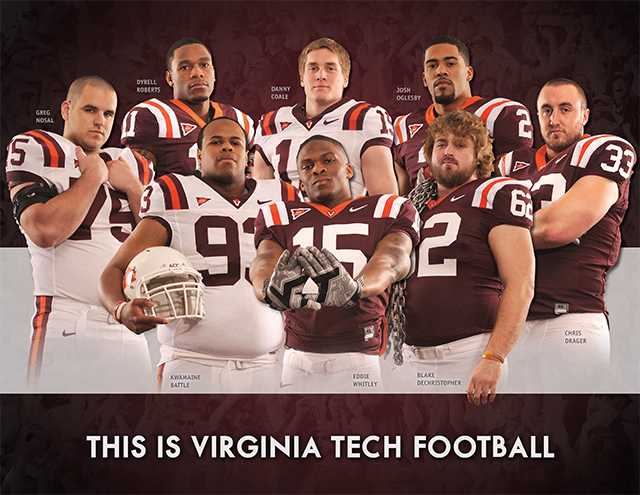 For your viewing pleasure, Hokiesports.com has posted the 2011 media guide. Depth charts, thoughts about the upcoming season and lots of dialog about the players from the coaches are included. Here are some of the things that caught my attention as I was thumbing through.
Coale is listed as the number one punter (and flanker) #coale4punter. "If the competition continues to be inconsistent, is likely to get the starting nod."
The coaches seem really encouraged by how Lil' Wang played this spring. "With starting left guard Greg Nosal sidelined for the spring following shoulder surgery, redshirt sophomore David Wang stepped in and wowed the coaches with his physical play. Wang got better in every phase of the game and showed he's ready to play."
Ju-Ju Clayton is the backup quarterback and Leal is the emergency, for now... It seems like if Leal can learn more of the offense he's got a chance to make a run at the backup job.
The Whip battle between GW and Tweedy seems to have picked up right where it left off in spring, last August, etc...
Neither Nick Acree and Zack McCray are listed on the two-deep. We heard all along Acree was a work in progress, but I thought McCray would push for some serious playing time this fall. However, it's possible that Corey Marshall and Kris Harley see the field according to Coach Wiles. "Our first group right now can be very good, but we've got depth issues. We need another playmaker or two inside to solidify our two-deep at tackle. I feel better about our end position than I do about our tackle spot right now in terms of backups. in August, we're going take a look at our freshmen at both positions to see if they can be better than the backups we've got, and if so, they are going to be in the two-deep."
Wilson, Roberts, Hosley and Coale are all listed as the returners. Since they're all starters/contributors at other positions I wonder if the incoming guys like James Farrow or Robert Lockhart will get a chance to shag some balls.
Did anything in particular strike you guys?