Is David Wilson ready to be the Hokies' featured running back?
"I think I perform well when pressure is put on me," says Wilson, who gained 619 yards on 113 carries while splitting time with Evans and Williams last season. "When I have to do something, that's when I feel like I perform better."
...

"It's my time," Wilson says. "I'm the No. 1 running back going into the season. I have to work hard and make sure I lock that down and keep moving forward. I can't be complacent. I have to be consistent."
It would seem so. However, I think it would be unreasonable for anyone to expect Blacksburg's very own sunny blend of Superman and Evel Knievel to make up for Evans' and Williams' production last season. While Wilson banged out 619 yards on his own, the 100 Proof Backfield combined for 1,331 yards. I think it would be a major success if he could carry his own production forward and account for 75% of the losses. That would be 1,617 yards.
In other news, bowling balls are disregarding gravity and taking to the air. Wilson finished 6th at the NCAA Track Championships. He leaped a personal best 53-1.75 in the triple jump and earned All-American honors.
This Tweet isn't relevant.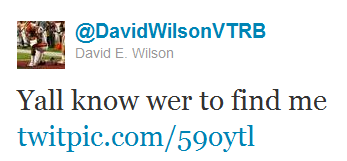 Your choices are "Yes" and "Absolutely", but I'm writing in "Should've been done yesterday". Gobbler Country paints the turf at Worsham Field in a way The Cat in the Hat would be proud of.

Norm Wood has a couple of notes on Jarontay Jones, Virginia Tech's latest commitment.
Last season, he had 90 tackles, including 16 sacks, for Stephenson - a traditional football power in Georgia that lost last fall in the first round of the playoffs. Virginia Tech defensive backs coach Torrian Gray headed up the Hokies' recruitment of Jones, who will likely enter his senior season considered by most recruiting analysts to be among the nation's top 35 defensive end recruits.
Tech is ranked 16th in ESPN's initial class of 2012 team rankings. Four other ACC schools are ranked: Florida State 2nd, Miami 8th, Clemson 15th and North Carolina 21st.

Michael Vick is making the most of his second chance. I don't like that I'm rooting for anything associated with the Iggles.

I can't tell what 95% of our players look like once they've got their helmet and pads off. This little guy goes from perplexed, to excited, to happy, to embarrassed all within 30 seconds.
To be fair, if I got to meet Ru I'd be screaming like a little girl at a Justin Beiber concert.