Oh hey there...the Hokies are dancing so that must mean it's time for a special March Madness edition of By the Advanced Numbers! Victim one on Virginia Tech's path to the national championship is Wisconsin, best known for producing cheese and good-but-never-good-enough football teams. But how are they at basketballing? Below I dissect the wealth of Hokies-Badgers statistical comparisons available at TeamRankings.
What the Computers Say
The Massey Composite Rating ranks Wisconsin No. 24 and Virginia Tech No. 40:
While there may appear to be overlap between the two, only one computer rated Virginia Tech higher than Wisconsin.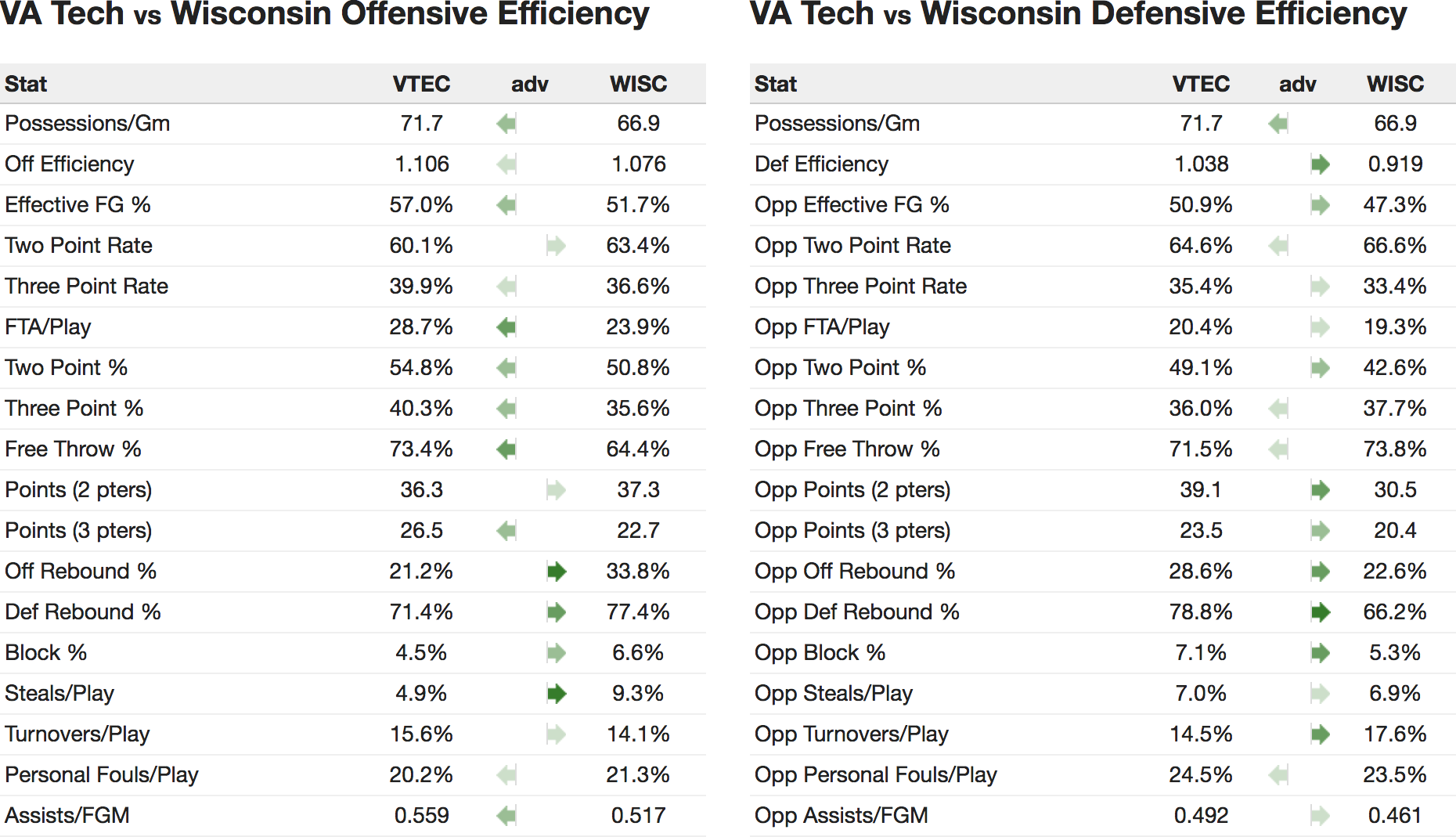 When Virginia Tech Has the Ball
It would have been easy to dismiss the Hokies after Chris Clarke was injured, but the team has hardly missed a beat and is still an above-average offensive threat. As of late, Tech's leveraged the three-pointer. So what should fans expect against the Badgers?
The Good: Virginia Tech is 9th in the country with a 40.3% 3-point shooting accuracy, while the Wisconsin defense is 305th in the country defending the downtown threat, giving up 37.7% of triples.
The Bad: The Hokies have a 21.2% offensive rebound percentage, 324th in the country. Wisconsin has a 77.4% defensive rebound percentage, 16th in the country. Don't miss, Tech.
The Ugly: Opponents are blocking 7.1 of Tech's shots, 320th in the country.
When Wisconsin Has the Ball
Wisconsin's identity is quite different than Virginia Tech's. The Badgers feature a good defense, but lack an offense.
The Good: Wisconsin attempts just 18.6 FT/game, 230th in the country, while Virginia Tech allows 16.5, 33rd best in the country.
The Bad: The Badgers are 24th in the country with a 33.8% offensive rebound rate, while the Hokies are 235th with a 71.4% defensive rebound rate.
The Ugly: Virginia Tech is stealing the ball on 4.9% of opponent possessions, 348th in the country.
Who to Watch Out For
Forward Ethan Happ (No. 22, 6-10, 232, R-SO) plays nearly 28 minutes a game and leads Wisconsin in rebounds, assists, steals, blocks, turnovers, nearly points, and to be fair, personal fouls. His 11.059 TeamRankings' Win score per game (an estimate how many wins each player contributes) nearly doubles the nearest Badgers' (Nigel Hayes, 6.397). And for the record, Chris Clarke's ranks 75th nationally in Win per game (9.458).
Prediction
Wisconsin's rebounding edge is cause for concern, but if I'm going to predict Virginia Tech wins the national championship, then I have no choice but to predict the Hokies win every game. In a landslide.
Virginia Tech 71, Wisconsin 58