As a TKP reader, and therefore Virginia Tech Hokies fanatic, EVERY play of every game has you captivated and your emotional state hangs on every pass, every tackle, every penalty, every little detail of every game. But of course not all plays are as big as others and as your memory of the mundane fades you're left with last memories of the truly game-changing plays of every season. Here we use analytics to count down the biggest, most game-changing plays in the past 10 years of Virginia Tech football...
In each installment of this series I'll bring you two plays: one play devastating to the Hokies' chance to win, and one dominating play in Virginia Tech's favor. They will count down in order of how much each play affected the odds of Tech's victory.
For details on the method, see Virginia Tech's Top 10 Plays of the Last Ten Years: No. 10.
The Countdown
Most Devastating:
10. Boise State 9/6/2010 - Kellen Moore pass complete to Austin Pettis for 13 yards for a TOUCHDOWN
9. Miami 11/4/2006 - Tyrone Moss rush for 50 yards for a TOUCHDOWN
8. Boston College 11/2/2013 - Logan Thomas pass intercepted by Kevin Pierre-Louis at the VTech 33, returned for 33 yards for a TOUCHDOWN
7. Lamar Miller rush over right guard for 30 yards for a TOUCHDOWN
6. Boston College 10/25/2007 - Matt Ryan pass complete to Andre Callender for 24 yards for a TOUCHDOWN
5. Georgia Tech 9/20/2014 - Paul Davis 41 Yd Interception Return for a TOUCHDOWN
4. Florida State 11/8/2012 - EJ Manuel pass complete to Rashad Greene for 39 yards for a TOUCHDOWN
3. Cincinnati 9/29/2012 - Munchie Legaux pass complete to Damon Julian for 39 yards for a TOUCHDOWN
Most Dominating:
10. Boston College 12/1/2007 - Sean Glennon pass complete to Eddie Royal for 24 yards for a TOUCHDOWN
9. North Carolina 10/29/2009 - T.J. Yates pass intercepted by Rashad Carmichael at the North Carolina 10, returned for 5 yards to the North Carolina 5
8. Georgia Tech 9/3/2012 - Logan Thomas pass complete to Demitri Knowles for 42 yards for a TOUCHDOWN
7. Rutgers 12/29/2012 - Logan Thomas pass complete to Corey Fuller for 21 yards for a TOUCHDOWN
6. Marshall 9/21/2013 - Logan Thomas pass complete to Willie Byrn for 2 yards for a TOUCHDOWN
5. East Carolina 8/30/2008 - Patrick Pinkney rush, fumbled, recovered by VTech Stephan Virgil at the ECaro 28, Stephan Virgil for 28 yards, to the ECaro 0 for a TOUCHDOWN
4. Miami 10/8/2011 - Logan Thomas rush quarterback draw for 19 yards for a TOUCHDOWN
3. Cincinnati 9/29/2012 - Logan Thomas pass complete to Corey Fuller for 56 yards for a TOUCHDOWN
The 2nd-most Devastating Play: Cincinnati 9/29/2012 - Munchie Legaux pass complete to Ralph Abernathy for 76 yards for a TOUCHDOWN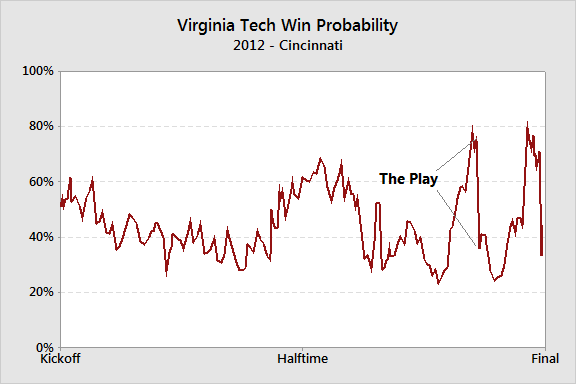 If Tech's third-most devastating play of the past 10 years did not yet leave you convinced the Hokies should avoid FedExField for all of eternity, consider that it wasn't even the most devastating play in that game*. Or put another way, out of 23,000+ plays run over the past decade, 2 of the 3 most devastating plays came in the same game.
*When I put this series together, I decided to keep it entirely objective and not let my emotions alter the results. But I think we can all agree that if even a tiny amount of subjectivity were allowed, this play and No. 3 would be reversed.
Before either of last week's plays happened, Virginia Tech had just taken a 17-13 lead midway through the 4th quarter, and seemed poised to put the game away. On the first play from scrimmage, Cincinnati lost a yard and then faced 2nd-and-11 from their own 24-yard-line. Teams facing 2nd-and-11 deep in their own territory almost halfway through the fourth quarter and down by 3 only end up winning about 25% of the time. If only someone had told Bearcats wideout Ralph David Abernathy.
Quarterback Munchie Legaux lined up in the shotgun with Abernathy beside him in the backfield. Legaux took the snap, and Abernathy ran a wheel route around the left end. In a disastrous defensive breakdown, he escaped the backfield undetected. The defensive pressure didn't hit home, and when Abernathy caught the ball near the 35 there isn't a single other player in the frame. Exum had a chance at the open downfield tackle, but he came up lame. Although Kyle Fuller nearly caught Abernathy before he crossed the goalline, it was too late and Cincinnati quickly retook the lead.
Reminder: never go to FedExField.
The 2nd-most Dominating Play: Miami 11/20/2010 - Ryan Williams rush for 84 yards for a TOUCHDOWN
For those who weren't Hokies yet or have blocked it from memory, the 2010 Virginia Tech season, filled with national championship aspirations, began with a crushing loss to Boise State (at FedExField) on a late touchdown. That game's disappointment was followed by one of the greatest upsets of all time. I-AA James Madison made history by beating Virginia Tech in Lane Stadium.
However, the Hokies rallied, and from that point on only Georgia Tech had given the team a close game as they rolled to an 8-2 record heading into the contest against Miami. A win and the team was destined for the ACC Championship Game, a situation unthinkable two games into the season.
Tied at 17 early in the fourth quarter, Miami punted and pinned Virginia Tech at its own 16-yard line. To win, the offense would almost certainly need to put points on the board. The first play from scrimmage was a handoff to Ryan Williams. Williams tried to find space up the middle but there's no daylight. After a quick bounce off one of his lineman, he found just enough space to squeeze through and from there it was an 84-yard footrace. An incredibly fast hurricane secondary couldn't quite get close enough to bring him down before Williams crossed into the endzone. Hoping for any kind of scoring drive, RMFW handed the Hokies what they wanted on the very first play.
A Tyrod Taylor rushing score would seal a 31-17 road victory against the Hurricanes. Tech would finish undefeated in ACC play; the Hokies won the conference championship game against Florida State.