Hello! I'd like to welcome everyone to a VERY SPECIAL "Foe"Rensics. This is only the second time I've written one of these and Virginia Tech has actually been ranked! It didn't last very long last time, so I'm going to stop talking about it before I put the whammy on the Hokies and why is this sentence still going, I should really stop typing befo-
1. This seems like a good time to interrupt you. Bring me up to speed since the last time you polluted the internet.
A. Right. Well, the Hokies played in the biggest college football game OF ALL TIME, beat the hell out of Boston College, BeamerBalled East Carolina and gave North Carolina a subtropical depression after blowing into Kenan like a tornado and making Mitch Trubisky feel like he barely survived an earthquake. I feel like I'm missing something from my analogies...
2. Sleet?
A. Oh, good one! And speaking of miserable cold weather, as punishment for, I dunno, not sucking anymore, the college football gods have conspired to ship Tech to the great frozen north to play the Orange of Syracuse this weekend.
This is the latest version of Syracuse's mascot. Their budget is a little tight.
You may remember Syracuse from the good ol'1 Big East days. Back then, they were known as the Orangemen, but underwent a vasectomy in the mid-2000s.
3. Dear god, why is Syracuse on the schedule?
A. I don't know, but whatever the reason, I hope Tech learned a lesson and is very sorry.
4. So tell me about Syracuse.
A. Happy to! Syracuse was originally founded as a marketing gimmick to sell soda. In the 70s, a bunch of orange growers in California were looking for ways to expand their market of orange flavored products into something that wouldn't actually require oranges to produce. So, the guys at Big Citrus got together with the guys from Big Sugar and came up with liquified, carbonated orangish flavored sugar, and dubbed it Sunkist. The brand name signified its freshness and that the sun shown on the factory where it was processed.
So what do you do when you have a new product and you want to get the word out quickly and social media and internet memes hadn't been invented yet? Viral marketing! The fellows at Sunkist decided to play on the old joke that if you eat too much of something, you'll turn into it. They started making commercials stating that people would love Sunkist so much that, despite it not actually containing oranges, they'd drink it enough to turn into oranges. Several scientific studies have since debunked this claim, but that has not stopped Sunkist from repeating it on the internet.
As a marketing gimmick, Sunkist claimed they were establishing a school where they would teach people how to be oranges to help them with the transition. Just to make sure that they didn't get random people showing up, they decided to "establish" the school in the middle of nowhere, where no one would ever want to go; Syracuse, New York. Despite this precaution, people, mostly rural New Yorkers with nothing else to do, showed up for classes.
They quickly cottoned to the fact they'd been duped, and many felt betrayed and depressed. So they formed a support group for each other and met a few times a week. Unfortunately, this marketing campaign lasted longer than the Geico caveman, and people kept showing up; generally, not so bright people. One enterprising individual eventually did go get a license to establish a for-profit school, and began charging these suckers exorbitant tuition, which he used as seed money to start an air conditioning company2.
5. Hahaha, they ARE suckers! They voluntarily went to Syracuse?!
A. Yep. Syracuse was originally founded as a leper colony, and they named it Syracuse because the people who were banishing the lepers wished it was on an island like the real Syracuse.
They called the first impact of Joey Slye's foot on Sicily "The eruption of Mount Etna".
6. So why are the Hokies going there again?
A. You have the ACC to thank! After pulling in Virginia Tech to get the Richmond, DC and 757 TV markets3, they added Boston College to get the Boston-metro TV market, because everyone knows the reason no one goes to BC games is because the entire city of Boston is home watching them on TV. After that went so well, they went after Pitt to get Pittsburgh and Syracuse to get...New York City? Elmira? Rochester? Who knows. Anyway, they are idiots and Tech's suffering the consequences of that this weekend.
7. Does Syracuse football?
A. Not well. Historically, they've been not terrible at times, claiming a national title in the 50s, but that came in the middle of a run of backs like Jim Brown, Ernie Davis and Floyd Little, who all wore the number 44 because of a quirky abnormality that each of them had 44 teeth. Their celebration of this unusual teeth-count led to the demise of their most passionate rivalry at that time, with nearby Colgate, whose toothpaste simply couldn't stand up to that volume of teeth.
These days, Syracuse generally sucks. They had a run in the 90s where they were winning Big East titles4, particularly with notorious field vomiter Donovan McNabb, who will forever hold a special place in my heart. A place of cold hatred. Since then, they've pretty much sucked, and have had a winning record only three times since 2001, a feat of crappiness made all the more impressive by the fact that most of that terribleness was accomplished in the Big East. Their dedication to being awful has inspired unseen levels of dedication amongst their fans; as demonstrated by the unseen fans here.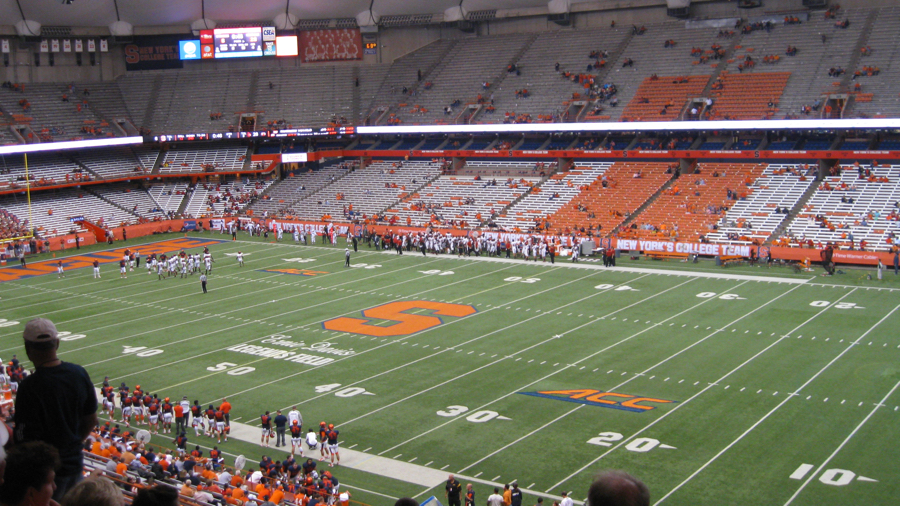 Still more fans than LOLUVA had at their spring game. (via stadiumandarenavisits.com)
8. Should this should be a cakewalk, then?
A. No, because the Carrier Dome is a cursed realm. The Hokies only won in that horrible place twice, once before the Soviet Union fell, and the other when a certain Michael Vick ran around and did superhuman things. Even despite the parade of incompetents and boobs that have run the Orangemen into the ground since Paul Pasqualoni was fired, this game still makes me nervous.
9. Why who's in charge now?
A. The child of Flintstones aficionados, Dino Babers. He's actually had a pretty good head coaching career, making Eastern Illinois and Bowling Green competitive in his two years in charge at each place before bouncing up to a "bigger" job. Syracuse is the current stepping stone, and if the timing works out, I'm sure he'll be in Happy Valley in 2018, then maybe Miami, then maybe the final step, the goal for every head coach and player ever, a shot in the SEC, somewhere like the hallowed grounds of Kentucky.
Anyway, he's really good at offense, really bad at defense. Like the inverse of Virginia Tech for the previous 10 seasons.
10. Do they have any Fullers?
A. Nope. No Edmunds either. In fact, it doesn't appear they have a single set of brothers on their roster, meaning they likely are unaware of the first rule of recruiting; ALWAYS CHECK TO SEE IF THERE'S A YOUNGER BROTHER.
11. What about the rest of the roster?
A. They've got a few guys who originally came to 'Cuse on a geography scholarship and wound up playing football, Zaire Franklin, Austin Wilson, and Parris Bennett. To make you feel old, they've got Cordell Hudson, who is actually young enough to have been named after Kordell Stewart. Alryk Perry and Andrejas Duerig moonlight at Renaissance Festivals, and finally, they've got Airon Servais, which means "horrible neck beard" in French.
All of the bad parts of a beard, none of the good parts
12. Is there anything else about Syracuse we should know?
A. They've actually got a remarkable lineup of alumni in media and arts. Shirley Jackson, whose novel "The Lottery" you had to read in school at some point and was about Syracuse season tickets, Dick Clark, Taye Diggs, Lou Reed, Pete Yorn, Ben Stiller's dad Jerry, Vanessa Williams and Lexington Steele, who has never been in any movie I've ever seen. Ever.
They've also produced a ton of sports broadcaster also rans, like Marv Albert, Bob Costas, and Mike Tirico. Most importantly, Syracuse boasts as an alum the man who will forever be the Voice of the Hokies in my heart, Bill Roth. That ALMOST makes up for McNabb, Syracuse. ALMOST.
13. Any cool football related traditions?
A. Well, they figured out that it was something in the Sunkist that was making all their players grow the extra teeth, so they no longer allow area children to drink it and subsequently retired the number 44. There's an Ernie Davis statue that's apparently famous, and they have the most uniquely named restaurant in college football, The Varsity, which turns the opponents banners they hang in the restaurant upside down when Syracuse wins. This doesn't happen very often.
14. Do they have rivalries?
A. Eh. After the toothpaste imbroglio with Colgate, it's a mixed bag, with lots of "used tos". They USED TO have a rivalry with Penn State, but Penn State found better teams like Pitt5 to rival with. They USED TO have rivalries with WVU and Rutgers, but those were marriages of convenience, and the dissolution of the Big East meant 'Cuse wisely decided to not voluntarily travel to Morgantown or New Jersey. The only real rival they have left is Boston College, which is again down to the fact they they are the only two major college football programs in New England and they've been in the same conference. There's not even a quirky or witty name for the rivalry, and the Wikipedia entry cites an article by Heather Dinich, and should therefore be shunned.
15. Do they have food in Syracuse?
A. Yes! Trying something new here, I just picked the first restaurant that came back on Google, the obnxiously cutesily named Pastabilities. Our first reviewer, James Sayles, clearly received a Syracuse education:
Drove 2 hours to experience the food here based on their rating. We arrived around 3, paid for parking walked in, sat down, to only be told they are now closed for the day. No explanation given. We were told they will reopen tomorrow. Several couples attempted to go in after us as well and were told the same. Highly unprofessional.
First of all, who the hell drives two hours to eat at a restaurant named PASTABILITIES? Also, you posted this review a month ago on the internet, so clearly you are aware of the internet and can find the restaurant's listing on Google which clearly states that they close after lunch EVERY DAY at 2:30. Why do you need someone to explain to you the phenomenon of closing between lunch and dinner? Because you don't know how to Google the hours of the restaurant before driving TWO HOURS to eat there?
Several reviewers recommended getting the Wicky Wicky Chicken Riggies, which frankly sound inappropriate, but we'll finish up with this from Lucas:
Tried to eat here, waiter was being an arrogant snob, refused to serve me small Hatian child in my pasta, I told him it was a Vietnamese tradition and he still refused, if I could I would give them no stars
Uh...
16. Do they barbecue in Syracuse?
A. They have actually opened a restaurant in Babers' honor, Dinosaur Bar-B-Que, which Ray Foss helpfully reviews:
One of the worst places in Syracuse for vegetarians. They have a veggie burger, with eggs, it's tasteless. For a business this size, they should really have bike stands, they don't. They really want this rating. I'm not proud of this place as a Syracuse person.
You, sir, went to a barbecue restaurant and complained about their vegetarian options. Do you review Mexican restaurants and complain about their lack of Lo Mein? You are an idiot and your opinions on all things are heretofore invalid.
A Google User with a Walrus picture added:
Over hyped food, that is just not very good. I ordered rib eye. For 21 bucks I expect something that is not dry and flavorless. The cheese burgers were awful
Ugh, THIS IS WHY NO ONE LIKES NEW ENGLAND. It's barbecue, you don't go in and order a steak or a cheeseburger. Why don't you take Ray to Pastabilities and complain about their quesadillas. You people are the worst.
17. How are the FAINTs looking?
A. So, I'm not trying to jinx anything, but Jerod Evans is REALLY good at not throwing interceptions. Bud Foster's defense is also good at catching them, which makes football really fun to watch! The Hokies have caught seven and thrown one, yielding a -6 FAINT count on the year, which is fabulous. Just don't factor in fumbles; while I recognize the game was played in a hurricane, Tech's offense put the ball on the ground SEVEN TIMES. While I think we all thought the first two games were bad, I'm wondering how many teams have fumbled seven times and won in a blow out.
18. What should we watch for on this Saturday?
A. I'm watching for:
Weird sightlines and really ugly astroturf; Carrier Dome staples!
A reminder that if Donovan McNabb doesn't get your hate flowing, Syracuse also recruited Greg Paulus as a graduate transfer to play quarterback. He was terrible.
An Independence Bowl-esque shootout, except if the other team only had a nerf gun.
My new favorite Hokie tradition, the Fu-Foster bro hug at the end!
Enjoy the game! Unless you're physically going to Syracuse, in which case, I'm sorry!
1This is a bald faced lie, the only good ol Big East day was the day we left. I mean, the national title game appearance happened in spite of Tech being in the Big East, not because of.
2And thus we get the name of the horrible place in which they play, the Carrier Dome, which is not actually air conditioned, because of course.
3Everyone knows LOLUVA fans don't watch football, unless it's preceded by a lecture.
4To be fair, this was between the Druck and Vick years, and well before Miami was BACK before Miami wasn't BACK anymore.
5Giggles