2004 was weird.
For the first time since the Michael Vick spaceship took Virginia Tech into previously unexplored stratospheres of success and relevance, expectations for the Hokie football team were low. Kevin Jones departed for the NFL, leaving an All-American-sized hole at running back. Deangelo Hall bolted as well, taking with him not only his abilities at corner, but an other-worldly talent as a punt returner (he ran three punts back for scores in '03).
Gone too was Ernest Wilford, who caught 55 of Tech's 182 completions on the season (for reference, Justin Hamilton had the second highest total with 23 catches. Fullback Doug Easlick was next with 16.) They also lost Rimington Trophy winner Jake Grove, starting defensive end Nathaniel Adibi, two strong candidates for Tech's All-Name team — end Cols Colas and starting linebacker Vegas Robinson — rover Michael Crawford, and corner Garnell Wilds.
But Marcus Vick made sure the offseason party didn't stop there (party, get it?) The younger Vick brother, incumbent kick returner and potential starting running back Mike Imoh, and future Kirk Herbstreit lambastee Brenden Hill were all charged with contributing to the delinquency of a minor. Both Imoh and Hill were suspended for the first three games of the '04 campaign, while Vick was suspended "indefinitely."
(Side note: it wasn't conviction for having sex with underage girls that caused the harsh punishment. It was Marcus getting caught with weed two months after the conviction that did it. This era of Hokie history fascinates me, primarily because I'm not totally convinced that Frank Beamer knew how to handle the newfound success of his program. Can we crowdsource a 30 for 30 about Tech football between 1999 and 2005? We can call it "The Tale of Two Vicks", with half of it being about the last time the Hokies where true national title contenders, and the other half being about the parties in Foxridge.)
By the time preseason predictions started to take place, Tech was on no one's radar. They lost a ton of talent, and most of the returning guys were either unproven, unproductive, or known, average quantities.
And out of anyone on the roster, Bryan Randall seemed to embody the last category most. Randall came to Blacksburg in 2001 as one of the most highly touted high school prospects Beamer had ever landed. The record setting high schooler and Parade All-American was the logical successor to (Michael) Vick, and even challenged for the starting job as a true freshman.
But by 2004, the Randall love had cooled. He was (fairly or unfairly) the face of massively underachieving teams in '02 and '03. He was often blamed when the offense sputtered, and it was unclear whether Tech's run-dependant attack was so unbalanced because of Randall (who threw for over 200 yards just five times in 27 games over the two seasons), or Beamer's conservative approach (Randall had over 20 attempts in less than half of those contests over the same period).
This all came to a head in '03, when the 6-0 Hokies dropped four of their final six. And down that stretch, Randall fell apart. Not only were his numbers bad (54-100, 702 yards, two TDs, seven INTs), but his confidence waned.
Beamer even moved to (Marcus) Vick during what was possibly the most signature win of Frank's career, a 31-7 nut punching of second ranked Miami in Blacksburg.
The two split time the rest of the year. The offense fell apart. Their only other win — a 24-23 OT clunker against 1-9 Temple — doubled as the most dire example of the implosion. The Hokies kept losing, couldn't supplement Jones' production with anything through the air (both Randall and Vick were awful), and completely deflated. One brief moment of hope was Randall's 398 yard, four score performance against Cal in the Insight Bowl, but that still came as part of a 52-49 loss.
The departure of NFL talent coupled with an offense who couldn't move the ball? 2004 felt like a disaster waiting to happen.
Courtesy Virginia Tech Athletics
Josh Jackson was not a Parade All-American. He was three-star out of Michigan whose second best scholarship offer was West Virginia. His third best offer was a tie between Boston College, Minnesota, and Utah.
But like Randall, he endeared himself to the fan base right away. Jackson left high school early to enroll in January of 2016, and seemingly kept himself in the mix of the quarterback competition with upper classmen Jerod Evans and Brenden Motley. And when the two departed, Jackson stepped in with a bang.
Two scores. No turnovers. Three-hundred-plus total yards. A neutral site, prime time win over the most hated rival in program history (you heard me). That's not a bad way to say hello to hundreds of thousands of fans.
He continued to impress. Through four games, the man who wasn't old enough to celebrate with a rail at TOTS had 1,127 yards on 65% completions, 12 total touchdowns, and just one turnover. Yes, it came against a string of defenses softer than a stanza of Al Groh's poetry, but it's hard to overlook those numbers.
And then Clemson happened.
Both Jackson and his offense were never the same after the Tigers dismantled them. They were fine against Boston College (but had trouble converting in the red zone), and had their flaws hidden against UNC thanks to three non-offensive touchdowns in the first half. Jackson's stats against the Tar Heels? 10-20, 132 yards (6.6 YPA), three touchdowns (all inside the 10.) The score overshadowed an ineffective day overall.
And here are his numbers from the final five games of the regular season: 78-143 (54.5%), 911 yards (6.4 YPA), 3 TDs, 4 INTs. 101 rushing yards on 48 carries (2.1 YPA), 3 TDs.
The team came to a screeching halt. Jackson's unit averaged just 17 points per game over that stretch, and the fact that Tech went 3-2 was borderline miraculous. The team was a miracle goal line stand away from 2-3, and an other-worldly defensive performance from doing the unthinkable and losing to Virginia.
For a season that started with a win over West Virginia and ended ranked 22nd at 9-3, morale was very low. Losses against the only two opponents on the schedule who finished the season ranked (Clemson and Miami), coupled with an offensive performance not seen since the Loeffler administration, made for an ulcer-inducing nine wins.
And this feeling is the biggest difference between the national perception of the Hokies, and the local one. Tech has routinely found themselves ranked in the top 20 this preseason. They're 17th in the Coaches Poll, 15th in the ESPN.com power rankings, and 16th in Athlon's rankings. Yet despite the praise, if you cornered a Hokie fan and demanded a win-loss prediction, you'd hear far more seven-to-eight win guesses than anything remotely close to a ranked team.
But the most interesting thing about the difference in outlook is that both sides' logic centers around the same person — Jackson.
To the bigger outlets, the Hokies return a star young quarterback whose numbers looked surprisingly good for a redshirt freshman. To many fans, the Hokies return a QB who couldn't consistently get things done after week three. And with all of the attrition on the other side of the ball, it's fair to wonder if Jackson can provide enough scoring to make up for a now very young defense.
In terms of the fanbase, 2018 has a wider range of expectations than any season since—you guessed it—2004.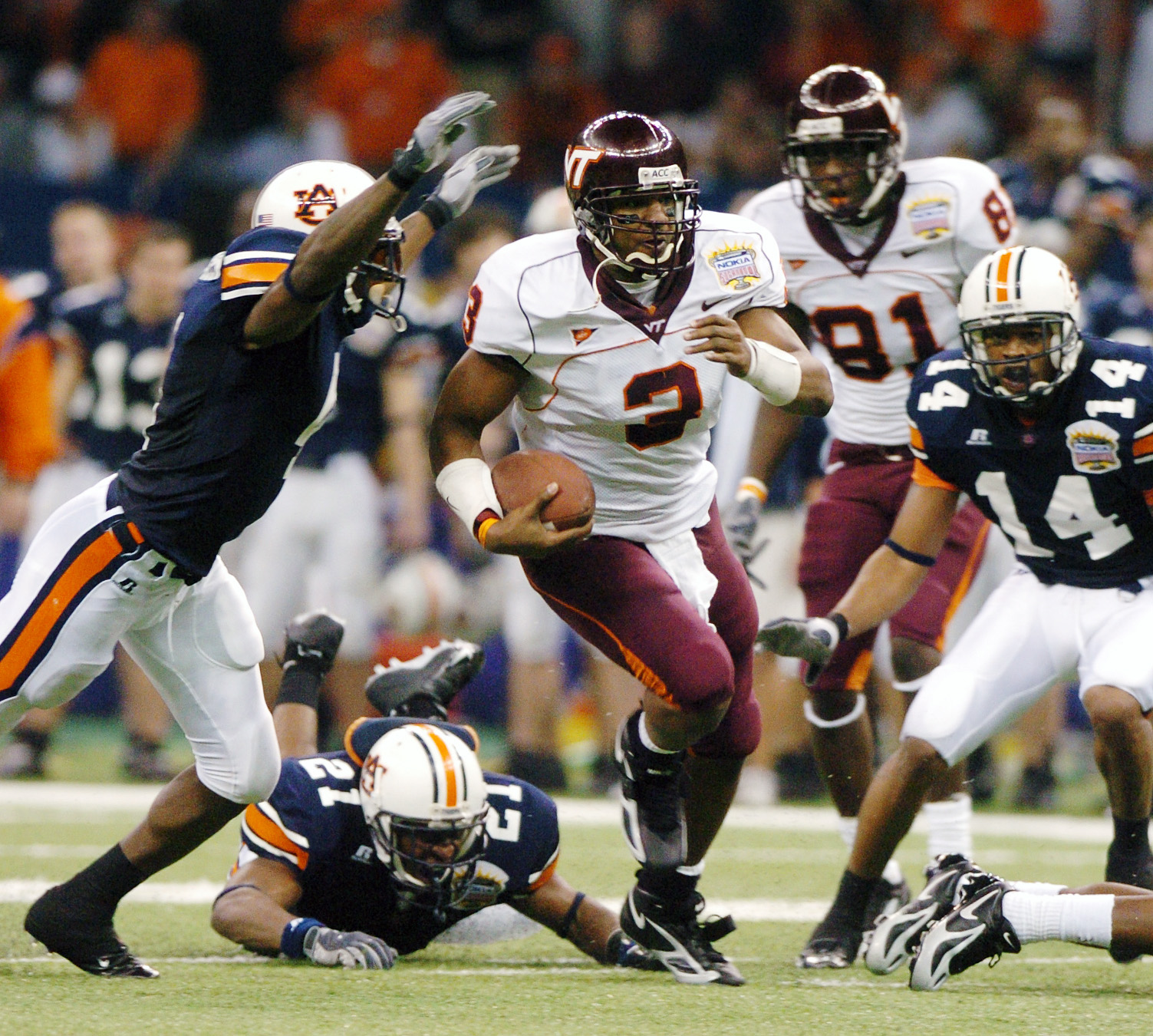 Courtesy Virginia Tech Athletics
But we all knew how that went for Randall. Free from the burden of a five-star backup breathing down his neck, the senior lead the Hokies to a 10-3 record, an ACC championship, and a Sugar Bowl appearance. He also won ACC Player of the Year, and kicked off the first of eight straight 10-win seasons.
In just a few months, Randall completely turned around his reputation amongst the fanbase. He ascended from being the poster child of annual disappointment to Blacksburg folk hero who'll never have to pay for a drink downtown again. And even now, when we talk about the pantheon of Virginia Tech quarterbacks, Randall is usually the third name to come up after Michael Vick and Tyrod Taylor.
It's all well deserved. He ended his career atop many of Tech's passing records, and was a great leader. And his most important role was acting as the face of the program post-Marcus suspension, when fans and pundits alike desperately needed someone who felt good to root for.
But to me, the most interesting thing about Randall's '04 run is that he didn't play significantly better statistically than he did as a sophomore or junior:
2002: 158-248 (64%), 2,134 yards, 12 touchdowns, 11 interceptions.
2003: 150-245 (61%), 1,996 yards, 15 touchdowns, 10 interceptions.
2004: 170-306 (55%), 2,264 yards, 21 touchdowns, 9 interceptions.
Yes, his yards went up, but that's primarily from him attempting almost 60 more passes than the year before. His completion percentage dropped (also from the increase in attempts), and his turnovers stayed about the same.
21 touchdowns looks sexy, especially when compared to the other two totals. But how much of that is related to losing the best running back in school history? Jones' 21 (!!!) rushing touchdowns had to be distributed somewhere, which meant more red zone targets for Jeff King, John Kinzer, and Jared Mazzetta.
Randall was basically the same quarterback in '03 as he was in '04. More confident, sure. More of a leader, probably. But he did one important thing to make himself seem different. His squad exceeded expectations. They won, more than any fan imagined.
But how much of that had to do with Randall, and how much of it had to do with underestimating the talent on the roster? This Washington Post article makes the '04 preseason sound like a post-apocalyptic free-for-all with freshmen fighting freshmen for scraps of playing time. Yet when we read all of the names listed in it (Vince Hall, Xavier Adibi, D.J. Parker, Brandon Flowers, Eddie Royal, Josh Morgan), the column borders on comedy.
It was impossible to know at the time, but the Randall had five pass catchers who'd go on to the NFL (King, Royal, Morgan, David Clowney, Justin Harper), in what was the deepest group of skill players under Beamer. This also goes back to Randall's spike in touchdowns. He had a little more help after the catch than he ever had before.
Randall was great, in part, because the talent around him increased (which is ironic, because they lost Jones.) It didn't matter that he was close to the same player he'd always been. It didn't matter that the success in '04 should be closer linked to a group of young defensive players making a leap and lowering their points allowed per game from 23 in '03 (45th nationally) to 13 in '04 (2nd).
We only saw 10 wins and a couple of clutch touchdown tosses from the veteran QB (the two to Royal in particular), and that changed the Randall narrative forever.
Similar to Randall's Insight Bowl performance, Jackson had a showing in the Camping World Bowl that left fans intrigued. It wasn't as sexy, but with 248 yards and three total touchdowns, it was his best performance in over two months. With Cam Phillips out and Sean Savoy MIA, Jackson found a groove with fellow youngsters Phil Patterson, Eric Kumah, and Hezekiah Grimsley.
The 30-21 loss to Oklahoma State didn't exactly inspired confidence moving forward, but it accomplished the same thing Randall did against Cal. He may not have had nearly 400 yards and four scores, but like his predecessor 15 years earlier, but Jackson showed that he was more than the guy we watched in November.
Which is good, because in 2018 Jackson needs to be much more than that. More than a dude who was white-knuckling his way through the majority of the ACC schedule. And yes, the defensive attrition is bad. Starting two sophomores and a redshirt freshman at the three corner spots isn't ideal, neither is starting two young linebackers. To give Bud Foster's side the help it needs, the offense is going to have to play much better.
But the idea that the necessary scoring production squarely falls on Jackson's right arm isn't true.
Tech does need the offense to stay on the field longer and score with more success, but that charge extends well beyond Jackson. Think back a year ago. How many times were you wowed by something that happened in the open field? Or by a quick cut from a running back? Or by a receiver after the catch?
Not a lot comes to mind. Savoy's 53-yard score against BC, a few Jalen Holston bulldozings, Kumah's stiff-arming of Quin Blanding. There may be a few others that slip my mind, but you get the point. Even the best quarterbacks are helped by their wideouts turning a 5-yard slant into a 15-yard chunk play, or by a tailback making a man miss in the box to turn a 3-yard dive into an 8-yard pick up.
This should be the focus of offensive angst in 2018, not Jackson. Because even if the redshirt sophomore only makes incremental improvements, but his skill players perform better, we could see massive uptick in production.
And how likely is that? The chances are much higher than they may seem.
No, Jackson doesn't have the 2004 talent Randall inherited (at least not that we know yet), but the receiving corps is the deepest it's been since 2007 — when Royal, Morgan, and Harper were all seniors. Damon Hazelton is a man. Even if he struggles separating (we don't know how he'll fair against Power Five corners), he could be a consistent threat underneath. French has already sung Grimsley's praises working out of the slot, and I think Patterson has the best physical tools of anyone out wide.
That's three guys, before even getting to Savoy — who lead all returning receivers in catches, yards, and scores in 2017 — and Kumah. Add in the chance of a contribution from Tre Turner (the best receiving recruit since Royal?) and/or James Mitchell (Bucky Hodges without the position change?) and you're looking at an extremely young, explosive bunch. And it certainly beats the Cam Phillips, James Clark, Henri Murphy trifecta that came into last season as the veteran group.
The same argument could apply for this crop of running backs, too. Though the faces are still the same, there's potential for an improvement in explosiveness that hasn't been there in years past.
Of course, we've done this before. We've played one big game of "find the bellcow" roughly every year since David Wilson left for the NFL in 2011, with each guess becoming a little more desperate. Want to get bummed out? Here's a list of every back who was given the chance to take hold of the starting spot over the last six seasons: (takes deep breath) Michael Holmes, Tony Gregory, Martin Scales, J.C. Coleman, Trey Edmunds, Marshawn Williams, Shai McKenzie, Travon McMillian, Sam Rogers, Deshawn McClease, Steven Peoples, Jalen Holston (exhales the last remaining oxygen left in my body).
Edmunds and McKenzie were betrayed by their bodies, but outside of that, it's not a great list. It's why in half those seasons (2012, '16, '17) the quarterback lead the team in rushing attempts (before you get on me about the coaching/system change, Paxton Lynch never lead Memphis in carries during his three years as a starter. This is a Virginia Tech problem.)
If we've seen running back roulette since Shane Beamer was manning the boxing glove on a stick, why should we expect anything different now? Two reasons. For one, McClease is as promising as any player on the list above, and he showed what he can do last year. Every time he had more than 10 carries, he averaged over five yards a pop. He may not be a threat to break off a 60-yard scamper, but he's very good at turning minimal gains into medium ones.
Secondly, and I can't believe I'm about to say this, but the offensive line seems to be the
wait hold on.
I'll get the words here in a second.
Triple-checks the next sentence to make sure this isn't a fever dream.
The offensive line seems to be the strength of the offense? Is this real life? The unit has an enticing combination of youth and experience, loads of athleticism, and finally looks like what Vance Vice has been promising since his hire.
If the line is as strong as it seems today, it helps both Jackson and his running backs. If McClease — who's already good at making the most of what he's given — has even bigger holes to run through, he'll have a huge opportunity for success.
Holston's the other wild card here. I don't necessarily see the same promise others do, but there's a reason he played as a true freshman, right? If the sophomore can become the second back behind McClease, and can move the chains in short yardage situations, he'll be extremely valuable.
If it were up to me, I'd ride McClease and Holston. Peoples is a great story. He runs hard, but often runs hard directly into the back of his guard, or runs hard right into the waiting arms of a linebacker. Coleman Fox is also nice, but I don't think he gives you anything that the others can't.
But most importantly, when it comes to big plays (and helping Jackson), McClease and Holston are the best bets. It may not be as sexy as having a Jonathan Taylor or Bryce Love in the backfield, but by consistently moving the ball, they help Jackson tremendously. Not only would it limit the number of third-and-longs he'd have to manage, but it would also limit his carries. And the less Jackson puts his dad-bod into harm's way, the better off he'll be throwing the ball.
Personally, I'm not sure if Jackson has what it takes to carry the brunt of his team's expectations on his shoulders. Not in terms of his mental strength, but simply in terms of his ability. He's not an all-everything Vick-like guy. He's not a highlight machine poster child like Tyrod. He doesn't have the raw ability of a Logan Thomas. He doesn't even have the physical build to carry an offense through sheer force of will like Jerod Evans.
But does that mean I don't think he's capable of guiding the ship while remaining in his comfort zone? Not at all. He's smart. He's athletic enough. He knows where to go with the football, and more importantly, who to go to. How many quarterbacks have we seen use these three traits to tremendous success in their college careers? J.T. Barrett, Drew Stanton, Tajh Boyd, Kellen Moore — all quarterbacks who rode those traits to staggering success. Hell, Ken Dorsey parlayed those exact things into a stint as an NFL starter.
And coupled with an improved supporting cast and lower expectations overall, could 2018 change the way we think about Jackson? Could he take a page out of Randall's book and put forth a season that no one else saw coming?
He'll need his guys to step up, and for things to break the right way. But what if maybe, just maybe, there's a little bit of that 2004 magic still lying around Lane Stadium? And what if Jackson's good enough to use it to his advantage?