For nearly every concern, uncertainty, and source of optimism among the Virginia Tech fanbase, Florida State fans know the feeling. After missing virtually the entire 2017 season, quarterback Deondre Francois returns as the starting quarterback, and has a decent group of offensive returners returning. The defensive side of the ball, however, has been decimated with eight starters replaced in 2018.
Ratings and other statistics reflect how each team ended 2017 as obviously no data is available on 2018 yet. With Willie Taggart taking the reins at FSU after a one-year stint at Oregon, many statistics in this week's preview include Oregon in order to help anticipate what changes may come to Tallahassee.
What do those statistics tell us about the Hokies and Seminoles on Labor Day...
Where the Season Stands
Virginia Tech is currently 0-1, having been defeated in a lopsided victory by the offseason. Can the team bounce back?. The actual and predicted score difference and odds of winning each game are: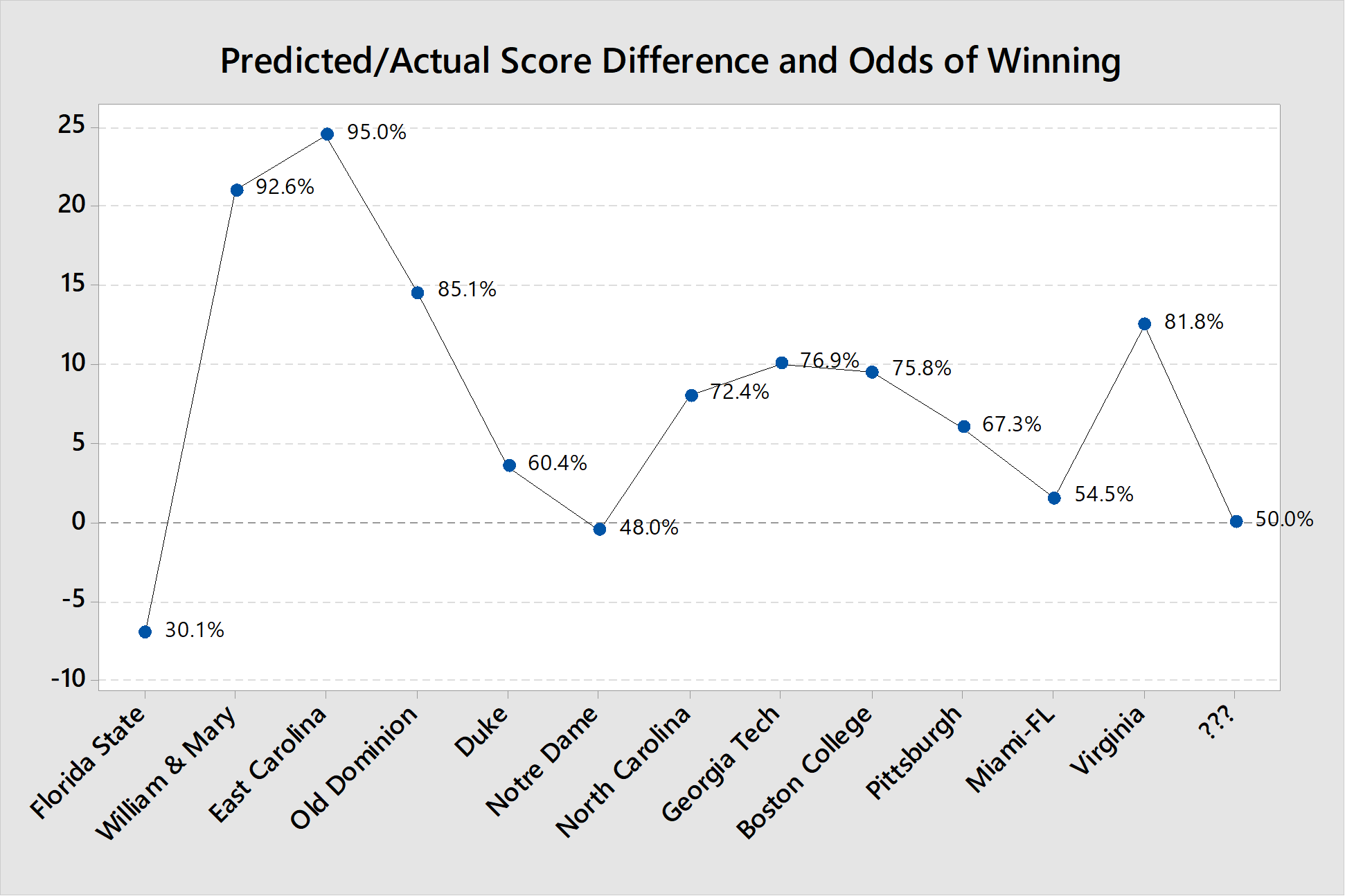 The odds of each possible regular season win total are now:
Although most outside pundits would put the Hokies at around an 8-win season, anything from 6 to 11 wins is well within reason. The good news is that puts the bowl streak at a very high chance of continuing; the bad news is that with the most likely losses coming in conference, an ACC Championship game appearance is going to require significant luck or a much better team than anticipated.
Additionally, predictions are mostly tied to 2017 performance so it would not be wise to read to much into future game predictions at this point other than as a very rough guide. Virginia Tech would face Notre Dame and Miami right now as larger underdogs than illustrated in all likelihood.
Rankings and Computer Predictions
The computer rankings and predictions for each team:
There is a computer that predicts a 17-point Virginia Tech victory, and while that prediction is likely terrible, let's all just agree it's actually pretty fantastic. While certain ranking systems do account for offseason turnover and recent recruiting, many do not, and thus rankings mostly reflect how each team finished 2017. Las Vegas incorporates both game location and offseason changes in pegging a 7-point spread. The odds of a 7-point underdog winning is 30.1%.
Next is a look at any overall offensive or defensive advantages: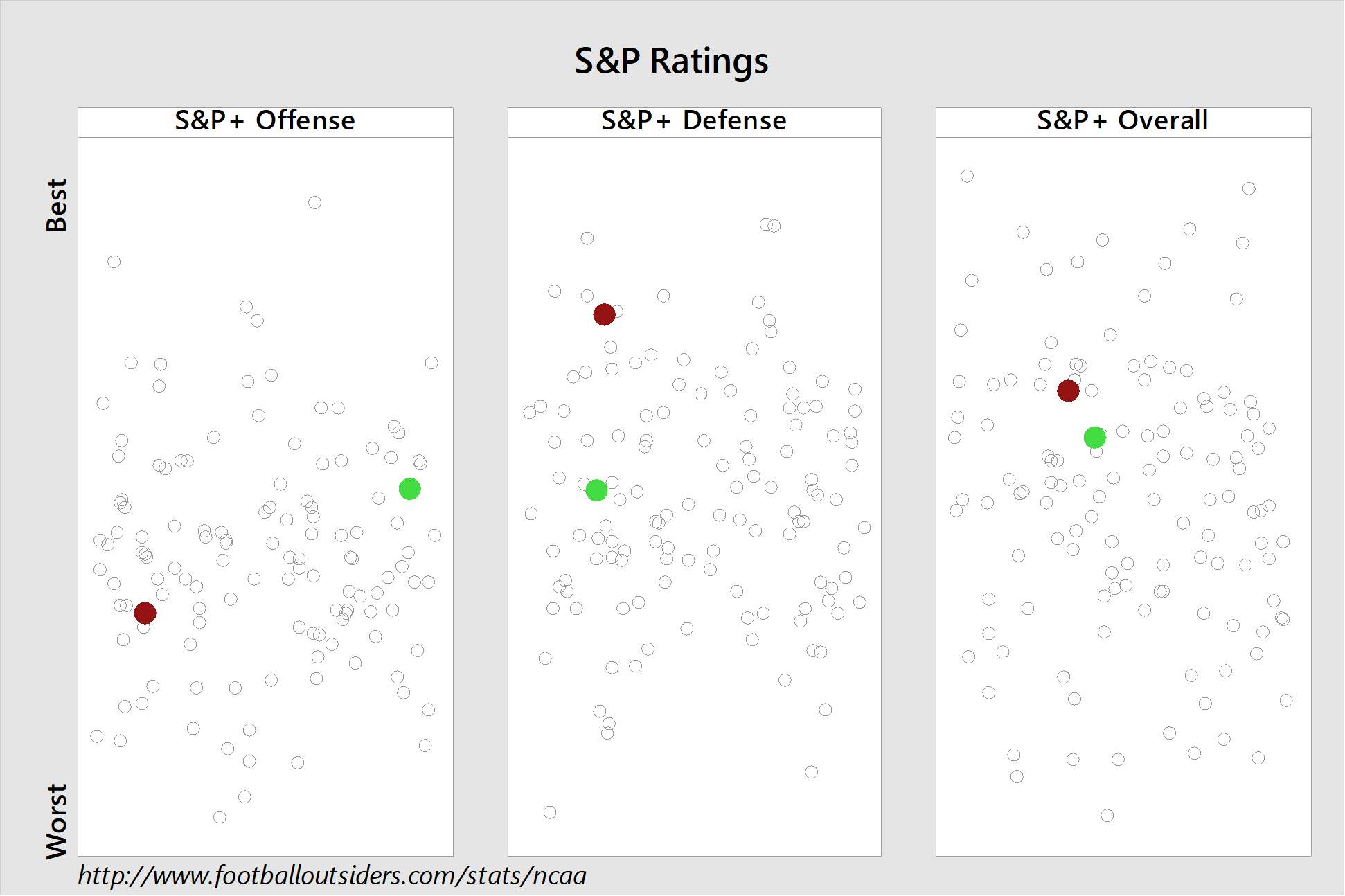 While the Hokies finished with a better defense than either Florida State or Oregon, that defense was decimated by moves to the NFL and offseason dismissals. The Seminoles did not show a better offense than the Hokies, although Oregon was quite a bit better.
When Virginia Tech Has the Ball
Here is an explanation of S&P+ ratings, and FEI ratings. Most statistics are now opponent-adjusted.
Who has the advantage in the passing and rushing game when the Tech offense has the ball?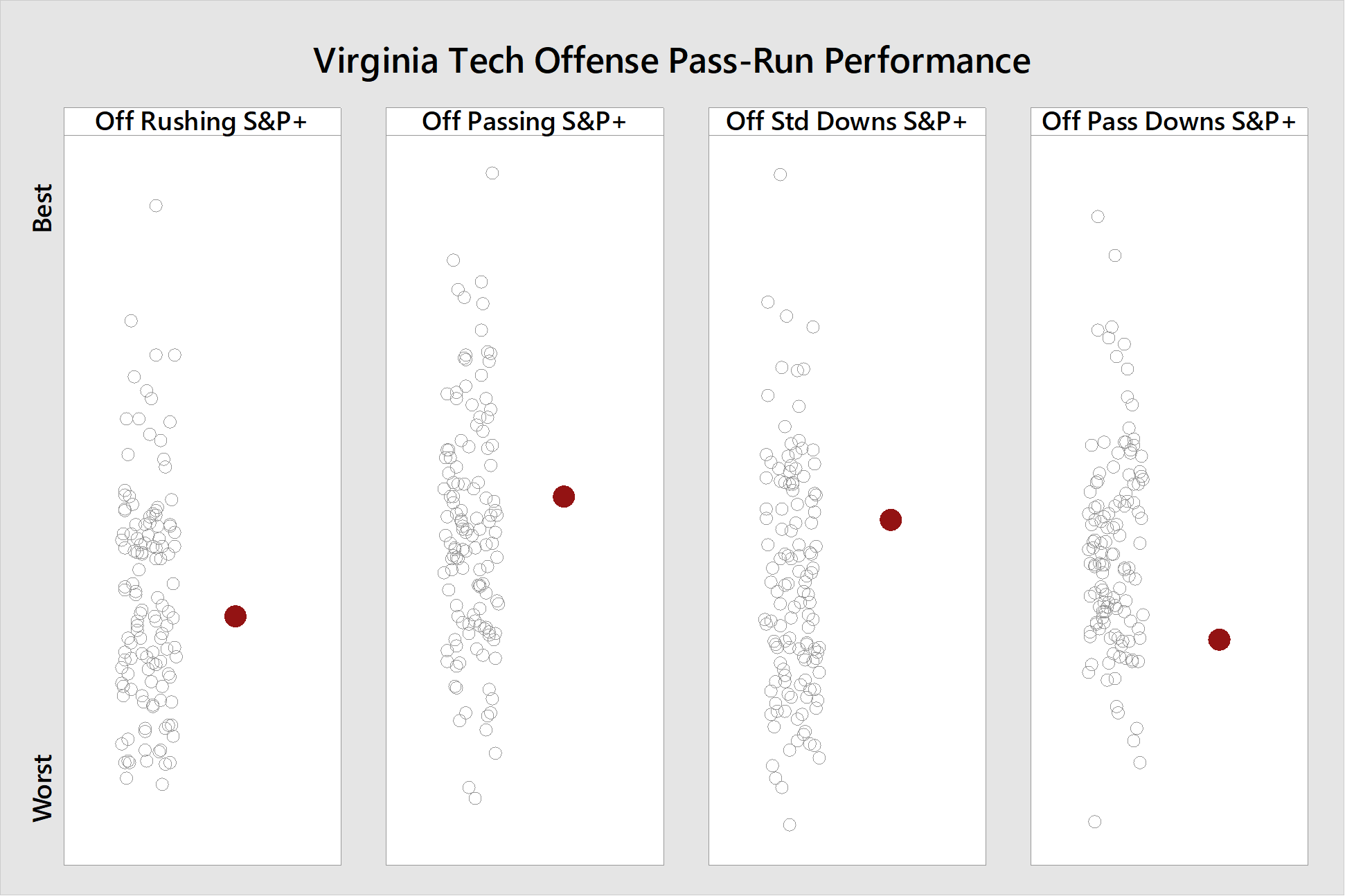 Virginia Tech was a fairly effective passing team in 2017, but in what has become a multi-year trend had no significant rushing game to speak of. The team did well on standard downs, but struggled on passing downs as the offense became more one-dimensional. Florida State featured a defense that was well above average in all categories, as did Oregon.
What style offense do the Hokies use and what style will they face?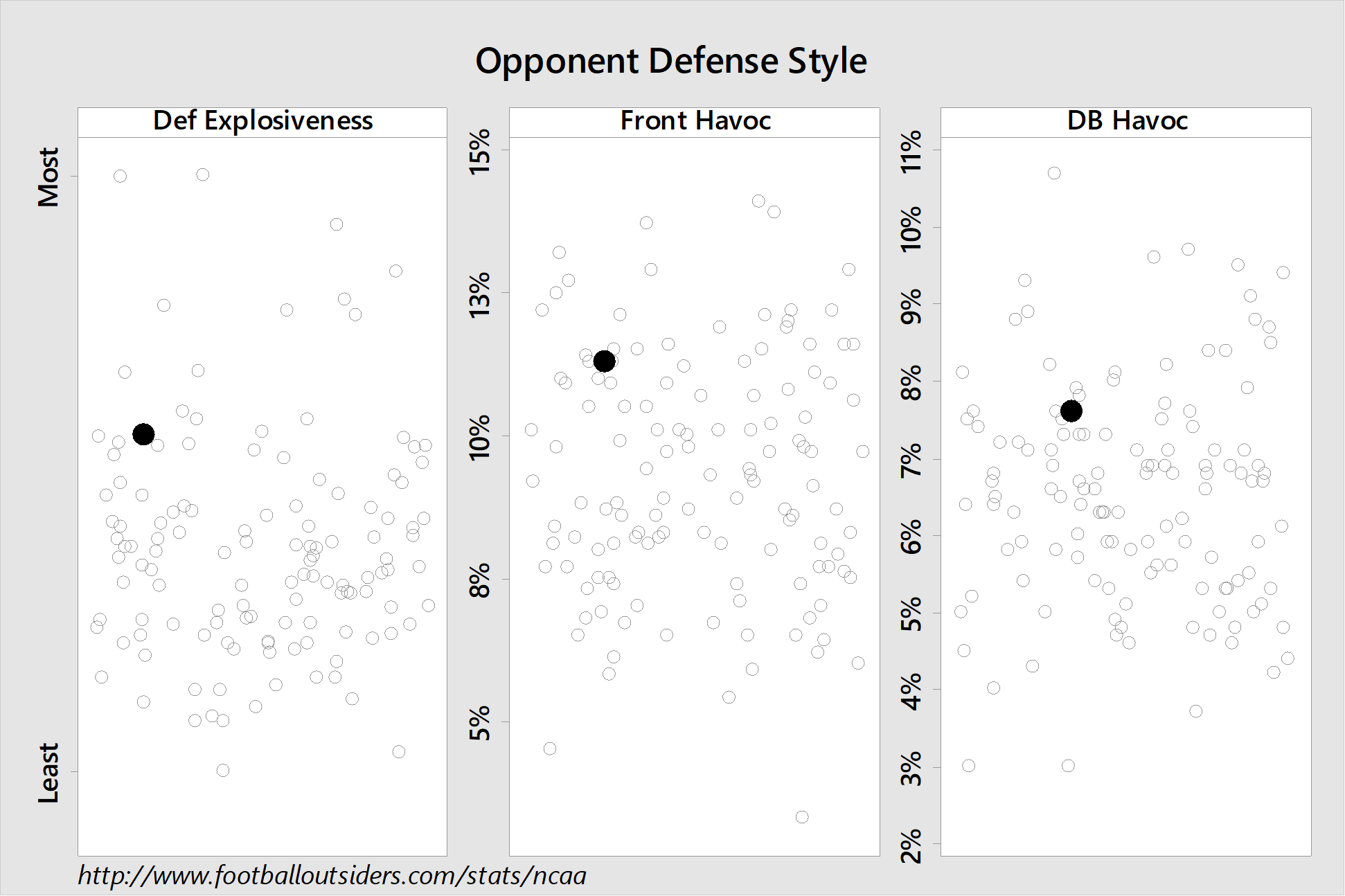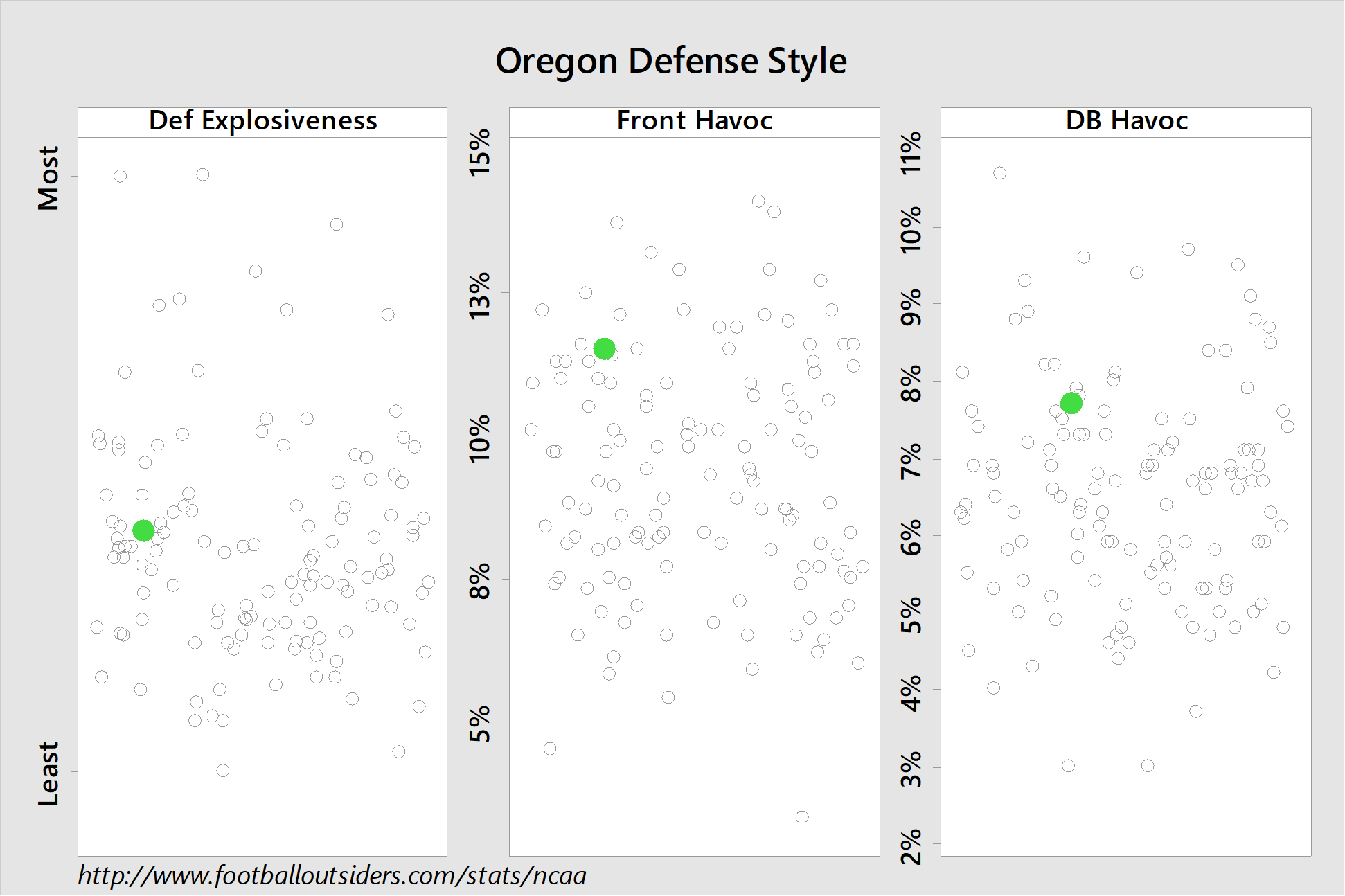 Fans will not be surprised to hear the Hokie offense was far from explosive; the team also ran slightly more than the average team and at a slightly faster pace. The Seminoles on the other hand excelled at preventing explosive plays, and did so by causing major havoc on the defensive line and in the secondary; similarly so did Oregon, although the Ducks were less able to stop explosive offenses.
Offensive and defensive line performance are compared using Football Outsiders' metrics: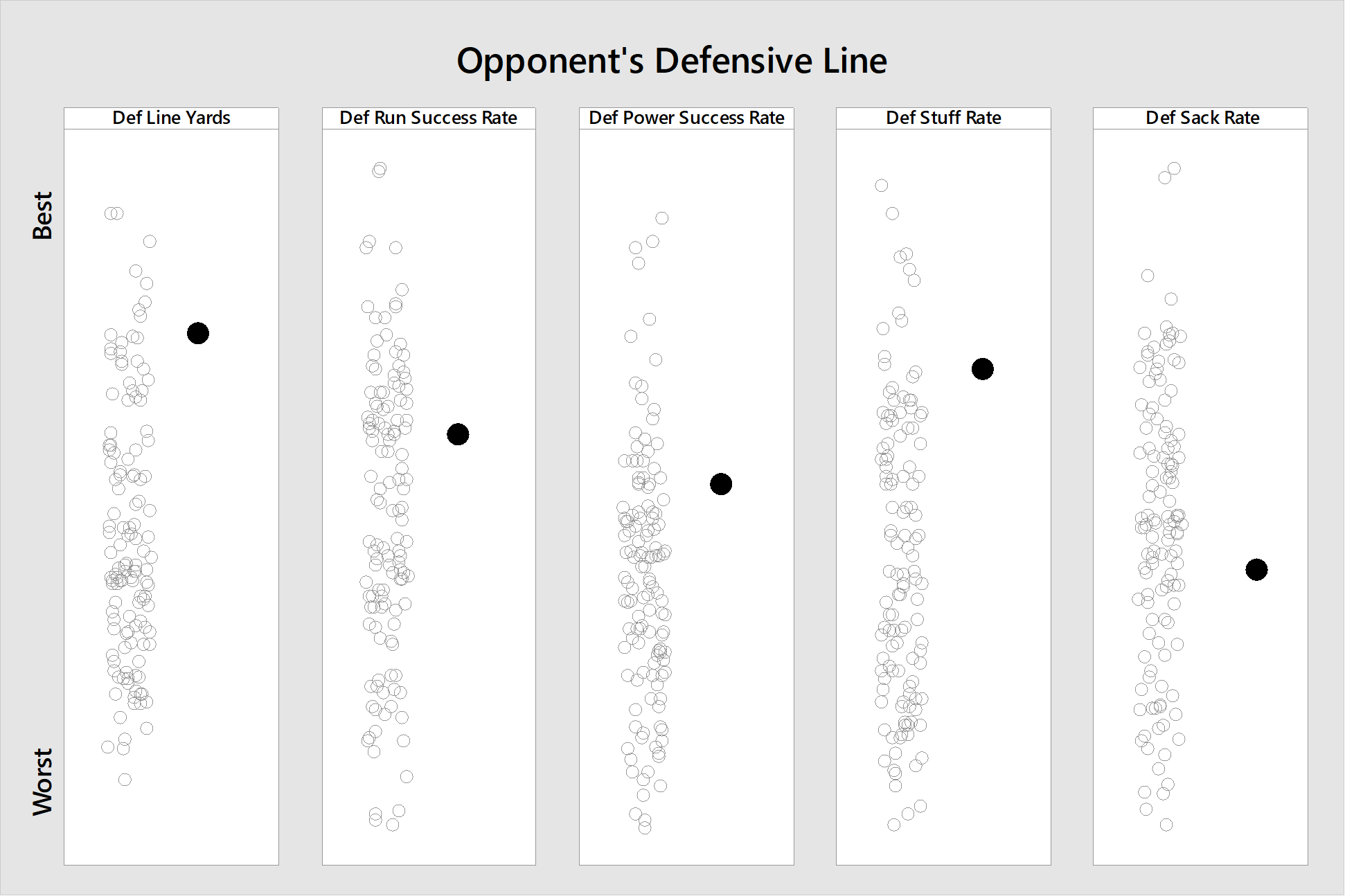 Now let's take a look at the FEI personality traits of the Hokie offense versus the Seminole defense: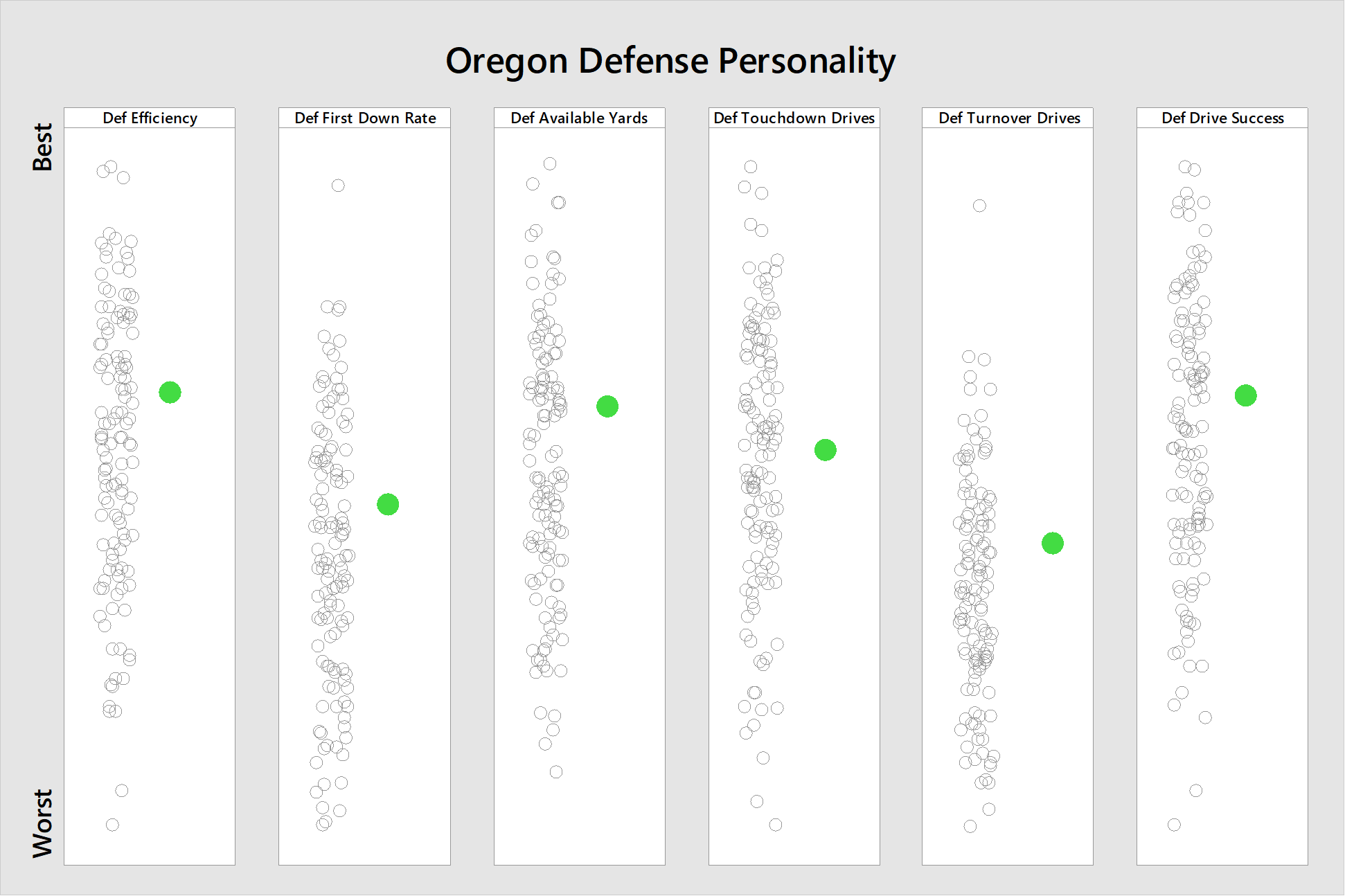 The Hokies were generally mediocre in most categories, with the exception of getting at least one first down on drives and not turning the ball over. This matches up well against a Florida State defense that struggled in those same categories. The Ducks were also lackluster in those categories although better than the Seminoles. Field position and the turnover battle are winnable for Virginia Tech.
The Virginia Tech offense was closest in personality to:
Colorado
Louisiana Tech
Georgia State
The Florida State defense was closest in personality to:
TCU
Marshall
Fresno State
The Oregon defense was closest in personality to:
Virginia (!)
Georgia State
New Mexico State
When Florida State Has the Ball
Again, examine pass-run comparisons first:
Both the Seminoles and the Ducks were generally good at both passing and rushing, but neither performed well on passing downs. The Hokies' defense on the other hand was a very good team against both pass and rush and on both standard and passing downs.
What style offense do the Seminoles use and what style will they face in the Hokies' defense?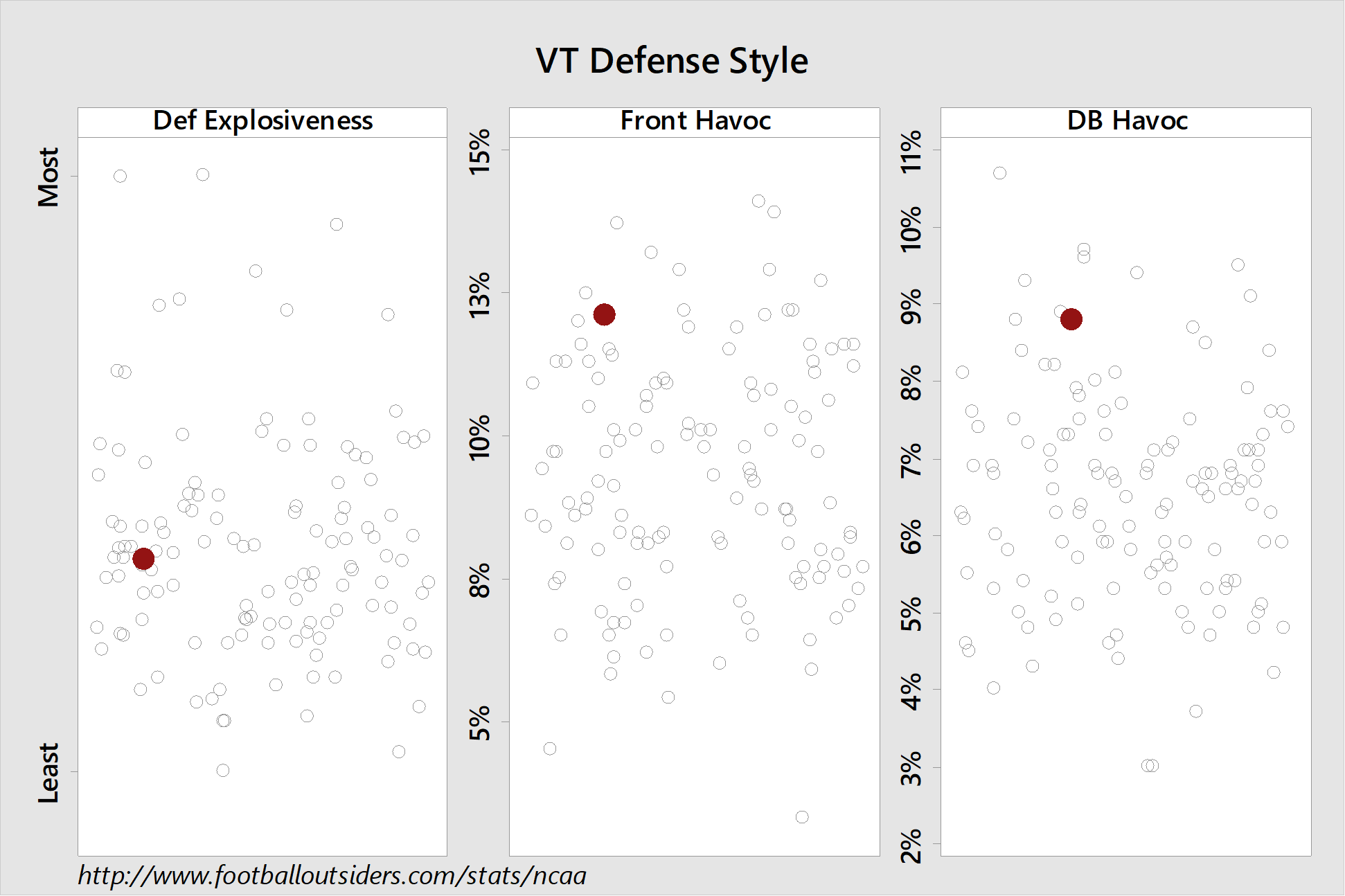 Here is where the starkest difference between 2017 and 2018 Florida State football may show. Last year's Seminoles ran nearly the slowest offense in the country, with a fairly average explosiveness and run rate. The Ducks on the other hand were very explosive, ran more than almost any other team not running the triple option, and was among the 10 fastest paced offenses. It would be shocking if Taggart did not bring a similar style to the team this season. The Hokies were average at stopping explosive plays, but featured a very disruptive defense on the line and in the secondary.
Offensive and defensive line performance are again compared using Football Outsiders' metrics:
As for personality traits: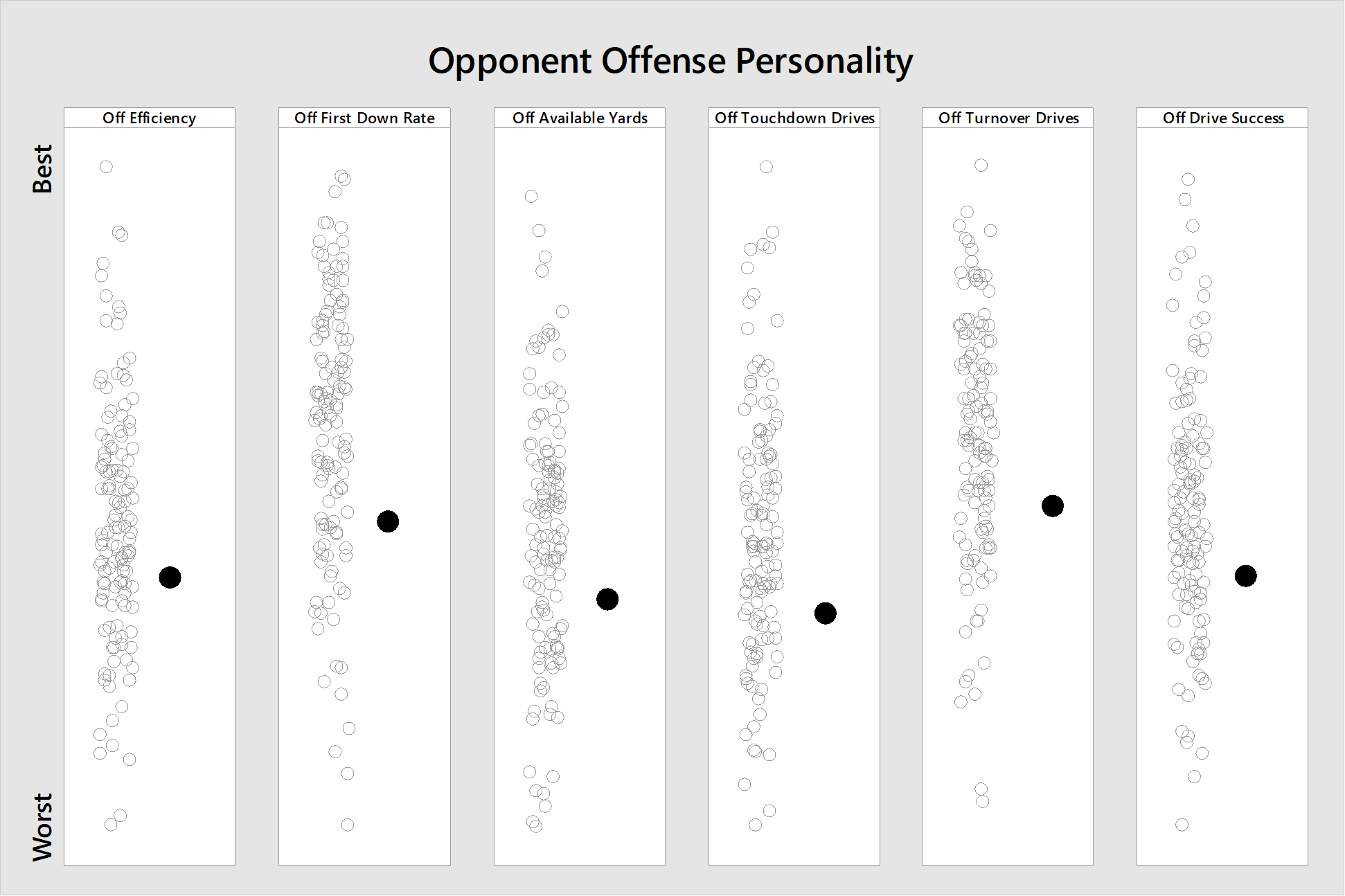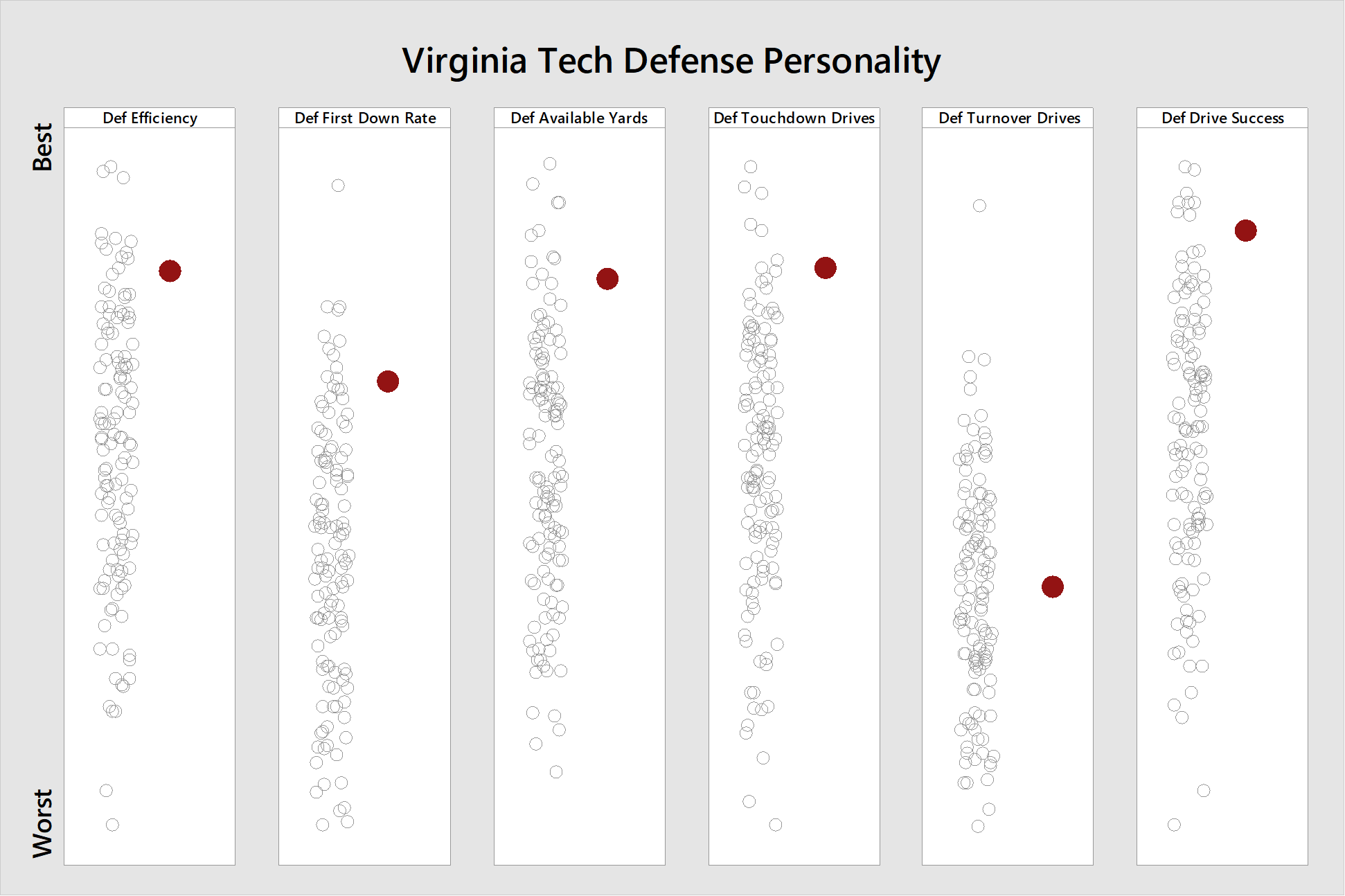 While Florida State did not stand out in any personality measures, Oregon was among the better teams at percentage of drives that ended in touchdowns, and among the worst at ending drives with turnovers. The Tech defense was exceptional across the board, except at creating turnovers.
The Virginia Tech defense was closest in personality to:
Texas
Penn State
Northern Illinois
The Florida State offense was closest in personality to:
Cincinnati
Eastern Michigan
Minnesota
The Oregon offense was closest in personality to:
West Virginia
Georgia Tech
New Mexico State
Special Teams
First we look at the Hokies' kicking units:
Special teams remain a strong point for Virginia Tech, although the kicking situation has yet to be clarified as of writing. As a result, the Hokies were second in the country in net field position in 2017.
When the Seminoles kick:
While place kicking was a strong point for the team, they struggled when punting. Probably because their punter is not from Australia.
When the Ducks kicked:
While place kicking was a strong point for the team, they struggled when punting. Probably because their punter is not from Australia.
Who To Watch Out For
Opening:
QB Deondre Francois had to beat out 2017 starter James Blackman; his 2016 QB rating of 142 exceeds Josh Jackson's 2017 rating of 135.
RB Cam Akers ran for over 1,000 yards as a freshman and now joins a run-first offense.
Statistical Key to the Game
The Seminoles will find success on offense, especially with the ground game as Taggart favors the run. Worse yet, Taggart often has his quarterbacks keep the ball on the ground. Not the he needs any more pressure on him, but Josh Jackson will need to keep pace and take advantage of a talented, but inexperienced defense. Rack up 300 or more yards and the Hokies have a chance to leave with a big win.
Statistical Prediction
This is a matchup between teams with a floor around bowl eligibility and a ceiling around an ACC Championship Game, and much of that uncertainty is due to inexperience. The Seminoles will be plugging in players with more raw talent, while the Hokies have Bud Foster's track record of not letting turnover result in a big step back.
I think both quarterbacks impress — Jackson through the air and Francois on the ground, and the game turns into a nailbiter reminiscent of the 2017 opener against West Virginia. A turnover or big special teams play makes the difference, and the Hokies leave Tallahassee stunned...
Virginia Tech 27, Florida State 24
As always a thanks to Football Outsiders, cfbstats.com, and Minitab Statistical Software.