Old Dominion made the move to FBS in the 2014 season, and after a couple of years of expected growing pains, the team went a surprising 10-3 in 2016, finishing 2nd in Conference USA. The wins weren't a fluke either — by S&P+ standards, the Monarchs were the 73rd-best team in the country; while not great by national standards, for a C-USA team the rating was pretty good and bookended by better-known programs Duke (72nd) and Oregon (74th).
Then 2017 came around, and the team plummeted to 115th. Rather than building on success the Monarchs took a big step back, and so far in 2018 they look to be staying there. The team is currently rated 111th out of 130 teams and has started the season 0-3.
The full set of statistics will not be available until mid-season, so this week focuses on overall team ratings.
Where the Season Stands
Virginia Tech is currently 3-0 by way of two victories and a forfeit (Author's note: That is a joke. Please reserve complaints about the game cancellation for another column. There have been pleas to not play ECU for years and everyone finally got what they wanted.). The actual and predicted score difference and odds of winning each game are:
The odds of each possible regular season win total are now:
I'll go out on a limb and guess the win totals raised some eyebrows, so let me address that here. First off, Virginia Tech just reduced its total number of games by one, and the one dropped was almost certainly a victory. There are simply less games to win, so whatever expectation you had before the cancellation for wins should be reduced by one unless you were truly concerned about a victory over the Pirates. Additionally, it is easy to think that the Hokies should have upped their win expectation considerably after dismantling Florida State, but there are a couple of headwinds to that argument:
Florida State is not a good team. Not just disappointing relative to expectation, but a genuinely bad team. The Noles' current S&P+ rating is 77th, and that still includes a substantial preseason component. Teams near them include Eastern Michigan and Tulane, and I doubt Hokie fans would be asking for credit for beating either of those 24-3.
The rest of the schedule is not looking nearly so easy now. Two teams in particular — Boston College and Duke — have been downright impressive and will be tough to beat. Enjoy this weekend because it currently looks like a 50/50 ride from here on out.
Rankings and Computer Predictions
The computer rankings and predictions for each team: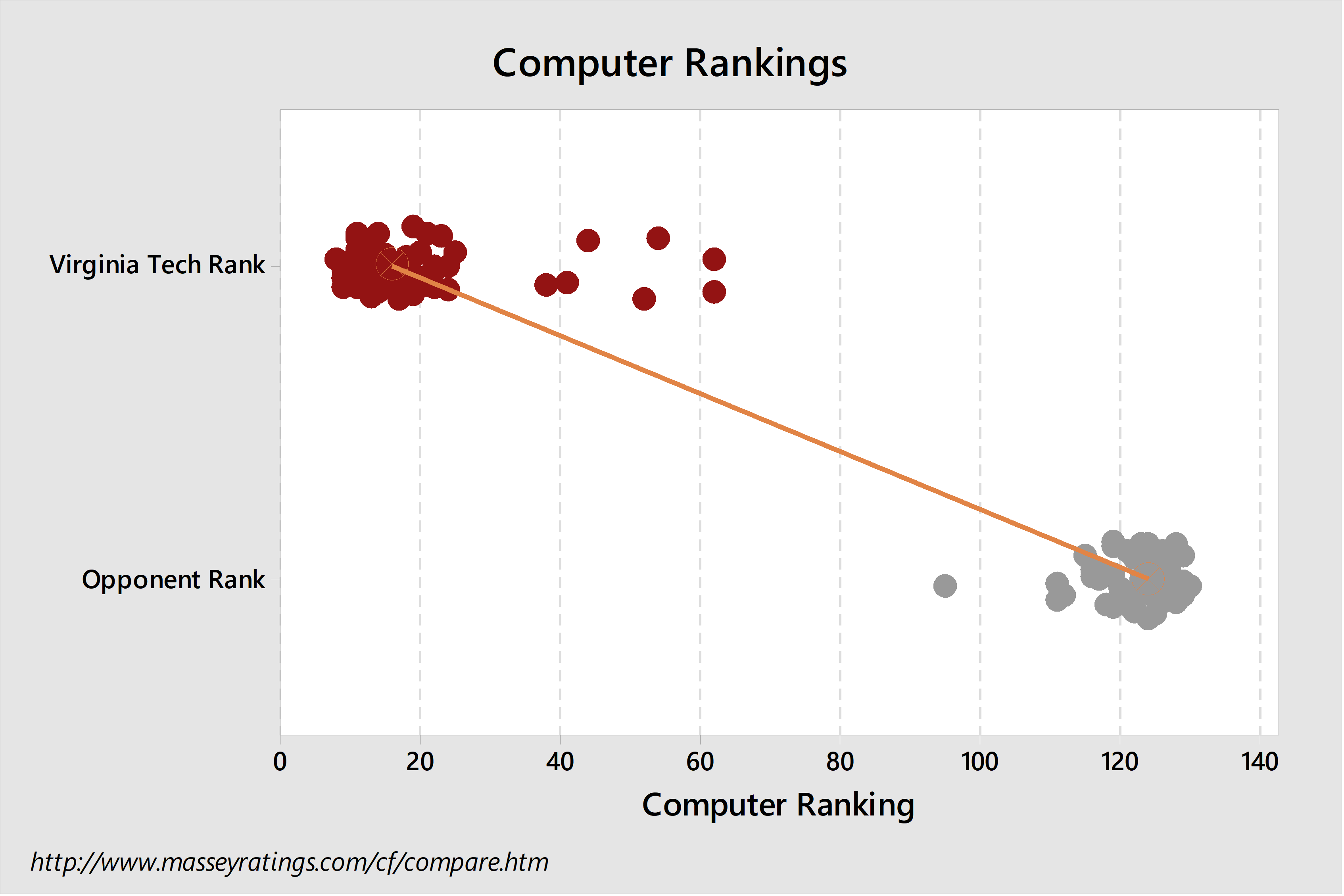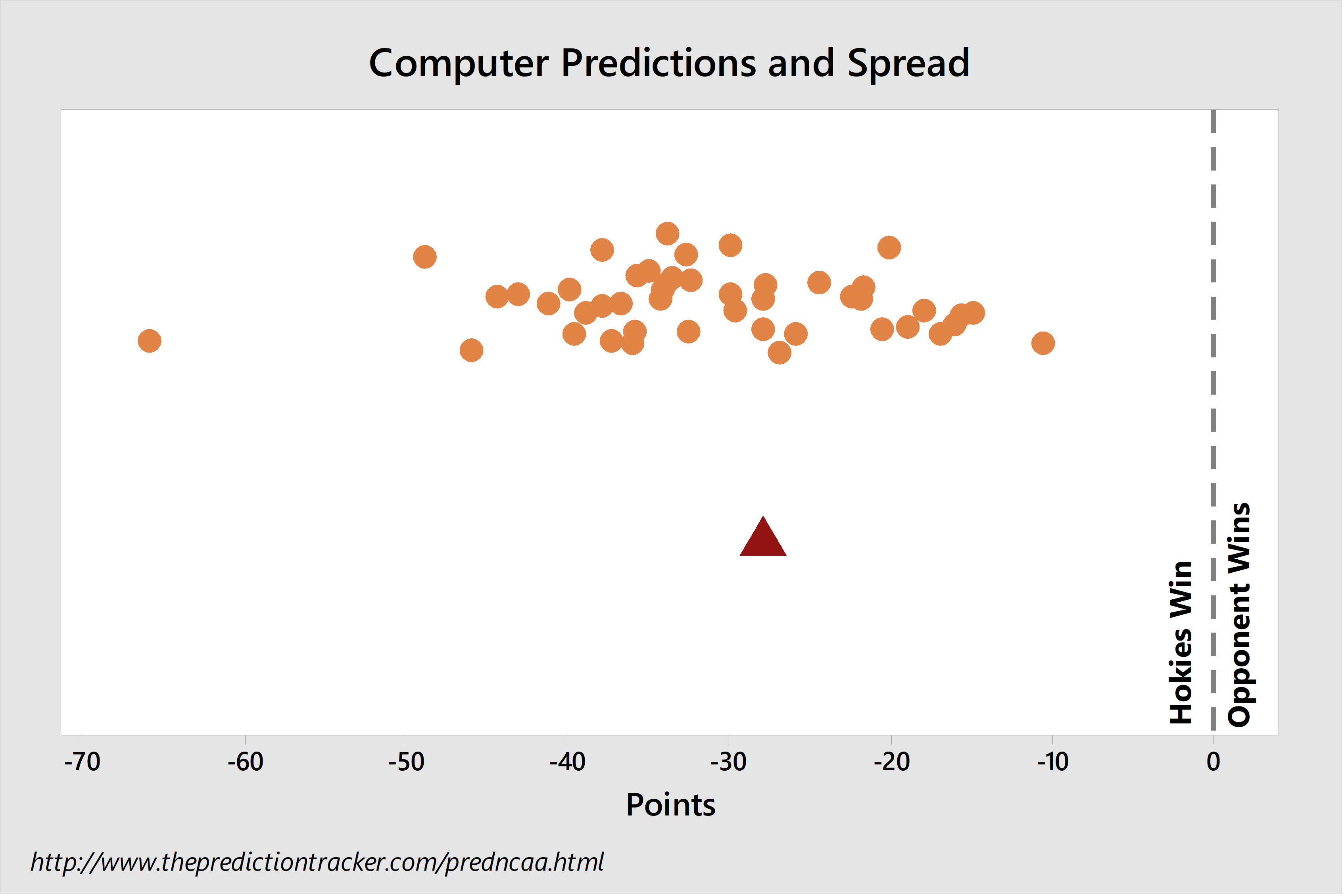 There are no computers that consider Old Dominion to be any sort of threat, but at times the Hokies have not put away weaker opponents as easily as expected. Hope ODU is dispatched with the ease in which William & Mary was. The odds of a 28-point favorite winning is 96.7%.
Next is a look at any overall offensive or defensive advantages: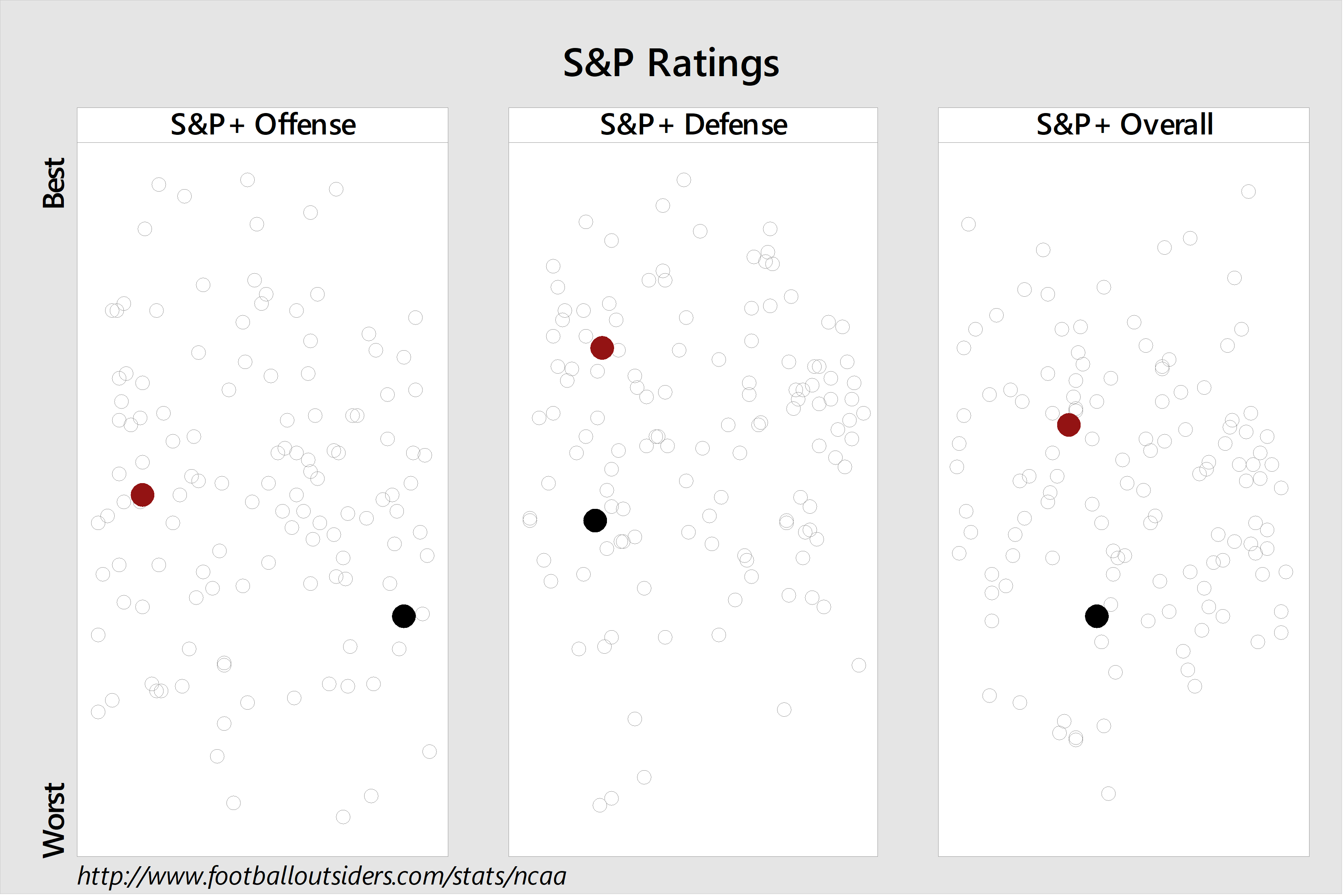 Obviously the Hokies are better on the defensive side of the ball and overall, but the offensive advantage is not as large as one might imagine. I am far from convinced that this Virginia Tech offense is anything better than mediocre, and really hoping that the team puts up a stronger showing against ACC competition. The unit only scored 17 on an FSU defense that gave up 26 to Samford's (not Stanford's) offense and 30 to Syracuse's offense.
Field Position
Brian Fremeau, creator of the FEI ratings, shared the national leaders in Net Field Position, and thanks to some excellent defense and special team's, Virginia Tech is currently the national leader:
Net starting field position leaders (FBS games, non-garbage drives) through week 3: https://t.co/UV47kPRcN91. Virginia Tech (+17.8)2. Alabama (+16.4)3. Syracuse (+16.3)4. Kansas (+15.9)5. North Texas (+12.2)— Brian Fremeau (@bcfremeau) September 18, 2018
Net Field Position is simply the average number of yards a team starts from their own end zone, minus the average start of their opponents. Some context:
FEI only counts games against FBS opponents, so the Hokies' rating is based only on the Florida State game at the moment. A small sample size for sure.
Garbage-time drives — when one team is all but certain to win — do not count towards the ratings.
So how did the Hokies get there? Look at the starting field position for Virginia Tech and Florida State from their matchup:
Doing that to a team is a felony in some states. While Florida State started drives where you expect most teams to — inside their own 30-yard line — Virginia Tech was able to start drives all over the field, including six times on the Seminoles' side of the field!
Alabama is No. 2 nationally, and third is — thanks to a friendly matchup against a team that's just been discussed — Syracuse. Talkin' bout the Noles here.
So is this sustainable? Well the number itself — 17.8 yards — certainly isn't. But neither is Alabama or Syracuse's. The ranking, however, is very much sustainable: the Hokies finished 2017 ranked 2nd nationally in the same metric, and rated 11th in 2016. The James Shibest/Bud Foster combination is lethal.
Old Dominion ranks 30th in this metric.
Special Teams
While detailed statistics are not available for special team's units, S&P+ lists the Hokies as the No. 1 overall unit in the nation - BeamerBall lives on!
Old Dominion's unit is 69th. Nice.
Who To Watch Out For
Don't be fooled...even the lowest ranked FBS teams can still have some playmakers:
SR WR Jonathan Duhart is averaging 21.18 YPC on 17 catches this season
Fellow SR WR Isaiah Harper has averaged 29.2 YPR on kickoff returns
SO LB Lawrence Garner leads the nation with 14 tackles per game
Statistical Key to the Game
After this week, there are no games left on the schedule where it is almost certain that the Hokies will outplay their opponent. The key here is to avoid the upset formula ODU will likely employ, which is limit possessions by bleeding clock and win the turnover battle. The latter is my statistical key to the game — even if possessions are limited, winning should be a breeze as long as the Hokies don't get defeated by turnovers. Give no more than one away, and fans will be heading back to their tailgate in the third quarter.
Statistical Prediction
It's hard to make any specific predictions without enough data to tell what teams are made of this season, but there are a few that I think will happen. I think the Monarchs will burn the Hokies on a couple of long passing plays, but nothing that will put the game in jeopardy. I think we will see at least two quarterbacks play for VT, and Wheatley will be brought in early in this game to better assess his abilities. Mostly Fuente keeps things simple and lets his superior players beat ODU with athleticism, and the game is never really in question.
Virginia Tech 38, Old Dominion 10
As always a thanks to Football Outsiders, cfbstats.com, and Minitab Statistical Software.