Going into the 2018 season, Virginia Tech felt hard to predict. It seemed apparent the defense would take a step back (although few predicted just how big that would be) and there was cautious optimism around the offense. I could have been talked into a 6-win season or a 10-win one. Even then, I looked forward to 2019 when there would be some more stability on the roster and even if not wildly enthusiastic, I would have least have comfort in having expectations I was more confident in.
That did not come to fruition, as the 2019 campaign brings perhaps even more uncertainty. The unit that I thought would gain experience in 2018 and be ready to perform in 2019 — the secondary — is every bit the unstable mess it was last year. That's not to say they can't be better, but it's still an unknown. Ryan Willis, for all the gunslinging excitement he brings, certainly has some areas of his game (reading the defense, making good decisions and throwing while out of the pocket) to improve on. There are rumblings the Hokies might finally have a playmaking King at running back, but everybody has been burned by that false hope too many times recently.
What does play into the Hokies' favor this season is a really, really soft schedule. Although Tech is an extremely long shot to play at national relevance, facing off against Clemson in December is not unrealistic at all. And while the team would probably enter such a game as a big underdog, winning the division and even playing in the game would do wonders for the perception of Virginia Tech football and whether it is a has-been or is returning to former glory.
The first step in that path starts this weekend against Boston College.
Where the Season Stands
Virginia Tech is currently 0-0. The actual and predicted score difference and odds of winning each game are:
The odds of each possible regular season win total are now:
For the season, half of the schedule consists of games where the Hokies are currently a predicted favorite, but not overwhelmingly so (BC, Duke, UNC, Wake, GT, Pitt). The best bet for those games at this point would be a 4-2 record. Then three are highly likely wins, although if there is one team in America you wouldn't bet on to win all of them it is Tech. So that puts the team at about 7-2 with a toss-up against UVA, a moderate underdog game against Miami, and a heavy underdog game against Notre Dame. So 8-9 wins is the most likely range, but we have a whole lot to learn in the next few weeks, not only about Virginia Tech but the teams on their schedule.
Of course, going into week one there is still a realistic probability of disaster or domination...
Based on FPI, the odds of each ACC team beating the ACC teams on their schedule is: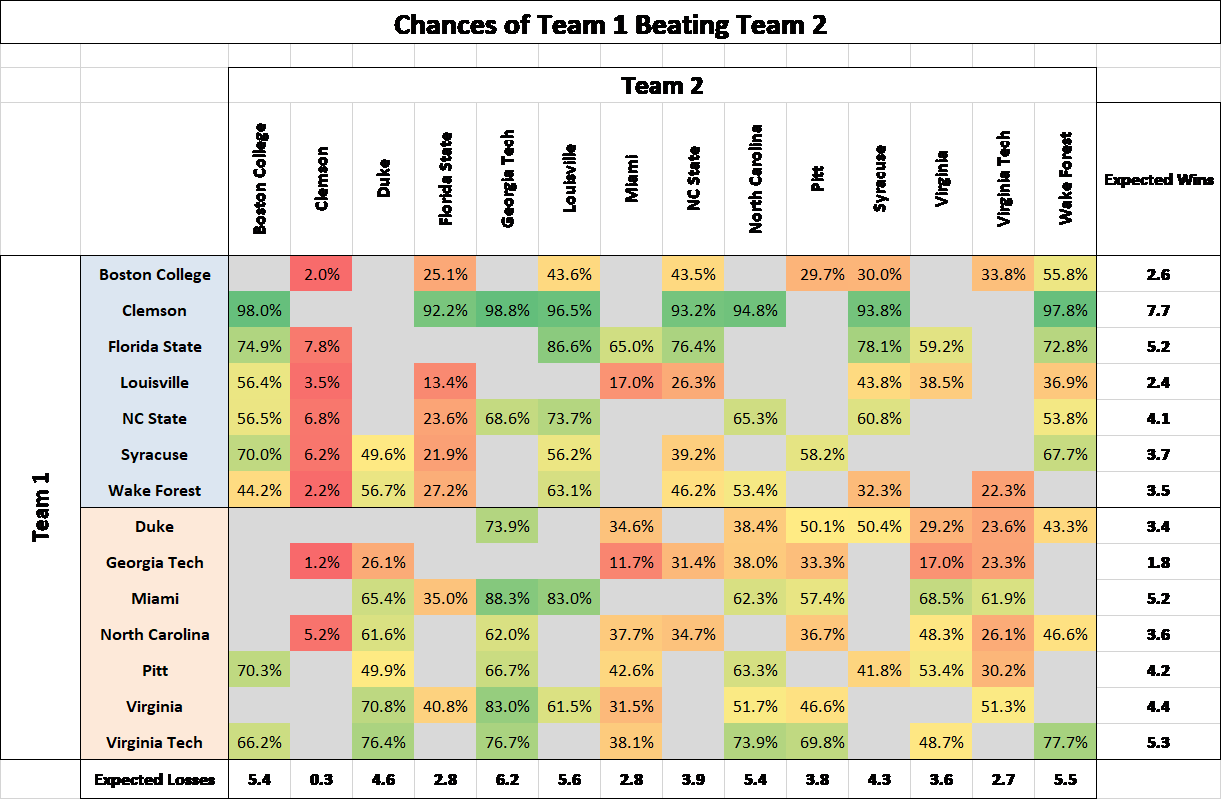 This translates to each team's odds of every possible conference record as:
Virginia received a lot of preseason love from the media, with many predicting a Coastal Division championship. But the path there is not nearly as easy as they would make it out to be. By FPI ratings, the mostly likely division champ is either Miami or Virginia Tech, and given the uncertainty in any preseason rating those two are essentially equally likely. The Hokies are given a 70% chance of going 5-3 or better in conference play...not saying 5-3 wins the division, just that those are great odds of being in the picture.
Virginia Tech Leads the Nation In...
Losses. I mean, they are technically tied with some other teams but the Hokies haven't lost yet and no team has fewer than 0 losses thus far.
I'll do better than this next week. Maybe.
Rankings and Computer Predictions
The computer rankings and predictions for each team: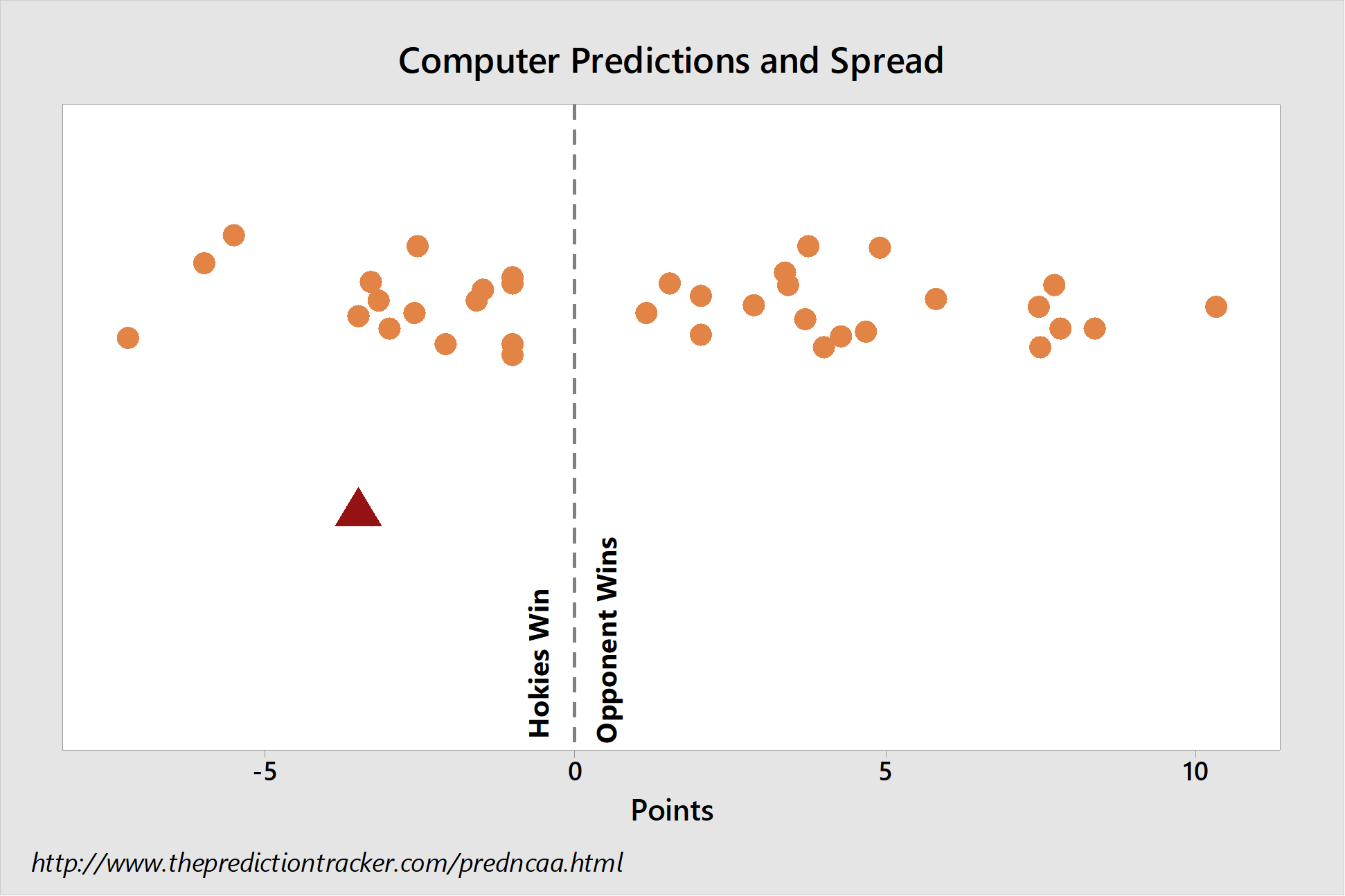 By computer ratings, the Hokies are predicted to be the better team slightly, but that advantage is pretty much negated by the game being played at Boston College. Vegas, however, sees the Hokies as a 3.5-point favorite. The odds of a 3.5-point favorite winning is 60.4%.
Who To Watch Out For
The Eagles only return five defensive starters, but have a great track record of producing linebackers that are playmakers. The team also lost four starters from the offensive line, and wasn't exactly prolific through the air (215 pass yards per game). So while there will no doubt be players who step up in 2019, there's really only one player you need to be worried about heading into the matchup:
Workhorse running back AJ Dillon returned. He ranked 4th nationally in 2018 with nearly 23 attempts per game and 110 yards per game, 13th nationally. And he missed two games with injury.
Statistical Key to the Game
Stop Dillon. He will get the carries, but cannot be allowed to gain explosive runs like so many ball carriers did against the Hokies in 2018. Keep him at 1 run or less of 20+ yards, and the defense is likely keeping the Eagles in check enough to walk out with a victory.
Statistical Prediction
Prediction?! Didn't you read the intro to this article? I have absolutely no clue. Dillon might destroy the Hokies on the ground and confirm the worst fears that last season's explosive play woes are still alive and strong going into 2019. Or perhaps another year under Bud Foster has those same players ready to be a nationally elite unit once again.
Likewise on the offense — Virginia Tech has some great receivers and should have a solid offensive line, but an aggressive quarterback can be an asset or a liability. Will Ryan Willis be the same player in 2018, or will he benefit from the great progression past Fuente quarterbacks have experienced from season-to-season?
I am honestly not sure. But my gut tells me the Hokies will certainly step forward from last season, and are hungry for success. I don't know if it will be sustained all season or derailed by attitude or injury or other factors, but I think the Hokies come out firing on all cylinders against the Eagles and win easily.
Virginia Tech 34, Boston College 24
As always a thanks to ESPN, cfbstats.com, and Minitab Statistical Software.