In case anyone was confused, it's a face shield.
Anyways, Virginia Tech wrapped up its seventh practice of 2020 camp. A unique experience tiptoeing around a delicate football season. Regardless of whether or not that season actually happens, there's football to discuss in the meantime.
"Spread out." That's what Divine Deablo yells when he catches his teammates less than an arm's length apart. Though the senior safety noted physical distancing is becoming more second nature for the Hokies, he admitted he steps up to police the squad when necessary. However, it's the allure of off-the-field activities — read: parties — that threatens to spread COVID-19 through college campuses. Deablo and the upperclassmen are well aware.
"I'm not even worried about the older guys. I just had to get the message to the younger guys since it's their first year in college, they may want to have fun."
Deablo explained there was a recent players-only meeting to convey the importance of smart decisions, as they pertain to the mitigation of COVID-19. Deablo divulged that the penalty for not following the team's COVID-19 guidelines is "some type of discipline". And that was a players' decision.
"If you want to be here, you have to be 100-percent in," Deablo said.
Invent the Future, indeed. Virginia Tech athletics and the College of Engineering partnered to create a two-part face shield to help protect football players against COVID-19. Per Tech:
A commercially available visor makes up the upper half of the shield; a second visor, turned upside down and trimmed to fit the helmet, makes up the lower half.

In spray tests, the two-part visor blocked more than 99.9% of droplets smaller than 300 nm. (N95 masks, commonly recommended for frontline workers during the pandemic, are required to block at least 95% of particles this size.)
It's equally grand that they are effective and made from off-the-shelf material.
"The first couple of days it was good, then it got a little humid," said Deablo. "It was harder to breathe and they got a little foggy. Recently they cut part of the bottom half, so it still covers the mouth, but I have more air coming through so I can breathe, and it's a lot better. I would advise my teammates and every other team to wear it."
Tech's produced 40 of them for its football players and plans to share the design.
James Mitchell gets it. This is how the outside receiver/tight end/H-Back responded when he was asked about the scenario of remaining in Blacksburg to play football without the student body given an all-virtual learning environment.
"Yeah, actually, it'd probably be easier if you think about it. Without the students there we'd kind of be in our own sort of bubble, away from people. I think, in a way, it would actually be easier to kind of get things done."
Tyrell Smith Year 7 confirmed.
Sources: The NCAA Division I Council decided today that fall sport student-athletes can compete in any amount of competitions this year and it will not count as a season of eligibility. This still needs to be approved by NCAA Board of Governors on Friday.

— Pete Thamel (@PeteThamel) August 19, 2020
The speculation around which non-established players are poised for a breakout year based on camp buzz is a time honored tradition. Justin Fuente had high praise for speedster wide receiver Jaden Payoute, who looks like he spent quarantine in Gold's Gym.
"I get really excited about the progress that he's made," said Fuente. "And he's still learning. He's working incredibly hard. He's got talent, and he's grown by leaps and bounds without even the benefit of a spring practice."
With the transfer of Damon Hazelton (31 receptions, 527 yards, 8 TDs), Tech needs a fresh-face to step up opposite of Tre Turner. Mitchell mentioned Payoute as a potential weapon along with fellow tight end Nick Gallo.
"He's a good route runner," said Mitchell. "He's good in the pass game. He's coming along in the run game as well."
Fit-wise, Gallo isn't a one-for-one replacement for Dalton Keene. However, he has the potential to provide some of the versatility in the absence of Keene — a true run block/pass threat tight end.
2020 has been the year for everything else, so why not Tech's o-line as the strength of the team.
"I feel like we've got some really quality depth upfront," said Fuente. "Again, that's a little bit unfair to say when we've practiced four times and we've only been in shoulder pads twice, and there's still a long way to go. That group's pretty talented in my opinion."
"Doug Nester no longer looks like a freshman, he looks like an adult. Luke Tenuta no longer looks like a baseball player, he looks like a starting right tackle in the ACC. Getting [Brock] Hoffman out there certainly adds something. And [Bryan] Hudson was a little bit more developed anyway as a freshman. He was a big, strong kid, and I haven't even got to the older players in [Christian] Darrisaw and Lecitus [Smith].
Those young guys don't look like young guys anymore. They're still young in their careers, but they look like real grownups."
Fuente capped that off with a two-frame smile.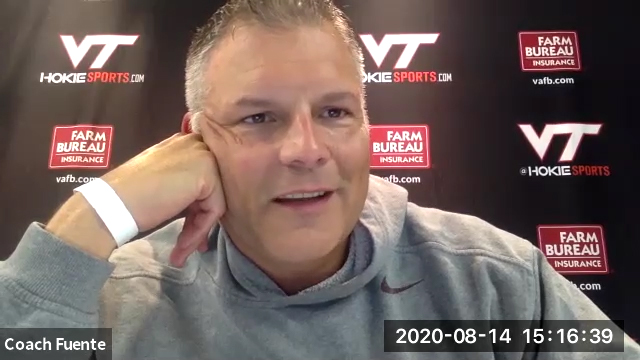 The Key Players Club. Join it, please. It hasn't been an easy year business-wise, thanks pandemic, and TKP needs your help. Perhaps a couple new subscribers might find a bonus magnet along with their keychain bottle opener.
My refrigerator is looking sexy as hell now, TKP MAGNETS. pic.twitter.com/ry62hvgx7X

— THE KEY PLAY (@thekeyplay) July 24, 2020